Drosanthemum thudichumii L.Bolus.
Family: Aizoaceae
Common names: Thudichum's vygie
Introduction
Drosanthemum thudichumii is a hardy winter rainfall vygie (mesemb) with showy, yellow, iridescent flowers.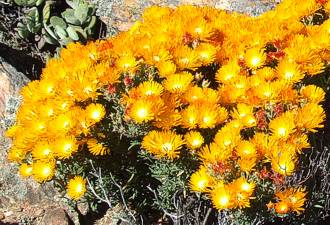 Description
Description
Drosanthemum thudichumii is a bushy, erect, succulent shrublet, with a shallow, fibrous root system. In its natural habitat it may attain a height of 1 m. In cultivation they can grow as tall as 1.5 m. The leaves are erect, about 22 mm long, 3 mm in diameter and covered with conspicuous bladder cells which glisten in sunlight. The flowers are 40 mm in diameter with many shiny petals (of staminodial origin) ranging in colour from bright yellow through to ivory-white and cream.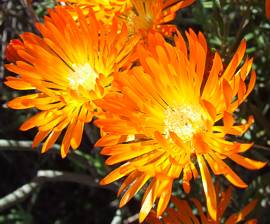 Plants can live as long as 20 years in their natural habitat. In cultivation they may live only as long as 10 years.
Conservation Status
Status
Drosanthemum thudichumii is rare and is assessed as Endangered (EN) according to the Red List. It occurs over a small area and is threatened due to land change activities in the middle Breede River valley of the Boland.
Distribution and habitat
Distribution description
Drosanthemum thudichumii is known only from the Worcester-Robertson area in the winter-rainfall region of the Breede River valley in the Western Cape. It grows mainly in decomposed Malmesbury shales. Drosanthemum thudichumii favours western slope aspects where they utilize the sun to their full advantage.
Derivation of name and historical aspects
History
The genus Drosanthemum is derived from the Greek drosos which refers to the glistening bladder cells on the leaves which look like dew drops, and anthos which means flower. The specific epithet thudichumii was given in honour of Jacques Thudichum (1893 -1985), a horticulturist from Switzerland who was the second Curator of the Karoo Desert National Botanical Garden (1945 -1958).
The family Aizoaceae, to which the mesembs belong, is one of the largest in southern Africa. They occur from elevations of 3000 m to sea-level. Mesembs occur in a variety of landscapes ranging from afromontane, karriod and arid to subtropical coastal belts and grasslands. Their main centre of speciation is in the Succulent Karoo which lies in the winter-rainfall region.
Ecology
Ecology
Drosanthemum thudichumii flowers from September to late October.
The flowers open fully in the late afternoon when the plants have received sufficient sunlight and warmth. This can also be observed in many other mesemb species.
Mesembs are pollinated by insects, mainly bees during the day and moths in the late afternoon. In the case of Drosanthemum thudichumii both bees and moths pollinate the flowers.
Uses
Use
Drosanthemum thudichumii is very rarely seen in public or private gardens. It is likely that this showy little plant is cultivated only by a handful mesemb lovers and in a few botanical gardens worldwide. It grows both naturally and in cultivation at the Karoo Desert National Botanical Garden in Worcester.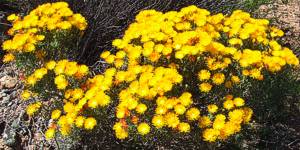 Growing Drosanthemum thudichumii
Grow
Drosanthemum thudichumii - seeds mature four months after flowering and germinate very easily. Seeds are manually extracted from the seed capsule. As with most mesemb seed, they are very fine.
Sow the seeds in a seed pan during the cool autumn months of the year. In the southern hemisphere these are March to May. Ensure that the seed pans are adequately drained. Sow the seeds in a mixture of sand and loam. On top of this mixture sprinkle a thin layer of sand, 5mm deep. It is into this sand that the seeds are sown no deeper than about 2 mm below the soil surface. If sown too deep the seeds will be smothered and will probably not germinate. Keep the area free of weeds and water with a fine mist spray every second day. Ensure that the pans are in a sunny position. Plant the seedlings out in November of the same year when they are approximately 5cm high.
Plants can also be cultivated from cuttings. Soft tip growth must be used. Strike cuttings in a mixture of 50% perlite and 50% sharp river sand. Ensure that the cutting medium is kept moist. Strike cuttings when the plant is actively growing: April, May or June are the preferred months for striking cuttings. The strike rate is medium high (about 75%).
Drosanthemum thudichumii grows well in relatively rich well drained loam soils. Plants can be cultivated in pots or planted in groups in the garden. Remember to plant these mesembs in a sunny locality otherwise they will not flower properly.
A word of warning - this species must not be planted in clayey soils and must not be overwatered, especially during the resting period in mid-summer.
References
Court, D. 1981. Succulent flora of southern Africa. Balkema, Cape Town.
Van Jaarsveld, E.J. & de Villiers-Pienaar, U. 2000. Vygies gems of the veld.Grafica Quadro, Tradate (VA) Italy.
Credits
Ian Oliver
Karoo Desert National Botanical Garden
June 2009
Plant Attributes:
Plant Type: Shrub, Succulent
SA Distribution: Western Cape
Soil type: Sandy, Loam
Flowering season: Spring
PH: Acid, Neutral
Flower colour: Yellow
Aspect: Full Sun
Gardening skill: Average
Special Features:
Drought resistant
Good potplant
Feeds honeybees
Horticultural zones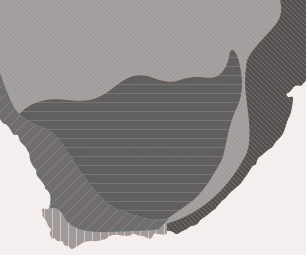 Zone 2 Coastal winter rainfall, frost free
Zone 3 Winter rainfall Karoo, light frost
Google QR Code Generator