Elegia persistens Mast.
Family: Restionaceae
Common names: handsome goldreed
Introduction
 A very attractive, medium-sized, reed-like perennial, with golden-brown flower heads, that can be used to enliven any garden.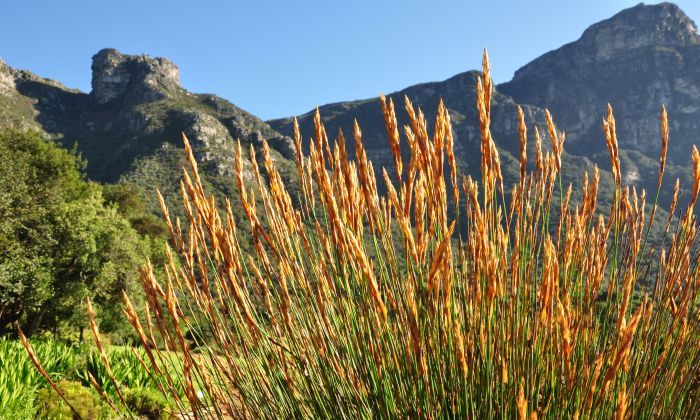 Description
Description
Elegia persistens has a dense, tufted growth habit, 0.3–1m tall, with spreading rhizomes and clusters of finely divided side branches, occurring in tufts along the sterile stems. The plants can have quite variable growth forms, from cushion forming to upright, tall and sturdy. The long, thin, green, leaf-like structures are actually stems, referred to as culms. The fertile culms are unbranched, rounded and solid, with sheaths that drop off, leaving small, definite, dark abscission rings at the nodes.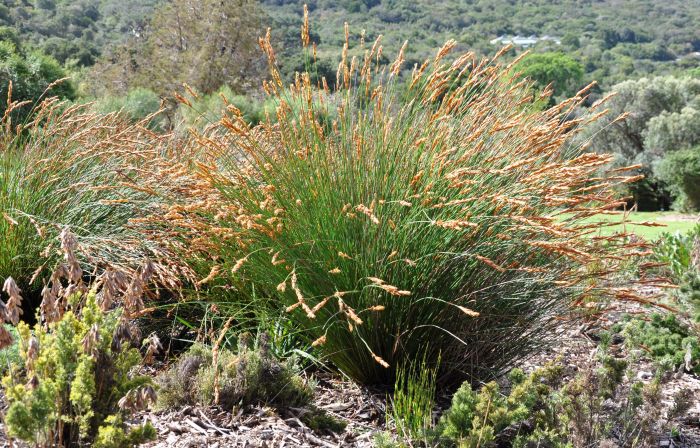 Male and female flowers are found on different plants, and the 200 mm long inflorescences occur at the tips of the dark green culms. The flowers of the female inflorescences are enclosed and somewhat hidden by persistent golden spathes that stay attractive for several months, hence the name 'persistens'. The male inflorescences overlap the dark, very large, brown bracts and are pale to dark brown and feathery, creating a textural and colour contrast.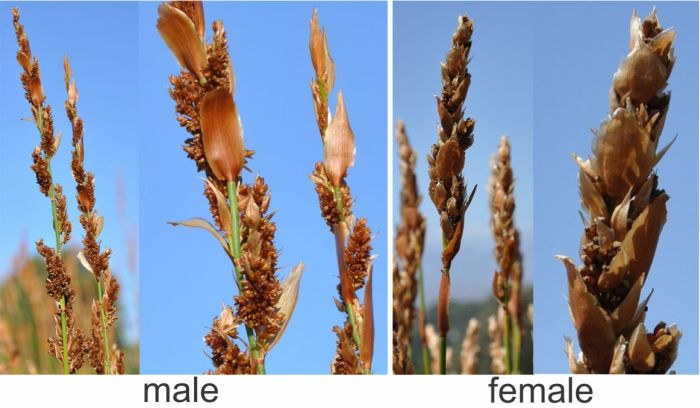 The flowering time is late summer to early autumn (March or April or May) but the golden-brown bracts persist through winter into spring. The small fruits are actually nutlets.
Conservation Status
Status
Distribution and habitat
Distribution description
Elegia persistens occurs in the Riviersonderend Mountains, the mountains between Villiersdorp and Cape Agulhas, and in the mountains around Caledon. Most of the collections are from below 400 m, but a few are found up to 900 m above sea level. This plant is usually found on rocky slopes, with a few from sandy slopes.
Derivation of name and historical aspects
History
The family name, Restionaceae, is derived from the Latin restis, which means 'cord' or 'rope'. The genus name Elegia is assumed to come from the Latin elegia, meaning 'song of lamentation'. The species name persistens is from the Latin persisto, meaning 'to persist', referring to the golden spathes on the inflorescence. There are about 400 species in the restio family, divided up amongst 19 groups or genera. The genus Elegia is very widespread and is comprised of 49 species.
Ecology
Ecology
Restios are wind pollinated. The culms of flowering male restios release clouds of dust-like pollen when moving in the breeze. Female plants have large prominent sheaths that help funnel pollen blowing past onto the stigmas, to ensure that pollination is successful.
Seeds are released and stored in the upper layer of the soil and they germinate after stimulation from fire and smoke. These seedlings produce the new generation of plants as older plants are killed by the flames.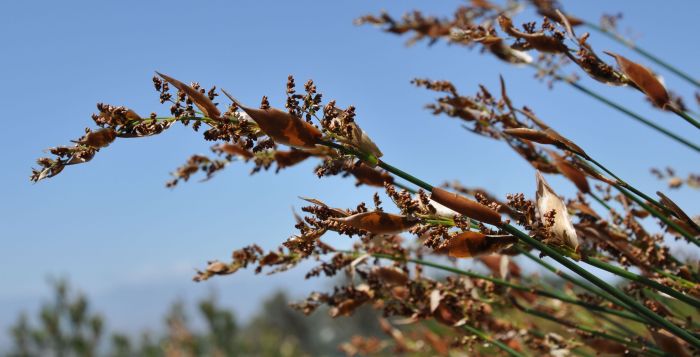 Uses
Use
The value of this plant is horticultural, as the plants provide a magnificent display of golden-brown flower heads when planted in large groups. An attractive addition in any garden, but especially in a modern, low-maintenance garden, where it can be used as mid or border planting.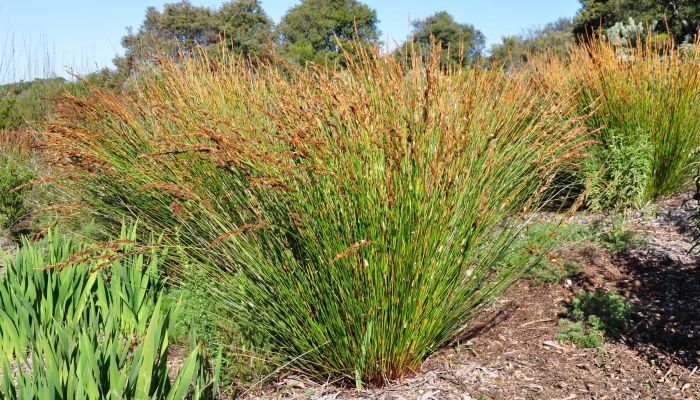 Growing Elegia persistens
Grow
A lovely compact restio for smaller to medium-sized gardens, in mixed beds, and they even do well as container plants. Or use more traditionally by planting it in a fynbos garden, as companion plants to members of Proteaceae, Ericaceae and Rutaceae. These plants do best grown in full sun, in a well-drained soil and they need plenty of air movement around them. They tolerate a variety of soil types.
The best time for planting Restio is at the beginning of the rainy season, as the plants need regular watering during the first 6 weeks to 2 months after planting, to really establish themselves. After this period, the plants are able to survive with less watering, as they are naturally adapted to a long dry season.
The best way to propagate a restio is from seed and since the seeds in many species are very fine, they need to be handled carefully. Treatment with smoke greatly increases the germination rate of this and many other species of Restionaceae. The seeds are sown in the early winter season when the night temperature drops to 5–10ºC and the day temperature is 15–22ºC. Seed will germinate after 4 to 6 weeks. Treat the sown seeds with a fungicide once a week to prevent fungal infection and keep the trays moist, but not too wet. After germination, seedlings must be planted into plug trays to allow them to form a root ball so that they can grow stronger. Feed them with organic fertilizer to encourage growth. After 6 months, individual seedlings must be transplanted into bags or small pots to grow on.
When transplanted to a garden environment, which normally will have a slightly richer soil than the natural environment, most restios react by growing to a much more attractive and vigorous plant, especially if they are regularly watered.To encourage additional and greener growth, the plants can be lightly fed with standard organic fertilizers.
References
Brown, N.A.C. & Duncan, G.D. 2006. Grow fynbos plants. Kirstenbosch Gardening Series. South African National Biodiversity Institute, Cape Town.
Dorrat-Haaksma, E. & Linder, H. P. 2000. Restios of the Fynbos, The Botanical Society of South Africa
Foden, W. & Potter, L. 2005. Elegia persistens Mast. National Assessment: Red List of South African plants version 2017.1. Accessed on 2020/01/30.
Linder, H.P. 1985. A conspectus of the African Species of Restionaceae. Bothalia 15 : 3-4.|
McQuillan, M. 2007. Elegia stipularis Mast. (Restionaceae). PlantZAfrica. Online. http://pza.sanbi.org/elegia-stipularis.
Credits
Thembakazi Dyariwe
Kirstenbosch National Botanical Garden
February 2020
Acknowledgements: Cherise Viljoen, Senior Kirstenbosch Horticulturist is thanked for assisting with plant information and Alice Notten for the images.
Plant Attributes:
Plant Type: Restio
SA Distribution: Western Cape
Soil type: Sandy, Loam
Flowering season: Late Summer, Autumn, Winter
PH: Acid
Flower colour: Brown
Aspect: Full Sun
Gardening skill: Average
Special Features:
Drought resistant
Feature plant
Good potplant
Horticultural zones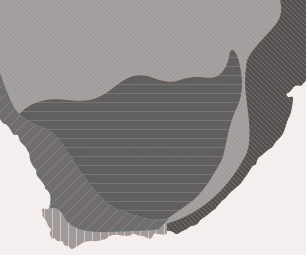 Zone 2 Coastal winter rainfall, frost free
Zone 3 Winter rainfall Karoo, light frost
Google QR Code Generator