Elegia spathacea Mast.
Family: Restionaceae
Common names: pagoda goldreed (Eng.)
Introduction
This is a small, aesthetic, slender plant, with striking tan-coloured spathes with reddish brown speckles, suitable for planting in containers.
Description
Description
Elegia spathacea is an erect, tussock-forming perennial, from 0.3 to 0.8 m tall, with a crown diameter of 0.1 to 0.3 m. This species has compact, non-spreading rhizomes or stolon roots. Stems (culms) are round, cylindrical, unbranched, lean and rigid. Sheaths are 20–45 mm long, tan with dense reddish brown speckles, dropping off and leaving an abscission line on the stem.

Male and female flowers are produced on different plants (dioecious). The female inflorescence is 30–80 mm long, 10–20 mm wide, with 11–20 spikelets. The spathes are tan-coloured, 20–30 mm long, cartilaginous, persistent and hide the spikelets, often forming a squared, pagoda-like inflorescence. The female has fewer spikelets compared to the male inflorescence, which has 50–100 spikelets on an inflorescence that is 25–100 mm long and 10–20 mm wide. The spathes on the male inflorescence are also tan-coloured, cartilaginous and taller than the spikelets, but they do not hide the spikelets and are caducous (drop off). Elegia spathacea flowers in mid to late summer or in spring to early summer (January, February, March or October, November, December) and releases the seeds before the next flowering. The fruit is brown, club-shaped, 3-sided, about 2 × 1 mm, with a soft ovary wall; nut apex smooth.
Elegia spathacea is closely related and similar to E. rigida but E. spathacea can be distinguished by its pagoda-like inflorescence and female bracts that are longer than 20 mm.
Conservation Status
Status
Elegia spathacea is not threatened and is thus listed as Least Concern (LC), according to Red List of South African plants.
Distribution and habitat
Distribution description
Elegia spathacea is naturally found growing in the Western Cape, from Paarl to Worcester, and Hermanus to Riviersonderend, and northwestwards to Bainskloof, and it occurs within the conservation areas of Kogelberg, Riversonderend and Limietberg. This species is found growing between 30–1 400 m altitude, often locally common, in valley bottom seeps or well-drained sandstone soil, and commonly on sandy sandplains, preferring deeper soils, and rarely found on the rocky slopes.
Derivation of name and historical aspects
History
The entire genus of Elegia has approximately 50 species, which are endemic to the Western Cape. The genus name Elegia is derived from the Latin word elegia, meaning 'song of lamentation', and the species name spathacea, is from Latin meaning a 'broad flat wooden blade', which is maybe referring to the inflorescence spathes, which are very prominent.
Restios belong to the family Restionaceae. The name was obtained from the Latin restis, which means 'rope' or 'cord' and alludes to the use of these plants in southern Africa. Restionaceae has 400 species in about 40 genera and most of the species grow in winter-rainfall regions, on poor sandy soils in South Africa and Australia, with a few outliers in the north of Africa, Madagascar, Indo-China and Chile.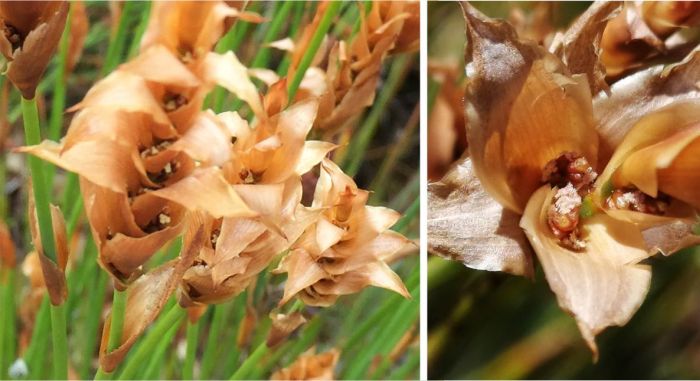 Ecology
Ecology
Elegia spathacea is killed by fire and regenerates from seed. The seed dispersal is undifferentiated. The plants were seen dominating a plateau in the Kleinrivers Berg about 3–4 years after a fire.
Restios are wind-pollinated plants. The male and female plants in the natural habitat grow in group. This means the pollen from a male plant must blow off and be carried by wind to find a female flower, drop and settle on the feathery styles for fertilization to occur. That is why this species produces fewer female spikelets compared to the male spikelets that produce masses of pollen for effective pollination.
Restios are dioecious (female and male plants are borne in separate plants). Restios do not have leaves like other plants. Their leaves are reduced and form leaf-like structures, called sheaths. Restios produce cylindrical stems, called culms, which are the only green part of the plants, and perform the photosynthesis function.
Uses
Use
This is one of the most beautiful small restios that is suitable for pot cultivation and small or large fynbos gardens. It can be planted as a filler among the slow-growing shrubs, such as buchus, ericas and proteas, to cover the space between the plants, or as a border or edging plant. In the garden it looks good planted with Restio festuciformis to brighten the tan colour, with Geranium incanum as a contrasting groundcover, and with Protea cynaroides to attract the eyes of people.
Growing Elegia spathacea
Grow
Elegia spathacea is easily propagated by seed. The seed responds best when they are sown in the early winter season, when the temperature drops to 5–10ºC at night and 15–20ºC during the day. The seed should be treated with smoke derived from burning dry and wet fynbos plant material; this breaks seed dormancy and stimulates germination. Treatment can be done in a smoking tent or use the smoke packets. Protect the seeds from fungal infection, by soaking or dusting them with a fungicide.
Sow the seeds in well-drained fynbos soil and cover them with a finely sieved fynbos mixture. The seed takes about 4 weeks to germinate. Feed the seedlings with organic fertilizer during the growing season to prevent yellowish and unhealthy plants. Keep your seedlings moist, not dry or too wet.
The seedlings become ready to plant in the open ground after a period of 2 or 3 years. Plant your restios in the garden during a normal growing season at the beginning of the rainy season, this applies for winter- and summer-rainfall regions. Plants prefer full sun, in a well-drained, acidic soil, and plenty of air movement. Mulch the bed to reduce water evaporation, keep the roots cool and prevent weed growth.
References
Brown, N.A.C. & Duncan, G.D. 2006. Grow fynbos plants. Kirstenbosch Gardening Series. South African National Biodiversity Institute, Cape Town.
Brown, N., Jamieson, H. & Botha, P. 1998. Grow restios. Kirstenbosch Gardening Series. National Botanical Institute, Cape Town.
Foden, W. & Potter, L. 2005. Elegia spathacea Mast. National Assessment: Red List of South African plants version 2020.1. Accessed on 2021/03/29.
Dorrat-Haaksma, E. & Linder, H.P. 2012. Restios of the fynbos. Struik Nature, Cape Town.
Harvey, W., Sonder, O. & Thiselton-Dyer, W. 1859. Flora capensis: being a systematic description of the plants of the Cape colony, Caffraria, & Port Natal (and neighbouring territories) 5. 1–7.
iNaturalist. Observation of Elegia spathacea by Tony Rebelo on 4 Feb. 2014. https://www.inaturalist.org/observations/10944579. Accessed 30 March 2021.
Latti, I. & Maphisa, T. n.d. Elegia spathacea. Operation Wildflower. Online. https://www.operationwildflower.org.za/index.php/albums/parks-and-gardens/fernkloof-nature-reserve/elegia-spathacea-thabo-2-7526. Accessed on 29 March 2021.
Linder, H.P. 2011. The African Restionaceae: an IntKey identification and description system. Version 6. Contributions from the Bolus Herbarium 19.
Moline, P.M. & Linder, H.P. 2005. Molecular phylogeny and generic delimitation in the Elegia Group (Restionaceae, South Africa) based on a complete taxon sampling and four chloroplast DNA Regions. Systematic Botany 30(4), 759–772.
New POSA online, species search Elegia. http://posa.sanbi.org/sanbi/Explore. Accessed 7 April 2021.
Nndanduleni, N. 2019. Elegia filacea Mast. (Restionaceae). PlantZAfrica. Online. http://pza.sanbi.org/elegia-filacea
Plants of the World online. Elegia L. http://www.plantsoftheworldonline.org/taxon/urn:lsid:ipni.org:names:33347-1. Accessed 7 April 2021.
Credits
Mashudu Nndanduleni and Mane Somtshu
Kirstenbosch National Botanical Garden
April 2021
Acknowledgements: the authors thank Tony Rebelo and Peter Linder for the images of the inflorescences and sheath, as credited.
Plant Attributes:
Plant Type: Restio
SA Distribution: Western Cape
Soil type: Sandy
Flowering season: Spring, Early Summer
PH: Acid
Flower colour: Brown
Aspect: Full Sun
Gardening skill: Average
Special Features:
Feature plant
Good potplant
Horticultural zones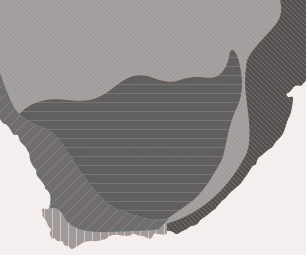 Zone 2 Coastal winter rainfall, frost free
Google QR Code Generator