Elegia stipularis Mast.
Family: Restionaceae
Common names: cushion restio
Introduction
Elegia stipularis is a colourful and delicate low-growing and water-wise restio that can be used to enliven any garden.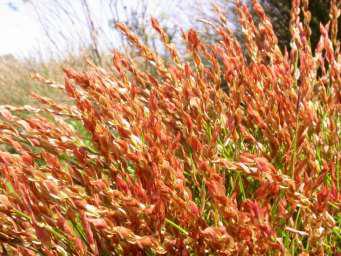 Description
Description
Elegia stipularis has a compact, tufted growth habit, 0.35-1.0 tall with a diameter of 0.05-0.1 m. The culms (leaf-like structures) are branched, with more than one sheath per culm, which is persistent and has no abscission line. Sheathes are tan with reddish brown speckles and tan margins. Male and female flowers occur on different plants. The indehiscent brown fruits are papery to leathery and not winged. Flowering time is June or July and the seeds are released before the next flush of flowers. This is a fairly fast growing species.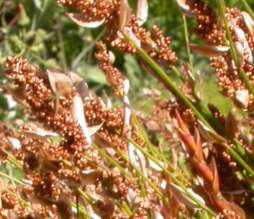 Conservation Status
Status
Distribution and habitat
Distribution description
The cushion restio is found in the Western Cape, in the Cape Floristic Region of the west coast, Cape peninsula, southwestern mountains and Bredasdorp plains. Elegia stipularis is a species found largely on coastal forelands between Kalabaskraal near Malmesbury in the north and Gouritz River in the east. It's common on low hills and reaches the foothills of mountains flanking the forelands. It grows at altitudes of 30-300 m on bedrock Table Mountain Sandstone or acid coastal sand substrate. These substrates are well-drained soils with fynbos type vegetation. The mean annual precipitation is 337-1094 mm. This restio is common on well drained slopes and forms dense stands. It is not found in seepages or wet places, but common on deeper, sandy flats. Parent plants are killed by fire and regenerate from seed.
Derivation of name and historical aspects
History
The family name, Restionaceae, refers to the Latin restis, which means cord or rope. There are 350 species in the restio family. The genus Elegia is very widespread and is comprised of 52 species. Chondropetalum has recently been added to Elegia. The species name stipularis means furnished with stipules.
Ecology
Ecology
Restios are wind pollinated. Female plants have large prominent sheaths that help funnel pollen onto the stigmas. Seeds are released and stored in the upper layer of the soil and they germinate after stimulation from fire and smoke. These seedlings produce the new generation of plants as older plants are killed by the flames.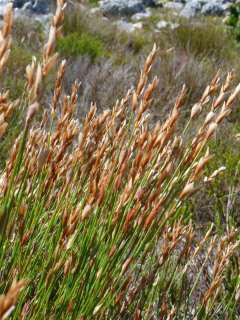 Uses
Use
This plant can be used in gardens, as mid or border plantings. Used as a filler between upright growing shrubs, such as Freylinia or Erica, it makes a wonderful display. It has attractive seasonal foliage and has been cultivated at Kirstenbosch since 1996.
Growing Elegia stipularis
Grow
The ideal conditions for this species is full sun, well-drained and composted sandy soil with plenty of air movement. The plants adapt to a wide variety of soil types. Plant young plants at the beginning of the rainy season, as they require regular watering during the first six weeks after planting. After this initial period, the plants can survive with little additional watering, but grow better with a normal garden-watering regime. They may be fed with organic fertilizers and foliar feeds.
Plants are propagated from seed. Seeds must be treated with smoke or 'Instant Smoke Plus' seed primer to germinate. Sow the seeds thickly in an even layer, covering the soil in the seed tray. Sown seeds should then be lightly covered with sand, placed in a warm, well-lit area and lightly watered. The seed tray should be kept moist, but not wet. Germination should occur in ± four weeks. Prick out seedlings when they have developed juvenile leaves and plant into larger containers using a well-drained sandy loam or fynbos mix.
Elegia stipularis is at its best when planted in groups where the bright seasonal colour makes it particularly attractive. It makes an excellent accent or filler plant. Suggested companion plants include Erica, Geranium, Phylica ericoides, Freylinia and Proteaceae species. Its neat appearance suggests that it would make a good container plant, as long as it gets sufficient watering.
References
Haaksma, E.D. & Linder, H.P. 2000. Restios of the Fynbos. Botanical Society of South Africa, Cape Town.
Linder, H.P. 2006. African Restionaceae, 4, CD, Bolus Herbarium, Department of Botany, University of Cape Town, Rondebosch.
Credits
Monique McQuillan
Kirstenbosch National Botanical Garden
December 2007
Plant Attributes:
Plant Type: Restio
SA Distribution: Western Cape
Soil type: Sandy
Flowering season: Winter
PH: Acid, Alkaline, Neutral
Flower colour: Brown
Aspect: Full Sun
Gardening skill: Average
Special Features:
Feature plant
Horticultural zones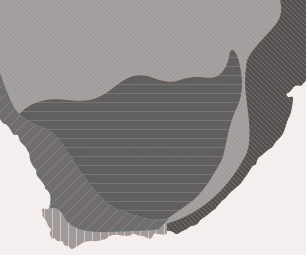 Zone 2 Coastal winter rainfall, frost free
Google QR Code Generator