Elionurus muticus (Spreng.) Kuntze
Family: Poaceae
Common names: wire grass, wire lemongrass, lemon grass, lemon-scented grass, matrass grass, silky grass, simon grass, sour grass, wine grass (Eng.); elsgras, haasgras, kleinhaasgras, koperdraadgras, krulgras, laventalgras, lekkerruikgras, lemoengras, matrasgras, polgras, suurgras, suurpol, wildebeesgras (Afr.); hlooko, motintsane, sehloko (Sesotho); isinama, isitshube (IsiZulu).
Introduction
Elionurus muticus is an ornamental grass that forms dense tufts with wiry, narrow leaf blades and showy, curved inflorescences. This grass is easily distinguished from other, closely related grasses when not flowering, by the bitter taste of the base of the leaves.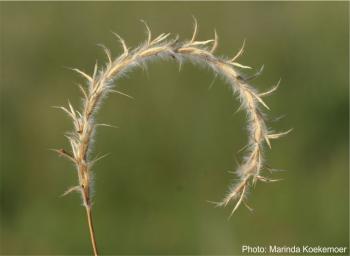 Description
Description
Elionurus muticus is a densely tufted perennial, growing 200–1 200 mm high. The leaves are bitter tasting and sometimes aromatic when fresh; green, becoming copper-coloured late in the season. Leaf blade is 10–150 × 1–2 mm, setaceous (bristly). Mature inflorescence is brown or straw-coloured, typically curled like a sickle. The rachis (an axis of a spike or raceme) internodes are densely hairy, with spreading hairs. Sessile spikelet is 6–14 mm long, 2-flowered, awnless. Lower glume with long, dense, silky, white hairs, apex bidentate or entire; anthers 2.6–3.8 mm long. Pedicellate spikelet 4–7 mm long, lanceolate, pubescent to villous, acuminate or with a short awn-point. Elionurus muticus flowers in spring until late summer, from September to May.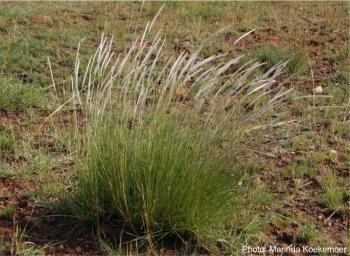 Conservation Status
Status
The current conservation status of Elionurus muticus, according to the Red List of South African plants, has been assessed as Least concern (LC). This grass is common in overgrazed veld and is a ruderal weed. It is a good indicator of veld mismanagement.
Distribution and habitat
Distribution description
Elionurus muticus is common in areas that receive summer rainfall. This grass grows in tropical and subtropical Africa extending to Yemen and America. In southern Africa, Elionurus muticus occurs in Namibia, Botswana, Eswatini (formerly Swaziland), Lesotho, Limpopo, North West, Gauteng, Mpumalanga, Free State, KwaZulu-Natal and Northern and Eastern Cape. It is a dryland grass species that prefers to grow in an open sour grassland, in sandy acid soils at higher altitudes, but is also found in mixed bushveld and other sandveld regions especially in overgrazed veld.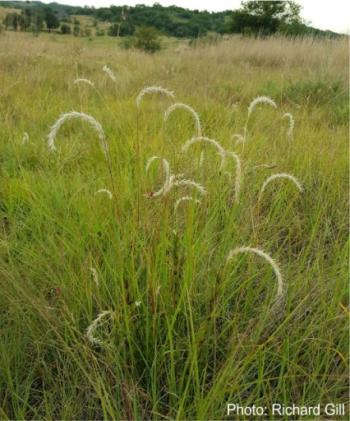 Derivation of name and historical aspects
History
The name Elionurus is derived from the Greek word eleuein meaning 'to roll' and oura meaning 'tail', alluding to the spike-like racemes curling strongly when old. The species name muticus is a Latin word meaning 'blunt, without a point or awn'.
The genus Elionurus has 15 species, occurring in tropical and subtropical Africa, Asia, Australia and America; 2 species occur in southern Africa, where Elionurus muticus is widespread except in the Western Cape.
Ecology
Ecology
Elionurus muticus is considered as a climax grass species. It is an indicator of poor veld management and overgrazing. Elionurus muticus is pollinated by wind. It produces abundant seeds that are easily dispersed by wind and water. This grass increases with regular burning and rotational grazing will force animals to feed on it while it is young and then again after a spring burn.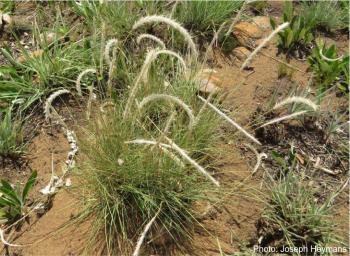 Uses
Use
Elionurus muticus is a very unpalatable grass due to its bitter taste and wiry leaves. It is the first grass to sprout and is utilized mainly in spring. It seems to increase with regular burning and disappear if not grazed. It is a good indicator of mismanagement veld and also is a ruderal weed. This grass contains essential oil with about 25 ingredients, of which cineole and camphere are the most important. The roots are chewed to treat toothache, colic and to make a young men strong and true.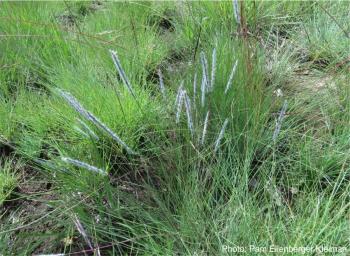 Growing Elionurus muticus
Grow
Elionurus muticus grows in open grassland and prefers sandy acid soils of sourveld at higher altitudes. Elionurus muticus is a very hardy, upright growing grass The long white seed heads curl gracefully backwards at the tips of long stems from September to May. In autumn the leaves turn a beautiful coppery brown. This is a cultivated grass, but is browsed by animals while still young.
The grass seeds germinate after 7 days on burnt soil of the grassland. The water requirement of this grass are low, making it water-wise in gardens. Elionurus muticus is best cultivated in full sun and well-drained soil, especially sandy soil. This grass does not grow in temperate areas, and it prefers areas that receive rain in summer.
Fire stimulates earlier flowering and seed production. Post-fire seed production of Elionurus muticus can lead to poor seed quality. Elionurus muticus grass is the first grass species to reproduce in a post-fire situation.
This widespread grass is ornamental and easy to manage in the garden. Birds collect the seed heads for nesting material. Plant in pure stands or as part of a grassland garden. It is also useful as a soil stabilizer. Two essential oils are distilled from this grass. These essential oils have a high citral level of 80% and other important chemical compounds.
References
Deacon, A. 2017. Observation of Elionurus muticus, Kareerand Farm, Stilfontein, South Africa. iNaturalist. Online. https://www.inaturalist.org/observations/9783834.
Fish, L. & Victor, J.E. 2005. Elionurus muticus (Spreng.) Kunth. National Assessment: Red List of South African plants version 2020.1. Accessed on 2022/06/20.
Fish, L., Mashau, A.C., Moeaha, M.J. & Nembudani, M.T. 2015. Identification guide to southern African grasses. Strelitzia 36: 271–276. South African National Biodiversity Institute, Pretoria.
Gill, R. 2018. Observation of Elionurus muticus, Klipriviersberg, Gauteng. iNaturalist. Online. https://www.inaturalist.org/observations/31805401.
Heymans, J. 2018. Observation of Elionurus muticus, Magaliesberg, Pretoria Rural, South Africa. iNaturalist. Online. https://www.inaturalist.org/observations/18912712.
Kleiman, P.E. 2021. Observation of Elionurus muticus, East Griqualand, South Africa. iNaturalist. Online. https://www.inaturalist.org/observations/105355104.
Leistner, O.A. (ed.). 2000. Seed plants of southern Africa: families and genera. Strelitzia 10. National Botanical Institute, Pretoria.
Random Harvest: Elionurus muticus. https://www.randomharvest.co.za/en-us/South-African-Indigenous-Plants/Show-Plant/PlantId/817/Plant/Elionurus-muticus?Filter=All. Accessed 04 Jul 22
Van Oudtshoorn, F. 1999. Guide to the grasses of southern Africa. Briza Publications, Pretoria.
Credits
Aluoneswi Caroline Mashau
National Herbarium (PRE), Pretoria
August 2022
Acknowledgements: images by Marinda Koekemoer, Andrew Deacon, Joseph Heymans, Richard Gill and Pam Ellenberger Kleiman.
Plant Attributes:
Plant Type: Grass, Ground Cover
SA Distribution: Eastern Cape, Free State, Gauteng, KwaZulu-Natal, Limpopo, Mpumalanga, North West, Northern Cape
Soil type: Sandy
Flowering season: Spring, Early Summer, Late Summer
PH: Acid
Flower colour: Brown, White
Aspect: Full Sun
Gardening skill: Easy
Special Features:
Attracts birds
Drought resistant
Fragrant
Medical plant
Useful plant
Pioneer plant
Horticultural zones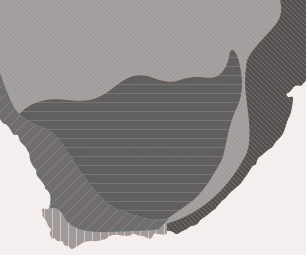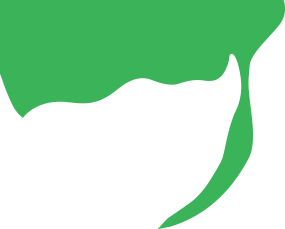 Zone 1 Coastal summer rainfall, frost free
Zone 4 Summer rainfall Karoo and Highveld, Frost in winter
Zone 5 Bushveld summer rainfall, Light frost
Google QR Code Generator