Encephalartos cerinus Lavranos & D.L.Goode
Family: Zamiaceae
Common names: waxen cycad
SA Tree No: 14.12
Introduction
Encephalartos cerinus is a small cycad with a subterranean stem that may be partly exposed when growing among rocks. Leaves and cones are covered by a dense waxy layer, which is one of the main characteristics used to distinguish it from other closely related cycads.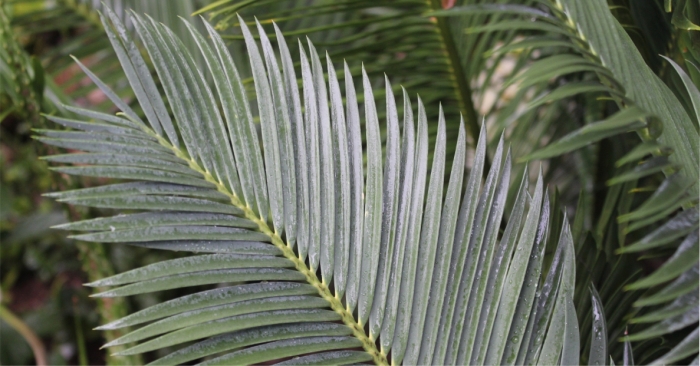 Description
Description
The stem is subterranean, and may be somewhat exposed if growing in-between rocks, up to 300 mm long and 200–250 mm in diameter. Mature plants are usually single-stemmed and rarely produce suckers. The crown is covered with greyish woolly bracts. Leaves are of medium size, about 0.9 to 1.2 m long, dark blue-green, and are held almost vertical to the crown. The leaflets are covered with a thick waxy layer, which gives off a distinct odour when rubbed between the fingers. The rachis is very thin at the terminal end, in contrast to the thickness at the basal part, and the basal leaflets are not reduced to a series of spines. Both genders produce one cone at a time, although male plants in cultivation occasionally produce two. Cones are blue-green with a thick waxy outer layer and turn yellowish when matured, except in fully shaded conditions. Male cones are tubular, 550–600 mm tall and 90–100 mm in diameter and pollen shedding occurs in late summer (Jan. –Mar.). Female cones are egg shaped, 300–380 mm tall and 150–180 mm in diameter and disintegrate in winter to spring (Jun.–Sep.). Seeds are initially yellow, ripening to bright red.
Conservation Status
Status
This is a rare species that occurs in an area of 10 km2. According to the Red List of South African plants website, the conservation status of this species is Critically Endangered (CR). Population numbers declined rapidly after it was first described in 1998. The species continues to be targeted by collectors and some experts believe that very few wild plants remain. The population at the type locality is considered to be extinct, which means that it now occurs in a single subpopulation. Estimates of the number of remaining plants vary from 10–70, with some reports suggesting it may already be Extinct in the Wild (EW).
Distribution and habitat
Distribution description
This cycad is restricted to a single rocky gorge in the Tugela Ferry in KwaZulu-Natal where it thrives under warm and relatively dry conditions. It is commonly found in inhospitable places, often on east-facing cliffs, in dry, hot, rocky grassland.
Derivation of name and historical aspects
History
This species was described in 1989 by John J. Lavranos and Douglas L. Goode. The name Encephalartos is derived from Greek and means 'bread in head' and refers to the floury, starchy material in the trunks of some species, which is used as famine food by local native tribes. Cerinus is from Latin and means 'wax-like' and refers to the thick waxy layer that is usually found on the leaflets and cones of this species.
This species is closely related to and often confused with the other 3 dwarf cycads found in KwaZulu-Natal and Mozambique: E. umbeluziensis (Umbeluzi cycad), E. ngoyanus (Ngoye cycad) and E. villosus (poor man's cycad). The margins of the leaflets of E. umbeluziensis have small teeth which are absent from leaflets of mature E. cerinus plants, however, teeth are present in juvenile E. cerinus. Another way to distinguish this species is to rub the leaflets between one's fingers and E. cerinus will leave a waxy smell on the fingers, but not in any of the others. Furthermore, E. ngoyanus and E. villosus are found in moister habitats. E. umbeluziensis usually occurs in dry areas, but in light shade and not on the steep, open cliff-faces where E. cerinus is found.
Ecology
Ecology
The leaves and the cone of this cycad are covered by a dense waxy layer which is possibly an adaptation to assist the plant in retaining water, as this cycad is found in hot and dry conditions, in a rocky habitat which does not retain water for long periods of time, even after rain.
For a long time it was thought that all cycads were wind pollinated, as most coniferous plants are, and the fact that cycads generally produce high volumes of pollen, supported this argument. However, research has shown that insects are the pollinators of cycads. Most cycads are thermogenic and emit volatile odours. In nature when the male cone reaches maturity, the central axis elongates and the scales move apart to make room for the release of the pollen, which is transported by insects. The release of pollen usually lasts for eighteen days. When the female cone reaches maturity, the cone will heat up, causing it to elongate, and it produces a smell which attracts the insects to the female cone The scales move apart to allow the insects to enter and to pollinate the cone.
Uses
Use
In the Zulu culture most of the cycads are referred to as isqgiki-somkhovu. This name refers to witchcraft practices where a person is converted into becoming a zombie and is used for witchcraft. The cycad is planted in front of the gate of the homestead to protect it from the evil spirit. If someone practices any witchcraft using 'umkhovu', this zombie will sit on top of the cycad, which is referred as 'isqgiki', which means 'chair', and that is where the common name is derived from.
This is a rare cycad and it is hardly used in cultivation. But it can be a great addition to most gardens and landscapes, easy to fit in even tight garden spaces, but be sure to purchase your plant from a legal supplier.
Growing Encephalartos cerinus
Grow
Encephalartos cerinus is propagated almost only by seed, as it rarely produces suckers. This cycad cones frequently and responds well to artificial pollination. For best results, sow seed in river sand and place on a heated bench at 24–28°C. Germination should start 3 weeks after sowing. However, some seeds will take longer especially where there is no heat. At the one-leaf stage of development, the seedlings are susceptible to infection by the fungus that causes damping off. This plant grows best in light shade. This species will tolerate light frost and is a fast grower, if it is provided with deep, well-drained soil and is watered frequently.
References
Goode, D. 1989. Cycads of Africa. Struik Winchester, Cape Town.
Grobbelaar, N. 2002. Cycads with special reference to the southern African species. Published by the author, Pretoria.
Jungle Music Palms and Cycads, Encephalartos cerinus. http://www.junglemusic.net/Encephalartos_Species/Encephalartos_cerinus.html Accessed on 2019/01/21.
Ulwazi, Sharing indigenous knowledge. Isihlahla sesigqiki somkhovu. https://www.ulwaziprogramme.org/2016/10/isihlahla-sesigqiki-somkhovu/ Accessed on 2019/01/23.
Credits
Lungisani Zondi
Walter Sisulu National Botanical Garden
March 2019
Acknowledgements: the author thanks Willem Froneman, Lowveld National Botanical Garden, for the use of his images.
Plant Attributes:
Plant Type: Shrub, Tree
SA Distribution: KwaZulu-Natal
Soil type: Sandy, Loam
Flowering season:
PH:
Flower colour:
Aspect: Full Sun, Morning Sun (Semi Shade), Afternoon Sun (Semi Shade)
Gardening skill: Average
Special Features:
Feature plant
Good potplant
Horticultural zones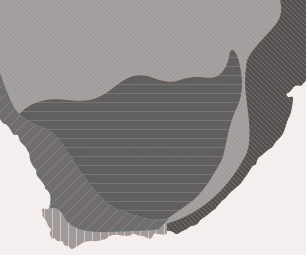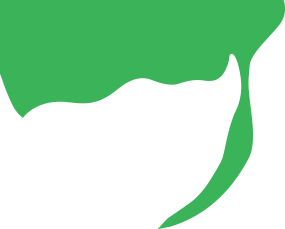 Zone 1 Coastal summer rainfall, frost free
Zone 2 Coastal winter rainfall, frost free
Zone 5 Bushveld summer rainfall, Light frost
Google QR Code Generator