Ensete ventricosum (Welw.) E.E. Cheesman
Family: Musaceae
Common names: wild banana, African wild banana (Eng.), wildepiesang (Afr.), motholo (Sepedi), mulala (Tshivenda)
SA Tree No: 31
Introduction
This relative of the edible banana is a valuable landscaping plant. Its form, texture and large leaves with conspicuous red midribs, create a lush, tropical effect.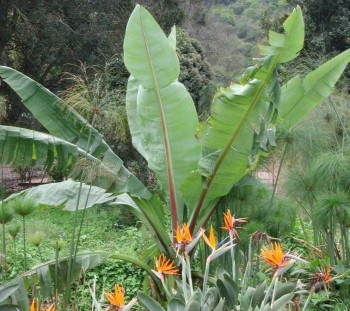 Description
Description
Ensete ventricosum is a large, fleshy-stemmed plant with a head of banana-like leaves. The plant grows between 6 and 12 m high. It is a monocotyledon and does not have a true, branched trunk, but an unbranched pseudostem formed by the imbricated (overlapping) bases of petioles (leaf stalks) left behind when old leaves die. The pseudostem broadens towards the base. The plant seldom forms suckers from the base. The simple, large leaves, up to 5 m long and nearly 0.9 m wide, are oblong to oval and have a thick, rose-pink midrib and numerous pinnately parallel nerves extending to the margin. They are spirally arranged at the tip of the bare trunk giving the plant a rounded crown.
This plant flowers and bears fruit once only in its lifetime and then dies. The flowers form a large, showy bunch or spike 2 to 3 m in length. The male flowers usually occur at the tip and the female or bisexual flowers lower down. The cream-coloured flowers have only one petal, but are surrounded by large, showy, maroon bracts. Flowering usually takes place in early summer (October and November) and the flower spike is on the tree for a year or so.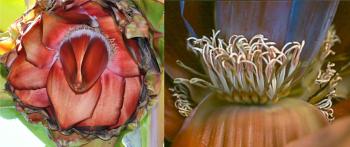 Insipid, banana-like fruits form about half way along the flower spike after flowering. They have a yellow skin with black spots and contain a row of pea-sized, hard, black seeds. Under normal conditions plants flower when they are about eight years old.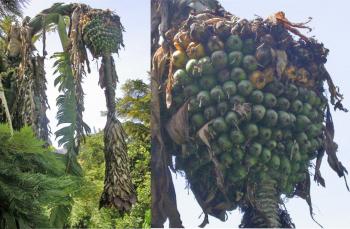 Conservation Status
Status
Distribution and habitat
Distribution description
The plant is found in the frost-free areas of Limpopo in South Africa and also occurs further north in Africa. It occurs in patches of high-rainfall forests, in forested ravines and along streams.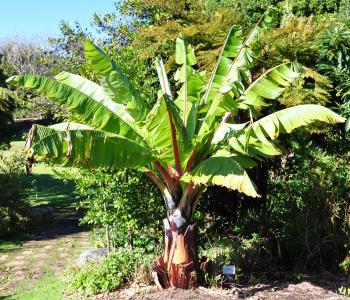 Derivation of name and historical aspects
History
The genus name is derived from the Ethiopian name for banana. The specific epithet ventricosum  means 'with a swelling' and refers to the swollen base of the pseudostem.
There are about 25 species in the genus, most of which occur in the Old World tropics from Africa to Asia and New Guinea. Only this one species occurs in South Africa.
Ecology
Ecology
The flowers are visited by bees and other insects, which bring about pollination.
Uses
Use
Aside from its horticultural value, this plant has many traditional uses. It belongs to the same family as the edible banana, but its fruit is not edible (or is only eaten in times of scarcity), but young inflorescences are palatable and are eaten when cooked. The pea-sized seeds are said to be the famine food in some other countries like Ethiopia. The pulp in the pseudostems and rootstock is also eaten. The seeds are also used as beads, and to make rosaries or rattles in East Africa. The leaves can be used for thatching and the stalk to make fibres for cordage and sacking.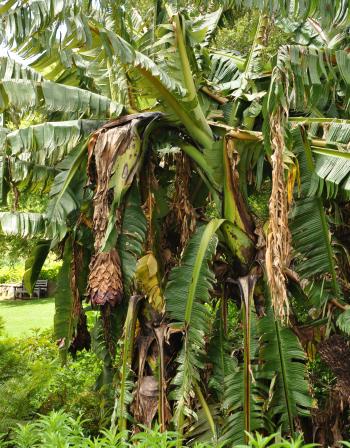 Growing Ensete ventricosum
Grow
Ensete ventricosum cannot tolerate heavy frost. In areas that experience frost, it should be planted under big trees in order to protect it or brought inside for the winter if grown in a pot.
The species can be propagated easily by seed. It requires warmth, lots of water and fertile soil to grow to its full potential.
References
Coates Palgrave, K. 1988. Trees of southern Africa, 2nd Edn. Struik Publishers, Cape Town, Johannesburg.
Fox, F.W. & Norwood Young, E. 1982. Food from the veld: edible wild plants of southern Africa. Delta Books, Cape Town.
Jackson, W.P.U. 1990. Origins and meanings of names of South African plant genera . University of Cape Town.
Leistner, O.A. (ed.). 2000. Seed plants of southern Africa: families and genera. Strelitzia 10. National Botanical Institute, Pretoria.
Mabberley, D.J. 1997. The Plant Book. Cambridge University Press, Cambridge.
Palmer, E. & Pitman, N. 1972. Trees of southern Africa . Balkema, Cape Town.
Raimondo, D., von Staden, L., Foden, W., Victor, J.E., Helme, N.A., Turner, R.C., Kamundi, D.A. and Manyama, P.A. 2009. Red List of South African Plants. Strelitzia 25. South African National Biodiversity Institute, Pretoria.
Credits
Siyabulela Nonjinge
KwaZulu-Natal National Botanical Garden
With additions by Yvonne Reynolds
October 2002
Plant Attributes:
Plant Type: Tree
SA Distribution: Limpopo
Soil type: Loam
Flowering season: Sporadic/All year
PH: Neutral
Flower colour: Purple, Cream
Aspect: Full Sun
Gardening skill: Easy
Special Features:
Feature plant
Edible plant
Useful plant
Feeds honeybees
Wet sites
Horticultural zones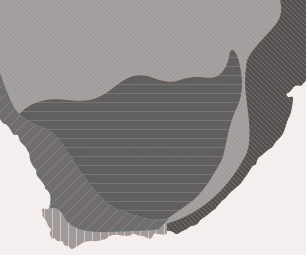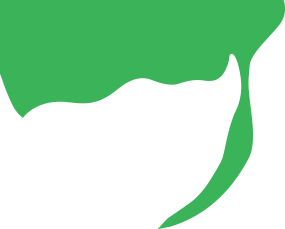 Zone 1 Coastal summer rainfall, frost free
Zone 2 Coastal winter rainfall, frost free
Zone 5 Bushveld summer rainfall, Light frost
Google QR Code Generator