Erica abietina subsp. constantiana
Erica abietina subsp. constantiana E.G.H.Oliv. & I.M.Oliv.
Family: Ericaceae
Common names: Constantiaberg heath
Introduction
Erica abietina subsp. constantiana was assessed by Dr Ted Oliver who determined it to be closely related to a number of other species. He re-classified them as part of the Erica abietina complex under different subspecies (Oliver & Oliver 2002). Some of the species grouped as subspecies under Erica abietina are: E. phylicifolia = E. abietina subsp. atrorosea; E. conica = E. abietina subsp. constantiana; and E. grandiflora = E. abietina subsp. aurantiaca. The Erica abietina complex includes in total, seven subspecies and one variety.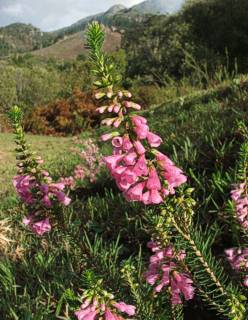 Description
Description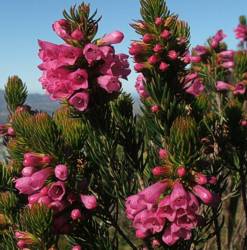 Erica abietina subsp. constantiana is an erect shrub, up to 0.4 m high. It arises from a single woody stem and branches freely to produce a dense shrub. The mid to upper branches are clothed with a dense arrangement of green, needle-like, ericoid leaves. The corolla is short, 6-9 mm long, and shaped like an open bell or cone. The flowers are arranged in clusters along the upper branches and are deep pink to red, providing a very showy display on mountain slopes. Flowers are produced from June to September.
Conservation Status
Status
Erica abietina subsp. constantiana is not threatened.
Distribution and habitat
Distribution description
Erica abietina subsp. constantiana is endemic to the Cape Peninsula and restricted to slopes of Constantiaberg, Noordhoek Peak, Chapman's Peak and on the lower south slopes of Orange Kloof near Constantia Nek. It is commonly found on rocky slopes in full sunlight. It is occasionally found growing together with closely related E. abietina subsp. atropurpurea, but the two subspecies do not appear to hybridize.
Derivation of name and historical aspects
History
The name abietina is derived from Latin and means like a fir tree. This name refers to the leaves which resemble those of fir or pine trees such as Abies. The old species name conica was descriptive, referring to the cone-like shape of the corolla. The new subspecific name constantiana refers to where it is predominantly found in nature.
Ecology
Ecology
Erica abietina subsp. constantiana is found in Peninsula Sandstone Fynbos. This vegetation type consists of poor, well-drained, sandy and stony soils derived from the quartzites of the Table Mountain Series. It is limited to mid and upper mountain slopes from about 400 m and higher. Its colourful tubular flowers attract sunbirds that feed on its nectar and it is also visited by bees.
Uses
Use
Erica abietina subsp. constantiana is quite hardy in Cape Mediterranean conditions and is an attractive addition to a fynbos garden as well as a good pot plant.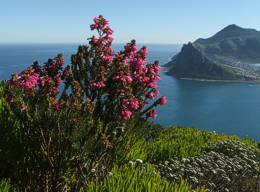 Growing Erica abietina subsp. constantiana
Grow
Erica abietina subsp. constantiana should be planted in gardens where it is in full sunlight and is well ventilated. This species performs best when planted in rockeries on sloping ground, terraces or embankments and with other fynbos plants. It tolerates warm sunny positions, but prefers positions where it receives some relief from cool summer breezes coming off the sea. Companion plants may include other ericas, buchus, brunias, and restios.
If the above conditions cannot be provided, it grows well in a medium-sized pot. A f ynbos planting medium is made up of a combination of equal parts of composted pine bark or pine needles and river sand. A little (20 %) loam may also be added.
Regular pruning is recommended to keep the plants well branched and compact. Plants that are pruned are more presentable, last longer and produce more flowers.
Erica plants are adapted to living in poor soils and therefore should be regularly fed with diluted organic liquid or small amounts of an organic pellet fertilizer.
It is propagated vegetatively by rooting fresh semi-hardwood tip or heel cuttings. Cuttings are rooted in multi-trays on heated benches under mist spray in autumn or spring in a rooting medium of equal parts bark and polystyrene chips. A semi-hardwood rooting hormone is used to aid the rooting process.
This species grows easily from seed which is subjected to smoke treatment and sown in well-drained, acidic, sandy soil. Seed is normally sown from late summer into autumn, i.e. March to May.
References
Adamson, R.S. & Salter, T. M. 1950. Flora of the Cape Peninsula. Juta, Cape Town and Johannesburg.
Goldblatt, P. & Manning, J. 2000. Cape plants. A conspectus of the Cape flora of South Africa. Strelitzia 9. National Botanical Institute, Cape Town and Missouri Botanical Garden.
Oliver, E.G.H. & Oliver, I.M. 2002. The genus Erica (Ericaceae) in southern Africa : taxonomic notes 1. Bothalia 32: 37-61.
Schumann, D. & Kirsten, G. 1992. Ericas of South Africa. Fernwood Press, Vlaeberg, Cape Town.
website: http://www.sanbi.org/biodiversity/reddata.htm.
Credits
Anthony Hitchcock
Kirstenbosch National Botanical Gardens
September 2009
Plant Attributes:
Plant Type: Shrub
SA Distribution: Western Cape
Soil type: Sandy
Flowering season: Autumn, Winter
PH: Acid
Flower colour: Pink
Aspect: Full Sun
Gardening skill: Average
Special Features:
Attracts birds
Feeds honeybees
Horticultural zones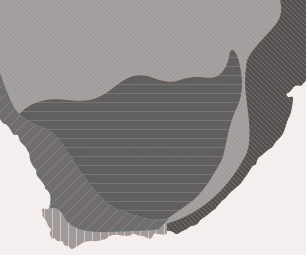 Zone 2 Coastal winter rainfall, frost free
Google QR Code Generator