Erica amoena J.C.Wendl.
Family: Ericaceae
Common names: feathery heath (Eng.)
Introduction
Erica amoena is a fairly lanky little shrub, growing in marshy and swampy areas on the Cape Peninsula, where it is rare and endemic, which makes it special. It has hairy leaves and dense heads of dark pink to reddish flowers, on long, hairy stalks that are also dark pink to reddish in colour.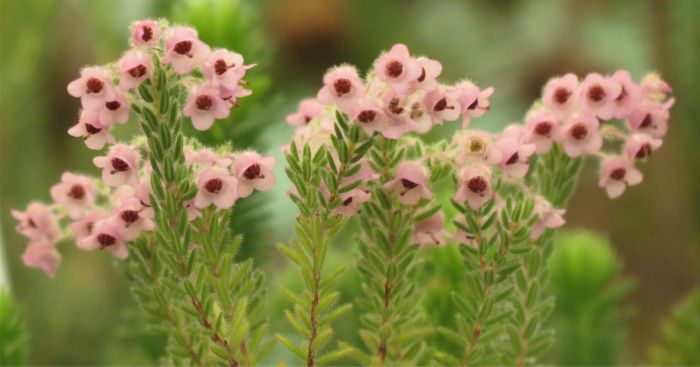 Description
Description
Erica amoena is an upright, subglabrous, branched shrub which grows to a height of up to 450 mm. Its leaves are 4-nate, 40–60 mm long, upright, imbricate (overlapping), sulcate (margins rolled back forming a groove underneath the leaf) and hirsute (hairy), with linear to narrowly elliptic, longish, pale petioles. Flowers are axillary, at the ends of the branches, often in dense, compact, subcapitate spikes. Pedicels are up to 40 mm long, hirsute and dark pink to reddish. The median bracts are hirsute and also dark pink to reddish. Sepals are 4 mm long, ovate-lanceolate or lanceolate-acuminate, keel-tipped, hirsute and dark pink to reddish. The corolla is 40–60 mm long, open, broadly campanulate (bell-shaped), glabrous (hairless), reddish or dark pink; the lobes are continuous, widely rounded and roughly equal in length to the tube. The anthers are included, 10 mm long, oblong to deltoid, obtuse, with a small, blunt, prognathous point in front, dark coloured, appendiculate, cristate-aristate (crested with horn-like appendages); pore 5/8 of the length of the cell, broadly elliptical; awns broad at the base, decurrent along the filaments for 1/4 of their length, before spreading, about equal to the cell in length. The ovary is turbinate and heavily villous (shaggy); the style is included and the stigma is capitate. This species flowers in late spring and summer, from October to April.
Conservation Status
Status
Erica amoena is typically encountered in dense, localized stands of several hundred to thousands of plants. It is classified as Rare because its range is restricted to less than 125 km², and it is known from 5 to 10 subpopulations, but is not threatened because it occurs within the boundaries of the Table Mountain National Park  It cannot be classified as endangered or threatened because the majority of its habitat that has been lost was lost over three generations ago. Today, it is threatened by invasive alien plants, wetland drainage, competition with associated plants and groundwater exploitation. All known sub-populations lie within the Table Mountain National Park where frequent fire could pose a future threat.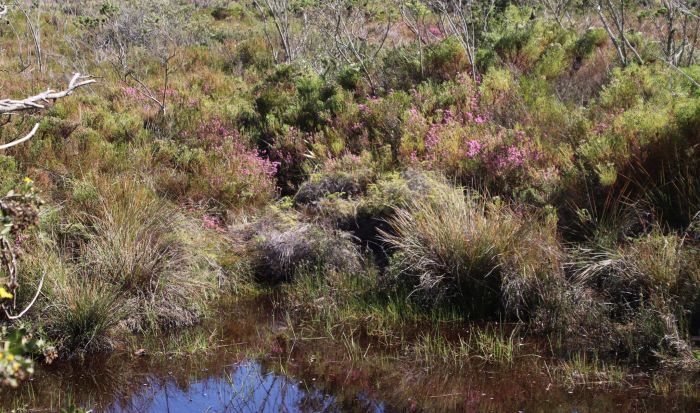 Distribution and habitat
Distribution description
Erica amoena is endemic to the winter-rainfall Cape Floristic Region, where it favours swampy, bog-like areas, in fynbos, on coastal mountain slopes (0–400 m) on the Cape Peninsula, competing for light and air with restios, proteas and other ericas. It is found in the Table Mountain National Park, from Steenberg, Silvermine and Constantiaberg to Clovelly, the Red Hill Plateau and Cape Point, and is particularly abundant in the Cape of Good Hope Nature Reserve.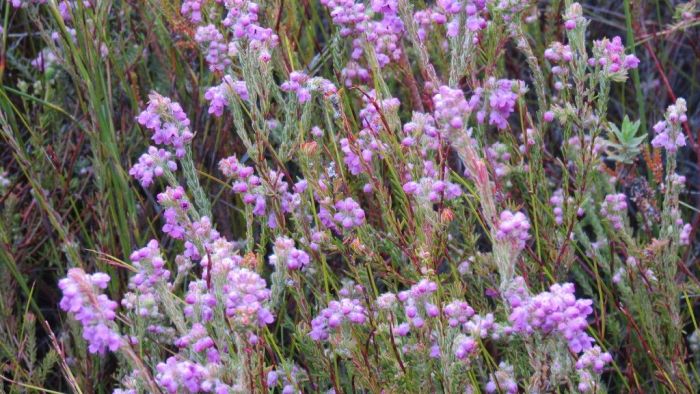 Derivation of name and historical aspects
History
The genus Erica is the largest of the genera in the Cape Floristic Region, with around 860 species. It occurs in Africa, Europe, and the Middle East, but the bulk of species are confined to the southern tip of Africa, where roughly 660 species occur in fynbos. The genus name, Erica, comes from the Greek word ereiko, a name used for heather; it means 'to break', and possibly refers to the stems that are brittle and break easily. The species name amoena is derived from a Latin word amoenus, meaning 'pleasant', 'delightful' or 'beautiful'.
Ecology
Ecology
This species regenerates readily from seed after fire, which is produced in abundance. In general, the seeds of heaths are very small and stay viable for many years in the soil seedbank. Plants can flower at a young age, when still very small, however, they only produce one or two flowers rather than the usual spikes with many flowers. Erica pilulifera is similar to this species and shares a similar habitat, but it has urn-shaped flowers in umbels.
Pollination by bees is a possibility. Erica amoena is frequently seen growing in sphagnum moss in very damp locations, typically in combination with other marsh-loving species such as Mimetes hirtus, Erica curviflora, Berzelia abrotanoides and Erica parviflora amongst others.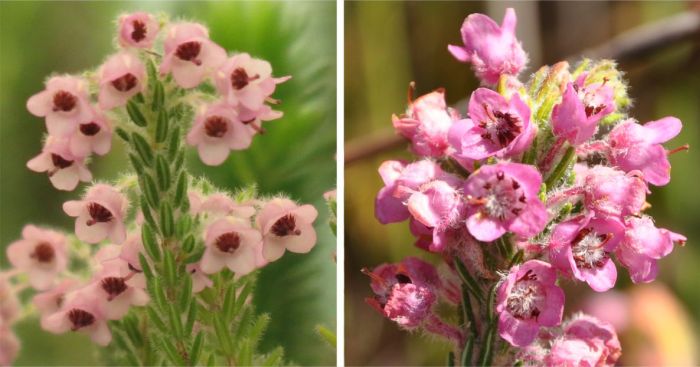 Uses
Use
This little shrub is adorned with wide open, dark pink to reddish flowers that are grouped into dense heads at the extremities of the branches, which are densely covered in very hairy leaves. This decorative plant will be a welcome addition to any collection, if its preferred growing conditions can be replicated in the garden or in a container.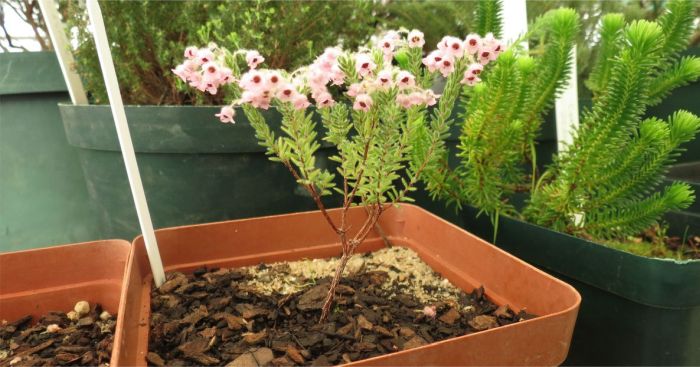 Growing Erica amoena
Grow
Erica amoena requires a well-ventilated, sunny location with well-drained, sandy, acidic soil to thrive. Once or twice a year, feed with well-rotted compost, spread as a mulch. Slow-release fertilizer in diluted or low amounts can also be employed. When you pinch the tips of immature plants, you get a plant with more branches, that develops  a compact habit and produces more flowers. It can also be used in containers, if well hydrated.
Erica amoena can be propagated by seed or cuttings. Seeds can be sown in autumn (April to May). Before sowing, treat the seeds with Instant Smoke Plus Seed Primer, which is a smoke-water solution or expose the seed trays to the smoke of burning fynbos plants (in a tent), to improve germination. A well-drained, acidic sowing medium is a must. Because the seeds are so fine, they need only a light covering of clean sand, or the seeds can be mixed with dry sand and the layer of seed and sand spread in a thin layer on top of the sowing medium. Water with a fine rose to avoid displacing the seeds, and the trays must be kept damp but not wet and out of direct sun in a warm, but not hot area. Germination takes 1 to 2 months, while transplanting the seedlings is necessary when they are about 10 mm high.
Take semi-hardwood tip or heel cuttings in late summer to autumn, or in the spring. Apply rooting hormone and place in a sterile rooting medium that is well-drained, well-aerated and well-ventilated. To produce 50–70 mm long cuttings, a root-stimulating hormone such as auxin powder or IBA is utilized. Before propagation, visible flower portions are removed and cuttings are soaked in a solution of seaweed extract and irrigated. The cuttings are placed in a fynbos-friendly substrate (such as a mixture of fine-milled bark and perlite). By first forming a thin hole with a sterile wire and then placing the cutting in the hole, the excess powder is permitted to stay on the cutting, where it will be placed in the wet medium. The cuttings tray is labeled before being placed in the propagation mist house.
The mist house is heated and maintained at a warm temperature of 22–25°C; it sprays water every 15 minutes for 5 seconds, to keep the rooting medium moist, the leaves cool and moist. The bench is also heated and maintained at a warm temperature of 22–25°C. After 2–3 months, the cuttings are hardened off in a shady area for a week before being potted into 2 kg nursery bags, in a fynbos soil mix. They are watered on a regular basis and given organic fertilizers once a month to promote growth before being planted in the garden when they are ready.
Erica amoena requires a sunny location with good air circulation in sandy and acidic soil. It is perfect for fynbos gardens, particularly those on sandy flats. Those lucky enough to have a stream or seepage area in their garden should try this Erica. It prefers warm, sunny, well ventilated positions and must be given regular doses of water in summer. Companion plants may include other proteas Mimetes, ericas, buchus, brunias, and restios.
References
Baker, H.A. & Oliver, E.G.H. 1967. Ericas in southern Africa. Purnell & Sons, Cape Town.
Goldblatt, P. & Manning, J. 2000. Cape Plants. A conspectus of the Cape flora of South Africa. Strelitzia 9. National Botanical Institute, Pretoria & Missouri Botanical Garden, Missouri.
Helme, N.A. & Trinder-Smith, T.H. 2006. The endemic flora of the Cape Peninsula, South Africa. South African Journal of Botany 72(2): 205–210.
Hilton-Taylor, C. 1996. Red Data List of Southern African Plants. National Botanical Institute, Pretoria
Modimola, K.S. & Blackhall-Miles, R. 2021. Erica bolusiae Salter var. cyathiformis H.A.Baker (Ericaceae). PlantZAfrica. Online. http://pza.sanbi.org/erica-bolusiae-var-cyathiformis.
Oliver, E.G.H. & Turner, R.C. 2006. Erica amoena J.C.Wendl. National Assessment: Red List of South African Plants version 2020.1.
Oliver, I. & Oliver, T. 2000. Field guide to the ericas of the Cape Peninsula. Protea Atlas Project, Cape Town.
Raimondo, D., Von Staden, L., Foden, W., Victor, J.E., Helme, N.A., Turner, R.C., Kamundi, D.A. & Manyama, P.A. (eds) 2009. Red list of South African plants. Strelitzia 25. South African National Biodiversity Institute, Pretoria.
Rebelo, A.G., Siegfried, W.R. & Oliver, E.G.H. 1985. Pollination syndromes of Erica species in the south-western Cape. South African Journal of Botany 51(4):270–280
Schumann, D., Kirsten, G. & Oliver, E.G.H. 1992. Ericas of South Africa. Fernwood Press, Vlaeberg.
Credits
Kamogelo Solomon Modimola & Siqamo Yeko
Kirstenbosch National Botanical Garden
November 2021
Acknowledgements: the authors thank Tony Rebelo for the image of Erica amoena growing beside a pond, in habitat and dedicate this article to to Lil Erica, also known as Hlosi Olerato Amoena.
Plant Attributes:
Plant Type: Shrub
SA Distribution: Western Cape
Soil type: Sandy
Flowering season: Spring, Early Summer
PH: Acid
Flower colour: Pink, Mauve/Lilac
Aspect: Full Sun
Gardening skill: Average
Special Features:
Good potplant
Feeds honeybees
Wet sites
Horticultural zones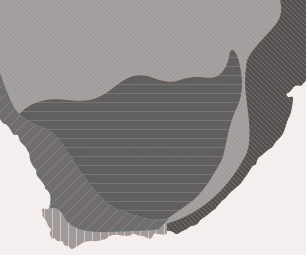 Zone 2 Coastal winter rainfall, frost free
Google QR Code Generator