Erica baccans L.
Family: Ericaceae
Common names: berry heath (Eng.); bessieheide (Afr.)
Introduction
Erica baccans is a well-known, showy species that produces bright, cherry-pink splashes of colour on the middle to lower slopes of the Cape Peninsula. It is easily grown in a variety of garden conditions and is a rewarding and decorative garden plant.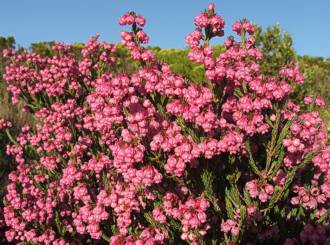 Description
Description
Erica baccans is an erect, woody, densely branched, strong-growing shrub reaching an average height of 1-2 m. Older specimens may reach a height of over 2.5 m. Its upper branches are liberally covered with fine, upward-pointing, light green needle-like leaves giving this species a 'soft fynbos' textural effect.
Small, urn-shaped flowers are produced in groups of four at the ends of the branches. The four sepals surrounding the corolla are shaped like the keel of a boat and these ridges help to give each flower a box-like appearance. This Erica is covered with masses of pink flowers from September to November producing spectacular displays on mountain slopes.
Conservation Status
Status
Erica baccans is not regarded as threatened, but it is restricted to the Cape Peninsula.
Distribution and habitat
Distribution description
Erica baccans is endemic to the Cape Peninsula where it grows on middle or lower slopes from Signal Hill to Simonstown. It is found in Peninsula Sandstone Fynbos, growing in groups or communities on warm, rocky mountain slopes or in damp to moist places at lower altitudes.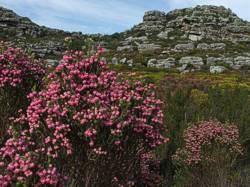 Derivation of name and historical aspects
History
The species name baccans is derived from Latin, and means berry-like, referring to the shape and colour of the flowers.
Ecology
Ecology
The key pollinators of the genus Erica are insects, birds and wind. The flowers of Erica baccans are small and are probably pollinated by insects and perhaps sunbirds. The stigma and anthers of this species are not exserted, therefore they are unlikely to be wind-pollinated. It is a re-seeder which means it is killed by fire. Many thousands of seeds are produced each year and germinate prolifically after fire or on disturbed land. This species is a garden escape in the southwestern and eastern states of Australia where it has invaded grassland and heath-land.
Uses
Use
Erica baccans is not a medicinal plant, but is an excellent garden shrub. Its flowers are certainly a joy to admire and are long-lasting in the vase.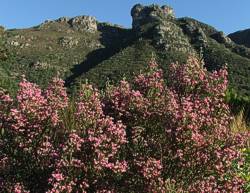 Growing Erica baccans
Grow
Plant Erica baccans in full sun, where there is free circulation of air. Soil type should be free-draining, sandy and acidic with low levels of phosphate. No manure should be used, rather feed with well-rotted compost or slow-release or low dose organic fertilisers. To increase acidity of the soil, decomposed pine needles or pine bark can be mixed into the soil. The planting bed and hole must be cleared of weeds and grass before planting. Mulch with well-rotted compost or pine bark after planting - this helps suppress weeds and prevents soil moisture from evaporating. Ericas have sensitive roots and care should be taken not to disturb them. If weeds are to be removed from around the plant, hold the soil around the weed down firmly first and then remove the weed. This helps prevent disturbance to the delicate erica roots. The best time for planting is in autumn (March- May), when the weather is cooler. Prune plants regularly as this stimulates branching and removes diseased material. Erica baccans has been noted to die in its prime and often when in full flower. Even though it does this, it produces plenty of seed which germinates readily in gardens from seed that matures on the dying plant.
Grow Erica baccans in the fynbos garden, where it looks very attractive inter-planted with other fynbos species or planted en masse. It is well suited to a region with a Mediterranean climate and to coastal gardens on hill or mountain slopes. E. baccans is also suitable for pot cultivation, which is recommended for gardens in colder climates, as the pot can be moved to a protected position during the cold months. Good drainage is essential.
Erica baccans can be propagated from either cuttings or seed. Take cuttings in autumn or spring. Semi-hard wood tip or heel cuttings are recommended. A higher percentage of rooting is achieved if a rooting hormone is applied. The recommended rooting medium is half sifted pine bark combined with half polystyrene or perlite for good aeration. Place the cuttings in a mist unit with bottom heat. Rooting should start within a month and develop over a period of 2 to 3 months. Remove tray of rooted cuttings from the rooting area and place on benches indoors in a well lit and ventilated area to harden off. This should take about a month during which the cuttings should be fed with an organic fertilizer.
Sow seed in autumn (April-May) in 100 mm deep seed trays. Higher percentage germination is achieved if the seeds are first treated with Instant Smoke Plus Seed Primer or a similar smoke treatment. The soil medium used should be acidic and well drained (e.g. half riversand and half sifted composted bark mixed together). It is important to sow seeds thinly and evenly to prevent overcrowding and damping off. This can be done by mixing seed with fine, dry sand before sowing and spreading the sand and seed evenly over the seed tray. Cover with a thin layer of sand after sowing. Water gently and keep the tray moist, but not wet, and out of direct sunlight and rain. Germination occurs within 1-2 months. Move the tray to a more sunny position when the seedlings are about 5 mm tall. Pot up when they are about 10 mm tall and keep lightly shaded and well watered until hardened off (1-3 months). It is important that the seedlings are potted into the correct size containers which are not too big. The best results have been achieved when potting into multi-trays or unigro plugs in which the seedlings can become established. The young established plants are then moved into direct sunlight and grown on and pruned to shape until large enough to be planted into the garden.
References
Baker, H. A. & Oliver, E.G.H. 1967. Ericas in Southern Africa. Purnell & Sons, Cape Town.
Carr, G.W. et al. 1992. Environmental weed invasions in Victoria : conservation and management implications. Department of Conservation and Environment and Ecological Horticulture Pty Ltd., pp. 58-70.
Kesting, D. & Clarke, H. 2008. Botanical names what they mean. Wild flowers of the Cape Peninsula. Flora Documentation Programme, Friends of Silvermine Nature Area, Muizenberg.
Oliver, I.& Oliver, T. [E.G.H.]. 2000. Field guide to the ericas of the Cape Peninsula. Protea Atlas Project, National Botanical Institute, Cape Town.
Schumann, D., Kirsten, G. & Oliver, E.G.H. 1992. Ericas of South Africa. Ferwood Press, Cape Town.
Smith, C.A. 1966. Common names of South African plants. Memoirs of the Botanical Survey of South Africa No. 35.
Credits
Anthony Hitchcock
Kirstenbosch National Botanical Garden
January 2010
Plant Attributes:
Plant Type: Shrub
SA Distribution: Western Cape
Soil type: Sandy
Flowering season: Autumn, Winter
PH: Acid
Flower colour: Pink
Aspect: Full Sun
Gardening skill: Easy
Special Features:
Good potplant
Feeds honeybees
Horticultural zones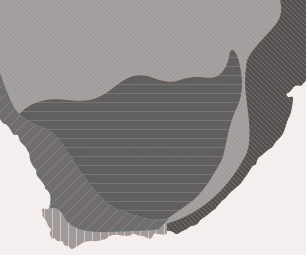 Zone 2 Coastal winter rainfall, frost free
Google QR Code Generator