Erica bakeri Salter
Family: Ericaceae
Common names: Wemmershoek marsh heath
Introduction
Erica bakeri is one of the most threatened species in the Ericaceae family. It is only known from one locality that is threatened by alien vegetation, agriculture and groundwater extraction. This species is on the brink of extinction and real effort has to be made to protect and conserve this species.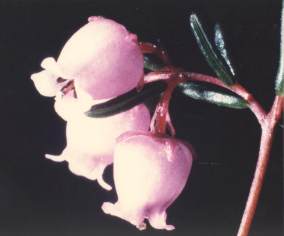 Description
Description
Erica bakeri is a marsh shrublet up to 600 mm high. Branches are slender, hairless, shining and chestnut-brown. Leaves are 3-nate, (leaves are arranged in a whorl of three around the stem), 2-5 mm long, linear, bright green, mostly spreading and often recurved, and petioles are usually red. Flowers are small, urn-shaped, 3-4 mm long, hairy, and rose pink. Flowering time is August to November.
Conservation Status
Status
Erica bakeri is listed as Critically Endangered. This species has only been recorded from its type locality, and the habitat in which it grows is very sensitive and highly threatened. Most of the wetland/marsh habitat in this area has been destroyed, and it is probably the only place in which the species occurs.
Distribution and habitat
Distribution description
Erica bakeri is restricted to one wetland/marsh area near Wemmershoek. It occurs in typical marsh vegetation dominated by restios and Berzelia species. It grows between the restios and, because it is such a slender and wiry plant, it is supported by the restios and grasses that grow around it. The soil is very moist and peaty and usually remains wet throughout the summer months because it is fed by underground water. This species grows in association with two other critically endangered species.
Derivation of name and historical aspects
History
Erica bakeri was first described by Salter in 1956 and was named in honour of Colonel Hugh Baker, one of the most prominent Erica collectors. Colonel Baker was an avid Erica enthusiast and co-authored Ericas in southern Africa with Dr Ted Oliver in 1967. Colonel Baker, and later Chris Burgers, had scoured the whole valley to find more populations of this species. In 1993, Clive McDowell published a report on the status of the site where E. bakeri occurs. The report concluded that this species was heavily impacted by alien vegetation and less than 100 plants were recorded.
As this species is one of the most threatened ericas and it occurs in a very specialised habitat, I would like to propose a common name for this species: The Wemmershoek marsh heath.
Ecology
Ecology
Erica bakeri is one of the most cryptic of the ericas and very little is known about it. The flower structure and flowering time suggests that it is probably insect-pollinated. The dispersal agent is also unknown.
Growing Erica bakeri
Grow
Growing this species will probably be a very challenging task. It grows in an extremely specialised environment and re-creating a marsh wetland area can be difficult. No records could be found of this species in cultivation. Ericas are usually cultivated by seed or more successfully by cuttings. Seeds are sown in March and April. Cuttings are usually taken from the young tips of the plant and it takes between 3 and 6 months before they are ready to be transplanted into pots.
References
Cape Nature, ISEP file material. Jonkershoek, Stellenbosch. Unpublished.
Goldblatt, P.& Manning, J. 2000. Cape plants. A conspectus of the Cape flora of South Africa. Strelitzia 9. National Botanical Institute, Cape Town and Missouri Botanical Garden.
McDowell, C.R. 1993. Wemmershoek Vlei, Franschhoek: An analysis of flora, hydrogeology and likely impacts of pines, with conservation recommentations. Botany Department, UCT, Cape Town.
Oliver, E.G.H. & Baker, H. 1967. Ericas in southern Africa. Purnell, Cape Town.
Schumann, D., Kirsten, G. & Oliver, E.G.H. 1992. Ericas of South Africa. Fernwood Press, Vlaeberg, Cape Town.
Credits
Ismail Ebrahim
CREW
May 2007
Plant Attributes:
Plant Type: Shrub
SA Distribution: Western Cape
Soil type: Sandy
Flowering season: Spring
PH: Acid
Flower colour: Pink
Aspect: Morning Sun (Semi Shade)
Gardening skill: Challenging
Special Features:
Wet sites
Horticultural zones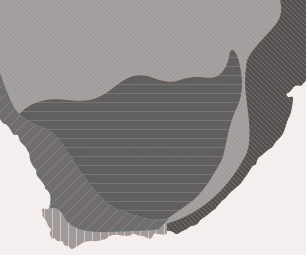 Zone 2 Coastal winter rainfall, frost free
Google QR Code Generator