Erica baueri subsp. gouriquae
Erica baueri Andrews subsp. gouriquae E.G.H.Oliv. & I.M.Oliv.
Family: Ericaceae
Common names: Gouriqua heath, bridal heath
Introduction
Erica baueri subsp. baueri is one of the best known ericas and popular as a South African fynbos garden plant. A second subspecies, subsp. gouriquae, was discovered in 2001 in a private nature reserve west of Gouritsmond, which is an even better and more beautiful shrub.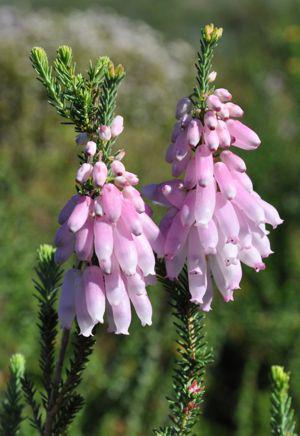 Description
Description
Erica baueri subsp. gouriquae differs from its sister subspecies in size, number and form of flowers and leaf colour and shape. This subspecies is a fuller, denser and taller shrub, between 1.5 and 2.5 m high, whereas, Erica baueri subsp. baueri  is sparsely branched and grows up to 1.5 m high. Its leaves are green, longer, spreading or erect, unlike Erica baueri  subsp. baueri which has grey-green, short, stouter, spreading or recurved leaves. The flowers tend to be a bit larger. The 20 mm long corolla tubes are more inflated, consisting of puffed, pink or white tubes, and more numerous and scattered over the shrub. Flowering is from winter to early summer.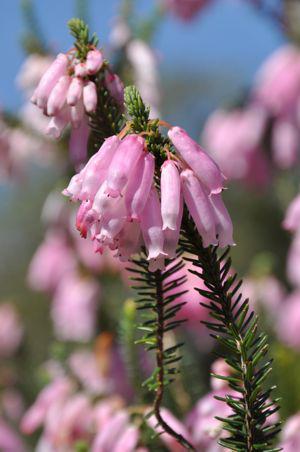 Conservation Status
Status
Erica baueri subsp. gouriquae is classified as EN (Endangered), indicating that the species is facing a very high risk of extinction. It occurs at two-known locations where it is declining due to habitat loss to expanding crop cultivation and competition from alien invasive plants, predominantly wattles and pines. These were cleared before 2005, but there are still quite a lot of aliens present at the site, requiring ongoing management and clearing.
Distribution and habitat
Distribution description
Erica baueri subsp. gouriquae appears to be endemic to Canca Limestone Fynbos which is found between Albertinia and Still Bay where it has a very limited distribution of about 55 km². It was previously known from a single location in a private nature reserve west of Gouritsmond, where it was recorded to be locally frequent. In 2007, the population size was estimated to be fewer than 500 mature individuals.
On a recent visit to the site in 2012, only two mature individuals could be found, but the site had recently burnt and it may still be regenerating. In 2007, a plant belonging to this subspecies was collected north of Still Bay, significantly extending the known range of this taxon, and raising the possibility that it may be more widespread within Canca Limestone Fynbos than previously thought. More surveys are needed to determine the extent of the population.
Derivation of name and historical aspects
History
The species is named after Austrian Franz Andreas Bauer (1758–1840), who was the botanical artist to King George 111 of England. Sir Joseph Banks persuaded Bauer to take up a position at the Royal Botanical Gardens Kew, where he served as royal draftsman for 50 years. The subspecific name refers to the area called 'Gouriqua' where this subspecies is found.
Ecology
Ecology
It grows in sandy areas associated with limestone, between the hills to the south of Albertinia near the coast, an area called Gouriqua. It is possible that the soils are not alkaline as this species thrives in acidic soils in cultivation. The climate is Mediterranean with winter rain and hot, windy and dry summers. Its tubular flowers attract sunbirds who are the main pollinating agent. Plants are killed by fire and regenerate from seed.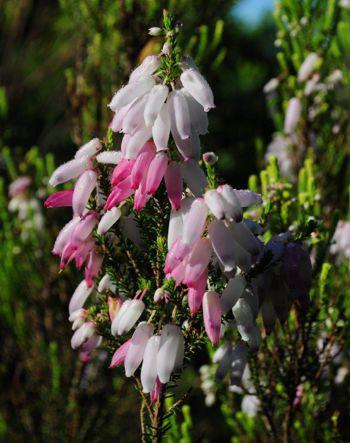 Uses
Use
Erica baueri subsp. gouriquae is an excellent garden plant flowering over many months and is a good cut flower. It also makes a wonderful container plant.
Growing Erica baueri subsp. gouriquae
Grow
This erica grows in deep, well-drained, sandy soils, but is adaptable and will grow in a range of soil types. It will also grow in heavier clay soils if there is good drainage and it must be watered less often to allow the medium to dry out between watering. The ideal soil pH is between 5.5 and 6.7, but the soils may range from acidic to neutral.
The Gouriqua heath is easily grown from seed, which should preferably be sown in autumn in the Western Cape. In other regions it should probably be germinated at the beginning of the growing season. Treatment with smoke or smoke extract greatly enhances germination. The seed takes about six to ten weeks to germinate and are delicate in their early stages. It is important not to sow too thickly as seedlings growing too close together and overwatering may result in damping off. The young seedlings should be protected from heavy rainfall and direct sunlight by placing the trays under cover, while still providing good light and aeration. The seedlings should be watered gently to avoid washing them out of the tray or flattening their young delicate stems. Allow the young plants to grow to about 10 mm tall before planting them out into multi-trays or small pots/bags. Plants should be grown up to at least 10 cm before planting out in the garden.
Propagation from cuttings is more difficult and should be done with suitable facilities, such as mist propagation houses with heated benches and overhead misting. Cuttings are preferably taken in autumn in the winter-rainfall Western Cape, but may be taken in spring or early summer as well. Take fresh, actively growing, thin side shoots taken as heel cuttings, that yield the best results. A rooting hormone for semi-hardwood cuttings applied to the cut surface or heel, results in quicker and better rooting. Rooting may take from eight to sixteen weeks and sometimes longer. If the stem tip develops a callous, but not roots, then score the callus and apply more hormone and place in fresh rooting medium. This often results in very good rooting.
Erica baueri subsp. gouriquae is a resilient species that should be suitable for most gardens in South Africa where the humidity is not too high or where there is little or no frost. They also do well in coastal gardens, as long as the soils are acidic and it is not exposed to too harsh salt-laden wind. It grows well in various garden aspects, including open beds, rockeries and on slopes.
Feed before flowering with slow release 3:1:5, or monthly with a good organic seaweed-derived fertilizer. Be careful not to disturb the roots and water regularly as this is generally the cause of losses with ericas. Good results have also been achieved when applying controlled release fertilisers suitable for erica. Be careful not to exceed dosage.
Pruning will increase flower production resulting in splendid displays and increase the life expectancy of the plants. Ericas are relatively short-lived fynbos plants and survive on average up to between 10 and 15 years, after which they need to be replaced.
It is a prolific flowerer and is a wonderful addition to the garden and for attracting sunbirds.
References
Manning, J. & Goldblatt, P. 2012. Plants of the Greater Cape Floristic Region 1: the Core Cape Flora. Strelitzia 29. South African National Biodiversity Institute, Pretoria.
Oliver, E.G.H. & Oliver, I.M. 2005. The genus Erica (Ericaceae) in southern Africa: taxonomic notes 1. Bothalia 32: 46.
Schumann, D., Kirsten, G. & Oliver, E.G.H. 1992. Ericas of South Africa. Fernwood Press, Vlaeberg.
http://Redlist.sanbi.org
Credits
Anthony Hitchcock
KIrstenbosch National Botanical Garden
September 2015
Plant Attributes:
Plant Type: Shrub
SA Distribution: Western Cape
Soil type: Sandy, Loam
Flowering season: Spring, Early Summer
PH: Acid
Flower colour: White, Pink
Aspect: Full Sun, Morning Sun (Semi Shade), Afternoon Sun (Semi Shade)
Gardening skill: Average
Special Features:
Attracts birds
Good potplant
Horticultural zones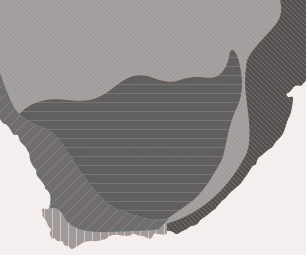 Zone 1 Coastal summer rainfall, frost free
Zone 2 Coastal winter rainfall, frost free
Zone 3 Winter rainfall Karoo, light frost
Google QR Code Generator