Erica calcareophila E.G.H.Oliv.
Family: Ericaceae
Common names: limestone heath (Eng.)
Introduction
With the limestone hills of Groot Hagelkraal being its only home, Erica calcareophila occurs on cliffs and rock ledges, showcasing its pure white, urn-shaped flowers, and when in bloom it can be seen from a distance when one walks along the cliffs of Groot Hagelkraal.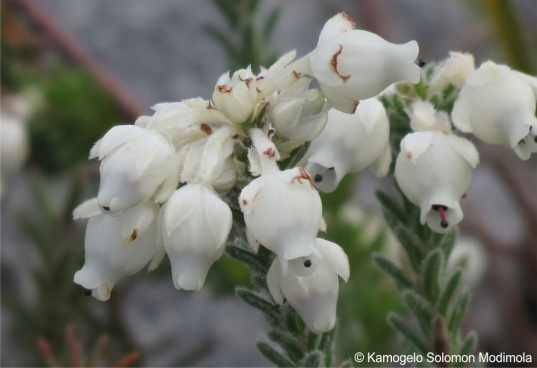 Description
Description
Erica calcareophila is a plant species in the Ericaceae family that occurs mostly on limestone. When it grows on rocks, E. calcareophila usually grows prostrate, but it can also grow 200–250 mm tall in soil pockets away from the rocks. The leaves are in fours, up to 13 mm long, hard in texture and can be hairless or fringed with fine hairs. This erica produces white blooms in groups of up to 6 flowers at the ends of twisted, fragile stems. The flowers are urn-shaped, with thick petals. The corollas measure 9 to 11 mm in length and feel waxy. It typically blooms in winter, from July to August.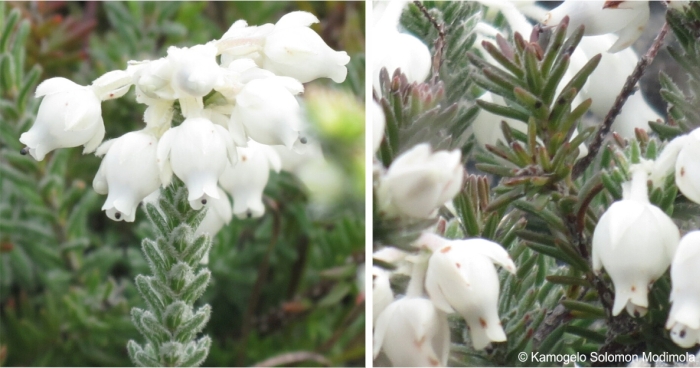 Conservation Status
Status
Erica calcareophila is rated as Vulnerable (VU) by the Red List of South African Plants. In the limestone hills of Groot Hagelkraal, there are modest densities of alien invasive wattles such as Acacia mearnsii, but they are being controlled. To prevent alien plants from increasing and posing a threat to this species, ongoing care is important. The location is one of several sites being considered for the development of a new nuclear power plant for the Western Cape. Although a final decision has not been made in this regard, this still remains an important threat to this plant.
Distribution and habitat
Distribution description
Erica calcareophila occurs in the limestone hills of the western part of the Bredasdorp region. It occurs in a small area near Pearly Beach, referred to as Groot Hagelkraal, where it grows on ledges, rocks and cliffs. This is the only area where this species is known to occur, making it a single-locality species.
Derivation of name and historical aspects
History
The name calcareophila is derived from the Greek language. The term calcareus refers to limestone, while philus, which is Greek for 'lover of,' refers to the environment in which the plant grows. Hence, the name calcareophila means 'lover of limestone'.
Ecology
Ecology
Erica calcareophila is a member of a group of fynbos species that occur in limestone fynbos. It can be found alongside plant species such as Erica regia subsp. mariae, E. propinqua, E. spectabilis and Diosma haelkraalensis. These species have evolved the ability to thrive in alkaline soils, where most fynbos species grow in acidic soils and will die in alkaline soils.
This species is probably pollinated by insects, but may also be visited by birds, such as double-collared sunbirds. While feeding on the pollen and nectar, they pollinate it.
Uses
Use
There are no known medicinal uses of Erica calcareophila. Although some north African and European species belonging to this genus have been used in folk medicine for many centuries due to their antiviral, diuretic, anti-inflammatory, antinociceptive, antioxidant, anti-ulcer, anti-microbial, hypolipidemic, analgesic, and cytotoxic properties, the southern African species do not share these attributes. However, Erica calcareophila may be used as a container plant or rock garden plant, or grown as a companion plant or a filler in gardens as it makes for a great display. It is ideally suited to coastal fynbos gardens.
Growing Erica calcareophila
Grow
All ericas can be propagated in two ways, from seed or by means of cutting.
Erica seeds are fine, almost like powder, and it therefore does not require covering when sown. When sowing seeds, ensure even distribution and do not sow the seeds too thickly as this may result in damping off after germination. One can mix the seeds with fine, dry sand and spread a thin layer evenly over the surface of the sowing medium, this helps spread the seeds more evenly. Also take care to water very carefully with a fine spray to avoid displacing the seeds with heavy drops. The most suitable time for sowing is in autumn (April and May). Erica calcareophila, much like most of the plants in the Erica genus, prefers an acidic environment and requires sandy, well-drained soil with a pH of 4-5.5. After the seeds have been sown, it will take up to a month or two to germinate.
Propagating ericas vegetatively, from cuttings, is difficult. The majority of Kirstenbosch's vegetative propagation was carried out under glass using a mist unit, and the best results were obtained in summer, from November to February. Before starting any vegetative propagation on ericas make sure the mother plant is healthy and free from disease. Use semi-hardwood cuttings that are about 1.25 cm in length; heel cuttings work best because they root more easily than nodal cuttings. When no rooting hormone is applied, the cuttings could take up to 3 months to root; however, this time could be shortened with the introduction of a rooting hormone.
The most suitable rooting medium for ericas is a mixture of imported peat and clean sharp sand in equal proportions. Make use of bottom heating and keep the temperature at approximately 24°C. The shading should be light so that the plants may enjoy the maximum light possible as heavy shade will result in the plants being drawn out and tender, which will lead to heavy losses after potting. When the cuttings have rooted, pot them in 1 litre plastic bags or pots in a mixture of 3 parts sand: 2 parts coarse leaf mould: 1 part peat. Keep the cuttings warm.
Erica calcareophila is best suited to frost-free fynbos gardens or Mediterranean-climate gardens with rain in winter and a dry summer. Give them a sunny, well-ventilated position in well-drained soil and feed with well-rotted compost applied as a mulch. This species can grow in acidic soil suitable for fynbos, but it will also grow well in alkaline soil. It is ideal for rock gardens, containers or can be grown in open beds. When planting into the garden, make a 60 x 60 cm deep trench. Add one cup of bone meal and thoroughly combine two-thirds of the topsoil with one-third of the well-rotted acid compost. When it comes to feeding and watering in locations with summer rainfall, water deeply throughout the dry winter months. To keep the soil moist, safeguard the roots, and nourish the plant, mulch with acid compost or pine needles.
Ericas are surface rooting plants that have a system of fine roots and a mass of fine root hairs that are responsible for absorbing the moisture and this type of root system needs to be protected as it is vulnerable. Therefore, once the cuttings have been rooted and are ready to be planted in the garden, care must be taken both in how they are handled and that the bed in which they are planted contains suitable companion plants, which share the same general requirements and help in securing the ericas. Such plants include but are not limited to: Diosma haelkraalensis, Acmadenia mundiana, Protea obtusifolia, Leucadendron spissifolium, Leucadendron salignum, Kniphofia uvaria, Mimetes cucullatus, Spatalla curvifolia etc.
References
Baker, H.A. & Oliver, E.G.H. 1967. Ericas in southern Africa. Purnell & Sons, Cape Town.
Dias, P. et al. 2015. Digestibility and bioavailability of the active components of Erica australis L. aqueous extracts and their therapeutic potential as acetylcholinesterase inhibitors. Evidence-based complementary and alternative medicine 12: 854373.
Plantinfo, Erica species (Heath). https://plantinfo.co.za/plant/erica-species/. Accessed 12/07/23.
Rebelo, A.G., Siegfried, W.R. & Oliver, E.G.H. 1985. Pollination syndromes of Erica species in the south-western Cape. South African Journal of Botany 51(4):270–280
Schumann, D., Kirsten, G. & Oliver, E.G.H. 1992. Ericas of South Africa. Fernwood Press, Vlaeberg.
Turner, R.C. & von Staden, L. 2012. Erica calcareophila E.G.H.Oliv. National Assessment: Red List of South African Plants version 2020.1. Accessed on 2023/07/12.
Winter, J. 1972. Ericas: their propagation and care. South African National Biodiversity Institute, Cape Town.
Credits
Yandisa Ndzeku
Kirstenbosch National Botanical Garden
July 2023
Acknowledgements: images by Kamogelo Solomon Modimola
Plant Attributes:
Plant Type: Shrub
SA Distribution: Western Cape
Soil type: Sandy, Loam
Flowering season: Winter
PH: Acid, Alkaline, Neutral
Flower colour: White
Aspect: Full Sun
Gardening skill: Challenging
Special Features:
Good potplant
Horticultural zones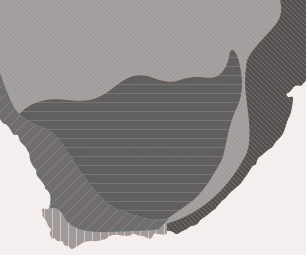 Zone 2 Coastal winter rainfall, frost free
Google QR Code Generator