Erica cruenta Sol.
Family: Ericaceae
Common names: crimson heath (Eng.), rooiheide (Afr.)
Introduction
The beautiful and bright, shiny red flowers of Erica cruenta stand out amongst the fynbos vegetation and put on quite the show.
Description
Description
Erica cruenta is an upright, laxly branched shrub that grows to a height of 1.2 m. The leaves are 5–8 mm long, narrow and overlapping. The tubular flowers are borne in clusters at the tips of the branches. The flowers are 20–22 mm long, blood-red and are borne all year round, from January to December, with peak flowering in winter. The stigma is sometimes just visible at the mouth of the flower, with the style projecting slightly.
Conservation Status
Status
Erica cruenta is listed as Least Concern (LC). However, due to it being a low altitude species, it is constantly under threat from encroaching agricultural development.
Distribution and habitat
Distribution description
The crimson heath is found growing at low altitudes, on the lower, dry, shale hills and slopes in dry, clayey soil and occurs from the Hottentots Holland Mountains to Riversdale. It is particularly common in the Grabouw area, where it grows on a south facing clay bank. This species experiences a winter rainfall and, depending on where it is growing, can experience temperatures above 27°C in summer to below 5°C in winter. It also experiences frost in certain areas.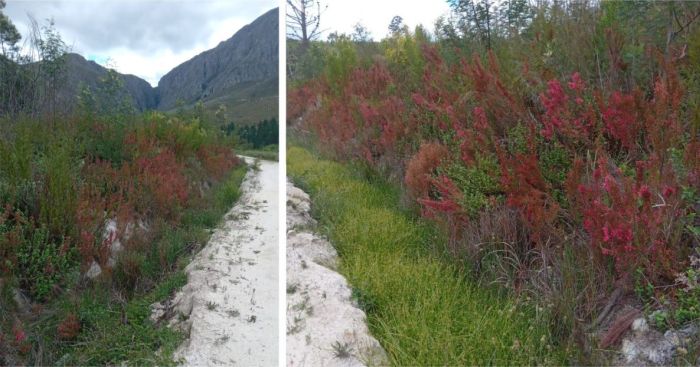 Erica cruenta is listed as an important species occurring in the Greyton Shale Fynbos, which is a veld type occurring on shale derived soil. Greyton Shale Fynbos is considered a Vulnerable veld type. Taxa in the different veld types are selected as important species because they are either extremely abundant in that veld type, they occur frequently or because they are prominent in the landscape. These species often occur in more than one veld type.
Shale Fynbos and Shale band vegetation, of which there are different types, cover about 5% of the total area of Fynbos. They occur in areas with leached soils derived from shale usually at higher altitudes and mostly on southern slopes adjoining mountains. Shale soil is a type of soil that contains layers of clays and fine granules of sedimentary rocks
Derivation of name and historical aspects
History
The name Erica comes from the Greek word ereike and means 'to break'. It is possible that it refers to the stems that are brittle and break easily. The species name is derived from the Latin word cruor meaning 'gore', 'blood from a wound', or cruento, which means 'to make bloody' or 'to stain with blood'. The name refers to the colour of the flowers, which are blood-red. 
Ericas, belonging to the family Ericaceae, occur from the southernmost tip of Africa to the northernmost tip of Norway. It is the largest of the genera and consists of roughly 860 species. The majority of the species are confined to the southern tip of Africa in what is known as the Cape Floral Kingdom, where ± 660 species are found growing in the Fynbos Biome.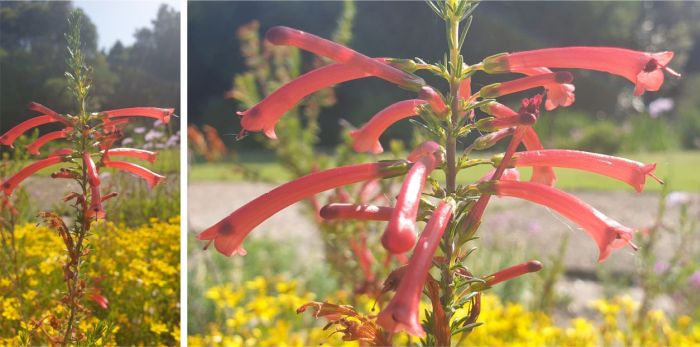 Ecology
Ecology
Erica cruenta flowers are pollinated by nectar-feeding birds.
It grows in Fynbos, a vegetation type that is fire prone and is dependent on fire for its survival. Fire essentially clears out the old and brings in the new. This makes space for fresh new growth. The timing however needs to be just right as a fire needs to occur before the parent plant dies of old age and before the seed reserves are depleted. Erica cruenta, like many other fynbos species requires fire for its survival. After a fire, it regenerates rapidly from its fire-resistant stump.
The seeds of many fynbos species also require fire, as they need the heat from the fire to break their seed casings and to trigger growth. In many cases, seeds need the chemicals present in the smoke, derived from burned fynbos vegetation, to trigger the plant embryo to grow.
The soil in which fynbos grows is considered to be low in nutrients. Once a fire has burnt the vegetation and has cleared the old growth away, the ash from the burnt vegetation acts as a fertilizer and in this way also plays a role in germination of seed and in the regeneration of resprouters.
Uses
Use
There are no known medicinal or cultural uses, however this plant has potential as a garden subject.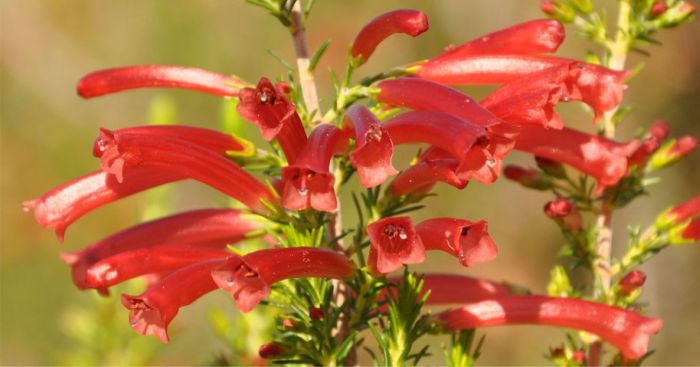 Growing Erica cruenta
Grow
Cuttings can be made from Erica cruenta at any time of the year. Semi-hardwood and tip cuttings can be made. Dip the bottom end of the cutting in a suitable rooting hormone and strike in a well-drained medium with a 1:1 ratio of sifted bark and perlite. Place the cuttings in a propagation unit, with bottom heating of 24°C, under mist irrigation. The bottom heating helps to speed up the rooting process. It can take up to 2 months for roots to appear.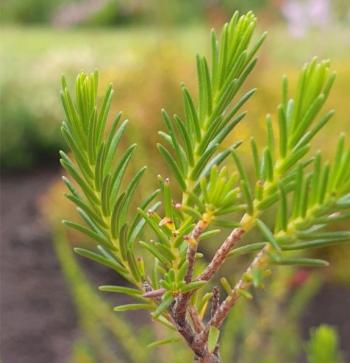 Seeds can be sown from March to September however they are mostly sown in late autumn to early winter (March to May). Sow seeds in a seed tray filled with a mix of sifted bark and coarse river sand. Treat with Fynbos Smoke Plus Seed Primer, cover with a thin layer of medium and water gently with a  fine rose. The medium needs to be kept damp and not soaking wet. The seed trays need to be placed in a slightly shaded and warm area and checked on daily for their water requirements. Germination can occur anywhere between 6 to 8 weeks. 
Once the seeds have germinated, allow them to grow to 3 to 4 cm in height at which point they can be pricked out into a plug tray, using the same type of soil mix. Pricking them out into separate plugs helps to ensure that as little damage occurs to the sensitive root system while the seedlings grow. The plants should also be tipped to encourage branching. Gradually, as they grow, they will need to be repotted into larger pots and eventually, once they are large enough, they can be planted into a sunny spot in the garden.
References
Burman, l. & Bean, A. 1985. Hottentots Hollands to Hermanus. South African Wild Flower Guide 5. Botanical Society of South Africa, Cape Town.
Clarke, H. & Charters, M. 2016. The illustrated dictionary of southern African plant names. Flora & Fauna Publications Trust, Jacana, Johannesburg.
Goldblatt, P. & Manning, J. 2000. Cape Plants. A conspectus of the Cape flora of South Africa. Strelitzia 9. National Botanical Institute, Pretoria & Missouri Botanical Garden, Missouri.
Harris, G. & Harris, M.W. 1994. Plant identification terminology, an illustrated glossary. Spring Lake, Utah.
Manning, J. & Goldblatt, P. 2012. Plants of the Greater Cape Floristic Region 1: the Core Cape Flora. Strelitzia 29. South African National Biodiversity Institute, Pretoria.
Manning, J. 2007. Field guide to Fynbos. Struik Publishers, Cape Town.
Mucina, L. & Rutherford, M.C. (eds) 2006. The vegetation of South Africa, Lesotho and Swaziland. Strelitzia 19. South African National Biodiversity Institute, Pretoria.
Ojeda, F. 1998. Biogeography of seeder and resprouter Erica species in the Cape Floristic Region—Where are the resprouters? Biological Journal of the Linnean Society 63: 331–347.
Jackson, D. B. 1971. A glossary of botanic terms. Hafner Publishing, New York.
Foden, W. & Potter, L. 2005. Erica cruenta Sol. National Assessment: Red List of South African Plants version 2020.1. Accessed on 2021/11/09
Kogelberg Biosphere Reserve. 2016. The Relationship Between Fynbos and Fire. Kbrc.org.za/news/fynbos-and-fire/ Accessed on 22 November 2021.
Schumann, D., Kirsten, G. & Oliver, E.G.H. 1992. Ericas of South Africa. Fernwood Press, Vlaeberg.
Stock, W. D. & Lewis, O. A. M. 1986. Soil nitrogen and the role of fire as a mineralizing agent in a South African coastal fynbos ecosystem. Journal of Ecology 74 ( 2): 317–328.
Trinder-Smith, T.H. 2003. The Levyns Guide to the plant genera of the south western Cape. Bolus Herbarium, UCT, Red Roof Design CC, Cape Town
Credits
Karen Wall
Harold Porter National Botanical Garden
December 2021
Acknowledgements: the author thanks Caylot Ntindiso Zide and Ebraime Hull for providing information and Eliza Baster and Loretta Floors for images.
Plant Attributes:
Plant Type: Shrub
SA Distribution: Western Cape
Soil type: Sandy, Clay, Loam
Flowering season: Winter, Sporadic/All year
PH: Acid
Flower colour: Red
Aspect: Full Sun
Gardening skill: Average
Special Features:
Attracts birds
Attracts butterflies
Good potplant
Horticultural zones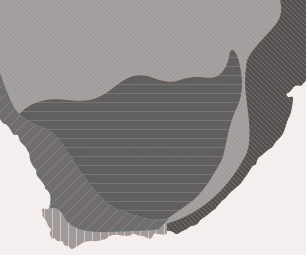 Zone 2 Coastal winter rainfall, frost free
Zone 3 Winter rainfall Karoo, light frost
Google QR Code Generator