Erica curtophylla Guthrie & Bolus
Family: Ericaceae
Common names: curved-leaf heath (Eng.); krulblaarheide (Afr.)
Introduction
Erica curtophylla produces small pink to dark pink, cup-shaped flowers, mostly in spring, from August to October.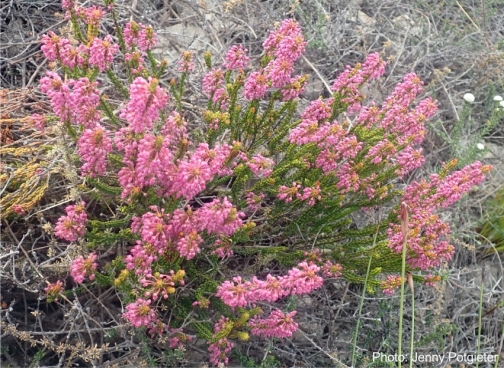 Description
Description
Erica curtophylla is a low-growing, upright, evergreen shrub, that reaches a height of about 300 mm. The plant has numerous, spreading branches. The leaves are in threes, incurved, oblong, flat or concave above and rounded and furrowed beneath. The flowers are presented in tightly packed , lax plumes near the tips of the branches. The flowers sprout from the leaf axils, mostly in twos, on long, slender pedicels. The urn-shaped corolla is about 2 mm long. The style and stigma are quite prominent. The anthers are muticous (without appendages) and protrude slightly from the tip of the flower.
Conservation Status
Status
Erica curtophylla is not threatened and is currently allocated the conservation status of Least Concern (LC).
Distribution and habitat
Distribution description
This plant was observed growing commonly on the dry limestone flats and hilly areas between Bredasdorp, Riversdale, De Hoop and Still Bay. The plants usually form quite dense colonies, specifically on hillsides.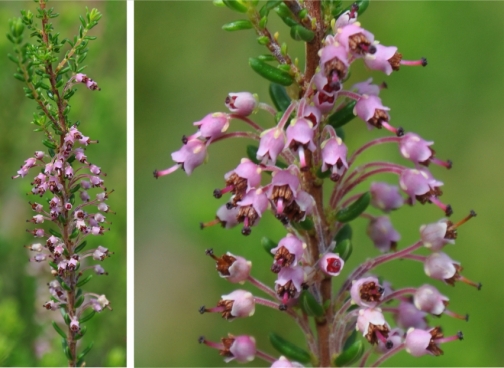 Derivation of name and historical aspects
History
The genus name Erica derives from the Latin word ereiko which means 'heat'h or 'broom', it also means 'to break' possibly because the plant's stems are often brittle and when roughly handled, break easily. It was also commonly believed that parts of the plant can be used to break up bladder stones. The specific epithet curtophylla derives from two Greek words kurtos which means 'curved' and phyllon which means 'leaf', thus referring to the shape of the leaves.
Erica curtophylla belongs to the Ericaceae, a family that includes evergreen, deciduous and sclerophyllous shrubs with a cosmopolitan distribution, found mostly in temperate, warm temperate and montane tropical areas. It contains well-known genera such as Rhododendron, Calluna (heather), Vaccinium (blueberries, cranberries) and Gaultheria (wintergreen). The genus Erica comprises about 800 species, of which approximately 700 species are indigenous to South Africa. In southern Africa, Erica has the highest diversity in the southern and southwestern Western Cape, and about 7% of the total number of species in the region occur in the Eastern Cape, KwaZulu-Natal and Mpumalanga.
Ecology
Ecology
Insects were observed pollinating this plant, they contribute to completing the pollination process by visiting different flowers. Seeds can be harvested after flowering when the seed capsules have dried. If left unharvested, these tiny seeds  drop to the ground and form the natural seed bank. Erica seeds can lie dormant in the soil for an extensive period of time, but if conditions, such as soil moisture and day temperature, become favourable the seeds are stimulated to start germinating and will grow from a seedling to an adult plant. Ericas can grow in a variety of habitats but always prefer soil with good drainage. Erica plants serve as a food source for various animals.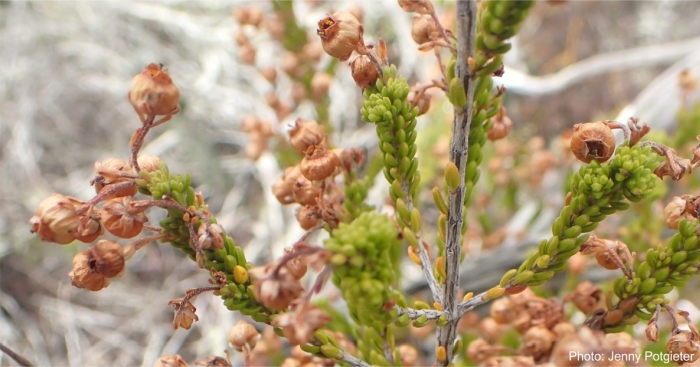 Uses
Use
This plant makes an excellent container plant. The soil medium should be in the acidic range and ensure that the pot drains well. Ericas are widely used in the horticultural industry as cut flowers in the South African and northern European flower markets. Erica curtophylla can be successfully grown as a companion plant alongside restios, plants in the Restionaceae such as Elegia spp., Thamnochortus spp. and Restio spp. as well as buchus, plants in the Rutaceae such as Agathosma spp. and Acmadenia spp., other ericas and proteas, plants in the Proteaceae such as Protea spp., Leucospermum spp. and Serruria spp., as well as many perennials such as Helichrysum spp.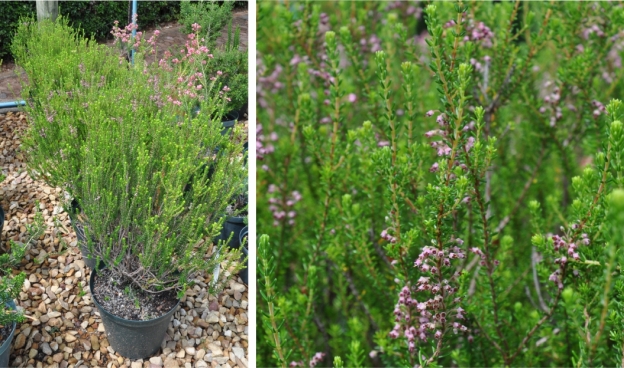 Growing Erica curtophylla
Grow
Erica curtophylla prefers soil with a pH ranging from 5.5 -6.7 and grows best in a sunny position. Stimulate new growth and flowering by regular pruning, as a general rule prune Erica plants after flowering and seeding. Apply a fish emulsion or any organic fertiliser as feeding. The vegetative propagation method is much faster than starting from seed. Erica curtophylla can be successfully grown in greenhouse conditions with a misting system and a constant bottom heat of 24°C. However, cuttings can be placed in an open-air mist spray unit provided that it is shaded during the hot summer months.
Take ± 40-50 mm cuttings two months after flowering, semi-hardwood, heel or nodal cuttings can be used. Remove the leaves on the lower one-third of the cutting and apply a rooting hormone for semi-hardwood cuttings. The rooting media vary greatly but better results have been obtained by using fine-milled bark and perlite balls at a 50:50 ratio.
Transplant the rooted cuttings into small pots, about 9 cm, in a soil mixture of 7 parts bark and 3 parts sand, and water thoroughly. Feed with an organic liquid fertilizer preferably a fish emulsion type every 2 weeks. Pot the rooted cuttings into half-litre plastic bags containing 7 parts milled bark and 3 parts sand. Water well after potting and shade lightly for a month. The cuttings will be ready for planting after about 3 months, care must be taken not to damage the fine root hairs when transplanting.
Sow seeds in autumn, April and May, when the weather starts to get cooler. Use seed trays about 100 mm deep, filled with equal parts of river sand and sifted composted bark. Place rough materials such as wood chips or chipped stones at the bottom of the seed tray to ensure good drainage. Use fine river sand to mix with the seeds and broadcast it on top of the levelled mix, cover it lightly with some of the mixed sand. Treatment of the seeds with 'fynbos smoke' or smoke extract greatly enhances germination. Do not sow too densely, water carefully with a fine rose because seedlings will be washed from the tray by a strong jet or large drops of water. Take care not to overwater the seedlings as this may cause damping off. Shelter the seedlings from rain and direct sunlight and ensure good air circulation. The seeds will start to show signs of germination after about two months. Plants can be planted out into small pots or multi trays when they reach about 10 mm.
Control mealybug and scale insects by applying an appropriate organic pesticide. Prevent fungal attacks by avoiding sowing seeds too densely and always maintaining good air circulation.
References
Casabio the home of biodiversity. Erica curtophylla Guthrie & Bolus. https://casabio.org/taxa/erica-curtophylla. Accessed 24/05/2023.
Goldblatt, P. & Manning, J. 2000. Cape Plants. A conspectus of the Cape flora of South Africa. Strelitzia 9. National Botanical Institute, Pretoria & Missouri Botanical Garden, Missouri.
Guthrie, F. & Bolus, H. 1905. Erica curtophylla in: Harvey, W.H. (ed), Flora Capensis 4:216. Accessed via JSTOR Global Plants. https://plants.jstor.org/compilation/Erica.curtophylla.
Koekemoer, M., Steyn, H.M. & Bester, S.P. 2015. Guide to Plant Families of southern Africa. Strelitzia 31. 2nd ed., 2nd print. South African National Biodiversity Institute, Pretoria, South Africa.
Manning, J. & Goldblatt, P. 2012. Plants of the Greater Cape Floristic Region 1: the Core Cape Flora. Strelitzia 29. South African National Biodiversity Institute, Pretoria.
Pienaar, K. & Smith, G.F. 2011. The southern African what flower is that? An essential guide to garden plants. Struik, Cape Town.
Plants of the World online. Erica curtophylla Guthrie & Bolus. https://powo.science.kew.org/taxon/urn:lsid:ipni.org:names:328523-1. Accessed 22/05/2023.
Potgieter, J. 2022-Aug. Observation of Erica curtophylla, Berg-oewer, Still Bay, Western Cape. iNaturalist. Online. https://www.inaturalist.org/observations/130111290.
Potgieter, J. 2022-Oct. Observation of Erica curtophylla, Berg-oewer, Still Bay, Western Cape. iNaturalist. Online. https://www.inaturalist.org/observations/140784816.
Raimondo, D., Von Staden, L., Foden, W., Victor, J.E., Helme, N.A., Turner, R.C., Kamundi, D.A. & Manyama, P.A. (eds) 2009. Red list of South African plants. Strelitzia 25. South African National Biodiversity Institute, Pretoria.
Rourke, J.P. 1980. Wild flowers of South Africa. C. Struik Publishers, Cape Town.
Schumann, D., Kirsten, G. & Oliver, E.G.H. 1992. Ericas of South Africa. Fernwood Press, Vlaeberg.
Stearn, W. 2002. Stearn's dictionary of plant names for gardeners. Timber Press, Portland, Oregon.
Credits
Benjamin Festus
Kirstenbosch National Botanical Garden
June 2023
Acknowledgements: the author thanks Jenny Potgieter for the pictures of Erica curtophylla in habitat and Alice Notten for the pictures of it in the Collections Nursery, Kirstenbosch NBG.
Plant Attributes:
Plant Type: Shrub
SA Distribution: Western Cape
Soil type: Sandy, Loam
Flowering season: Spring, Winter
PH: Acid, Alkaline, Neutral
Flower colour: Pink
Aspect: Full Sun
Gardening skill: Average
Special Features:
Good potplant
Feeds honeybees
Horticultural zones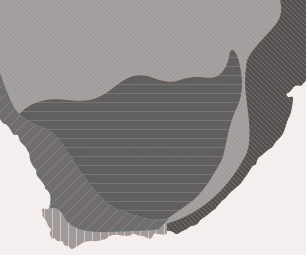 Zone 2 Coastal winter rainfall, frost free
Google QR Code Generator