Erica curviflora L.
Family: Ericaceae
Common names: water heath (Eng.); waterbos, waterheide (Afr.)
Introduction
Erica curviflora var. curviflora is a spectacular and widespread species occurring throughout the fynbos region and as far-east as Grahamstown. It is easily recognizable as a tall species presenting large numbers of very showy, curved, tubular flowers producing spectacular displays of colour near streams and along rivers.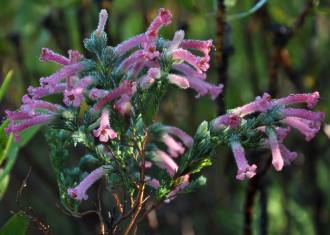 Description
Description
Erica curviflora is an erect, woody shrub growing up to 1.6 m tall. It arises from a strong woody stem and produces thin, willowy, but erect branches and fine, soft foliage. The foliage colour varies from a distinctive grey-green, predominantly in dry fynbos areas on inland mountains such as the Cedarberg and Waboomsberg east of Ceres, to lush green in wetter areas. The flowers are curved and tubular, 20-30 mm long, and vary in colour from yellow and orange to dark red. There is a lovely variety, Erica curviflora var. diffusa, from the Akkedisberg, in the Overberg, with luminous, yellow flowers brushed with orange on top. The flowers are hairy in the south-western Cape, but become non-hairy or glabrous in the eastern part of its range. This species flowers throughout the year depending upon locality and the age of the plant.
Conservation Status
Status
Erica curviflora is a common species and therefore listed as Least Concern. Least Concern means it is not regarded as threatened.
Distribution and habitat
Distribution description
Erica curviflora is widely distributed from the mountains near Vanrhynsdorp in the north to the Cape Peninsula and as far east as Grahamstown. It occurs along streams, river banks and in isolated seepages on inland fynbos mountains and on fynbos mountains and lowlands near the coast. Further east beyond the fynbos region it is found on mountains growing in soils derived from quartzitic rock.
Erica curviflora loves water and therefore is found growing in dense communities along the banks of streams and rivers and in seepages predominantly in fynbos areas.
Derivation of name and historical aspects
History
The name is derived from the Latin word, 'curvus' which means curved, referring to the curved tubular flowers.
Ecology
Ecology
Erica curviflora is a fynbos species occurring over a wide range of habitats including the drier inland mountain ranges, relatively moist mountains and lowlands close to the coast. Its altitude range varies from about 1500 m to sea level. It grows well even in the relatively harsh, hotter conditions found on inland mountain ranges providing that it has consistent access to groundwater. In dry areas dense stands of this species colonize banks of streams and rivers forming ribbons of colour during the flowering season. It grows in nutrient-poor and sandy soils. This species flowers throughout the year depending upon locality and age of the population. It i s pollinated by sunbirds and probably also long-tongued flies.
Uses
Use
Erica curviflora is a very beautiful subject and is often used as a cut flower and is a fairly reliable species in the garden, provided it is well watered. It is easy to grow in pots.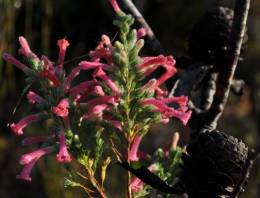 Growing Erica curviflora
Grow
It grows well in Mediterranean gardens where it is not subject to frost. This species performs best when planted in well-drained garden beds, in rockeries on sloping ground, terraces, drainage gullies or embankments and with other fynbos plants. Those lucky enough to have a stream or seepage area in their garden should try this Erica. It prefers warm, sunny, well ventilated positions and must be given regular doses of water in summer. Companion plants may include other ericas, buchus, brunias, and restios.
It grows well in pots where it should be treated as any other average easy-to-grow Erica species. Plant this Erica in a medium-sized container in a suitable, well-drained growing medium. Fynbos planting medium is made up of a combination of equal parts composted pine bark or pine needles and river sand. A little (20%) loam may also be added. It is a tall-growing species, so regular pruning is recommended to keep the plants well branched and compact. Plants that are pruned are more presentable, last longer and produce more flowers.
Erica plants are adapted to living in poor soils. Nevertheless, they should be regularly fed with low concentrations of diluted organic liquid or small amounts of organic pellet fertilizers.
It is propagated vegetatively by rooting fresh semi-hardwood tip or heel cuttings. Cuttings are rooted in multi-trays on heated benches under mist spray. Cuttings are rooted in autumn or spring in a rooting medium of equal parts bark and polystyrene chips. A semi-hardwood rooting hormone is used to aid the rooting process.
This species grows easily from seed when subjected to smoke treatment and sown in well-drained, acidic, sandy soil. Seed is normally sown from late summer into autumn, i.e. March to May.
References
Goldblatt, P. & Manning, J.C. 2000. Cape Plants. A conspectus of the Cape Flora of South Africa. Strelitzia 9. National Botanical Institute, Pretoria and Missouri Botanical Garden Press.
Oliver, E.G.H. & Oliver, I.M. 2002. The genus Erica (Ericaceae) in southern Africa: taxonomic notes 1. Bothalia 32,1: 37-61.
Schumann, D. (Dolf) & Kirsten, G (Gerard) 1992. Ericas of South Africa. Fernwood Press, Vlaeberg, Cape Town.
http://www.sanbi.org/biodiversity/reddata.htm
Credits
Anthony Hitchcock
Kirstenbosch National Botanical Garden
September 2010
Plant Attributes:
Plant Type: Shrub
SA Distribution: Eastern Cape, Western Cape
Soil type: Sandy
Flowering season: Sporadic/All year
PH: Acid
Flower colour: Red, Yellow, Orange
Aspect: Full Sun
Gardening skill: Easy
Special Features:
Attracts birds
Wet sites
Horticultural zones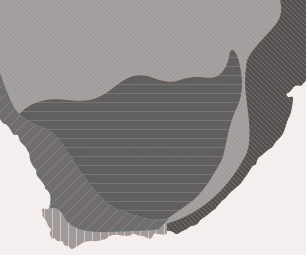 Zone 2 Coastal winter rainfall, frost free
Google QR Code Generator