Erica densifolia Willd.
Family: Ericaceae
Common names: sticky red-and-green heath (Eng.)
Introduction
This evergreen shrub produces tubular red flowers with light yellow tips, from spring until autumn, and is a great addition for attracting birds to your garden.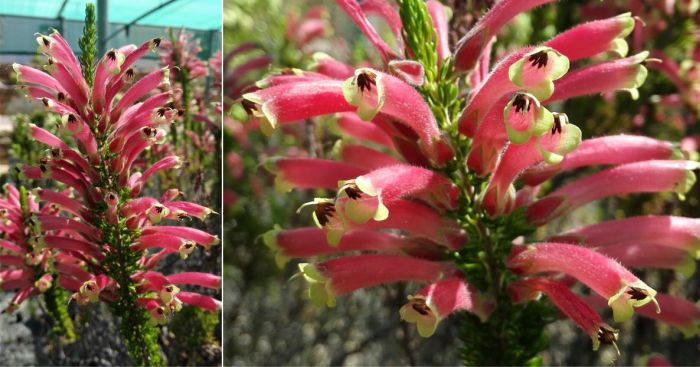 Description
Description
This tough, upright shrub, with its densely crowded, 3-nate leaves on the stems, can grow up to about 1.5 m high. The inflorescences present single flowers, which are about 24–30 mm long, at the tips of the branches. The slightly curved and sticky flowers are hairy, with red with greenish yellow lobes. The calyx often appears to be hairy and is less than 50% the length of the flower. In contrast to the style, which is exserted, the stamens are hidden in the flower.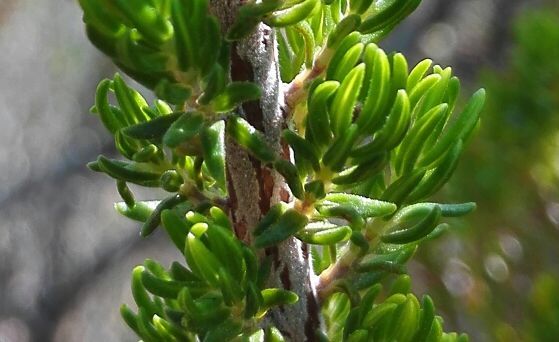 Conservation Status
Status
Erica densifolia is not threatened, and has a conservation status of Least Concern (LC).
Distribution and habitat
Distribution description
Erica densifolia is a South African endemic, confined to the Western Cape. It occurs in fynbos on the Swartberg and Kammnassie Mountains as well as the coastal mountains.
In general, ericas colonise a number of habitats, which range from coastal flat country, to marshes and rivers. They are often found on mountain peaks where the yearly rainfall is high, but they seem to appear more abundantly on the west–facing slopes. The plants grow best in soil with a pH ranging from 5.5 to 6.7 and good drainage is essential.
Derivation of name and historical aspects
History
The genus name Erica is derived from the Greek word ereiko, which means 'to break' or 'rend'; this could refer to the stems of the plant that are not very tough and break or tear easily. In turn ereiko is the Latin word for heath or broom. The specific epithet densifolia is Latin and refers to the crowded or densely packed leaves on the stems of the plant.
The genus Erica comprises of about 860 species of which about 690 are endemic to the southwestern tip of South Africa. Ericas are one of the most important groups of plants of fynbos vegetation. Heaths occur in East Africa, the Mediterranean as well as Europe but in significantly lower numbers, a collective total of about 28 species were recorded.
Ecology
Ecology
This species is not a re-sprouter but it regenerates readily from seed, which is produced in abundance. In general, the seeds of heaths are very small and stay viable for many years in the soil seedbank.
This species is known to be pollinated by sunbirds. The sunbird uses its long curved beak to obtain nectar from the flowers, this action at the same time carries pollen from the one flower to the other and plays a main role in carrying out the pollination process.
Uses
Use
Erica densifolia is an attractive species, it produces flowers over a long period and is a good cut flower. This plant can be very successfully grown alongside members of the restio family (Restionaceae) and other fynbos plants, such as members of the buchu family (Rutaceae) and protea family (Proteaceae), which also make ideal companions in the garden. It also grows well in pots, regular pruning will benefit plant health and flowering.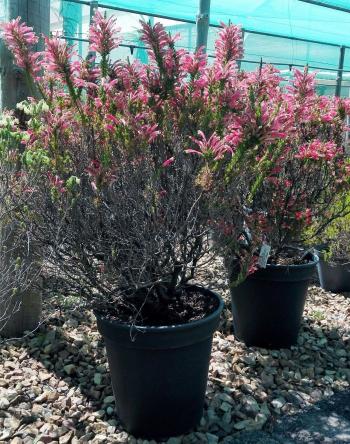 Growing Erica densifolia
Grow
Ericas prefer a soil with a good drainage and with a pH ranging from 5.5 to 6.7. These plants don't like the addition of lime to the soil, extreme heat or shady areas. Good air circulation is important, to prevent fungal growth. Special care must be taken not to damage their sensitive, hair-like root system, they do not have a taproot like most plants.
Regular pruning after flowering and feeding is important to encourage new growth. Ericas are relatively short-lived fynbos plants and survive on average up to between 10 and 15 years, after which they need to be replaced. Dead wood should also be removed during the pruning process, to prevent the spread of disease.
Vegetative propagation is much faster than propagation by seeds. Take 40-50 mm long cuttings from semi-hardwood, two months after flowering. Heel cuttings are ideal, however nodal cuttings can also deliver good results. Remove the lower third of the leaves. Apply a rooting hormone for semi-hardwood to the cutting, this will speed up the root development. Place the cuttings in a rooting medium made up of 50% fine bark and 50% polystyrene chips. Heel cuttings from thin, actively growing side shoots respond more positively when it comes to root development. The cuttings develop best when good air circulation is maintained. Good air circulation is important as it reduces fungal infections. A specialised facility, such as a propagation unit with heated benches and a misting system, is often best to successfully propagate this plant by cuttings. Cuttings can be planted into small pots when rooted with a mixture of 8 parts bark and 3 parts sand. Feed every 2 weeks with an organic, liquid fertiliser.
Sow seeds in autumn, in seed trays about a 100 mm deep, filled with equal parts of river sand and sifted composted bark. Soak the seeds overnight in a fynbos smoke extract (obtained from burning fynbos plant material). The seeds are very small and need to be mixed with fine sand prior to sowing, in order to obtain a more even spread of the seeds. Treat the mixture with a fungicide and keep the medium moist by watering with a fine hose. Place the trays in a warm and sheltered spot to encourage the germination process. The seeds show signs of germination after 6–10 weeks. Provide young seedlings with good light and aeration. Seedlings can be planted out into small pots as soon as they are about 10 mm high. Thereafter, plant the plants in garden beds as soon as they are ± 100 mm tall.
References
Foden, W. & Potter, L. 2005. Erica densifolia Willd. National Assessment: Red List of South African Plants version 2020.1. Accessed on 2021/01/26
Goldblatt, P. & Manning, J. 2000. Cape Plants. A conspectus of the Cape flora of South Africa. Strelitzia 9. National Botanical Institute, Pretoria & Missouri Botanical Garden, Missouri.
Oliver, E.G.H. & Oliver, I.M. 2002. The genus Erica (Ericaceae) in southern Africa: taxonomic notes 1. Bothalia. 32 (1). doi:10.4102/abc.v32i1.461.
Oliver, E.G.H. & Oliver, I.M. 2005. The genus Erica (Ericaceae) in southern Africa: taxonomic notes 1. Bothalia 32: 46.
Rourke. J.P. 1980. Wild flowers of South Africa. C. Struik Publishers, Cape Town.
Schumann, D., Kirsten, G. & Oliver, E.G.H. 1992. Ericas of South Africa. Fernwood Press, Vlaeberg.
Vlok, J. & Schutte-Vlok, A. 2010. Plants of the Klein Karoo. Umdaus Press, Hatfield, Pretoria.
Credits
Benjamin Festus
Kirstenbosch National Botanical Garden
April 2021
Plant Attributes:
Plant Type: Shrub
SA Distribution: Western Cape
Soil type: Sandy, Loam
Flowering season: Spring, Late Summer
PH: Acid
Flower colour: Red, Yellow
Aspect: Full Sun
Gardening skill: Average
Special Features:
Attracts birds
Good potplant
Horticultural zones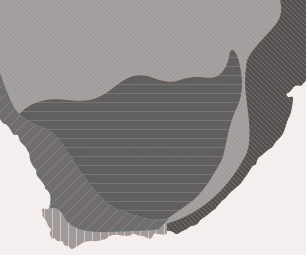 Zone 2 Coastal winter rainfall, frost free
Zone 3 Winter rainfall Karoo, light frost
Google QR Code Generator