Erica diaphana Spreng.
Family: Ericaceae
Common names: diaphanous heath
Introduction
Erica diaphana is a strong-growing heath from the southern Cape that brings summer colour to the fynbos garden.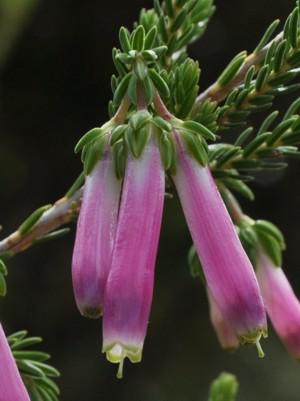 Description
Description
Erica diaphana is as an erect shrub, up to 1.8 m tall, with rigid, spreading branches. Leaves are 4–6 mm long, thick and smooth, upright to spreading, and in threes. The flowers are pendulous and appear to be suspended from the branches, and are also produced in threes. The flowers are large,  20–24 mm long, shiny and very sticky, pale pink to purplish, semi-transparent tubes with white to greenish tips. The green tips fade as the flower ages. At the base of the corolla tubes are leaf-like sepals and bracts. The stamens do not protrude from the tip of the corolla tube (the term for this is included), but the stigma does (is exserted). The shadow of the anthers can be seen through the semi-transparent corolla tube as a dark ring towards the tip. Erica diaphana flowers in mid- to late summer (December to March).
Conservation Status
Status
As South Africans we are custodians of the world's richest temperate flora. We can say this confidently because of the 370 000 species of mosses, ferns and seed plants currently estimated to exist on our planet; 20 456 species are recorded here. Of this number 65% (13 256 species) occur nowhere else in the world. This is astounding when you consider that South Africa only accounts for 2.5% of the world's land surface! So, what we have is precious.
Erica diaphana is currently red listed as LC (Least Concern), meaning that it is not threatened. However, this South African endemic has not yet been fully assessed and was therefore given an automatic status of Least Concern. The Threatened Species Programme is currently completing full assessments for all taxa with an automated status, so, this status may change in future.
Distribution and habitat
Distribution description
Erica diaphana is endemic to South Africa. It grows on flats and rocky slopes to high altitudes, from the Bontebok National Park near Swellendam, eastwards to George, Humansdorp and Uitenhage and inland to the the Outeniqua and Tsitsikamma Mountains, Langkloof and Baviaanskloof, of the Eastern and Western Cape.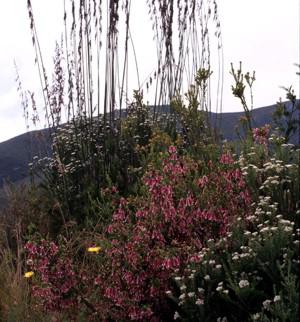 Derivation of name and historical aspects
History
What is an Erica? In the field, it is said, that the one major character to look for is the small, narrow, folded leaves, described as 'ericoid'. Dating back to the time of the ancient Greek civilization when Theophrastus and Pliny walked the earth, you would have heard them use the term erike, as they described the heath-like shrubs around them. In 458 BC, Aeschylus wrote a play called Agamemnon in which the fall of Troy is told to have been signaled from the mountain tops by the light of the fires of dried ereika. Ereiko means to break, which may describe the plant's brittle stems that would easily split with a little force. A number of references, though, suggest that ereiko describes the plant's ability to break up bladder stones, once an infusion of the leaves was ingested (Hyam & Pankhurst 1995). The name of this species, diaphana, is from Ancient Greek διαφανής (diafanēs) or the Latin diaphanus which means 'transparent' or 'translucent', and describes the semi-transparent corolla tubes.
Ecology
Ecology
Fynbos occurs where there are nutrient-poor soils, hot dry summers alternating with cool wet winters and recurrent fires. The plants have evolved strategies to cope with these factors. An elaborate web of animal-plant interactions have evolved in this ancient vegetation type.
Erica leaves are small and the edges are rolled back until they almost meet under the leaf—this reduces the amount of water lost through the leaves, and enables the plant to cope with periods of drought. Erica diaphana has a lignotuber when young, i.e. a fire will burn the aerial parts of the plant, but the lignotuber that is at the base of the stem at or under the soil surface, will survive and resprout. Older and undisturbed plants lose their resprouting ability and rely solely on seeds to survive fires.
Erica diaphana is pollinated by birds, such as sunbirds, that insert their beaks into the corolla tube to feed on the nectar at its base, and in so doing, come into contact with the pollen and stigma, and pollinate the flowers. The flowers are also visited by bees and wasps, but they rob the flower of nectar through holes bitten through the base of the corolla tube.
Uses
Use
Erica diaphana is not used in traditional medicine, nor is it cultivated for the cutflower market, because the very sticky flowers make it impossible to pack without damaging the flowers. It is a decorative garden shrub that deserves to be more widely known and grown.
Growing Erica diaphana
Grow
Grow Erica diaphana in a sunny position where there is good air circulation, in a sandy, well-drained soil. Ericas grow better when planted close together and with other fynbos plants to form dense stands that cover the ground. Erica diaphana is well suited to fynbos gardens, Mediterranean gardens, coastal gardens, although not in the dunes or in the salt-spray zone, in mixed shrubbery, rockeries, on sloping ground, terraced areas or retaining walls, and it will do well in containers. It is a strong grower. Fertilise with well-rotted compost applied as a mulch in autumn and spring. A low-dose or slow-release fertiliser can also be used, but avoid strong fertilisers and manure.
Erica diaphana can be grown from seed or cuttings, however, cuttings are easier and faster to grow and produce plants that are more robust. Plants grown from cuttings can be transplanted within six months, as opposed to a year for seed-grown plants, and they will flower a year earlier.
Sow seed in late summer or autumn. Treating the seed with Instant Smoke Plus Seed Primer improves germination. Use a well-drained, sandy, slightly acidic medium. Seed is very fine and need not to be covered. Use a fine gentle spray when watering and keep the trays moist and warm. Seed germinates in about six weeks and the young seedlings are very tiny and delicate. Prick them out when they are 1 cm tall. Feed weekly with a dilute fertiliser. The seedlings are slow growing and need at least a year's growing time before they are large enough to be planted out.
Take 20–30 mm cuttings from semi-hard wood, two months after flowering, from healthy mature plants. Heel and stem cuttings work best. Remove the leaves from the lower third of the cutting, dip into a rooting hormone and place into a tray filled with 50% peat, or milled pine bark, and 50% polystyrene. Place the trays in a propagation unit with overhead mist and bottom heating of between 22–24°C. Once the cuttings are rooted, pot them up into ½ litre plastic bags. Young cuttings must be watered well and kept under shade for a month, after which they are placed into full sun, and can be planted out after 3–4 months.
Ericas are sensitive about soil. Use a potting medium that is well drained and acidic, containing no manure, and with low levels of phosphate. A well-drained, sandy loam with a pH between 5 and 5.5, containing about 50% humus, is ideal.
References
Bolus, H., Guthrie, F. & Brown, N.E. 1909. Erica diaphana. Flora capensis, Vol 4.
Brown, N.A.C. & Duncan, G.D. 2006. Grow fynbos plants. Kirstenbosch Gardening Series. South African National Biodiversity Institute, Cape Town.
Goldblatt, P. & Manning, J. 2000. Cape Plants. A conspectus of the Cape flora of South Africa. Strelitzia 9. National Botanical Institute, Pretoria & Missouri Botanical Garden, Missouri.
Hyam, R. & Pankhurst, R. 1995. Plants and their names. Oxford University Press, New York.
Jackson, W.P.U. 1990. Origins and meanings of names of South African plant genera. University of Cape Town.
Leistner, O.A. (ed.). 2000. Seed plants of southern Africa: families and genera. Strelitzia 10. National Botanical Institute, Pretoria.
Ojeda, F. 1998. Biogeography of seeder and resprouter Erica species in the Cape Floristic Region—Where are the resprouters? Biological Journal of the Linnean Society, 63: 331–347
Schumann, D., Kirsten, G. & Oliver, E.G.H. 1992. Ericas of South Africa. Fernwood Press, Vlaeberg.
Credits
Julia September and Alice Notten
Kirstenbosch National Botanical Garden
January 2015
Plant Attributes:
Plant Type: Shrub
SA Distribution: Western Cape
Soil type: Sandy
Flowering season: Late Summer
PH: Acid
Flower colour: Green, Purple, White, Pink, Mauve/Lilac
Aspect: Full Sun
Gardening skill: Average
Special Features:
Good potplant
Horticultural zones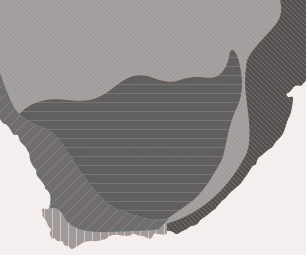 Zone 1 Coastal summer rainfall, frost free
Zone 2 Coastal winter rainfall, frost free
Zone 3 Winter rainfall Karoo, light frost
Google QR Code Generator