Erica discolor Andrews
Family: Ericaceae
Common names: two-colour heath
Introduction
Erica discolor is a very common and variable species complex that used to consist of two well-known and widespread species namely, Erica discolor and Erica speciosa, and the more localized Erica hebecalyx. Despite Erica discolor's well-known status as species, many people have difficulty identifying plants from this complex, even finding it problematic to separate them from Erica versicolor and Erica unicolor, and its variants.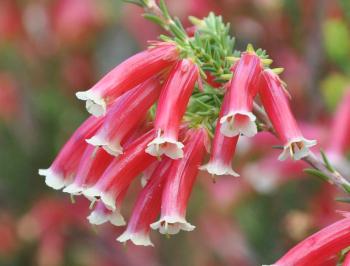 Description
Description
Erica discolor varies from an erect, single-stemmed or sparsely branched, reseeding shrub up to 2 m tall, to a dense-growing, multi-stemmed, resprouting shrub, about 1 m tall. Flowers are tubular and slightly curved, smooth, sometimes slightly sticky, pink to dark orange-red with pale yellow to white tips. Green flowered forms are also known to exist. Flowers are produced singly or in groups of three at the ends of short, lateral, leafy side branches. The main flowering time is cited as January to July, however, the reseeding variety has been noted to produce flowers throughout the year.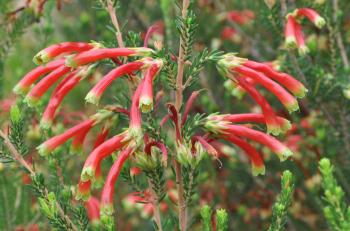 Conservation Status
Status
Erica discolor is a widespread and abundant species and not in danger of extinction. It has a conservation status of Least Concern (LC).
Distribution and habitat
Distribution description
Erica discolor is a very common and widespread species, often recorded on mountain slopes and coastal hills and plains from Betty's Bay to Port Elizabeth, and inland from Matjiesfontein to the Swartberg.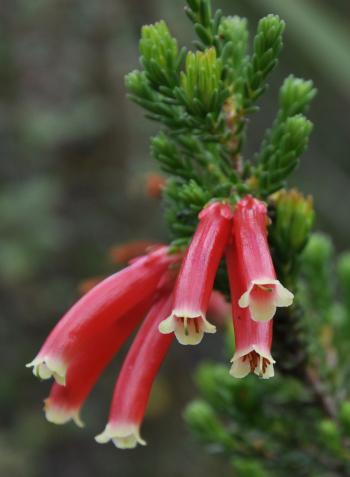 Derivation of name and historical aspects
History
The name Erica discolor was given it by Andrews and describes the way the flower changes colour from the tip to the base. The specific name discolor, originates from the Latin. The Latin word has two parts: the prefix dis- meaning 'away from' or 'apart', and color, meaning that the colour goes away from, or changes. In this case, the flower tube is red or pink at the base and changes to pale yellow or white at the tips.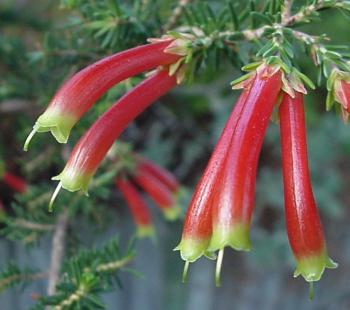 The Erica discolor–versicolor–unicolor group of long, narrowly tubed species has proven to be very problematic to identify, because of considerable variation in most of their organs. Indeed, it is difficult to distinguish one species from another, whereas even the currently recognized Erica discolor varies from locality to locality. While there remains much confusion in the group, the considerable variation has led botanists to retain four common and widespread species, Erica discolor, E. versicolor, E. unicolor and E. diaphana, and describe two new species namely, Erica croceovirens and E. prolata.
Even with considerable field collections to study, the botanists have not identified satisfactory morphological characteristics to separate the variants to species level. They have, therefore, determined they belong to one widespread and common species, with Erica discolor being the oldest name.
Ecology
Ecology
The climate is Mediterranean, with cold, wet winters and hot drier summers, however, the southern Cape receives rain throughout the year. Erica discolor grows on mountain slopes and along the windy coastal plains of the southwestern and southern Cape, from Betty's Bay to Port Elizabeth. It also grows on inland mountains from Matjiesfontein to the Swartberg. It is often found growing in dense stands on mountain slopes and on hills down to the coast. There is a taller, less-branched, reseeding form that is killed by fire and regenerates readily from seed, which is produced in copious amounts. The sprouting form tends to be shorter, growing up to about a meter tall. This form is not killed by fire and resprouts from an underground stem after fire, and it also regenerates from seed.
This species is primarily pollinated by sunbirds, although it is likely that it is also pollinated by insects. The sunbird seeks nectar from the flower, by inserting its long, curved beak into the flower tube. In doing so, it disturbs the ring of anthers in the flower tube, which deposits pollen on its beak which is carried to the next flower and deposited on the sticky stigma completing pollination.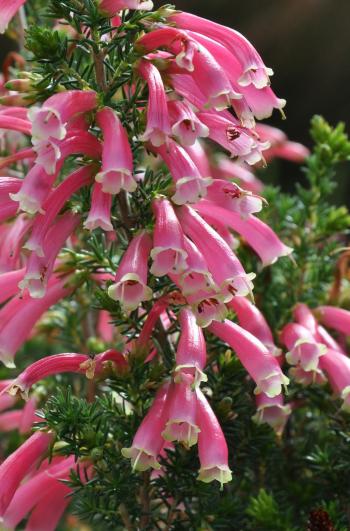 Uses
Use
Erica discolor is an attractive, hardy species which is a highly desirable subject for gardens. It is a very satisfactory plant flowering over many months, and is a good cut flower. It also grows well in pots, but needs regular pruning.
Growing Erica discolor
Grow
Erica discolor is a hardy species and not as fussy, like many ericas. It grows in well-drained, sandy or rocky soils, with the ideal soil pH between 5.5 and 6.7. It should do well in most gardens in South Africa, where the humidity is not too high and where there is little or no frost. They will do well in coastal gardens, as long as the soils are acidic and they are not exposed to direct salt-laden wind. It grows well in various garden aspects, including open beds, rockeries and on slopes.
Feed plants after flowering with a sprinkling of slow release 3:1:5 or monthly with a good organic seaweed-derived fertilizer. Be careful not to disturb the roots and water regularly in summer, as this is generally the cause of losses with erica. Good results have also been achieved when applying controlled release fertilisers suitable for erica. Be careful not to exceed dosage. 
Pruning will increase flower production, resulting in splendid displays, and increase the life expectancy of the plants. Ericas are relatively short-lived fynbos plants and survive on average up to between ten and fifteen years, after which they need to be replaced. This species is a prolific flowerer and is a wonderful addition to the garden.
Erica discolor is easily grown from seed which should preferably be sown in autumn in the Western Cape. In other regions it should probably be germinated at the beginning of the growing season. Treatment with smoke or smoke extract greatly enhances germination. The seed takes about six to ten weeks to germinate and are delicate in their early stages. It is important not to sow too thickly, as seedlings growing too close together, and overwatering may result in damping off. The young seedlings should be protected from heavy rainfall and direct sunlight, by placing the trays under cover while still providing good light and aeration. The seedlings should be watered gently to avoid washing them out of the tray or flattening their young delicate stems. Allow the young plants to grow to about 10 mm tall, before planting them out into multi-trays or small pots/bags. Plants should be grown up to at least 10 cm, before planting out in the garden.
Propagation from cuttings is more difficult and should be done with suitable facilities, such as mist propagation houses with heated benches and overhead misting. Cuttings are preferably taken in autumn in the winter rainfall Western Cape, but may be taken in spring or early summer as well. Fresh, actively growing, thin side shoots taken as heel cuttings yield the best results. A rooting hormone for semi-hardwood cuttings applied to the cut surface or heel, results in quicker and better rooting. Rooting may take from eight to sixteen weeks and sometimes longer. If the stem tip develops a callus, but does not root, score the callus with a sharp, clean instrument and apply more hormone, and place in a fresh rooting medium. This often results in very good rooting.
References
Manning, J. & Goldblatt, P. 2012. Plants of the Greater Cape Floristic Region 1: the Core Cape Flora. Strelitzia 29. South African National Biodiversity Institute, Pretoria.
Oliver, E.G.H. & Oliver, I.M. 2005. The genus Erica (Ericaceae) in southern Africa: taxonomic notes 1. Bothalia 32: 46.
Schumann, D., Kirsten, G. & Oliver, E.G.H. 1992. Ericas of South Africa. Fernwood Press, Vlaeberg.
von Staden, L. 2012. Erica discolor Andrews. National Assessment: Red List of South African Plants version 2015.1. Accessed on 2016/07/13
Credits
Anthony Hitchcock
Kirstenbosch National Botanical Garden
July 2016
Plant Attributes:
Plant Type: Shrub
SA Distribution: Eastern Cape, Western Cape
Soil type: Sandy, Loam
Flowering season: Spring, Early Summer, Late Summer, Autumn, Winter
PH: Acid
Flower colour: Green, Red, White, Pink, Yellow, Orange
Aspect: Full Sun
Gardening skill: Average
Special Features:
Attracts birds
Good potplant
Horticultural zones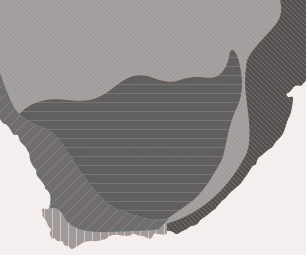 Zone 1 Coastal summer rainfall, frost free
Zone 2 Coastal winter rainfall, frost free
Zone 3 Winter rainfall Karoo, light frost
Google QR Code Generator