Erica irregularis Benth.
Family: Ericaceae
Common names: Gansbaai heath
Introduction
A very special and beautiful plant that only occurs naturally in one place in the whole world. During the winter months, it transforms the landscape around Grootbos Private Nature Reserve in Gaansbaai, with a flush of pink. It is a fairly hardy coastal species that becomes covered in delicate flowers and would add colour and splendor to the garden during the usually drab winter time.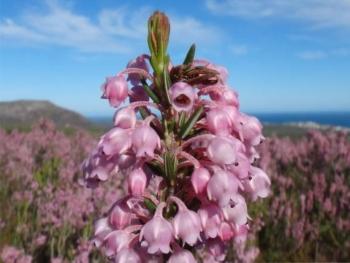 Description
Description
Erica irregularis is a fairly robust shrub, which can grow as tall as 1.2–1.5 m. Its branches are semi-upright, but not stiffly so, and are covered in small linear leaves arranged in groups of 3 or 4 on the stems. The stems and flowers stalks of new shoots are protected by fine, white hairs, whereas older stems tend to be hairless. The leaves are dark green above and velvety white below, and in typical ericoid fashion, the leaves are rolled under to minimize moisture loss. During the flowering period the branches become suffused with pink for most of their length.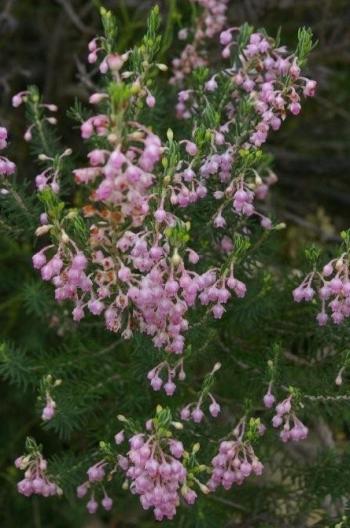 The flowers are small, urn-shaped, with a slight constriction at the mouth and are carried on longish, hairy pedicels arranged in irregular clusters at the leaf axils along the stem, hence the origin of its scientific name 'irregularis'. There is often 1, or a pair of bracts present either at the base or in the middle of each pedicel. The ovary is shaped like an inverted green cone and is positioned on a disc inside the corolla and produces numerous ovules.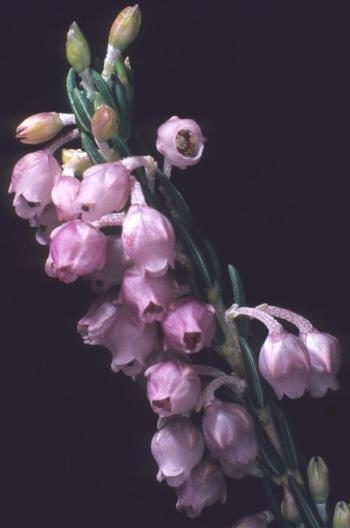 Although the flowers may be small (4–5 mm), they occur in such numbers that the whole plant becomes a candyfloss pink and in its only natural habitat, the foothills between the towns of Gansbaai and Stanford, it grows in large masses, so that the whole hillside becomes flushed with a pink hue. This wonderful floral display happens unusually during the winter months, continuing to about mid-spring (June–October) when the colours turn a pinkish brown, as the seeds are beginning to be released. Minute seeds, of varying shades of pink, are released 3 months after flowering, and depending on rainfall and other environmental factors, peak seed release is in late August. In the wild, Erica irregularis can take 5 years from germination to reach flowering stage.
This species is similar to Erica baccans, but is distinguished by its unique inflorescence, the tiny bracts on the pedicels, its shorter sepals and its limited distribution.
Conservation Status
Status
The Red List of South African plants classifies Erica irregularis as Endangered (EN). It is a local endemic that once consisted of a single, very large and continuous population between Stanford and Gansbaai, however, as a result of habitat loss and disturbance due to coastal development and dense alien invasive of  Acacia cyclops stands, the population has become fragmented. It was also harvested in large amounts for the fynbos bouquet flower industry and required legal protection to regulate harvesting. According to the Flower Valley Conservation Trust, the fynbos industry and others involved in fynbos, realized the possible danger of losing this species forever, and the harvesting of Erica irregularis was stopped. There are only 3 fragments left, but fortunately most of its population is safeguarded in the Grootbos Private Nature Reserve, where it is closely monitored. No flower picking is permitted and all alien vegetation is kept at bay. Just in case anything happens to the 1 population, seeds of E. irregularis have recently been collected and are stored in the Millennium Seed Bank Partnership at Wakehurst Place, UK, and a living plant collection of it has been grown at Kirstenbosch National Botanical Garden.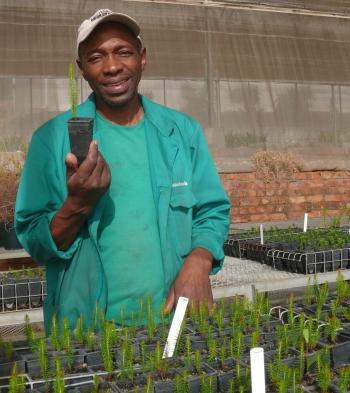 Distribution and habitat
Distribution description
The distribution of Erica irregularis is distinctly limited and it is only found on the coastal limestone foothills on the deep sandy soils overlooking Walkerbay, between Stanford and Gaansbaai within the Overberg Dune Strandveld vegetation type. The entire population is found on about 300 hectares of the Grootbos Private Nature Reserve located at the western edge of the Agulhas Plain. It grows together with other coastal fynbos ericoid shrubs such as blombos (Metalasia muricata), and gonna (Passerina corymbosa), restios, and broadleaved shrubs such as bietou (Osteospermum moniliferum).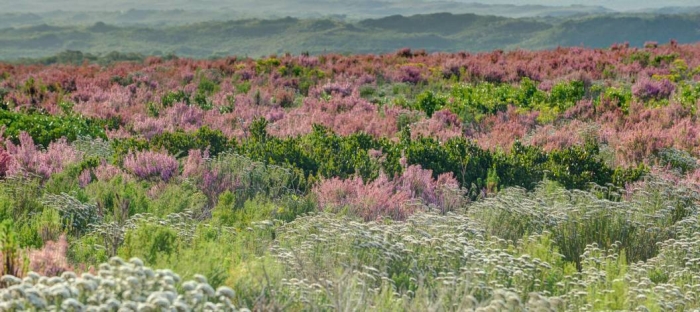 E. irregularis grows in a moderate maritime Mediterranean climate, with seasonal rainfall, carried by northwesterly winds, occurring in the winter months, from May to August. Summer months are dry with prevailing southeasterly winds. The mean maximum daily temperatures at Grootbos Private Nature Reserve, fluctuate between 25ºC in February and 14ºC in July and the area is generally frost free.
Derivation of name and historical aspects
History
The name Erica is derived from the Greek ereiko, meaning 'to break' or 'rend', which refers to the apparent ability of some species to break up bladder stones, and possibly to the fact that Erica stems tend to break easily. The name ereiko was used by Pliny and Theophrastus and is Latin for a heath or broom.
The genus Erica belongs to the family Ericaceae, which is one of the distinctive and the largest genus comprising the South African fynbos flora. About 900 species and varieties of Erica occur in South Africa. Most Erica species have ericoid or needle-like leaves, with a narrow channel beneath, which are borne in whorls around the stems. Flowers vary in size, depending on species and petals are fused to form a corolla tube either narrow, or open and bell-shaped. Ericas grow naturally in many different habitats, from coastal flats, marshes and rivers, to mountain peaks. The fruit is usually a loculicidal capsule (a capsule that opens by splitting down the middle of the locules), but can be an indehiscent capsule, drupe, achene or berry. Erica seed is extremely small and fine, and in most species, Erica sessiliflora being one exception, they are shed after ripening.
Erica irregularis, first described by George Bentham in 1839, is one of 33 species belonging to the Trigemma Erica group named from Latin tres, meaning '3' and gemma, meaning 'bud'. This refers to the arrangement of the flowers in groups of 3. Other characteristics of this group are flowers being borne at the tips of the branchlets, or occasionally in an umbel. Sepals tend to be large, prominent and coloured. The species name irregularis, is derived from the Latin ir, meaning 'contrary' and regula, meaning 'a straight edge' or 'strip' and aris, which means 'resembling'. It refers to the irregular arrangement of the flowers along the stem.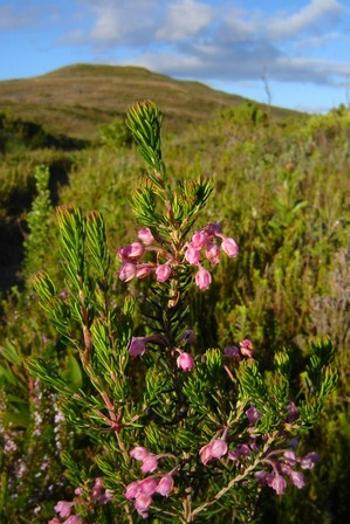 Ecology
Ecology
Erica irregularis occurs within the Fynbos Biome, a fire-driven system that requires regular burning for its persistence. Unlike re-sprouters that can regrow after a fire, sending out new shoots from large, underground rootstocks, E. irregularis has adapted to this fire regime by being a re-seeder: adult plants are killed by fire and regenerate by producing large amounts of seed that can remain in the soil seed bank and germinate only after a fire and at the onset of the autumn rains. 
This adaptation was put to the test in February 2006, when the entire and only population of this Endangered Erica was destroyed in a huge fire that swept across the landscape. After a few months, once the autumn rains had begun to fall, thousands of seeds germinated and grew into seedlings and the population was renewed. It took about 5 years for the plants to reach maturity, and in 2011, they flowered for the first time and produced a magnificent display, colouring the entire hillside in pink. Many other species growing with the ericas are also dependent on fire and to highlight the importance of its ecological role in a fynbos system, the number of fynbos species on Grootbos Private Nature Reserve increased by 70, as a result of post-fire rejuvenation.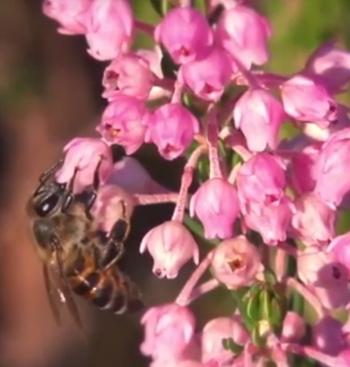 Erica irregularis is most commonly pollinated by bees who produce a unique and distinctive honey.
Uses
Use
The Grootbos Foundation sustainably harvest the rare honey sourced from the seasonal pollens and nectar of E. irregularis. The honey is used in their cuisine and is also an ingredient in a range of health and beauty products.
This attractive flower was harvested in large amounts for the cut flower industry, but because of its endangered status, harvesting of this species has been stopped.
Growing Erica irregularis
Grow
Erica irregularis is fairly easy to propagate by seed. Collect the seed just as it starts to fall naturally in August, or 3 months after flowering, and sow in autumn. As E. irregularis is a re-seeder and adapted to germinating after fire, it would be advantageous to give the seeds a smoke treatment in a smoking tent, or to pre-soak the seeds in an aqueous smoke extract or seed primer for 24 hours before sowing.
Use a well-drained sowing medium such as 1 part river sand and 1 part sifted composted bark, and firm down the surface of the medium. To prevent damping-off often associated with overcrowding, sow the seeds thinly and evenly, by mixing them with fine sand prior to sowing. A thin layer of propagation medium can be sieved over the seeds. Water the seeds with a very fine hose to prevent dislodging them and place containers under cover in a shade house, until the seeds germinate. The seed trays should be kept moist, but not wet.
Take cuttings from healthy, disease-free plants about 2 months after flowering. At this stage, the plants would have grown shoots that are semi-hard. Nodal cuttings can be used, although heel-cuttings are most suitable. Carefully remove the leaves on the lower third, dip the cuttings into a rooting hormone and insert into a cutting medium of one part milled bark and one part polystyrene. Place the cuttings in a greenhouse with intermittent mist, or in an open air mist spraying unit. Erica cuttings require good air circulation. When the cuttings have rooted well, they can be planted into pots in the same growing medium as for seedlings.
When the seedlings are 10 mm tall and the cuttings are well established, they can be placed in an open, but lightly shaded area. Ericas require good air circulation at all times. When seedlings are 20–50 mm in height, prick them out and plant into pots or plant bags. Erica's have very sensitive hair-like roots situated close to the surface of the medium and disturbance of these roots should be minimal. Like the propagation medium, the potting soil should be well-drained and slightly acidic. A sandy loam with 50% humus, a pH of between 5 and 5.5, and low levels of phosphate, is recommended for most ericas. Three parts sand, 2 parts leaf mould/bark and 1 part soil can be used. Place a mulch consisting of untreated woodchips, pine needles or stones around the plant on the surface of the potting medium to protect the delicate roots, keep them moist and cool, and to suppress weed growth. Once the plants are established, they can be moved out into the open. Water the plants well every second or third day, preferably in the mornings to prevent fungal infections from developing on the leaves. Fertilize with organic liquid fertilizers such as those derived from seaweeds, or very carefully with a controlled-release granular fertilizer that is low in phosphate.
This beautiful erica would do well in protected, sandy, coastal gardens, planted together with other coastal fynbos species such as blombos (Metalasia muricata), gonna (Passerina corymbosa), restios and bietou (Osteospermum moniliferum).
References
Andrews, H.C. 1809. The Heathery: or, a Monograph of the genus Erica with Latin and English descriptions, dissections, etc. of All the known species of that extensive and distinguished tribe of plants, Volumes 5–6. London.
Bolus, H, Guthrie, F. & Brown, N.E. 1909. Flora capensis, Vol 4, page 2.
Brown, N.A.C. & Duncan, G.D. 2006. Grow fynbos plants. Kirstenbosch Gardening Series. South African National Biodiversity Institute, Cape Town.
Brown, N.A.C. & Botha, P.A. 2004. Smoke seed germination studies and a guide to seed propagation of plants from the major families of the Cape Floristic Region, South Africa. South African Journal of Botany 70(4): 581–599.
Flower Valley Conservation Trust, 2017. Four reasons to celebrate Plant Day. Agulhas Biodiversity Initiative. http://www.flowervalley.org.za/2017/04/4-reasons-celebrate-plant-day/
Grootbos Private Reserve. 2016. Erica and the Bee, video. https://www.youtube.com/watch?v=1iLKrFM1cx8
Koekemoer, M., Steyn, H.M. & Bester, S.P. 2015. Guide to Plant Families of southern Africa. Strelitzia 31. 2nd ed., 2nd print. South African National Biodiversity Institute, Pretoria, South Africa.
Kotze, F.G. 1987. Ericas: propagation and growing. National Botanical Institute, Cape Town.
Manning, J. & Goldblatt, P. 2012. Plants of the Greater Cape Floristic Region 1: the Core Cape Flora. Strelitzia 29. South African National Biodiversity Institute, Pretoria.
Mergili, M. & Privett. S. 2008. Vegetation and vegetation-environment relationships at Grootbos Nature Reserve, Western Cape, South Africa. Bothalia 38,1: 89–102.
Privett, S. 2011. What's flowering–Erica irregularis, The Fynbos Hub. http://www.fynboshub.co.za/fynbos-diversity/whats-flowering-erica-irregularis/
Schumann, D., Kirsten, G. & Oliver, E.G.H. 1992. Ericas of South Africa. Fernwood Press, Vlaeberg.
Turner, R.C. 2007. Erica irregularis Benth. National Assessment: Red List of South African plants version 2017.1. Accessed on 2018/04/16.
Credits
Victoria Wilman
Kirstenbosch National Botanical Garden
May 2018
Plant Attributes:
Plant Type: Shrub
SA Distribution: Western Cape
Soil type: Sandy
Flowering season: Spring, Autumn, Winter
PH: Acid, Alkaline, Neutral
Flower colour: Pink
Aspect: Full Sun
Gardening skill: Average
Special Features:
Feeds honeybees
Horticultural zones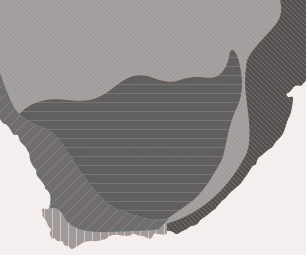 Zone 2 Coastal winter rainfall, frost free
Google QR Code Generator