Erica lateralis Willd.
Family: Ericaceae
Common names: button heath (Eng.); knopiesheide (Afr.)
Introduction
This sturdy evergreen shrub boasts with masses of rosy to pink flowers from late summer until early winter, around February to June. It is ideal for mass planting and can tolerate low temperatures.
Description
Description
Erica lateralis has an upright to spreading habit and grows up to ± 500 mm high. The linear leaves are short, erect, glossy and usually incurved. The 4-nate, terminal flowers appear in plumes in late summer to early winter. The urn-shaped corolla has a narrowing at the throat and is between 5 and 12 mm long. The crested anthers are mostly included or slightly protruding. Because this plant has a wide distribution, it can be very different in size and growth habit from place to place, for example, the form from the Galgeberg near the town McGregor has distinct long pedicels and the high mountain plants tend to have larger flowers and a more sprawling habit.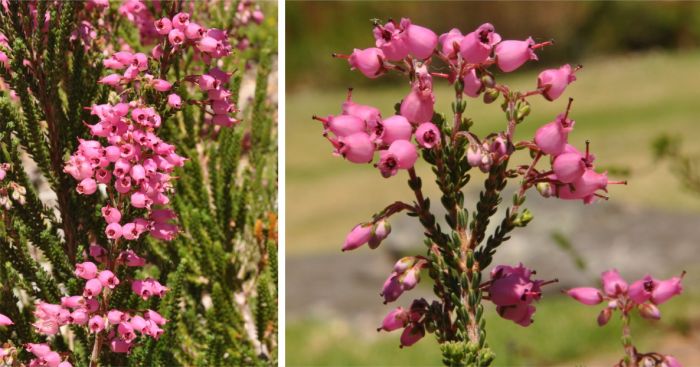 Conservation Status
Status
Erica lateralis is not threatened, it has a conservation status of Least Concern (LC).
Distribution and habitat
Distribution description
This plant has a wide distribution range, throughout the Western Cape. Common areas where it is found include, for example, Tulbagh, Ceres, Paarl, Worcester and further inland up to the Swartberg. This plant grows on the lower to upper slopes, at high altitudes, between 1 200 and 1 500 m above sea level.
Derivation of name and historical aspects
History
The genus name Erica is derived from the Greek word ereiko, which means 'to break' or 'rend'; this could refer to the stems of the plant that are not very tough and break or tear easily. In turn ereiko is the Latin word for heath or broom. The specific epithet lateralis is Latin and means 'at the side' which refers to how the flowers are arranged in relation to the main stem of the branchlets.
Ecology
Ecology
The flowers are pollinated by insects, they obtain pollen from the flowers, as food, in turn they carry pollen from the one flower to the other and play a main role in carrying out the pollination process. The seeds of heaths are very small and stay viable for many years in the soil until the ideal conditions allow for germination.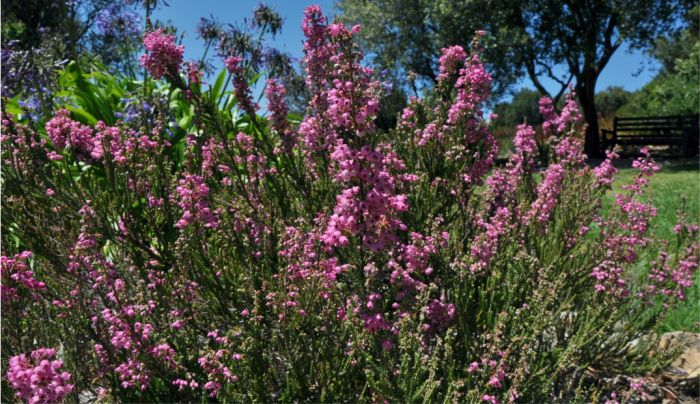 Uses
Use
Erica lateralis is an attractive species, it flowers over a long period and regular pruning will benefit plant health and flowering. It grows well in pots, it is also suitable to be grown as a groundcover when planted in groups and is ideal for fynbos gardens. This plant, like most ericas, can be very successfully grown alongside members of the Restionaceae family and other groups of fynbos plants, such as members of the Rutaceae and Proteaceae, which make ideal companions in the garden.
Growing Erica lateralis
Grow
Erica lateralis prefers a soil with good drainage with an acidic pH from 5.5–6.7. It will grow best in a sunny position, with some afternoon shade in summer. The plant will be exposed to fungal attacks when planted too densely, so avoid overcrowding and provide for good air circulation. Regular pruning after flowering and feeding is important to encourage new growth. Ericas have a very delicate root system, therefore, extra care needs to be taken when weeding around the plants.
Take 40–50 mm heel or nodal cuttings from semi-hardwood, 2 months after flowering. Remove the lower third of the cutting's leaves. Apply a rooting hormone for semi-hardwood to the cutting, this will speed up the root development. Place the cuttings in a rooting medium made up of 50% fine-milled bark and 50% polystyrene chips. A propagation unit with heated benches kept at 24°C and a misting system, is best to successfully propagate this plant by cuttings. Plant the cuttings into small pots when rooted, in a soil mixture of 8 parts composted pine bark and 3 parts sand, water well and shade lightly for a month. Feed every 2 weeks with an organic liquid fertiliser. The cuttings will be ready to be planted out within 3 to 4 months.
Sow seeds in the cooler months of the year, April and May are best. Sow seeds in seed trays about a 100 mm deep, filled with equal parts of river sand and sifted, composted bark. Place a thin layer of stones in the bottom of the seed tray to allow for good drainage. Wet the medium with fynbos smoke extract (obtained from burning fynbos plant material) and only use pure water after one day. The seeds are very small and need to be mixed with fine river sand prior to sowing, in order to obtain a more even spread of the seeds. Keep the medium moist by watering with a fine hose. Place the trays in a warm and sheltered spot to encourage the germination process and maintain good air circulation. Monitor insect damage and damping off and control when required. The seeds show signs of germination from 1 to 2 months. Seedlings can be planted out into small pots as soon as they are about 10 mm high. Thereafter, plant the plants in garden beds as soon as they are ± 100 mm tall.
Ericas are not often battered by pests, but if thrips are noticed apply a bio product for thrips to control them. Fungus can be controlled by making use of a fungicide if necessary or as an alternative apply prevention practices such as not sowing or planting to densely and not watering at night. Scale insects and snails can be controlled by removing them by hand or use a product appropriate to control them by mixing at the recommended dosage.
References
Baker, H.A. & Oliver, E.G.H. 1967. Ericas in southern Africa. Purnell & Sons, Cape Town.
Bond, P. & Goldblatt, P. 1984. Plants of the Cape flora. A descriptive catalogue. Journal of South African Botany Suppl. Vol. 13. National Botanic Gardens of South Africa, Kirstenbosch, Cape Town.
Foden, W. & Potter, L. 2005. Erica lateralis Willd. National Assessment: Red List of South African Plants version 2020.1. Accessed on 2021/08/16
Goldblatt, P. & Manning, J. 2000. Cape Plants. A conspectus of the Cape flora of South Africa. Strelitzia 9. National Botanical Institute, Pretoria & Missouri Botanical Garden, Missouri.
Jackson, W.P.U. 1977. Wild flowers of Table Mountain. Howard Timmins, Cape Town.
Levyns, M.R. 1966. Guide to the flora of the Cape Peninsula. Juta, Cape Town.
Oliver, I. & Oliver, T. 2000. Field guide to the ericas of the Cape Peninsula. Protea Atlas Project, Cape Town.
Pienaar, K. & Smith, G.F. 2011. The southern African what flower is that? An essential guide to garden plants. Struik, Cape Town.
Rourke. J.P. 1980. Wild flowers of South Africa. C. Struik Publishers, Cape Town.
Schumann, D., Kirsten, G. & Oliver, E.G.H. 1992. Ericas of South Africa. Fernwood Press, Vlaeberg.
Smith, C.A. 1966. Common names of South African plants. Memoirs of the Botanical Survey of South Africa No. 35. Government Printer, Pretoria.
Credits
Benjamin Festus
Kirstenbosch National Botanical Garden
September 2021
Acknowledgements: The author thanks Alice Notten for providing the images.
Plant Attributes:
Plant Type: Ground Cover, Shrub
SA Distribution: Western Cape
Soil type: Sandy
Flowering season: Late Summer, Autumn, Winter
PH: Acid
Flower colour: Pink
Aspect: Full Sun
Gardening skill: Average
Special Features:
Drought resistant
Good potplant
Feeds honeybees
Horticultural zones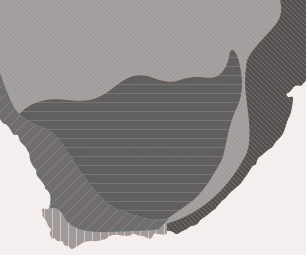 Zone 2 Coastal winter rainfall, frost free
Zone 3 Winter rainfall Karoo, light frost
Google QR Code Generator