Erica lutea P.J.Bergius
Family: Ericaceae
Common names: yellow-rice heath, rice heath (Eng.); geelrysheide, rysheide (Afr.)
Introduction
A small fynbos shrublet which has masses of shiny white to yellow flowers in late summer and autumn.
Description
Description
Erica lutea is a slender, compact, branched shrublet, with an upright but lax habit, which grows up to 500 mm tall. Leaves often occur in pairs and they are 2–6 mm long.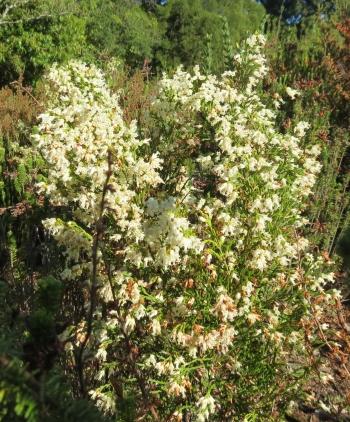 The corolla is 7 to 10 mm long, tubular, slightly inflated with spreading lobes and has a small, star-shaped mouth. The numerous flowers appear in terminal, spike-like heads on all branches, with a green bract on the stem and bracteoles are coloured just below the sepals.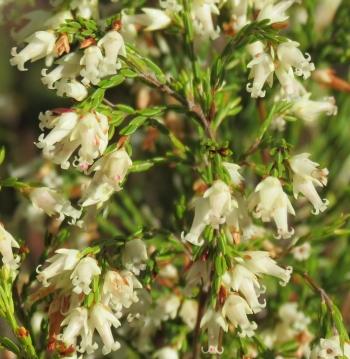 Flower colour varies from white to cream to pale yellow and different coloured forms are found growing side by side in some localities.
The flowering season in Paarl to Caledon occurs in spring to midsummer (October to January), whereas in the Cape Peninsula, it flowers from late summer to autumn and early winter (February to May).
Conservation Status
Status
Distribution and habitat
Distribution description
Erica lutea is confined to southern Africa, where it is found growing in the Western Cape Province on high, cooler mountain slopes of the Cape Peninsula, Worcester and Caledon. It is, however, not specific with its growth habitat, as it may be found on dry, sandy slopes, clayey banks or on moist rock surfaces.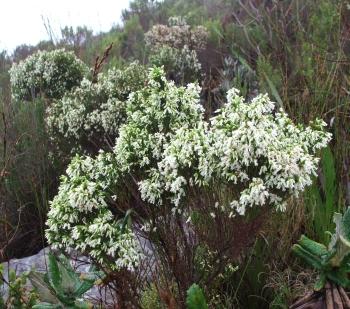 Derivation of name and historical aspects
History
Erica is derived from the Greek ereiko, meaning 'to break' or 'rend', which may refer to the supposed abilities of some of the species to break up bladder stones, or could refer to the fact that stems are brittle and break easily. The name ereiko was used by Pliny and Theophrastus for a heath. The species name lutea, means 'yellow' and refers to its flowers, but this is misleading as some forms of E. lutea are white flowered. The common name geelrysheide, meaning 'yellow-rice heath' refers to the yellow flowers, which resemble rice that is coloured with turmeric.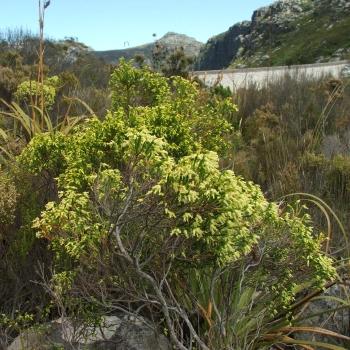 This plant is very similar to E. tenuifolia Benth. and has been regarded as a variety of the former, but the main difference lies in the shape of the corolla which is more inflated in E. tenuifolia.
Ericaceae is a cosmopolitan family of about 70 genera covering 2 100 species and has 3 other subfamilies namely, Arbutoideae, Ericoideae and Rhododendroideae. Out of the 3 subfamilies only Ericoideae is represented in Africa and is mainly concentrated on the southern tip of the continent.
Ecology
Ecology
This plant is pollinated by bees. The pollen gets attached on the bees' abdomen and is transferred to the stamen of the next flower. The seeds receive intense heat from the sun, which causes the capsule to burst open and the seeds are dispersed by the wind.
The Protea Scarlet butterfly (Capys alphaeus) has also been observed visiting Erica lutea flowers for nectar. This butterfly breeds on Protea species and feeds on the nectar in a wide range of fynbos flowers.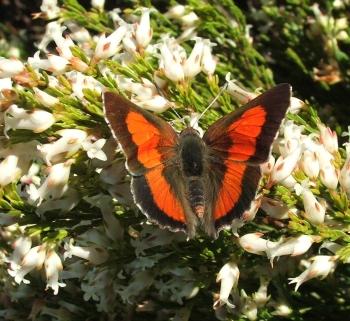 Uses
Use
Erica lutea is mostly cultivated for horticultural purposes for its show of shiny, yellow or white flowers, which appear from summer until the beginning of winter. It is also grown as a water-wise plant in winter-rainfall areas and for its ability to survive under extreme hot and dry summer conditions. There are no medicinal uses recorded for this plant.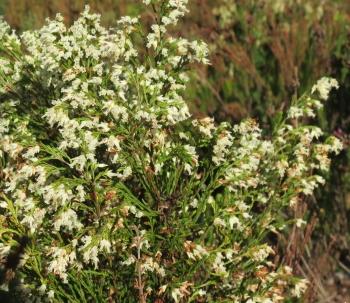 Growing Erica lutea
Grow
Erica lutea can be easily grown from seeds or cuttings and does well in the garden because of its ability to thrive in a range of habitats, and it can grow in any type of soil but is best in well-drained (sandy), acidic soil suitable for fynbos. It is suitable for containers.
Sow seeds in autumn in a soil mixture of a well-draining soil mixture. Water the trays with fungicide to reduce damping off, keep the soil moist and place them in a warm environment to stimulate germination. Cuttings can be taken after flowering or seeding period, depending on the area on which it is cultivated, as flowering times differs. Cut below leaf joints and apply a rooting hormone for softwood (stem cuttings) to stimulate the rooting process. Place the cutting in well-drained soil, keep moist and rooting will take place after about 4 weeks.
References
Baker, H.A. & Oliver, E.G.H. 1967. Ericas in southern Africa. Purnell & Sons, Cape Town.
Bond, P. & Goldblatt, P. 1984. Plants of the Cape flora. A descriptive catalogue. Journal of South African Botany Suppl. Vol. 13. National Botanic Gardens of South Africa, Kirstenbosch, Cape Town.
Oliver, I. & Oliver, T. 2000. Field guide to the ericas of the Cape Peninsula. Protea Atlas Project, Cape Town.
Schumann, D., Kirsten, G. & Oliver, E.G.H. 1992. Ericas of South Africa. Fernwood Press, Vlaeberg.
Smith, C.A. 1966. Common names of South African plants. Memoirs of the Botanical Survey of South Africa No. 35. Government Printer, Pretoria.
Credits
Sinikeziwe Ncaphayi
Kirstenbosch National Botanical Garden
July 2018
Plant Attributes:
Plant Type: Shrub
SA Distribution: Western Cape
Soil type: Sandy, Clay, Loam
Flowering season: Early Summer, Late Summer, Autumn
PH: Acid, Neutral
Flower colour: White, Cream, Yellow
Aspect: Full Sun
Gardening skill: Average
Special Features:
Attracts butterflies
Drought resistant
Good potplant
Feeds honeybees
Horticultural zones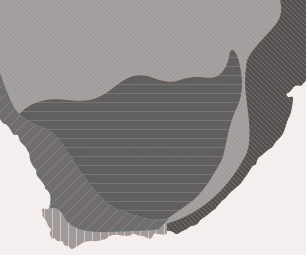 Zone 2 Coastal winter rainfall, frost free
Google QR Code Generator