Erica margaritacea Sol.
Family: Ericaceae
Common names: pearl heath (Eng.); heuningheide (Afr.)
Introduction
The delicate white flowers covering the bush of Erica margaritacea resemble tiny pearls. It only occurs at one locality in the wild, but is a very rewarding garden specimen.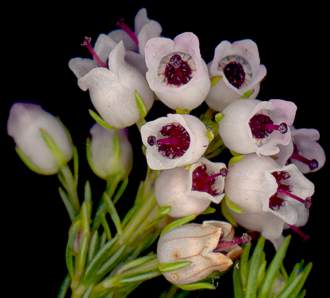 Description
Description
Erica margaritacea forms a low, compact shrub up to 500 mm tall. The leaves are lime-green and arranged 4-nately  (in whorls of 4) around the smooth slender stems.
The flowers have an exerted style and are urn- or cup-shaped. They are borne in clusters near the ends of the branches and the colour ranges from pure white to pearly white with a pink blush. Flowering occurs in the summer (October to March).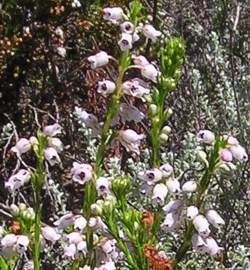 Conservation Status
Status
The pearl erica is Critically Endangered according to the latest IUCN Red List assessment of 2007. Although Erica margaritacea once occurred from Stellenbosch to the Cape Peninsula, it is now only found at the Kenilworth Racecourse. This is as a result of rapid urbanization in the Cape and the destruction of its habitat. The current populations are now protected within the Kenilworth Race Course Conservation Area and are monitored regularly. Seed of Erica margaritacea was collected in February 2004 and has been banked with the Millennium Seed Bank Project (MSBP) in South Africa. Some of the collected seeds have been used by Kirstenbosch National Botanical Garden as part of a restoration project involving the Kenilworth Racecourse and Rondevlei Nature Reserve, on the outskirts of Cape Town.
Distribution and habitat
Distribution description
Erica margaritacea was once found in large colonies on the sandy flats of the Cape lowlands. It favours seasonally wet areas in deep sand and was once found on both the lowlands and the damp mountain plateaux in the Stellenbosch area. It is a wind tolerant species and self-sows profusely, with seedlings emerging after fire.
Derivation of name and historical aspects
History
The specific name margaritacea is derived from the Latin word, margaritaceus or margarita, meaning pearl, referring to the lovely pearl-like flowers. Erica margaritacea was first described in 1789 and later in 1905 by Guthrie and Bolus. In the intervening 116 years, the number of populations had already diminished to only a few and in 1967, Harry Baker and Ted Oliver in their book, Ericas in southern Africa, explained that the species was only found at Kenilworth Race Course.
Ecology
Ecology
Erica margaritacea is one of the remaining Peninsula ericas, on the brink of extinction. It flowers profusely. However, it requires fire to regenerate and initiate seed germination. The structure of the flower and the time of year that it flowers, suggest that it is probably insect pollinated and that the seed is wind dispersed.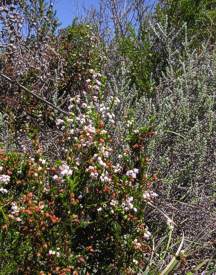 Growing Erica margaritacea
Grow
The pearl erica is easy to grow and can be quite long-lived, lasting for about eight to ten years before it becomes old and woody or dies. Regular pruning is recommended for producing good quality plants that flower profusely, and this will also extend the life of the plant. It needs a well-drained, acidic, sandy soil in a sunny position. If not ventilated properly, this species can be affected by downy mildew, which can easily be controlled by early treatment with fungicides dedicated to controlling this condition and can be avoided by watering in the early part of the day rather than in the evening or at night.
Erica margaritacea is easy to grow from seed and cuttings. Sow seeds in autumn in a sandy, well-drained soil mixture. Use a smoke pre-treatment to optimize germination. Seedlings appear after 2 to 3 weeks and should be nurtured until they are about 10 mm tall, then transplant them into individual containers. Pinch out the terminal shoots to promote the bushy growth of the plant.
Take cuttings from actively growing shoots (preferably as heel cuttings), in autumn or spring to early summer. Place them in rooting trays in a finely milled bark mix in special propagation units with bottom heat benches and overhead misters. Rooting takes place in ± 3 weeks and the same care must be taken when transplanting the cuttings into individual containers.
References
Goldblatt, P.& Manning, J. 2000. Cape plants. A conspectus of the Cape flora of South Africa. Strelitzia 9. National Botanical Institute, Cape Town and Missouri Botanical Garden.
Leistner, O.A. (ed.). 2000. Seeds plants of southern Africa : families and genera. Strelitzia 10. National Botanical Institute, Pretoria.
Oliver, E.G.H. & Baker, H. 1967. Ericas in southern Africa. Purnell, Cape Town.
Schumann, D., Kirsten, G. & Oliver, E.G.H. 1992. Ericas of South Africa. Fernwood Press, Vlaeberg, Cape Town.
Credits
Carly Cowell
Kirstenbosch National Botanical Garden
May 2009
Plant Attributes:
Plant Type: Shrub
SA Distribution: Western Cape
Soil type: Sandy
Flowering season: Early Summer
PH: Acid
Flower colour: White, Pink
Aspect: Full Sun
Gardening skill: Average
Special Features:
Fragrant
Horticultural zones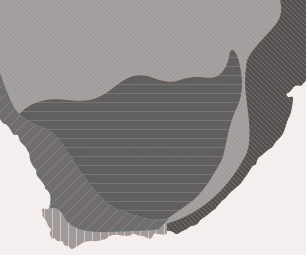 Zone 2 Coastal winter rainfall, frost free
Google QR Code Generator