Erica patersonii Andrews
Family: Ericaceae
Common names: mielie heath (Eng.); mielieheide (Afr.)
Introduction
This is one of a number of erica species that are threatened by urban expansion and farming practices.
Description
Description
Erica patersonii is an erect, sparsely branched shrub growing up to 1 m tall. The branches are densely covered with tufts of dark green, needle-like leaves. The bright, golden yellow, waxy, tubular flowers are arranged in closely packed spikes on the middle to upper section of the stem. The flowering stem resembles corn on the cob, which gives it its common name, mielie heath. Branching occurs mainly at the base of the stem and is woody and often bare.
Conservation Status
Status
Rare.
Conservation Initiatives: In situ conservation
Conservation in the natural habitat is always better than trying to keep collections of plants in pots or garden displays in Botanical Gardens or private collections.
Erica patersonii is under considerable pressure in its natural habitat because coastal lowlands are prime areas for housing developments. It was recorded from the coastal flats at Hermanus over 100 years ago, but is no longer found there because the area is built up. It is found in patches in the Betty's Bay and Kleinmond area, but building operations are continually reducing its habitat. 
The remaining viable populations are at Cape Point and in the mountains near Stanford. The Cape Peninsula populations at Cape Point were severely reduced in the past by ruthless picking. The relatively secure area within the Peninsula National Park may become its last locality if indiscriminate development continues.
Distribution and habitat
Distribution description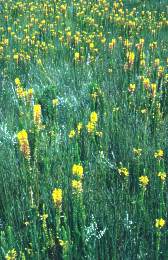 Erica patersonii grows in wet or marshy, reed-covered flats along the Western Cape coastal plain and on the mountains near Stanford. Its distribution extends from Cape Point on the Cape Peninsula, Betty's Bay, Kleinmond as far as the Klein Rivier Mountains near Stanford. It is also recorded from Hermanus, but this habitat has all but been swallowed up by expansion of the town. The Betty's Bay and Kleinmond populations are becoming severely depleted by development.
Derivation of name and historical aspects
History
Erica patersonii is named in honour of Lieutenant William Paterson (1755-1810) who made four collecting journeys into South Africa. He was sent by Sir Joseph Banks to make observations on the natural history of the land.
Growing Erica patersonii
Grow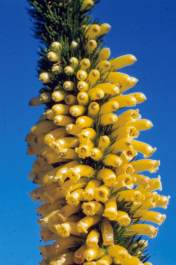 Although in nature this species grows in marshy, peaty soils, it grows well in average garden conditions. Its basic needs are acidic sandy or loamy soils and a well-ventilated, sunny position. It will also do well if planted in moist positions in the garden.
It is important that all ericas are protected from root disturbance. Turning the soil near the base of the plant should be avoided. Remove weeds when they are small or cut them down so that the soil is not lifted where erica roots occur. This is true for fynbos plants in general.
Mulch around the plant with well-rotted compost, pine needles or leaves. Mulching keeps the soil surface cool and moist and reduces weed growth. Nutrients filter down from the mulch to the plant in regular small amounts similar to what happens in nature.
It is important to feed ericas with organic fertilizers on a regular basis for good results. If Erica patersonii is left unpruned it will either produce one or a few erect stems. Pruning when the plant is young will result in increased branching and therefore a better specimen plant. Plant erect growing species such as E. patersonii with small restios (Cape reeds) to produce a natural fynbos effect.
Erica patersonii has been successfully grown in the summer rainfall areas near Johannesburg and Pretoria where it survives frost remarkably well. This is surprising for a species that is restricted in nature to the relatively mild climate on the coastal plains near the sea. It is, however, important to protect the young plants from frost. Please be sure to water the plants in winter when these regions are dry.
A number of erica species, including Erica patersonii, show symptoms of browning or dieback at their tips. This is a disturbing phenomenon, which if not attended to will spread to other plants and affect the quality of the plant and its ability to produce good flower displays. This problem was thought to be a fungal infection, but is in fact caused by microscopic mites with the possibility of a secondary fungal infection. The infection should be recognized early before too much damage is done and treated with an insecticide for controlling mite infections. Please consult your local nursery.
Propagation
Erica patersonii is best grown from seed that is pre-treated with smoke. The seed is sown and treated with smoke prior to watering the seed trays. The seedlings take about six to ten weeks to germinate and are susceptible to disturbance by heavy watering or to drying out in the early stages. Young seedlings should be protected from heavy rain and direct sunlight by placing the seed trays in a covered area where they get good light and aeration. Sowing too thickly often results in the development of fungal diseases such as damping off. Regularly applying a fungicide listed for treating such a pathogen will control this problem. Allow seedlings to reach a height of 10 mm before planting out into individual plant containers. Grow plants up to at least 100 mm before planting out into the garden.
Propagation from cuttings is difficult because this erica produces very few suitable side shoots. Regular pruning will help, but propagation from seed is preferred.
References
Andrews, H.C. 1854. The Heathery, 6 vols. London.
Baker, H.A. & Oliver, E.G.H. 1967. Ericas in southern Africa. Purnell, Cape town & Johannesburg.
Hilton-Taylor, C. 1996. Red Data List of southern African plants. Strelitzia 4. National Botanical Institute, Pretoria.
Schumann, D. (Dolf) & Kirsten, G. (Gerard). 1992. Ericas of South Africa. Fernwood Press, Vlaeberg, Cape Town.
Credits
Anthony Hitchcock
Kirstenbosch National Botanical Garden
June 2003
Plant Attributes:
Plant Type: Shrub
SA Distribution: Western Cape
Soil type: Sandy
Flowering season: Spring, Early Summer, Autumn, Winter
PH: Acid
Flower colour: Yellow
Aspect: Full Sun
Gardening skill: Average
Special Features:
Attracts birds
Feeds honeybees
Horticultural zones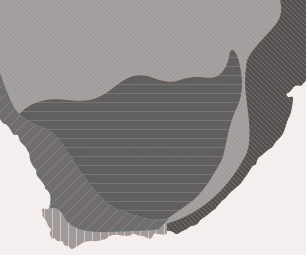 Zone 2 Coastal winter rainfall, frost free
Google QR Code Generator