Erica retorta Montin
Family: Ericaceae
Common names: hair-leaf bottle heath, bottle heath (Eng.), bottelheide, flessieheide (Afr.)
Introduction
Erica retorta is one of the sticky-flowered ericas that grows on the dry mountain slopes above the Harold Porter National Botanical Garden, in Betty's Bay. It has shiny, pink, bottle-shaped flowers in summer and distinctive leaves, each tipped with a long bristle.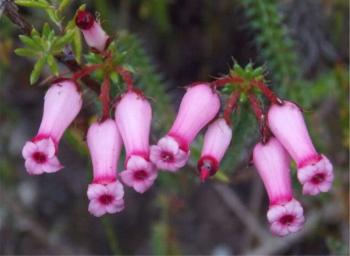 Description
Description
Erica retorta is a slow-growing shrublet, 300–450 mm in height, it seldom grows higher than 600 mm. It has small, thick, rigid, curved leaves, ending in a long bristle at the tip of each leaf and bract. The flowers are in umbels of up to 8 flowers, on a long stalk. Both the corolla and sepals are sticky. Flowers are tubular to ampullaceous (swelling out like a bottle or bladder shape) with a constricted throat, and the length varies, sometimes on the same plant, from 8 to 25 mm. When open, it has 4 petal lobes at the mouth of the tube, and the stigma protrudes. Flower colour also varies from locality to locality, ranging from clear pink to darker pink lobes, dark pink to white. The anthers are woolly, with short white hairs. The plants from the Karwyderskraal area have a typical bottle-shaped corolla that is dark pink. Flowering is in summer, from October to April.
Conservation Status
Status
Eica retorta is not threatened and is assessed as Least Concern (LC) according SANBI's Red List of South African Plants.
Distribution and habitat
Distribution description
Erica retorta grows in well-drained, sandy, acidic soil. It is commonly found on the higher and lower, dry mountain slopes in the area around Betty's Bay, Kleinmond and Karwyderskraal.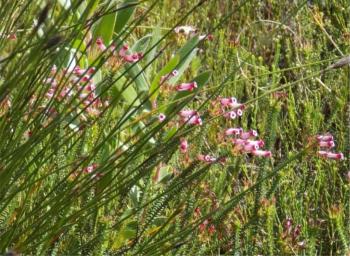 Derivation of name and historical aspects
History
The genus name Erica, is derived from the Greek word ereiko meaning 'to break', and the species name retorta means 'twisted' or 'bent back', referring to the way the leaves bend backwards along the stem. The common name bottle heath refers to the inflated corollas that look like miniature bottles.
Erica is the largest genus in the Cape flora with ±860 species; 760 species are found in South Africa and 104 are endemic to the Western Cape. Erica lananthera often gets confused for Erica retorta, but the difference is in the cup- to urn-shape of the corolla of Erica lananthera, and the flower colour is not as attractive as that of Erica retorta.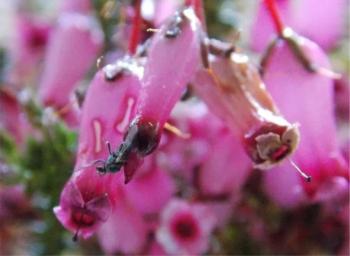 Ecology
Ecology
The sticky, bottle-shaped flowers are pollinated by long-proboscid flies. Many other insects are observed visiting the flowers, some get stuck on the outside and others crawl inside the inflated flower to collect pollen and nectar but don't always contribute towards pollination. Monkey beetles bore holes in the sides of the corolla and rob the flower of nectar. This species is killed by fire, but regenerates after a fire, from seed.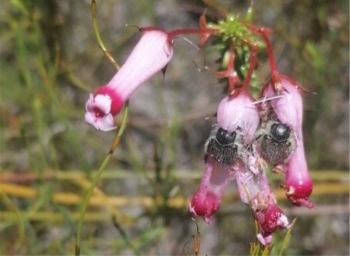 Uses
Use
There are no medicinal or cultural uses associated with Erica retorta.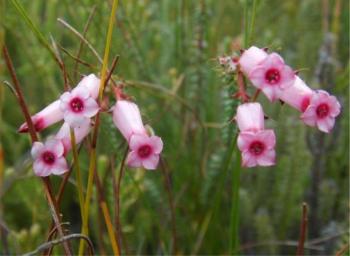 Growing Erica retorta
Grow
Erica retorta can be planted in sunny areas, in well-drained, sandy, acidic soil. It is ideal for fynbos gardens. This plant can easily be grown from cuttings or seed.
Cuttings can be taken in autumn, and require bottom-heated benches and overhead misting and fogging. For greater success, use a rooting hormone for cuttings, a propagation mixture of perlite, bark, river sand and coir. Rooted cuttings must be handled with care, because the roots are very sensitive to any disturbance. Rooting will take 6 to 8 weeks. Apply fertilizer weekly to rooted plants.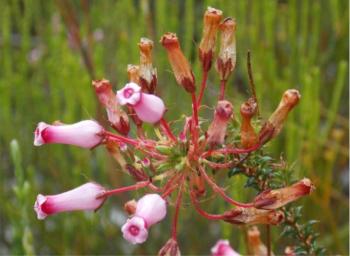 Dried seed capsules can be collected in autumn, from the end of April. Seeds can be sown in autumn, and use a smoke treatment to stimulate the germination process. Seeds are sown in a mixture of river sand, fine-milled bark and coir. Seedlings thrive under good light, with free air circulation and regular gentle watering. Seeds germinate within 4 to 6 weeks.
References
Bean, A. & Johns, A. 2005. Stellenbosch to Hermanus. South African Wild Flower Guide 5. Botanical Society of South Africa, Cape Town.
Goldblatt, P. & Manning, J. 2000. Cape Plants. A conspectus of the Cape flora of South Africa. Strelitzia 9. National Botanical Institute, Pretoria & Missouri Botanical Garden, Missouri.
Raimondo, D., Von Staden, L., Foden, W., Victor, J.E., Helme, N.A., Turner, R.C., Kamundi, D.A. & Manyama, P.A. (eds) 2009. Red list of South African plants. Strelitzia 25. South African National Biodiversity Institute, Pretoria.
Rebelo, A.G., Siegfried, W.R. & Oliver, E.G.H. 1985. Pollination syndromes of Erica species in the south-western Cape. South African Journal of Botany 51(4):270–280
Schumann, D., Kirsten, G. & Oliver, E.G.H. 1992. Ericas of South Africa. Fernwood Press, Vlaeberg.
Smith, C.A. 1966. Common names of South African plants. Memoirs of the Botanical Survey of South Africa No. 35. Government Printer, Pretoria.
Credits
Loretta Floors
Harold Porter National Botanical Garden
August 2022
Plant Attributes:
Plant Type: Shrub
SA Distribution: Western Cape
Soil type: Sandy
Flowering season: Early Summer, Late Summer
PH: Acid
Flower colour: Purple, White, Pink
Aspect: Full Sun
Gardening skill: Average
Special Features:
Good potplant
Horticultural zones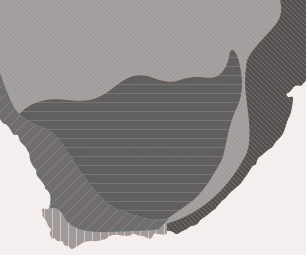 Zone 2 Coastal winter rainfall, frost free
Google QR Code Generator