Erica rhopalantha var. rhopalantha
Erica rhopalantha Dulfer var. rhopalantha
Family: Ericaceae
Common names: club-shaped erica (Eng.); maroenheide, pienkheide (Afr.)
Introduction
A small, striking erica with a neat, compact appearance. During the summer and autumn months in the Western Cape, it turns the mountain sides bright pink.

Description
Description
Erica rhopalantha is an erect shrublet, up to 300 mm high, with many, slender, erect branches. The plant is glabrous throughout. The leaves are linear, 2.5 mm long. The leaves can be opposite or occur in threes, and cling to the stem and occasionally they can be imbricate.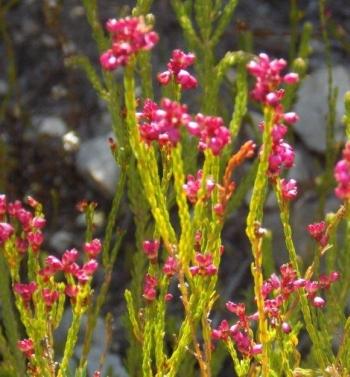 During the flowering season, which runs from early summer to autumn (November to May), the plants are covered in many small, maroon-pink, or rarely white flowers, which are borne at the tips of the slender branches. The sepals are obovate, nearly circular (suborbicular), 2.0–2.5 mm long and spreading and have a discoloured, keeled tip. The corolla is conical to urn-shaped, 3–4 mm long. It is broad at the base and narrow at the mouth. The anthers are crested, 0.25 to 0.7 mm long. The stigma is capitate and the ovary subturbinate.
Conservation Status
Status
Distribution and habitat
Distribution description
This species is found in the Western Cape Province and occurs on dry, sandy flats and slopes, from the Kogelberg to Bredasdorp. It is common in the Ratel River and Soetanysberg area and westwards to Betty's Bay. It receives winter rainfall and grows in full sun, with no frost. It experiences a hot dry summer and cold wet winter with temperatures ranging from 5ºC to 30ºC.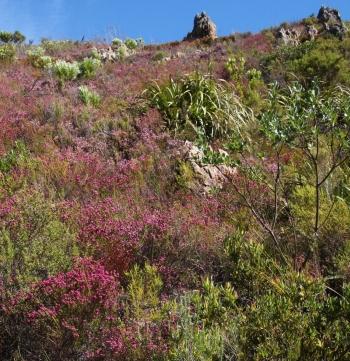 Derivation of name and historical aspects
History
The genus name Erica comes from the Greek word ereiko and is a name used for heather. It means 'to break', and possibly refers to the stems that are brittle and break easily. The species name rhopalantha is derived from the word rhopalo and means 'club' or 'cudgel-shaped', while anthos means 'flower', therefore referring to the shape of the flower.
The genus Erica is the largest of the genera, with around ± 860 species. It occurs in Africa, Europe, and the Middle East, but the bulk are confined to the southern tip of Africa, where roughly 660 fynbos species occur.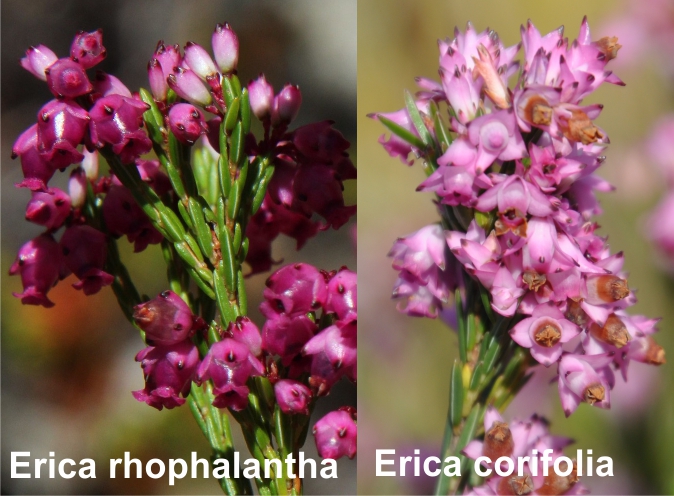 Erica rhopalantha is sometimes confused with E. corifolia. They often grow together in the same area, but do not necessarily flower at the same time. The flowers of E. rhopalantha are more striking than those of E. corifolia. The former has a neater, more compact appearance and is also generally more floriferous than E. corifolia, with darker, maroon-pink flowers.
Ecology
Ecology
The leaves of the plant are very small and needle-like. They are rolled under and cling to the stem of the plant. This adaptation helps the plant to reduce water loss, by reducing the leaf surface area while exposed to the sun and wind.
Uses
Use
Erica rhopalantha has no known medicinal or cultural uses. It is not well known by home gardeners, as it is not available in the trade. However, the species is worth growing for its habit and flower colour.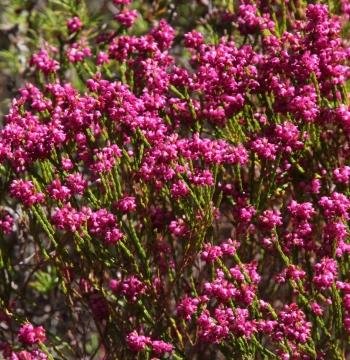 Growing Erica rhopalantha var. rhopalantha
Grow
Erica rhopalantha can be planted in a sunny spot in the garden or used as a potplant. In its natural habitat, it grows in well-drained, sandy, acidic soil, amongst other fynbos plants such as Mimetes cucullatus, Leucospermum oleifolium, various low growing restios and species of Leucadendron. The best time to plant is in autumn when the rainy season begins.
Erica rhopalantha has thin branches and cuttings taken from ericas with this form, are easier to root. (In comparison, those ericas with slightly thicker branches are more difficult to root by cuttings). Semi-hardwood tip cuttings, side shoots and heel cuttings are taken in late summer to autumn or in spring. When making the cuttings, all flowers must be removed. Ensure that the secateur used to make the cuttings is clean and that the plant material is kept moist. Use a suitable rooting hormone and strike the cuttings in a plug tray with a 1:1 mix of sifted bark and perlite. The cuttings are placed in a propagation unit with bottom heating of 24ºC; under mist irrigation. Bottom heat is not entirely necessary but it does help to speed up the rooting process. It can take up to 1 or 2 months before roots appear.
Sow seeds in autumn (April to May) into seed trays filled with a Fynbos mix. The Fynbos mix is made up of composted bark and coarse river sand. Seeds germinate well when treated with Fynbos Smoke Plus Seed Primer. Cover the seeds with a thin layer of medium and water with a fine rose, keeping the medium damp, but not wet. Place the trays in a slightly shaded and warm area. Germination will take place in 6 to 8 weeks.
References
Baker, H.A. & Oliver, E.G.H. 1967. Ericas in southern Africa. Purnell & Sons, Cape Town.
Brown, N.A.C. & Duncan, G.D. 2006. Grow fynbos plants. Kirstenbosch Gardening Series. South African National Biodiversity Institute, Cape Town.
Clarke, H. & Charters, M. 2016. The illustrated dictionary of southern African plant names. Flora & Fauna Publications Trust, Jacana, Johannesburg.
Goldblatt, P. & Manning, J. 2000. Cape Plants. A conspectus of the Cape flora of South Africa. Strelitzia 9. National Botanical Institute, Pretoria & Missouri Botanical Garden, Missouri.
Jackson, W.P.U. 1990. Origins and meanings of names of South African plant genera. University of Cape Town.
Latti. I. 2007. Erica rhopalantha var. rhopalantha. Operation wildflower. Accessed 28/08/2018. https://www.operationwildflower.org.za/index.php/albums/ericas/erica-rhopalantha-var-rhopalantha-thabo-1-3192
Manning, J. 2007. Field guide to Fynbos. Struik Publishers, Cape Town.
Mustart, P., Cowling, R. & Albertyn, J. 1997. Southern Overberg: South African Wild Flower Guide 8. Botanical Society of South Africa, Cape Town.
Smith, C.A. 1966. Common names of South African plants. Memoirs of the Botanical Survey of South Africa No. 35. Government Printer, Pretoria.
Foden, W. & Potter, L. 2005. Erica rhopalantha Dulfer var. rhopalantha. National Assessment: Red List of South African Plants version 2017.1. Accessed on 2018/08/28
Schumann, D., Kirsten, G. & Oliver, E.G.H. 1992. Ericas of South Africa. Fernwood Press, Vlaeberg.
iNaturalist. Erica rhopalantha var. rhopalantha observation by Tony Rebelo. Accessed 10/10/18. https://www.inaturalist.org/observations/10609474
Credits
Karen Wall
Harold Porter National Botanical Garden
October 2018
Acknowledgments: the author thanks Anthony Hitchcock for sharing his knowledge and experience in propagating and growing Erica rhopalantha.
Plant Attributes:
Plant Type: Shrub
SA Distribution: Western Cape
Soil type: Sandy
Flowering season: Late Summer, Autumn
PH: Acid
Flower colour: Pink
Aspect: Full Sun
Gardening skill: Average
Special Features:
Good potplant
Horticultural zones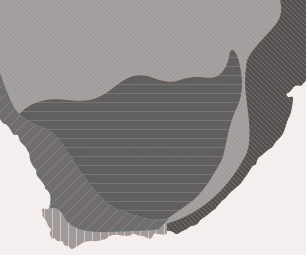 Zone 2 Coastal winter rainfall, frost free
Google QR Code Generator