Erica shannonii Andrews
Family: Ericaceae
Common names: bottle heath, Countess of Shannon's erica (Eng.); bottelheide (Afr.)
Introduction
Erica shannonii is one of the most spectacular ericas with its long porcelain-white flowers arranged in clusters at the ends of its branches.
Description
Description
Erica shannonii is an erect, rounded, woody shrub growing up to about 450 mm tall. It arises from a single woody stem beginning to branch close to the ground, producing sturdy but flexible branches ideal for supporting sunbirds that are attracted to its flowers. Its leaves are stiff, erect-spreading, curved, glabrous and in whorls of three.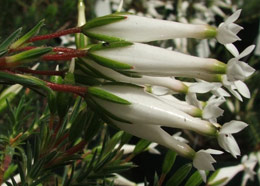 The sepals are keeled and greenish in colour. The corolla tube is sticky, shiny, porcelain-white turning to pink in strong sunlight. The flower shape is ampullaceous, meaning bottle-shaped, being inflated at the base, then tapering to a slight bulge before constricting at the neck, and the lobes then flaring star-like. There is a greenish ring at the neck of the flower. The flowers are presented in umbels: a cluster of flowers in which the flower stalks are about equal in length and arise from about the same point at the end of a branch.
Conservation Status
Status
Erica shannonii is listed as 'Data Deficient Taxonomically Problematic', which means that there are taxonomic problems relating to its identity, and therefore its distribution range and habitat cannot be accurately defined, so that an assessment of its risk of extinction cannot be determined. The species is morphologically very similar to Erica lageniformis, only differing in its smaller corolla and narrower leaves. Molecular analyses are being conducted at the moment to determine whether they are different species or not. E. lageniformis is the older name, so if they are indeed the same species, E. shannonii will have to be incorporated into the former in accordance with the rules of nomenclature.
Distribution and habitat
Distribution description
Erica shannonii is restricted to the lower slopes of the Klein Rivier Mountains from Stanford eastwards, including the Akkedisberg and Perdeberg, and extending along the mountain range between Napier and Bredasdorp.
Derivation of name and historical aspects
History
This erica is named in honour of the Countess of Shannon who was a patron of Botany in the eighteenth century.
Ecology
Ecology
Erica shannonii grows in sandstone fynbos in mountainous areas a little inland from the coast. The summers are long, hot and dry with temperatures regularly reaching the high 30s centigrade. This species grows in dry, nutrient-poor soils on western and south-western slopes, usually below 400 m above sea level. It is often found growing between or near boulders. The rocks probably serve as a protective environment where a woody plant can survive relatively undisturbed and even escape minor fires. It is a re-seeder, which means that it is killed by fire and then re-establishes itself from seed. This species flowers from November to January and is pollinated by sunbirds and probably also long-tongued flies.
Uses
Use
Erica shannonii is a very beautiful subject for gardens on mountain sides or rockeries. It is not a very easy species to maintain in garden beds, but dedicated, good gardeners may well succeed in establishing it in their garden, given the right conditions. It is however a very easy plant to grow in containers, and this is the preferred method of growing it.
Growing Erica shannonii
Grow
Erica shannonii is not easy to grow in the Kirstenboch Erica Garden. This may be because Kirstenbosch Garden is irrigated in summer and this species might prefer less water. The key to growing this species is very good drainage and not too much water. It should be planted in warm sunny positions where it is in full sunlight, well ventilated, such as rockeries on sloping ground, terraces or embankments. It is recommended that it is grown in close association with other fynbos species such as other ericas, buchus and restios. It survived quite well in Kirstenbosch's stock beds, which are not watered at all and are subject to the cooling effect of summer south-east wind.
It grows very well in medium-sized containers if the correct, well drained growing medium is provided. Fynbos planting medium is made up of a combination of equal parts composted pine bark or pine needles and river sand. A little (20%) loam may also be added. It is a woody species, so regular pruning is recommended to keep the plants well branched and compact. Plants that are pruned are more presentable, last longer and produce more flowers.
Erica plants are adapted to living in poor soils but should nevertheless be regularly fed with diluted organic liquid or small amounts of organic pellet fertilizers.
It is propagated vegetatively by rooting fresh semi-hardwood tips or heel cuttings. Cuttings are rooted in multi-trays on heated benches under mist spray. Cuttings are rooted in autumn or spring in a rooting medium of equal parts bark and polystyrene chips. A semi-hardwood rooting hormone is used to aid the rooting process.
This species grows easily from seed subjected to smoke treatment and sown in well-drained, acidic, sandy soil. Seed is normally sown from late summer into autumn, i.e. March to May.
References
Bolus, H., Guthrie, F. & Brown, N.E. 1909 . Flora Capensis vol. 4.
Goldblatt, P.& Manning, J.C. 2000. Cape plants. A conspectus of the Cape lora of South Africa. Strelitzia 9. National Botanical Institute, Pretoria.
Schumann, D. (Dolf) & Kirsten, G. (Gerard) 1992. Ericas of South Africa . Fernwood Press, Vlaeberg, Cape Town.
http://redlist.sanbi.org/
Credits
Anthony Hitchcock
Kirstenbosch National Botanical Garden
November 2011
Plant Attributes:
Plant Type: Shrub
SA Distribution: Western Cape
Soil type: Sandy
Flowering season: Late Summer
PH: Acid
Flower colour: White, Pink
Aspect: Full Sun
Gardening skill: Challenging
Special Features:
Attracts birds
Good potplant
Horticultural zones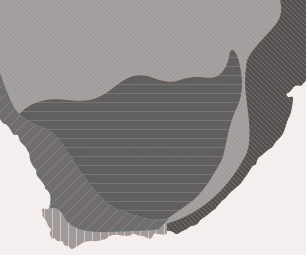 Zone 2 Coastal winter rainfall, frost free
Google QR Code Generator