Erica taxifolia F.A.Bauer
Family: Ericaceae
Common names: yew-leaved heath
Introduction
With its showy, bright pink, late summer flowers Erica taxifolia is a colourful addition to the fynbos garden, rockery or patio.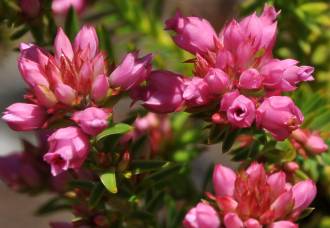 Description
Description
Erica taxifolia is a well-branched, upright shrub growing to 600 mm. Its leaves are longer than most ericas and extend out horizontally (spreading). Its flowers are a showy, strong pink and are produced in clusters at the tips of the branches during mid-summer to autumn (December to May). The flowers are calycine, meaning that the calyx (sepals) is enlarged and coloured and is more obvious than the corolla (petals). The corolla is round to urn shaped, 6-9 mm long. The sepals are long and clasp the corolla, almost covering it. Both corolla and calyx are the same shade of pink. The corolla turns brown quite soon after opening but the calyx retains its bright pink colour. This results in the brown-tipped or brown-centred flowers you will see if you look closely at the flowers as the flowering season progresses.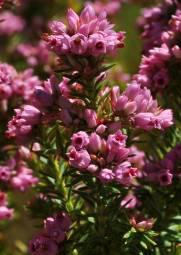 This species is easily confused with the larger-flowered forms of Erica coriifolia, but they can be told apart by their foliage and calyces: the leaves of Erica taxifolia are long and spreading while those of Erica coriifolia are not; and in Erica taxifolia the calyx clasps the corolla whereas the sepals of Erica coriifolia are spreading.
Conservation Status
Status
Least Concern (LC), meaning that Erica taxifolia is not threatened with extinction at present.
Distribution and habitat
Distribution description
Erica taxifolia is found typically in rocky habitat on the middle to upper slopes in the Riviersonderend Mountains in the districts of Paarl, Tulbagh, Worcester, Stellenbosch and Caledon. Specimens at higher altitude tend to have larger flowers.
Derivation of name and historical aspects
History
The genus Erica gets its name from ereiko, to break, either because of the ability of the plant to break up bladder stones or more probably because the stems are brittle and break easily. This species is named for its foliage which resembles that of the Yew Tree, Taxus baccata.
Erica taxifolia was collected by Francis Masson and introduced to horticulture in Britain in 1788. Cleevely, R.J. & Oliver, E.G.H. 2002 report that it was illustrated by Henry Charles Andrews in 1800 in volume 1 of his Coloured engravings of heaths and again in 1809 in volume V of his The Heathery; or a monograph of the genus Erica: containing coloured engravings.
The genus Erica is made up 860 species which occur in Africa, Madagascar and Europe. Of these, 770 species (90%) are confined to southern Africa and most of these are found in the Western and Eastern Cape.
Ecology
Ecology
The shape of an erica flower tells us what it is pollinated by. Brightly coloured tubular flowers are pollinated by sunbirds. They are almost always unscented. Bell-shaped and urn shaped flowers are mostly pollinated by insects, including long proboscid flies, butterflies, moths or bees. They are often, but not always, scented.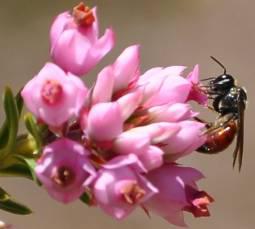 Wind pollinated ericas can be identified by the clouds of pollen that are released if the bush is shaken and the flowers have large stigmas that extrude far out of the flower. Erica taxifolia flowers are urn shaped and unscented and are most likely insect pollinated. At Kirstenbosch, which is outside of its natural range, on a warm sunny day I saw only a small bee or wasp visiting the flowers, no honey bees or other flying insects.
Erica seeds are tiny and fall out of the flowers, or are shaken out by the wind, when they are ripe. Harvesting erica seeds can be tricky as you have to catch them just before or as they begin to fall.
Uses
Use
Erica taxifolia is not widely used in the cutflower trade but is a decorative and long-lasting cut flower. It also makes a decorative garden plant and an attractive potplant.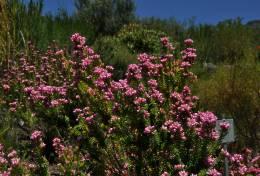 Growing Erica taxifolia
Grow
Erica taxifolia is rewarding and easy to grow. It is particularly suited to fynbos gardens and rockeries, and is also suitable for pot cultivation in a medium-sized container.
Grow Erica taxifolia in a sunny spot that gets some shade for part of the day. It needs well-drained (sandy) acidic soil and free air circulation. Mulch with compost, or plant amongst rocks, to keep the roots cool and weed free. Erica taxifolia will be water-wise in the winter-rainfall area but performs best with a good weekly watering throughout the year. Prune regularly to shape and to remove dead material. Ericas are adapted to poor soils, so feed with well-rotted compost or use diluted liquid fertiliser or small amounts of organic fertiliser. The best time to plant ericas in the garden is during autumn when the weather is cooler and rains will soon start.
Erica taxifolia can be propagated by seed or cuttings. Sow seed in autumn (April-May). Treat the seed with Instant Smoke Plus Seed Primer to improve germination. Use a well-drained, acidic medium. Because the seed is so fine it needs only a light covering of clean sand, or the seeds can be mixed with dry sand and the layer of seed and sand spread in a thin layer on top of the sowing medium. Water with a fine rose to avoid displacing the seeds. Keep the trays damp but not wet and out of direct sun in a warm, but not hot, situation. Germination takes 1 to 2 months. Transplant the seedlings when they are about 10 mm high. Grow on in light shade until they are established.
Take semi-hardwood tip or heel cuttings in late summer to autumn or spring. Treat with a suitable rooting hormone. Place in a well-aerated rooting medium and place the cuttings in a mist unit with bottom heat of 24°C. Pot the rooted cuttings in a well-drained, acidic soil medium and harden off in light shade for a month or two.
References
Aiton, William Townsend. 1811. Hortus Kewensis; or, A catalogue of the plants cultivated in the Royal Botanic Garden at Kew. Volume II, Second Edition.
Cleevely, R.J. & Oliver, E.G.H. 2002. A preliminary note on the publication dates of H.C. Andrews' Coloured engravings of heaths (1794-1830). Archives of natural history 29 (2): 245-264.
Goldblatt, P. & Manning, J. 2000. Cape Plants, A Conspectus of the Cape Flora of South Africa. Strelitzia 9. National Botanical Institute, Pretoria & Missouri Botanical Garden Press, Missouri.
Jackson, W.P.U. 1990. Origins and Meanings of Names of South African Plant Genera. U.C.T. Printing Dept., Cape Town.
Leistner, O.A. (ed.). 2000. Seeds plants of southern Africa: families and genera. Strelitzia 10. National Botanical Institute, Pretoria.
Plants of southern Africa: an online checklist. http://posa.sanbi.org
Schumann, D., Kirsten, G. and Oliver, E.G.H. 1992. Ericas of South Africa. Fernwood Press, Cape Town.
Credits
Alice Notten
Kirstenbosch National Botanical Garden
January 2011
Plant Attributes:
Plant Type: Shrub
SA Distribution: Western Cape
Soil type: Sandy
Flowering season: Early Summer, Late Summer, Autumn
PH: Acid
Flower colour: Pink
Aspect: Full Sun
Gardening skill: Average
Special Features:
Good potplant
Horticultural zones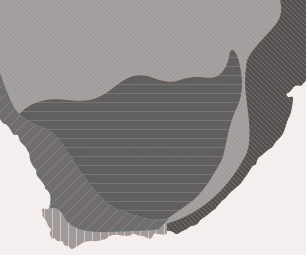 Zone 1 Coastal summer rainfall, frost free
Zone 2 Coastal winter rainfall, frost free
Zone 3 Winter rainfall Karoo, light frost
Google QR Code Generator