Erica tragulifera Salisb.
Family: Ericaceae
Common names: Kamanassie white heath (Eng.); kamanassiewitheide (Afr.)
Introduction
This attractive, evergreen, little plant boasts with an eye-catching display of white flowers from winter until almost the end of spring.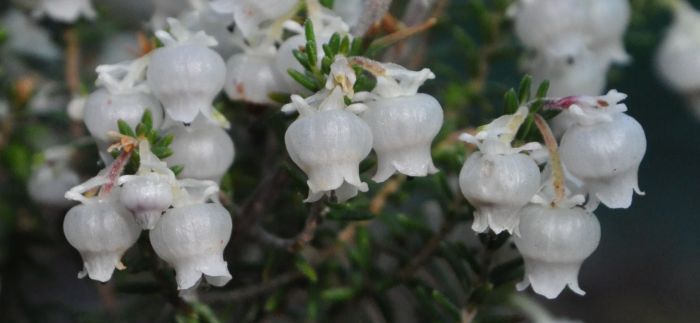 Description
Description
Erica tragulifera is a low-growing, evergreen shrub of about 500 mm high. The branches are densely covered with short, grey-white, soft hairs. The small, thinly hairy, 3-nate leaves are erect and noticeably constrained against the stems, or spreading. The side branches usually carry the 3-flowered inflorescence at their tips.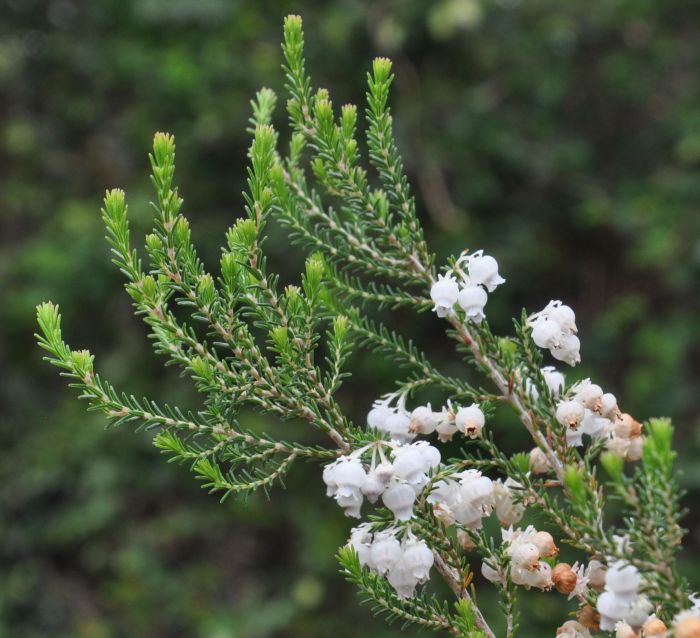 The pedicel is covered with fine hairs. The hairless, ovoid to urn-shaped flowers with a constricted throat, are up to 5 mm long; interestingly the corolla is not covered with a sticky layer like most of its family members. The white sepals of the calyx are 2 mm long, less than 50% of the flower, and are lance-shaped, erect or spreading. The stamens and style are concealed inside the flower. Flowering time is midwinter to late spring (July to November).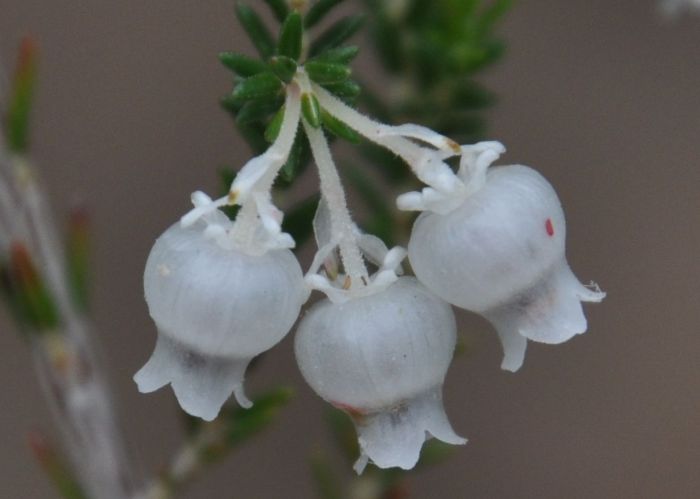 Conservation Status
Status
According to the Red List of South African plants, the conservation status of this plant species is at a low risk and, therefore, assessed as Least Concern (LC).
Distribution and habitat
Distribution description
Erica tragulifera is endemic to South Africa. The provincial distribution of this species is confined to the Western Cape, where it grows between George and Uniondale. The plant grows naturally in the Renosterveld and Waboomveld, usually on lower slopes.
Derivation of name and historical aspects
History
The genus name Erica is derived from the Greek word ereiko, which means 'to break' or 'rend'; this could refer to the stems of the plant that are not very tough and break or tear easily. In turn ereiko is the Latin word for heath or broom. The meaning of the species name, according to George Don, is 'beard bearing', from tragus, the Greek word for goat, and fero, meaning 'I bear'. Some aspect of the plant must have reminded Salisbury, who named this species, of a goat's beard or a goatee. 
The Erica genus comprises of about 860 species of which about 690 are endemic to the southwestern tip of South Africa. Ericas are one of the most important groups of plants of fynbos vegetation. The occurrence of heaths in East Africa, the Mediterranean and Europe represent low numbers of species, about 28 species collectively. Heaths are quite adaptable to a variety of habitats, such as coastal headlands, in a rocky terrain, in boggy swamps, open flats along streams to high mountain peaks. 
Most ericas are low-growing shrubs from 200 to 1 500 mm high. However, some can grow into small trees, such as E. arborea (tree heath) and E. scoparia (besom heath), which can grow more than 6 m tall. Species of Erica flower at different times of the year, which makes them unique, compared to most other plant groups. 
The genus Calluna was previously included in Erica; Calluna has much smaller leaves than Erica (less than 3 mm long) and the corolla displaying separate petals.
The collection of Cape Erica species by botanical explorers in the 1700s and 1800s, introduced them to Europe, which caused an explosion of propagation and growing of ericas by private collectors. It was recorded that the Duke of Bedford already cultivated hundreds of species by 1800. Ericas have been sold as flowering potplants in Europe and America for many years, and wholesale nurseries in South Africa are also making Erica plants available to the public, specifically to beautify domestic gardens.
Ecology
Ecology
Erica tragulifera is not a re-sprouter; this is a plant that can re-grow after a fire. The re-growth is made possible by underground rootstocks that survive the flames and from which new shoots develop. E. tragulifera on the other hand gives life to offspring by the releasing of thousands of its seeds. In general, the seeds of heaths are very small and stay viable for many years in the soil seedbank. This plant attracts birds and insects.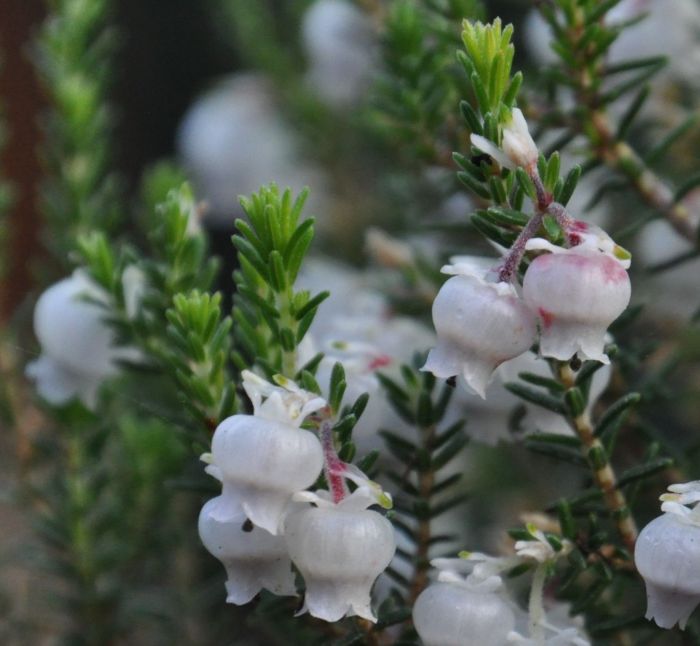 Uses
Use
Erica tragulifera is a good cut flower and is ideal for fynbos gardens and to be used as a container plant.
In nature, ericas usually grow well alongside members of the Restionaceae family and other groups of fynbos plants, such as members of the Rutaceae and Proteaceae, which also make ideal companions in the garden. It can also be grown with other species of Erica, which produce a large range of flower colours and shapes, which make them quite attractive in landscapes.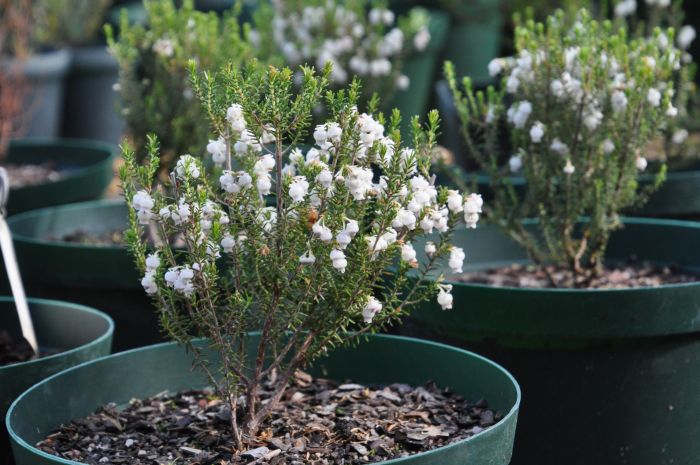 Growing Erica tragulifera
Grow
Erica tragulifera is best propagated from seeds. Soak the seeds overnight in a smoke extract (usually obtained from burning fynbos plant material). This will speed up the germination process. Sow seeds in seed trays (not less than 100 mm deep) filled with 1 part river sand and 1 part sifted composted bark, in autumn. The seeds are very small and need to be mixed with fine river sand prior to sowing, in order to obtain a more even spread of the seeds. This will also prevent or at least reduce damping off, which is a result of the seedlings developing too close together. Treat the mixture with a fungicide and keep the medium moist by watering with a fine hose. Place the trays in a warm and sheltered spot to encourage the germination process. The seeds show signs of germination after 6–10 weeks.
Provide young seedlings with good light and aeration. Seedlings can be planted out into small pots as soon as they are about 10 mm high. Thereafter plant the plants in garden beds as soon as they reach ± 100 mm tall. 
Take cuttings in autumn, spring or early summer. Remove some leaves from the lower part of the cutting and place the cuttings in a rooting medium made up of equal parts fine bark and polystyrene chips. Heel cuttings from thin, actively growing side shoots respond more positively when it comes to root development. Apply a rooting hormone for semi-hardwood to speed up the rooting process, which can take up to 8 weeks before signs of rooting. The cuttings develop best when good air circulation is maintained. Good air circulation is important as it reduces fungal infections. Specialised facilities such as a propagation unit with heated benches and a misting system is often best to successfully propagate this plant by cuttings. Cuttings can be planted into small pots when rooted with a mixture of 8 parts bark and 3 parts sand. Feed every 2 weeks with an organic liquid fertiliser.
Ericas grow well in poor soils with good drainage and a pH between 5.5 and 6.7, however, a regular feeding with an organic fertiliser at low concentrations proves to be beneficial. Well-rotted compost can be applied as a mulch in the garden beds. Regular pruning after flowering and seeding is important to encourage new growth. Dead wood should also be removed during the pruning process to prevent the spreading of disease.
References
Batten. A. & Bokelmann, H. 1966. Wild flowers of the Eastern Cape Province. Books of Africa, Cape Town.
Bredenkamp, C.L. 2019. A flora of the Eastern Cape Province, Volume 2. Strelitzia 41. South African National Biodiversity Institute, Pretoria.
Brown, N.A.C. & Duncan, G.D. 2006. Grow fynbos plants. Kirstenbosch Gardening Series. South African National Biodiversity Institute, Cape Town.
Don, G. 1834. A general system of gardening and botany. Vol. 3. London
Foden, W. & Potter, L. 2005. Erica tragulifera Salisb. National Assessment: Red List of South African plants version 2020.1. Accessed on 2020/08/31.
Gibson, J.M. 1975. Wild flowers of Natal: coastal region. Trustees of the Natal Publishing Trust Fund, Durban.
Goldblatt, P. & Manning, J. 2000. Cape Plants. A conspectus of the Cape flora of South Africa. Strelitzia 9. National Botanical Institute, Pretoria & Missouri Botanical Garden, Missouri.
Pooley, E. 1998. A field guide to wild flowers Kwazulu-Natal and the eastern region. Natal Flora Publications Trust, Durban.
Rourke. J.P. 1980. Wild flowers of South Africa. C. Struik Publishers, Cape Town.
Schumann, D., Kirsten, G. & Oliver, E.G.H. 1992. Ericas of South Africa. Fernwood Press, Vlaeberg.
Trinder-Smith, T. 2006. Wild flowers of Table Mountain. Botanical Society of South Africa, Cape Town
Vlok, J. & Schutte-Vlok, A. 2010. Plants of the Klein Karoo. Umdaus Press, Hatfield, Pretoria.
Credits
Benjamin Festus
Kirstenbosch National Botanical Garden
September 2020
Images: Alice Notten, Kirstenbosch NBG.
Plant Attributes:
Plant Type: Shrub
SA Distribution: Western Cape
Soil type: Sandy, Loam
Flowering season: Spring, Winter
PH: Acid
Flower colour: White
Aspect: Full Sun
Gardening skill: Average
Special Features:
Good potplant
Feeds honeybees
Horticultural zones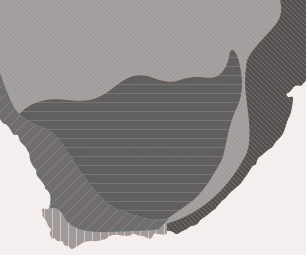 Zone 1 Coastal summer rainfall, frost free
Zone 2 Coastal winter rainfall, frost free
Zone 3 Winter rainfall Karoo, light frost
Google QR Code Generator