Erica ventricosa Thunb.
Family: Ericaceae
Common names: wax heath, washeide, porcelain heath, Franschhoek heath, Franschhoekheide
Introduction
Erica ventricosa, with its exquisite flowers and dense, compact habit, is one of the most attractive of the Erica species.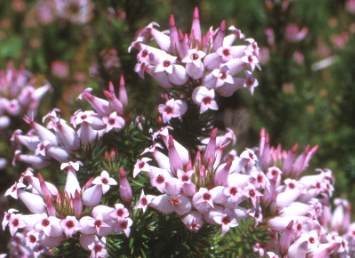 Description
Description
Erica ventricosa forms a well-branched erect shrub between 0.5 and 1.0m in height, with numerous stout upright branches, densely clothed with small, narrow, pointed, dark green, shiny, typically ericoid leaves.It produces spectacular displays of pink flowers during summer. They begin as deep, rose pink buds, in dense clusters at the tips of the branches. As the buds elongate, the bases swell and change to a delicate light pink colour, with the narrow tips still rose pink. When open, the flower is an elegant urn-shape, tapering to a narrow throat with spreading lobes which curl backwards to form a star. To add to their beauty, they have the look of delicate porcelain, in that they have a shiny, wax-like texture that also gives the false impression that they are sticky.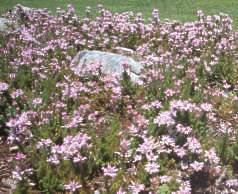 Distribution and habitat
Distribution description
Erica ventricosa grows on mountain slopes between 300 m and 1400 m above sea level. It is found mainly on the upper slopes in the Paarl, Franschhoek, Stellenbosch and Hottentots Holland Mountains, where it grows on nutrient poor, well-drained acid soils with a pH ranging from 5.5 to 6.5, and flowers during summer, from October to January. These mountains receive considerable winter rainfall in places far exceeding that of Kirstenbosch, which averages 1400mm per annum. In summer these mountains are often blanketed by moisture laden southeast cloud that cools the atmosphere and dampens the plants.
Derivation of name and historical aspects
History
Its name is derived from the Latin ventricosus, referring to the swollen or inflated shape of its flowers. This erica was very popular in England as early as the nineteenth century where nurserymen grew it extensively as a pot plant.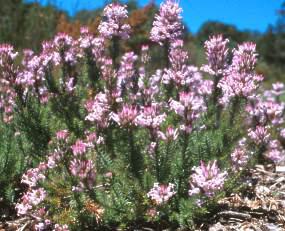 Ecology
Ecology
The tubular flower shape is typical of those species pollinated by flies with a long proboscis. The fly hovers in front of the flower and probes the tube for nectar. In the process pollen is deposited by the anthers on the upper parts of the proboscis and carried to the next flower.
Growing Erica ventricosa
Grow
Erica ventricosa is easily cultivated, and is one of the few ericas that has been grown successfully in the summer rainfall areas of South Africa. It is an excellent pot subject, and a decorative garden subject where it is shown to best effect when planted in groups. It requires a sunny position, and well drained acidic soil with an ideal pH ranging between 5.5 and 6.7. A potting medium consisting of two parts acid river sand, two parts composted pine bark or well rotted compost and one part loam is recommended. This species produces numerous branches from its base, and regular pruning will enhance its good growth form and increase its flower production. It is not hardy to severe frost, but is unharmed by mild frost and should be hardy to zone 10 (-1°C / 30°F). Gardeners looking for a hardy erica suitable for pot culture cannot do better than try this lovely plant.
Weekly applications of organic seaweed-derived fertilizers have proved adequate for good balanced growth and flowering. Better growth may be achieved during the summer months by applying controlled release fertilizers that release nutrients gradually over a period of time. A small amount of 3.1.5 slow release fertilizer applied during spring has given good results in trials in the nursery. Too much nitrogenous fertilizer will, however, result in too much foliage growth and possibly limit flowering.
Erica ventricosa is easily propagated from seed or cuttings. Seed should be sown in autumn, in trays. A suitable sowing medium consists of two parts acidic river sand: two parts composted pine bark: one part loam. Seed is sown evenly over the surface of the soil medium and lightly covered. Do not cover too deeply. Seed that has been treated with the "Instant Smoke Plus" seed primer show greatly improved germination. Place the seed tray in a protected position, where the light conditions are good and ventilation is free. It is best to water gently overhead with a spray can to avoid washing the seed out of the tray. Seedlings usually appear from four to six weeks and are very delicate in this early stage. Water gently with a spray can and do not allow the medium to dry out. One can also place a glass pane over the tray and gradually remove it as the seedlings grow. Fungal problems can be arrested by prompt treatment with a fungicide designated for the control of damping-off. Seedlings may be planted into individual pots or bags when they have grown to a height of at least 1-cm, but only planted out into the garden when they are at least 10cm tall.
Cuttings are normally taken in autumn using proper rooting facilities, which are unfortunately not available to most amateur growers. These include overhead misting and heating from below. Placing cuttings in a container covered with plastic seldom works, as erica cuttings require free air-circulation. Fresh actively growing thin shoots taken as heel cuttings and treated with rooting hormone for semi-hardwood cuttings give best results. Roots may develop after eight weeks and are fine and delicate. Rooted cuttings must be hardened off away from the mist unit for a few weeks before they are planted out.
The young plants, both seedlings and newly rooted cuttings, should be kept moist, as they are more susceptible to drying out. Older plants are watered every second or third day depending upon the soil moisture content. Water well so that the water filters down to the roots in garden situations or drains out of the bottom of the container.
References
Baker, H.A. and Oliver, E.G.H. 1967. Ericas in Southern Africa. Purnell, Cape Town and Johannesburg.
Bolus, H.M.L. 1928. A First Book of South African Flowers. 2nd ed. Juta and Company LTD. Cape Town and Johannesburg.
Schumann, D (Dolf) & Kirsten, G (Gerard) 1992. Ericas of South Africa. Fernwood Press, Vlaeberg Cape Town.
Credits
Anthony Hitchcock
Kirstenbosch National Botanical Garden
November 2001
Plant Attributes:
Plant Type: Shrub
SA Distribution: Western Cape
Soil type: Sandy
Flowering season: Early Summer, Late Summer
PH: Acid
Flower colour: Pink
Aspect: Full Sun
Gardening skill: Easy
Special Features:
Attracts birds
Good potplant
Feeds honeybees
Horticultural zones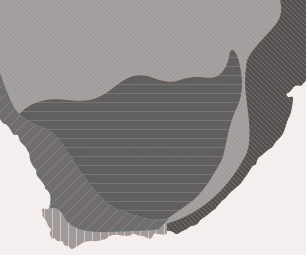 Zone 2 Coastal winter rainfall, frost free
Google QR Code Generator