Eriosema preptum C.H.Stirt.
Family: Fabaceae
Common names: distinguished eriosema
Introduction
A perennial herb with attractive yellow-orange flowers, that is endemic to KwaZulu-Natal.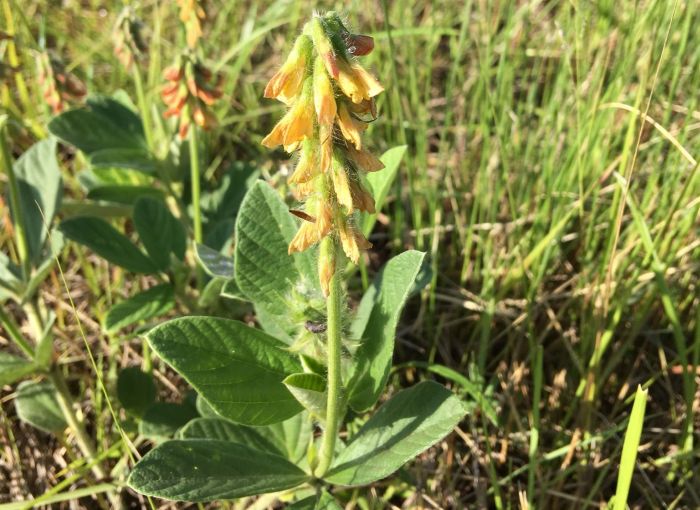 Description
Description
Eriosema preptum is a perennial herb or shrublet, 200–600 mm tall, with 1–15 stems, covered in short white hairs with longer hairs in between. Leaves are trifoliolate, basal leaves usually unifoliolate, 45–60 × 20–30 mm. The upper surface is sparsely hairy, the lower surface densely woolly, with veins prominent because of the dense covering of longer appressed hairs. The leaflets have small glands underneath. Stipules are 8–14 mm long. Inflorescence is a raceme, about 120 mm long, made up of 25–35 flowers and held well above the leaves. Flowers are small, 6–7 mm long and 3 mm wide, orange with red veins or yellow-orange. Flowering time is in spring and summer, from September–February. Fruit is a pod, 10–13 × 8–10 mm, covered in fine soft hairs. Seeds are grey or light brown, with darker marks or spots.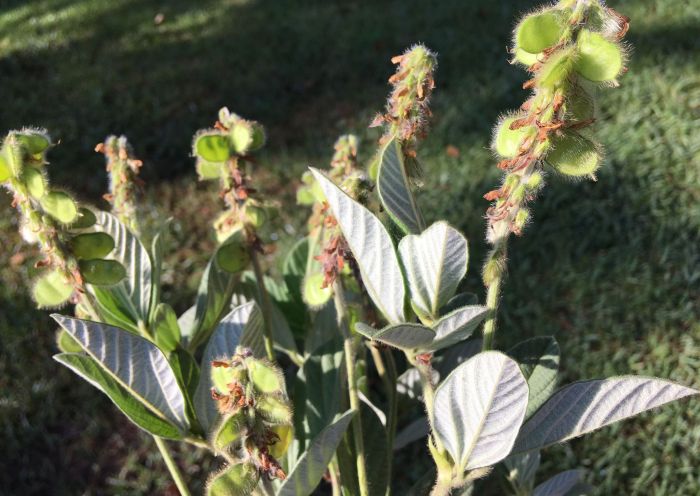 This species is related to E. rossii and its variants, but is separated by its fewer-flowered, well exserted racemes; much smaller flower bracts that drop off very soon (caducous); smaller flowers; and more woolly leaflets.
Conservation Status
Status
Eriosema preptum is assessed as Least Concern (LC) in the Red List of South African Plants, meaning that is not threatened.
Distribution and habitat
Distribution description
Eriosema preptum is endemic to KwaZulu-Natal and extends some 100 km inland from the coastal belt. This species is found in sandy, well-drained sites along roadsides and ditches, but is also commonly found in regularly burned grassland.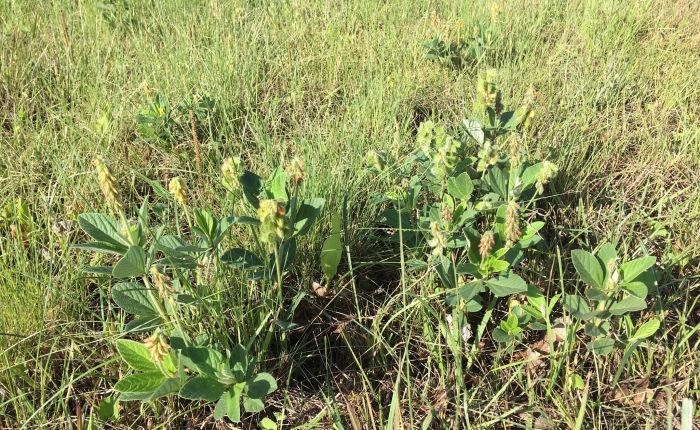 Derivation of name and historical aspects
History
The name Eriosema is derived from the Greek words erion, meaning 'wool', and semeia, meaning 'standard', 'sign', 'mark' or 'token', in reference to the indumentum usually found on the back of the standard petal. The specific epithet, preptum, means 'distinguished', the allusion is not clear.
The genus Eriosema consists of about 150 species of erect or climbing subshrubs or herbs, found worldwide, but mostly in tropical regions, with 100 species in Africa and about 36 species in South Africa. The plants in this genus possess leaves that are 1- or 3-foliolate, and leaflets that often have small glands underneath. The flowers are reflexed, have a 5-lobed calyx and mainly yellow corolla. The mature seeds of species of Eriosema are characterized by a long, linear hilum (scar) flanked by a conspicuous, whitish, and 2-lobed structure. Because of its prominence on the seed and its distinctive shape and size, it has been found to be a good taxonomic character in helping to characterize the genus, especially in distinguishing it from the closely related genus, Rhynchosia.
Ecology
Ecology
The orange and red or yellow-orange flowers attract butterflies and bees in the warm season. Grassland burning encourages seasonal new growth of the plant in spring, as the plant survives the fire, because of its woody rootstock.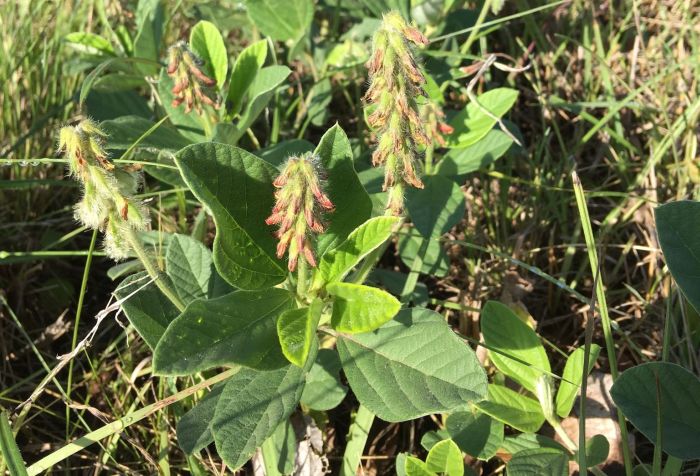 Uses
Use
This plant is used as an aphrodisiac (to stimulate sexual desire). The plants of the genus Eriosema have several ethnomedical and ethnobotanical uses, besides treatment of infertility and related disorders. These include treatment of diarrhoea, orchitic, hydrophobia, detoxification, conjunctivitis, cough, emetic, and scabies. It is reported that hot milk infusions of roots and pounded root decoctions of E. cordatum, E. distinctum and E. salignum are taken for impotence. Other species of Eriosema have been found to be mildly poisonous and have been used for fish poisoning. These include E. glomerata, E. griseum and E. psoraleoides. Plants in this genus are also reported to be used traditionally in a mixture with other plants, to stimulate bulls in spring by the Sotho. 
Growing Eriosema preptum
Grow
This species is still unknown in cultivation. It is best propagated from seeds, soaked and/or sandpapered before sowing. Use a well-drained, sterile sowing medium and treat with a fungicide that combats pre- and post-emergence damping off. Cultivation is more suitable in coastal summer rainfall areas, and frost free areas. This species would need a sunny position, in well-drained soil.
References
Nichols, G. 2005. Growing rare plants: a practical handbook on propagating the threatened plants of southern Africa. Southern African Botanical Diversity Network Report No. 36.
Pooley, E. 2013. A field guide to wild flowers KwaZulu-Natal and the eastern region. Natal Flora Publications Trust, Durban.
Stirton, C.H. 1986. The Eriosema squarrosum complex (Papilionoideae, Fabaceae) in southern Africa. Bothalia 16(1): 11–22.
Selepe, M. 2011. Synthesis and analysis of Eriosema isoflavonoids and derivatives thereof. Published Ph.D. Thesis, University of KwaZulu-Natal, Pietermaritzburg. http://researchspace.ukzn.ac.za/handle/10413/6409
Credits
Lungisani Zondi
Walter Sisulu National Botanical Garden
May 2020
Acknowledgements: Images by Alison Young.
Plant Attributes:
Plant Type: Perennial
SA Distribution: KwaZulu-Natal
Soil type: Sandy, Loam
Flowering season: Late Summer
PH:
Flower colour: Yellow, Orange
Aspect: Full Sun
Gardening skill: Easy
Special Features:
Attracts butterflies
Drought resistant
Medical plant
Horticultural zones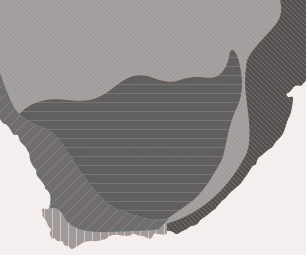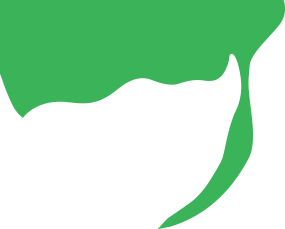 Zone 1 Coastal summer rainfall, frost free
Zone 5 Bushveld summer rainfall, Light frost
Google QR Code Generator