Euclea pseudebenus E.Mey. ex A.DC.
Family: Ebenaceae
Common names: ebony guarri, ebony tree, black ebony, Cape ebony (Eng.); ebbehoutghwarrie, ebbehout, ebbeboom, swartebbenhout (Afr.); tsawib (Nama)
SA Tree No: 598
Introduction
Euclea pseudebenus or ebony guarri is a remarkably drought-hardy and tough indigenous tree with a most graceful appearance contrasting its harsh and unforgiving natural environment.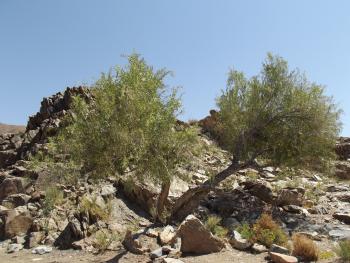 Description
Description
Euclea pseudebenus is commonly known as a true tree, but may also be found as a medium-sized to large shrub, depending on the prevailing climatic conditions, age and often, the impacts of browsers. Adult trees can attain a height of approximately 3–10 metres, with a very appealing appearance rendered by its slender drooping branches that hide the rough greyish branches like a skirt. The stems are tough and can bend easily, are covered by dark, rough bark, that persists on the trees. The slender branchlets hang down the length of the tree and are covered with very narrow evergreen leaves that are spirally arranged, with a bluish green to grey-green colour. Young leaves may sometimes be finely hairy. The heartwood of the black-ebony is fine grained, dark brown to pitch black, and is very hard.
Ebony guarri trees flower from late winter to late spring, which under optimum conditions, is usually from August to early October. The flowers are small and hardly noticeable, bell-shaped, fragrant, greenish yellow or cream-coloured, with male flowers being carried in clusters of 3–7, whereas female flowers are carried singularly, but sometimes 2 or 3 together. Male and female flowers are on different trees. The rounded or globose fruit is a thinly fleshy berry about 5–8 mm in diameter, first green, turning black when ripening. Fruits ripen towards the late summer around February to May. The seeds are roundish, approximately 5 mm in diameter and yellowish brown when fleshy skins are removed.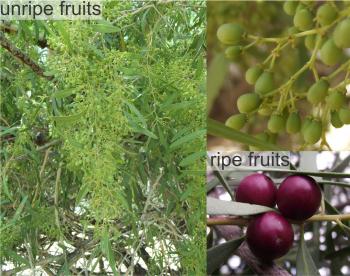 Trees that are old may appear untidy, with many branches often devoid of leaves, broken or separated from the main stem. In such old specimens the trees have a mushroom or umbrella shape as a result of the branches that spread out laterally, and thus having a much wider appearance than their height. As with many arid environment trees, Euclea pseudebenus is a very slow grower, but at the same time may become hundreds of years old.
Conservation Status
Status
According to the Red List of South African Plants, checked on 25 January 2016, the conservation status of this plant is Least Concern (LC ).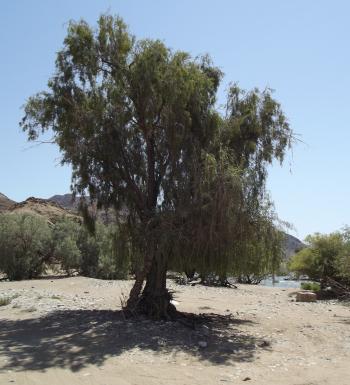 Distribution and habitat
Distribution description
Euclea pseudebenus is found in harsh, stony and sandy desert and semi-desert areas, usually in lowlying areas along watercourses, or fairly nearby. This species of tree is often the only surviving tree that is able to cope with the harsh desert conditions. The distribution of black-ebony is relatively wide and follows a northwesterly direction across its range. It starts to appear in northern Namaqualand, extending eastwards to Bushmanland where it hugs the Gariep River on both the South African and Namibian sides. It then continues throughout the southwestern, central and northwestern part of Namibia right into the Kaokoveld and across into the mountainous parts of southern Angola. It is by nature a desert plant, being happy with both winter and summer rainfall conditions. In terms of its cultivation Euclea pseudebenus would be well suited to arid and semi-arid regions, with hot, long summers, and given plenty of water, will thrive and grow faster than those in the wild.
Derivation of name and historical aspects
History
In southern Africa the ebony family or Ebenaceae is represented by two genera namely Euclea and Diospyros. The latter is commonly referred to as jackal-berry. The genus name Euclea means 'to be of good report', or 'to be famous', from the Greek eucleia, which is derived from eu, meaning 'good', and kleos, meaning 'report'. It is suspected that this perhaps refers to the good quality ebony-type wood of some Euclea species, particularly that of Euclea pseudebenus. The species name pseudebenus means 'false ebony' and refers to the resemblance of the wood to the true ebony, an Indian tree species namely Diospyros ebenus. The latter produces the famous black timber used for carvery ornaments and carpentry.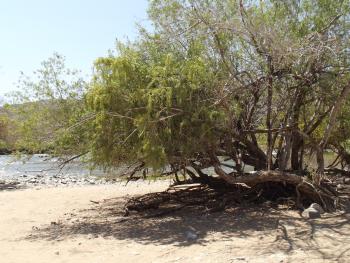 Ecology
Ecology
Euclea pseudebenus was observed by the author as being pollinated by insects, mostly flies and bees. The flowers appear for quite a long period during a time when the weather warms up and is thus ideally suited to insect pollination. Although small and not particularly tasty, the fruits are edible and are particularly relished by birds, baboons and antelope who all aid in the dispersal of seeds. The leaves are also browsed by antelope and domesticated livestock, such as goats and sheep. The ebony guarri is well adapted to its harsh environment. It possesses an extensive taproot system that is able to reach deep into the ground, where subterranean water may be found. The leaves are tough, narrow, and hang down, thus minimizing its surface area to the sun. This together with its bluish green colour helps to reduce moisture loss through the leaf surface. The tree also provides much needed shelter for insects, birds and mammals, especially in the summer months.
Uses
Use
Euclea pseudebenus is highly sought after for its excellent quality fire wood. It is also valuable as a general timber for building and carving, but since pieces are usually small, it is not used extensively. The heartwood is black, hard, heavy and durable, very similar to the true ebony, and is often used for inlay work, such as the black squares on chess boards. The Nama of Namibia call this tree the tsawib which refers to its ebony-like wood. A place in Namibia where numerous ebony guarri trees grow is called Tsawisis, named after the tree.
The roots and twigs are sometimes used as chewing sticks to clean the teeth.
The fruits are edible when ripe, said to taste sweet and slightly astringent.
Euclea pseudebenus is not popular in horticulture, although its value as a small drought hardy tree, cannot be over emphasized. In parts of South Africa where hot and fairly dry weather is experienced, this species would make excellent garden trees, as they would grow quicker in cultivation. They would be ideal as replacements to exotic trees which are still too common in our gardens.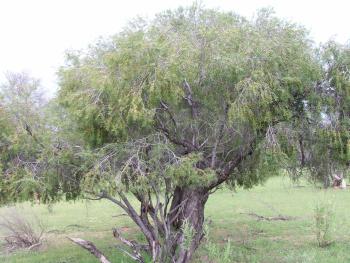 Growing Euclea pseudebenus
Grow
Euclea pseudebenus is best grown from seeds which must be allowed to ripen completely after the fruits have blackened and have fallen to the ground. Seeds can be tested for viability using a simple floating test to see whether seeds are potentially fertile or not. Potentially fertile seeds are then soaked in hot water and left overnight and sowed into a sandy loam soil mixture, which should not be fined grained, otherwise this may encourage the formation of a crust and/or compaction. Best is to mix 1 part coarse river sand / 1 part fine milled bark and 1 part decomposed compost or loam. The mixture is levelled in a seed tray and the seeds are pressed in and lightly covered with the same soil to about the size of the seeds. Sowing has been successful throughout the year, but the best results are obtained from autumn through to spring.
Care must be taken not to transplant seedlings prematurely and one must wait until seedlings have grown to at least 5–6 cm. After plants have been hardened off for at least two seasons, they can be safely planted out in the garden in a sunny position. Since Euclea pseudebenus has a taproot, it is best to plant the young trees out into a permanent position which does not require the plants to be moved at any later stage. Young plants need to be protected from frost, and should be watered generously during its initial years.
Plants are very fitting for small drier gardens especially in the Karoo and semi-desert areas of South Africa and Namibia. To create an appealing impression, at least three plants should be planted in a small group of approximately 4–5 m apart. Plants are most pleasing when combined with other drought-adapted tree species, such as Vachellia karoo (=Acacia karoo), Vachellia erioloba (=Acacia erioloba), Ficus cordata, Boscia albitructa etc. The only trouble is that indigenous drought-hardy trees are not that readily available in garden centres, hence people resort to planting exotic trees. Other good companion shrubs and succulent species include Pteronia incana, Pelargonium echinatum, P. magenteum, P. xerophytum, P. crithmifolium and P. spinosum, Aloe gariepensis, A. microstigma, A. framesii, A. kammiesensis, A. claviflora, and A. falcata, Ruschia carolii and R. spinosa, Cotyledon orbiculata, Crassula ovata and C. arborescens, Portulacaria afra and P. armiana, Tylecodon paniculatus, Osteospermum oppositifolium etc.
References
Coates Palgrave, K. 2002. Trees of southern Africa. Struik, Cape Town.
Fox, F.W. & Norwood Young, E. 1982. Food from the veld: edible wild plants of southern Africa. Delta Books, Cape Town.
Germishuizen, G. & Meyer, N.L. (eds) 2003. Plants of southern Africa: an annotated checklist. Strelitzia 14. National Botanical Institute, Pretoria.
Jackson, W.P.U. 1990. Origins and meanings of South African plant genera. University of Cape Town Printing Department, Cape Town.
Mannheimer, C. & Curtis, B. 2009. Le Roux and Müller's field guide to the trees and shrubs of Namibia. Macmillan, Windhoek.
Stearn, William T. 2003. Stearn's Dictionary of plant names for the gardener. Cassel, UK.
Smith, C.A. 1966. Common names of South African plants. Memoirs of the Botanical Survey of South Africa No. 35. Government Printer, Pretoria.
Van Wyk, B.-E. & Gericke, N. 2000. People's plants . Briza Publications, Pretoria.
Credits
Werner Voigt
Karoo Desert National Botanical Garden
February 2016
Plant Attributes:
Plant Type: Shrub, Tree
SA Distribution: Northern Cape
Soil type: Sandy, Clay
Flowering season: Spring, Early Summer
PH: Neutral
Flower colour: Cream
Aspect: Full Sun
Gardening skill: Challenging
Special Features:
Attracts birds
Attracts butterflies
Drought resistant
Feature plant
Edible plant
Useful plant
Feeds honeybees
Horticultural zones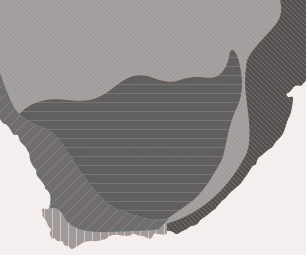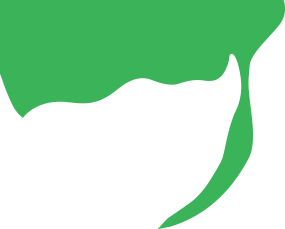 Zone 3 Winter rainfall Karoo, light frost
Zone 4 Summer rainfall Karoo and Highveld, Frost in winter
Zone 5 Bushveld summer rainfall, Light frost
Google QR Code Generator