Eucomis regia (L.) L'Hér.
Family: Hyacinthaceae
Common names: western dwarf pineapple flower
Introduction
This is the only winter rainfall Eucomis and its flowering pattern is precisely opposite to all the other pineapple lilies. It is also one of the few species of Eucomis that has an unpleasant smell. Like all the other members of Eucomis, the inflorescence resembles a pineapple.
Description
Description
Eucomis regia is a deciduous, winter-growing bulb, that grows up to 150 mm tall, including the flower stalk. The variable green leaves are arranged in a basal rosette; they rest flat on the ground and have a shallow midrib.
The unpleasantly smelling flowers, are green, borne on a stout, green, hollow stalk, in late winter to early spring.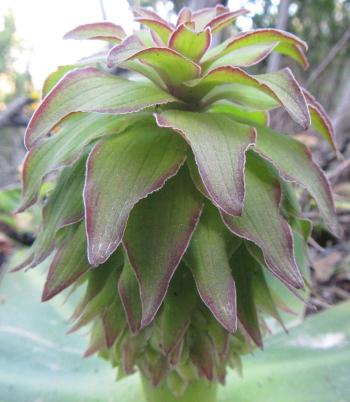 The inflorescence is crowned by a tuft of large leaf-like bracts, which are so out of proportion, that on some plants, the flowers are completely hidden. Like other bicoloured Eucomis, depending on whether it grows in full sun or shady areas, the leaves, flower petals and the bracts may have maroon edges.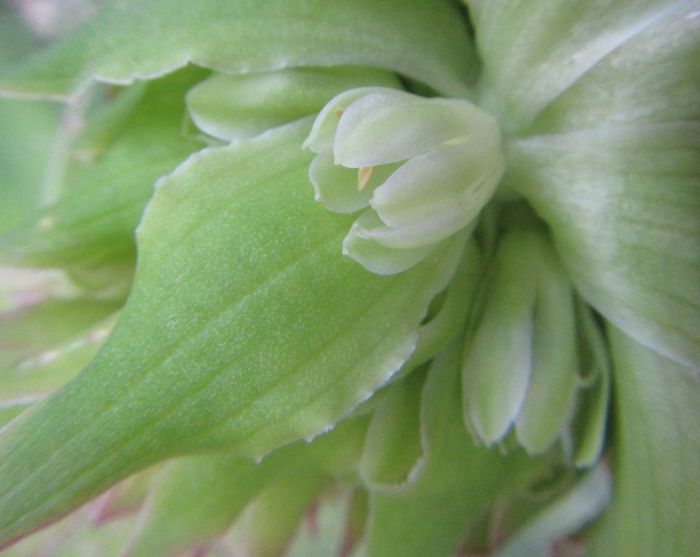 Conservation Status
Status
The conservation status of Eucomis regia is Least Concern (LC), thus not threatened in its natural habitat. This species was not selected in any one of 4 screening processes for highlighting potential taxa of conservation concern for detailed assessment and was hence given an automated status of Least Concern. The Threatened Species Programme is currently systematically completing full assessments for all taxa with an automated status. But, nonetheless, since it not as popular as other species of Eucomis, it might not have many potential threats for its population.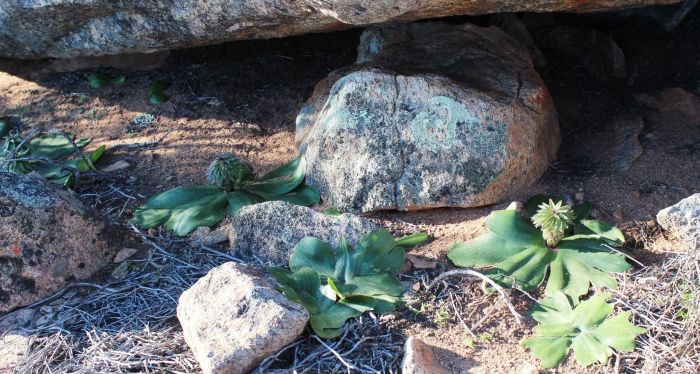 Distribution and habitat
Distribution description
This pineapple flower naturally occurs only in South Africa, and only in the Northern and Western Cape Provinces, from Namaqualand and the Western Karoo, to Bredasdorp and the Little Karoo. It thrives in various habitats, thus making it very variable. It grows in renosterveld vegetation (grassy shrubland dominated by Asteraceae); it grows in low bush cover amongst rocks on shady south-facing hillsides, or in heavy clay soils in open areas, or among doleritic boulders. This is the only half-hardy species within the genus Eucomis.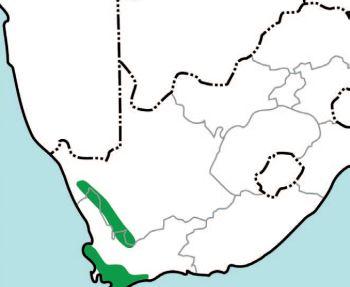 Derivation of name and historical aspects
History
Eucomis regia is actually the first described Eucomis species, and the first Eucomis to be cultivated in Europe. It was first described by Carl Linnaeus in 1753, as Fritillaria regia. It was moved to Eucomis by Charles L'Héritier in 1789. The name Eucomis is derived from the Greek word eukomos, meaning 'beautiful hair' or 'topknot', referring to the crown of leafy bracts. The word regia is Latin and means 'royal', perhaps because the topknot of floral bracts resembles a royal crown.
Eucomis is a member of the Hyacinthaceae (hyacinth family), which is a family of perennial bulbous herbs, consisting of ± 46 genera and ± 900 species found in Africa, Eurasia and North America, but most richly represented in southern Africa and in the Mediterranean region to southwest Asia. Related species known to South African gardeners, include Merwilla plumbea (previously known as Scilla natalensis), Schizocarphus nervosus (previously known as Scilla nervosa) and Ledebouria species. The genus Eucomis consists of approximately 12 species that occur in southern Africa, Zimbabwe and Malawi. Only this species occurs in the winter rainfall region. Eucomis species are commonly known as pineapple flowers or pineapple lilies because their inflorescences resemble pineapples.
Ecology
Ecology
The flowers have an unpleasant smell that was thought to lure flies, that would then pollinate the flowers, while feeding on the nectar. However, recent research has revealed that it is small mammals, such as mice and elephant shrews, that are attracted to the flowers, and are the main pollinators. After pollination, the ovary enlarges and capsules are formed. The capsules will turn brownish maroon and slowly dry out. Once dry, they open and seeds are then dispersed by wind.
Unlike summer rainfall pineapple lilies that shed their above-ground parts and go dormant throughout winter, the active growing season for this winter-rainfall Eucomis is in winter and it goes dormant in summer, thus in cultivation they prefer a dry summer season.
Uses
Use
Eucomis species are commonly known for their medicinal anti-inflammatory properties and are, therefore, used in traditional medicinal treatments. There are no records of this species being used; it may be assumed that it can be used in the same way as the other species.
Eucomis regia can be used as a border plant or planted en masse, adding a different look to the garden. Remember to plant it amongst a flat groundcover so that the flowerbed does not look empty in winter, when it goes dormant. It is also an excellent container plant.
Growing Eucomis regia
Grow
Eucomis regia grows in winter and flowers in early spring and requires a totally dry summer rest period. It needs greenhouse cultivation in regions that have a maritime rather than a Mediterranean climate. E. regia is the only winter-growing Eucomis. It is easy to grow in pots, in a well-drained soil, such as half river sand and half finely sifted compost, in a lightly shaded spot. The bulbs must be kept dry in summer. It can be propagated from seed sown in autumn, but offsets form very slowly, if ever. Because it does not have a striking flower, it is very seldom grown and not as popular as other pineapple lilies.
References
Crouch, N. 2010. An adaptation of Reyneke's key to the genus Eucomis. PlantLife No. 39 & .40
Du Plessis, N. & Duncan, G. 1989. Bulbous plants of southern Africa, a guide to their cultivation and propagation. Tafelberg, Cape Town.
Duncan, G. 2010. Grow bulbs. A guide to the cultivation of bulbs of South Africa and neighboring countries. Kirstenbosch Gardening Series. South African National Biodiversity Institute, Cape Town.
Duncan, G.D. 2007. Lesser-known eucomis. The Plantsman 6: 98–103.
Eliovson, S. 1967. Bulbs for the gardener in the southern hemisphere. Howard Timmins, Cape Town.
Notten, A. 2002. Eucomis autumnalis (Mill.) Chitt (Hyacinthaceae). PlantZAfrica. Online. http://pza.sanbi.org/eucomis-autumnalis
Reyneke, W.F. 1974. A new species of Eucomis L'Hérit. (Liliaceae) from South Africa. Journal of South African Botany 42(4): 355–360.
Salt, A. 2019. For the pineapple lily, attraction is a matter of chemistry. Botany One. Online. https://www.botany.one/2019/01/for-the-pineapple-lily-attraction-is-a-matter-of-chemistry/
Wester, P., Johnson, S.D. & Pauw, A. 2019. Scent chemistry is key in the evolutionary transition between insect and mammal pollination in African pineapple lilies. New Phytologist 222(3):1624–1637
Zonneveld, B.J.M. & Duncan, G.D. 2010. Genome sizes of Eucomis L'Hér. (Hyacinthaceae) and a description of the new species Eucomis grimshawii G.D.Duncan & Zonneveld. Plant Systematics and Evolution 284: 99–109.
Credits
Dineo Dibakwane
Walter Sisulu National Botanical Garden
August 2019
Acknowledgements: The author thanks Douglas Euston Brown, Tony Rebelo and Neil Crouch for the photographs.
Plant Attributes:
Plant Type: Bulb
SA Distribution: Northern Cape, Western Cape
Soil type: Sandy, Clay, Loam
Flowering season: Spring, Winter
PH: Acid
Flower colour: Green, Cream
Aspect: Morning Sun (Semi Shade), Afternoon Sun (Semi Shade)
Gardening skill: Average
Special Features:
Fragrant
Good potplant
Horticultural zones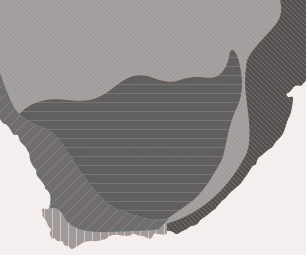 Zone 2 Coastal winter rainfall, frost free
Zone 3 Winter rainfall Karoo, light frost
Google QR Code Generator