Eugenia natalitia Sond. (= Eugenia capensis (Eckl. & Zeyh.) Sond. subsp. natalitia (Sond.) F.White)
Family: Myrtaceae
Common names: forest myrtle (Eng.); bosmirt (Afr.); mukavha-mahunguvhu, murambo-thavha, musiri, tshitawatawane (Venda); umthintane, umbhovane, imanzana (Zulu); inchitsamuthi, ijobe (Swazi).
SA Tree No: 553.2
Introduction
If you want your garden to be bursting with butterflies, bees and birds (and let's be honest, who doesn't), then this is the plant for you! This indigenous evergreen shrub to small tree has glossy foliage, white flowers and reddish-purple, edible fruits in summer. It is often found naturally occurring along river banks or in kloofs and enjoys a thorough watering. The fruits and flowers attract pollinators from far and wide, which in turn, attract a plethora of interesting animal diversity to the garden.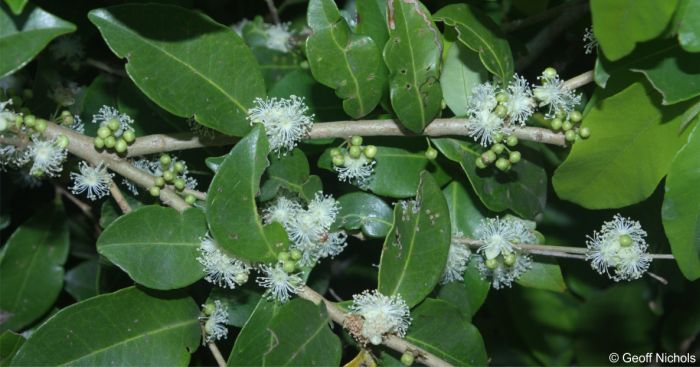 Description
Description
Eugenia natalitia is an evergreen shrub or small tree, growing 5–10 m tall and spanning up to 4 m wide. It is often multi-stemmed and the branches are spreading. The bark is greyish-white to pale brown, sometimes tinged reddish, smooth, slightly rough and flakes off in irregular patches. The leaves are aromatic when crushed, opposite, oblong-elliptic in shape and glabrous (hairless), which gives them a glossy appearance. Upon further observation, they are leathery in texture, gland dotted, with a prominent midrib below, which creates a sinking effect in the leaf, because the margins are raised above the midrib. The margins are entire or weakly toothed and new leaves are soft and brownish-pink.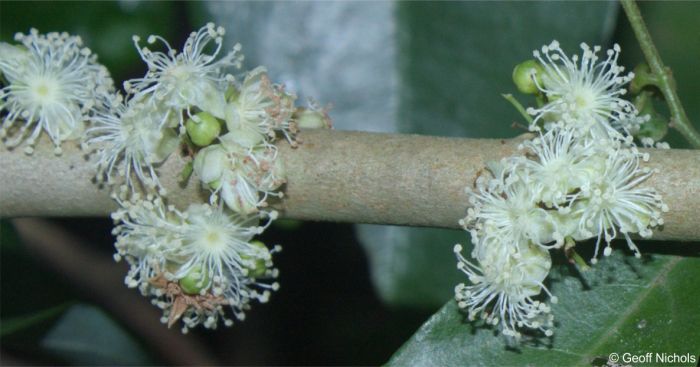 The flowers are white, made up of 4 petals with a conspicuous number of stamens protruding outwards; the filaments don't firmly support the anthers, which causes the stamens to droop and spread, in all directions. Petals also have glands. The flowers occur singly or in few-flowered clusters in the axils of the leaves on previous year's growth. The fruits are edible, small, rounded, thinly fleshy and berry-like; green turning reddish purple when ripe. Flowering and fruiting occurs mainly in spring and summer (October to April). Seeds are kidney shaped.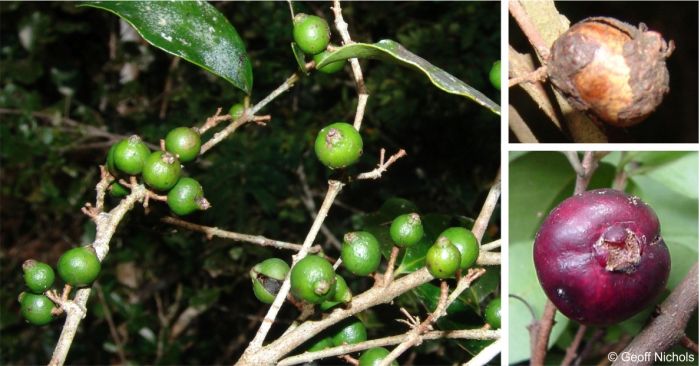 Eugenia natalitia is easily confused with E. woodii and is distinguishable by its lack of reddish-brown hairs on new growth or certain growth points such as the twigs; having flowers which are borne in clusters of 3 and several round seeds being present in each fruit. 
Conservation Status
Status
Eugenia natalitia has a Red List Status of: Least concern (LC) and is not threatened. (Raimondo et al. 2009).
Distribution and habitat
Distribution description
The forest myrtle is an indigenous plant, native to the eastern region of South Africa, where it is found growing in Eastern Cape, KwaZulu-Natal, Limpopo and Mpumalanga. It is not endemic to South Africa, and also occurs in Eswatini, Mozambique and Zimbabwe. It is found in sub-tropical regions, in evergreen montane forests, riverine or coastal forests, forest margins and among rocks in grassland, and grows naturally along river banks and forested kloofs, ranging from the Eastern Cape of South Africa to Zimbabwe.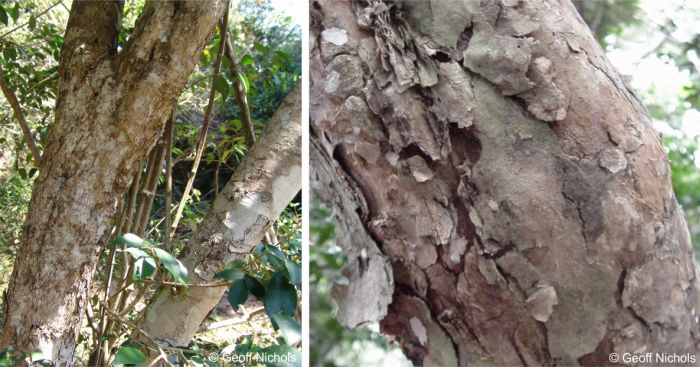 Derivation of name and historical aspects
History
The genus Eugenia is named after Austrian General Francois Eugene, Prince of Savoy (1663–1736, who was a patron of botany and horticulture.  The specific name natalitia refers to its region of origin, Natal,  now known as KwaZulu-Natal. 
Eugenia is a genus of flowering plants in the Myrtaceae, a family of woody plants that have flower parts in multiples of 4 or 5, with simple, alternate and leathery leaves that contain essential oils. Myrtaceae (myrtle family) is widely distributed in tropical and warm-temperate regions of the world with approximately 5 950 species in about 132 genera, mainly in tropical and subtropical Australia and South America. This family is represented in South Africa by only 3 genera: Eugenia (wild myrtle), Metrosideros and Syzygium (waterberry). Species covered in this series to date include: Syzygium pondoense, Syzygium cordatum, Syzygium guineense and Metrosideros angustifolius.
Eugenia is a taxonomically difficult genus as it is often confused with Syzygium, a close relative, many species of which were wrongly classified. It was first thought that the nature of the embryo and degree of adherence of the testa to the cotyledon was the most important differentiating factor, but this was later disproven, due to too much variation even amongst species. In truth, there are very few ways in which one can find a single differentiating characteristic, most of them are shared and only occurring more prolifically in one genus but still appearing in the other. Thus one must look at the flower for their best chance. In Syzigium the limb of the calyx is obovate (tear drop shaped) with the limb being nearly entire (not with deeply parted lobes) or repandly lobed (wavy); petals are concrete (clustered and overlapping and not spreading), falling off in the shape of a calyptra (cap-like). In Eugenia however, the tube of the calyx is almost globose (globe-like) and the limb is divided down to the ovary; with non-concrete petals. 
Ecology
Ecology
The fruits, which resemble small guavas, are eaten by birds and trees in fruit attract birds to the garden. Trees often play host to a myriad of butterfly larvae. The flowers are sweetly scented and lure all kinds of pollinators, which subsequently attract a number of other insects and animal life. Due to its popularity, this plant plays an important role in facilitating a platform upon which, many mutualistic and predatory relationships can form. 
The seed has a thick testa, and it is said that the Eugenia species with seeds of this nature are often found growing in sandstone soils.
Uses
Use
There are no known medicinal or cultural uses of E. natalitia but the wood of other species in the genus, such as E. capensis, has been used to make spoons and bowls as well as for fuel or charcoal making. This is because the wood is extremely hard and dense. The fruits are edible, although rather acidic.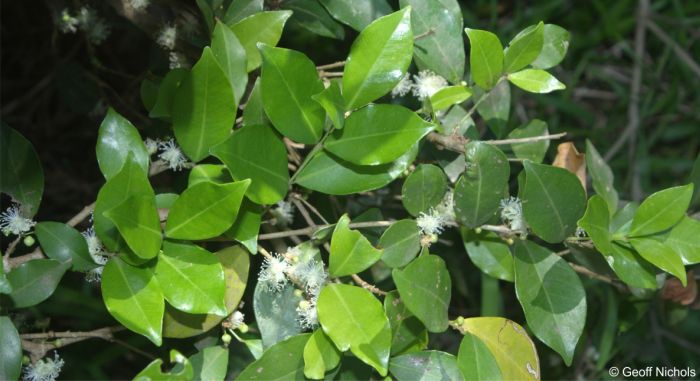 Growing Eugenia natalitia
Grow
An attractive small tree, suitable for full sun or semi-shaded conditions. With a naturally open canopy, it will need only occasional light pruning to keep it healthy and tidy. Eugenia natalitia tolerates a wide range of soil types, but does need regular and consistent watering, considering its natural habitat along streams it can be quite thirsty in summer. Suitable as a container plant, and would do well in a large pot on a stoep or veranda. 
This is a difficult species to propagate if the correct steps are not followed. The seeds can be notoriously reluctant to accept a human helping hand. However, with this being said, a plant hunter by the name of David Styles (in KwaZulu-Natal), says that seeds have a thick testa (roughly 1 mm in diameter) and germinate easily if sown in pure river sand. When propagating from seed, be sure to remove the testa to expose the pale creamy-yellow cotyledon, whilst being very careful not to damage it. Don't worry too much if you do a bit of damage, because small nicks do not seem to affect germination. One should also take care not to cut one's fingers. Make sure the river sand is damp and bury most of the cotyledon but leave just a bit exposed so that it may photosynthesise, you will see later that this exposed part will turn green (Nichols, G. 2005). Another method is to only scrape off a small part of the testa to expose the cotyledon rather than removing all of it. This method however requires a slightly longer period for germination. Seed viability massively decreases after fruits ripen and fall. Seed keeps for about a month or so but, for best results, collect seed before it falls to the ground and sow soon after. 
Semi-hardwood cuttings are slow, but easily rooted using bottom-heated mist beds, forming roots in about 4-6 weeks (Nichols, G. 2005). 
Once cuttings have rooted or seedlings have achieved a height of 15 cm, transplant into a free-draining sandy/loamy mixture. 
References
Boon, R. 2010. Pooley's trees of eastern South Africa, a complete guide. Flora & Fauna Publications Trust, Durban.
Burrows, J., Burrows, S., Lotter, M. & Schmidt, E. 2018. Trees and shrubs of Mozambique. Print Matters Heritage
Dlamini, M. 2002. Syzygium pondoense Engl. (Myrtaceae). PlantZAfrica. Online. http://pza.sanbi.org/syzygium-pondoense.
Harvey, H.W. & Sonder, O.W. 1861. Myrtaceae in Flora Capensis Vol 2Leguminosae to Loranthaceae. pp. 520–523.
Hyde, M.A., Wursten, B.T., Ballings, P. & Coates Palgrave, M. 2021. Flora of Zimbabwe: Species information: Eugenia natalitia. https://www.zimbabweflora.co.zw
Jackson, W.P.U. 1990. Origins and meanings of names of South African plant genera. University of Cape Town.
Nichols, G. 2005. Growing rare plants: a practical handbook on propagating the threatened plants of southern Africa. Southern African Botanical Diversity Network Report No. 36.
Coates Palgrave, K. 2002. Trees of southern Africa. Struik, Cape Town.
Raimondo, D. et al. 2009. Red list of South African plants. Strelitzia 25. SANBI (South African National Biodiversity Institute), Pretoria.
Useful Tropical Plants Database. Eugenia capensis (Eckl. & Zeyh.) Harv. Myrtaceae.. https://tropical.theferns.info/viewtropical.php?id=Eugenia+capensis. Accessed 2021-09-06.
Credits
Rowan Wilson
Kirstenbosch National Botanical Garden
October 2021
Acknowledgements: the author thanks Alice Notten and Cherise Viljoen for their guidance and expertise, and Geoff Nichols for providing images. 
Plant Attributes:
Plant Type: Shrub, Tree
SA Distribution: Eastern Cape, KwaZulu-Natal, Limpopo, Mpumalanga
Soil type: Sandy, Clay, Loam
Flowering season: Spring, Early Summer, Late Summer, Autumn
PH: Acid, Neutral
Flower colour: White
Aspect: Full Sun, Morning Sun (Semi Shade), Afternoon Sun (Semi Shade)
Gardening skill: Average
Special Features:
Attracts birds
Attracts butterflies
Feature plant
Fragrant
Good potplant
Indoor plant
Edible plant
Feeds honeybees
Horticultural zones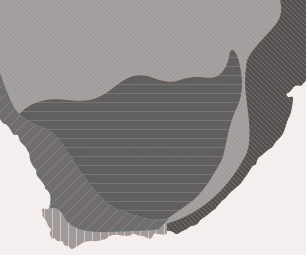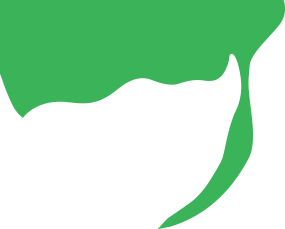 Zone 1 Coastal summer rainfall, frost free
Zone 2 Coastal winter rainfall, frost free
Zone 5 Bushveld summer rainfall, Light frost
Google QR Code Generator