Euryops annae E.Phillips
Family: Asteraceae
Common names: small euryops, qoqolosi bush (Eng.); kleinbitterharpuisbos, bitterharpuisbos (Afr.); sehlakoana se senyenyane, sehalahala sa qoqolosi (Sesotho/Southern Sotho)
Introduction
Euryops annae is a small, easy-to-grow shrub, with bright yellow flowers during late summer and autumn.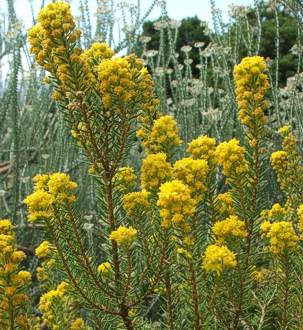 Description
Description
Euryops annae is a small, much-branched shrub, 0.2-1.5 m tall, with a dense, rounded habit. The leaves are small, 5-20 x 1-2 mm, linear, closely set and extending almost horizontally outwards. They are bright green, often with a whitish bloom (glaucous) and usually with resin on the surface. The resin makes them slightly sticky to the touch and has a fairly pleasant scent.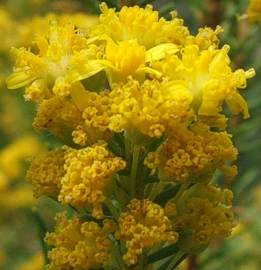 Young branches are closely leafy but become leafless and marked with scale-like leaf scars lower down.
The flower heads are borne on short stalks, 5-25 mm long, in the leaf axils towards the branch ends, and are not the large, showy, conventional daisies that one may expect from a Euryops but are quite small, 3-6 x 3-7 mm, with rather loose clusters of tiny yellow flowers carried en masse up the stems and at the tips of the branches during late summer and autumn (December-May). Close inspection reveals that each flower head consists of 2-5 ray florets and 8-20, often 13, disc florets.
The fruit is an oblong, hairless achene, 2.0-2.5 mm long, light or yellowish brown, with 5-8 prominent, resiniferous ribs. It has a pappus of numerous white bristles, 1-2 mm long.
Euryops annae is very similar to E. oligoglossus (water resin bush/ waterharpuisbos), E. nodosus and E. petraeus. It is different from the first two species in that it has hairless achenes as opposed to their achenes that are covered in shaggy hairs. There are also differences in the leaf shape. Its leaf margins are smooth, whereas the leaf margins of E. petraeus are fringed with minute hairs. Euryops annae is also sometimes thought to be synonymous with E. oligoglossus. One of the specimens that De Candolle used to base his definition of E. oligoglossus was subsequently found to be E. annae. Both names are current and valid, representing two distinct species.
Conservation Status
Status
Euryops annae is not threatened.
Distribution and habitat
Distribution description
Euryops annae is a montane species that occurs from the Sneeuberg area eastwards into the Drakensberg and Lesotho, at altitudes between 1500 and 2700 m. Its habitat is various types of grassveld, such as Karroid Danthonia Mountain Veld, Themeda-Festuca Alpine Veld, or False Karoo. This species tends to dominate in disturbed veld.
Derivation of name and historical aspects
History
Euryops is derived from the Greek word, eurys, meaning large or wide and ops, meaning eye or face, referring to the large, showy flower heads of the typical species. Euryops annae commemorates Anna Dieterlen (née Busch) (1859-1945). She was a missionary teacher and plant collector, born in France, and sent to Lesotho in 1877, to teach at the school in Taba Bosin, where she met and married Rev. Herman Dieterlen in 1879. She spent time at the Hermon Mission Station, the Leribe Mission Station and Botosabela Leper Settlement in Likohoele, retiring to Strasbourg, Alsace in 1919. While in Leribe she became interested in the local vegetation, began a herbarium and collected in the region of 2000 specimens (including Euryops annae).
Most of her plants were collected on the Leribe plateau near the Free State border with some from further inland. She also had a good knowledge of seSotho and added many vernacular names and information on ritual, medicinal and economic uses. E.P. Phillips visited the area in 1913, adding some of his own collections, and paid tribute to her 'untiring zeal and energy in contributing to our knowledge of the Leribe flora' in his paper on the flora of the Leribe Plateau published in the Annals of the South African Museum in 1917.
The name harpuisbos means resin bush and is applied generally to Euryops species and is a direct translation from the Dutch name harpuis bosch from the Dutch word hars (resin) and puisje (a small pimple), referring to the resinous secretion exuding from the stem and branches in the form of small pimply drops. Kleinbitterharpuisbos means small, bitter resin bush, referring to its taste, and that it is unpalatable to stock.
The genus Euryops consists of 97 species, mainly in Africa with one species extending into the Arabian Peninsula and Socotra. There are 89 species in southern Africa where they are widespread. Many Euryops make very decorative garden subjects and the following are also grown at Kirstenbosch: E. abrotanifolius, E. chrysanthemoides, E. pectinatus, E. virgineus, E. tysonii, E. linearis and E. speciosissimus.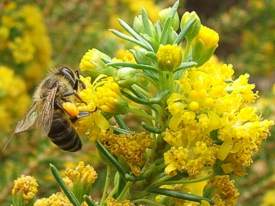 Ecology
Ecology
Euryops annae is avoided by stock because of its bitter taste, and as a result it has the tendency to increase on overstocked land. It is visited by many insects when in flower, including bees and various beetles.
Uses
Use
In Lesotho, Euryops annae is used as a medicine and in the preparation of charms. The resin is secreted from the stem and branches of practically all of the species, although some produce more than others. It sometimes appears as blobs on the stems and twigs and collects under the bushes. In the past, this resin was greatly valued by both the Khoisan and the colonists, for its alleged medicinal properties. It was used as a substitute gum, and to preserve the leather of boots and saddles.
Euryops annae is not yet well known in horticulture, but shows great potential as a quick-growing herbaceous shrub.
Growing Euryops annae
Grow
Euryops annae is quick and easy to grow. It needs well-drained soil and a sunny situation. It can be planted as a low shrubby border along the edge of a path or flower bed, in groups to provide a splash of yellow, or in containers. It can be planted in a water-wise garden, does well in the fynbos garden and is equally at home in the average suburban garden. Prune to keep neat and bushy, or replace after a few years if it starts to look a bit sparse and lax.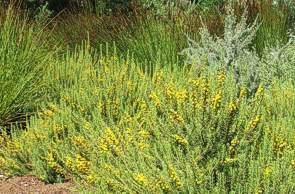 Euryops annae is easy to propagate from seed or cuttings. Sow in spring to early summer, in a well-drained medium, keep moist and pot up when the seedlings are large enough to handle. Take tip cuttings in spring, treat with a rooting hormone and place in a mist unit with bottom heating.
References
Gunn, M. & Codd, L.E.W. 1981. Botanical exploration of southern Africa. Balkema, Cape Town.
Leistner, O.A. (ed.). 2000. Seeds plants of southern Africa : families and genera. Strelitzia 10. National Botanical Institute, Pretoria.
Nordenstam, B. 1968. The genus Euryops. Part 1: taxonomy. Opera Botanica 20. Societae Botanica, Sweden.
Smith, C.A. 1966. Common names of South African plants. Memoirs of the Botanical Survey of South Africa No. 35.
Credits
Alice Notten
Kirstenbosch National Botanical Garden
March 2009
Plant Attributes:
Plant Type: Shrub
SA Distribution: Eastern Cape, Free State, Western Cape
Soil type: Sandy, Loam
Flowering season: Late Summer, Autumn
PH:
Flower colour: Yellow
Aspect: Full Sun
Gardening skill: Easy
Special Features:
Drought resistant
Good potplant
Medical plant
Useful plant
Feeds honeybees
Pioneer plant
Horticultural zones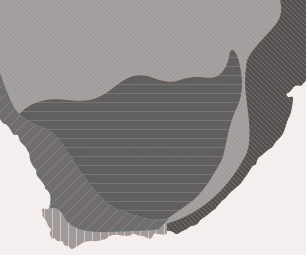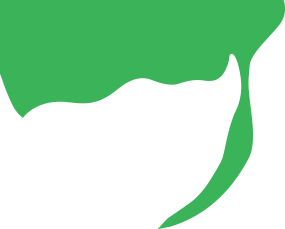 Zone 1 Coastal summer rainfall, frost free
Zone 2 Coastal winter rainfall, frost free
Zone 3 Winter rainfall Karoo, light frost
Zone 4 Summer rainfall Karoo and Highveld, Frost in winter
Zone 5 Bushveld summer rainfall, Light frost
Google QR Code Generator