Euryops tysonii E.Phillips
Family: Asteraceae
Common names: Tyson's euryops (Eng.); sehlakoana (Sesotho/Southern Sotho)
Introduction
Euryops tysonii is a lovely shrub for the garden, it has attractive foliage, showy yellow flowers all summer and an interesting upright and sprawling habit.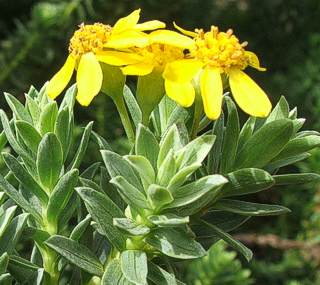 Description
Description
Euryops tysonii is a much-branched shrub, 0.5 to 1.5 m. The growth is dense and upright, with new growth from the base It also tends to sprawl at ground level, sending out side branches that produce upright stems at intervals along the length of the branch. Stems are closely leafy, becoming leafless near the base and marked with leaf scars. The leaves are close set, neatly covering the branches. At the tips of the branches they are erect, a bit lower down they extend horizontally outwards, and towards the base of the branches they bend backwards, overlapping like tiles on a roof. The leaves are flat and leathery, with a distinct mid-vein and fainter lateral veins.
It does not produce the drops of resin typical of many species in the genus, but it produces enough to make the leaves slightly sticky to the touch, and they are faintly aromatic when crushed.
Solitary flowers are produced in the upper leaf axils, and many flowers are borne on the same branch forming crowded clusters at the branch tips. The flowers are sweetly scented, bright yellow daisies, about 10 mm in diameter, with 5-8 ray florets and 13-30 disc florets. Flowering time is from spring until autumn (September to May). The fruit is a hairless, brown to yellowish brown achene, 2.5-3.5 x 1.0-1.5 mm.
Conservation Status
Status
Euryops tysonii is not threatened.
Distribution and habitat
Distribution description
Euryops tysonii grows in scrub and grassland usually on rocky or stony mountain slopes, ridges and cliffs, and often in the boulder-bed scrub of riverbeds. It is also seen at roadsides. It occurs at altitudes between 1220 and 2470 m along the Drakensberg in KwaZulu-Natal and Lesotho into Griqualand East and other parts of the Eastern Cape and southern Free State.
Derivation of name and historical aspects
History
Euryops is derived from the Greek word, eurys, meaning large or wide, and ops, meaning eye or face, referring to the large, showy flower heads of the typical species. Euryops tysonii is named after William Tyson, a teacher and plant collector, born in Jamaica in 1851, died in Grahamstown in 1920. He had to relinquish a career in medicine due to arthritis in his hands, and was interested in plants his whole life. He came to South Africa in 1874.
While teaching and tutoring in Kokstad from 1882-1886, he collected actively in Pondoland and East Griqualand and was one of the main contributors to the Herbarium Normale Austro-Africanum organized by Harry Bolus and Peter MacOwan. He collected the specimen of Euryops tysonii on Mount Currie in Griqualand East in 1883 that Phillips used as the type specimen for the species. He retired to Port Alfred where he concentrated on marine algae but continued to collect plants. He took ill on a collecting trip to Coffee Bay and was taken to Grahamstown but did not recover.
The genus Euryops consists of 97 species, mainly in Africa with one species extending into the Arabian Peninsula and Socotra. There are 89 species in southern Africa where they are widespread. Many Euryops make very decorative garden subjects and the following are also grown at Kirstenbosch: E. abrotanifolius, E. annae, E. chrysanthemoides, E. pectinatus, E. virgineus, E. linearis and E. speciosissimus.
Ecology
Ecology
Euryops tysonii is visited by many insects when in flower, including bees and various beetles. While photographing the plants in Kirstenbosch, I spotted a crab spider on one of the flowers, but it scuttled off before I could photograph it. Crab spiders hide among flowers and leaves, and ambush visiting insects.
Uses
Use
Euryops tysonii is not known as a medicinal or useful plant. Most Euryops species secrete resin from the stem and branches, some producing more than others. The resin sometimes appears as blobs on the stems and twigs and collects under the bushes. In the past, this resin was greatly valued by both the Khoisan and the colonists, for its alleged medicinal properties. It was used as a substitute gum, and to preserve the leather of boots and saddles.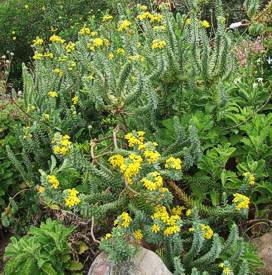 Growing Euryops tysonii
Grow
Euryops tysonii makes a very attractive garden shrub, it's quick and easy to grow, with decorative foliage and bright yellow flowers during summer. It needs well-drained, fertile soil and a sunny situation. Plant Euryops tysonii in the rock garden, shrubbery, mixed border, on terraced slopes or retaining walls, or in containers. It is suitable for a summer rainfall, water-wise garden but needs summer irrigation in the winter rainfall area. Prune to keep neat and bushy, or allow it to sprawl and develop an interesting shape. Occurring at 2400 m in the Drakensberg, it is hardy in cold weather, and should survive outdoors in zone 9 (-7°C / 20°F) or even zone 8 (-12°C / 10°F).
Euryops tysonii is easy to propagate from seeds or cuttings. Sow in spring to early summer, in a well-drained medium, keep moist and pot up when the seedlings are large enough to handle. Take tip or heel cuttings in spring, treat with a rooting hormone and place in a mist unit with bottom heating.
References
Gunn, M. & Codd, L.E.W. 1981. Botanical exploration of southern Africa. Balkema, Cape Town.
Leistner, O.A. (ed.). 2000. Seeds plants of southern Africa : families and genera. Strelitzia 10. National Botanical Institute, Pretoria.
Nordenstam, B. 1968. The genus Euryops. Part 1: taxonomy. Opera Botanica 20. Societae Botanica, Sweden.
Pooley, E. 1998. A field guide to wild flowers of KwaZulu-Natal and the Eastern Region. Natal Flora Publications Trust, Durban.
Credits
Alice Notten
Kirstenbosch National Botanical Garden
March 2009
Plant Attributes:
Plant Type: Shrub
SA Distribution: Eastern Cape, Free State, KwaZulu-Natal
Soil type: Clay, Loam
Flowering season: Spring, Early Summer, Late Summer, Autumn
PH:
Flower colour: Yellow
Aspect: Full Sun
Gardening skill: Easy
Special Features:
Fragrant
Good potplant
Feeds honeybees
Horticultural zones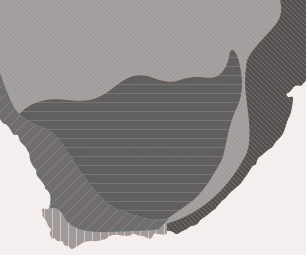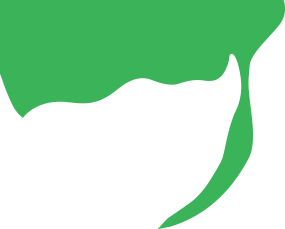 Zone 1 Coastal summer rainfall, frost free
Zone 2 Coastal winter rainfall, frost free
Zone 3 Winter rainfall Karoo, light frost
Zone 4 Summer rainfall Karoo and Highveld, Frost in winter
Zone 5 Bushveld summer rainfall, Light frost
Google QR Code Generator