Euryops wageneri Compton
Family: Asteraceae
Common names: Wagener's resin bush (Eng.); Wagener se harpuisbos (Afr.)
Introduction
Anyone who has seen this species will agree that this is probably one of the most magnificent of all the Euryops species. It has the same visual impact as other showy species such as E. speciosissimus and E. tenuissimus, but the broader and darker orange-yellow ray florets are not matched by any of these species.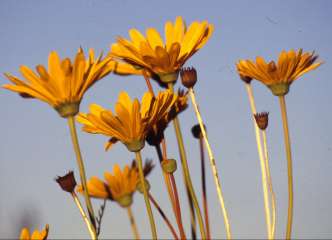 Description
Description
Plants grow to 1.5 m, are erect, sparsely branched and smell strongly of resin. Branches are densely leafy in upper parts and bare below. Leaves are greyish green, needle-like with 4-8 branches (10-30 mm long) to each side of the central nerve.
Individual flower heads are borne on stout stalks, 150-300 mm long, more than twice as long as the leaves. Outer bracts of flower heads are fused into a deep cup with straight sides, 12-20 mm. Ray florets 17-22, rich yellow to orange with the ray 27-45 mm long and 5-10 mm wide. Disc florets rich yellow, numerous (100-200). Seeds are 5-6 mm long and without hairs. It flowers from August to September.
Conservation Status
Status
Despite the small distribution area one cannot regard this species as threatened. Most of its distribution area is part of a nature reserve or conservancy. Plants are also locally common.
A number of Euryops species (E. decipiens, E. indecorus, E. integrifolius, E. lasiocladus, E. linearis, E. muirrii, E. pectinatus subsp. lobulatus, and E. zeyheri ) have small distribution areas and their future may become uncertain if their respective habitats are not protected.
Distribution and habitat
Distribution description
E. wageneri is restricted to the Cederberg from around Matjiesrivier northwards into the Biedouw valley. Plants grow in rocky dry habitats in valleys and on mountain slopes at altitudes of 700-1220 m.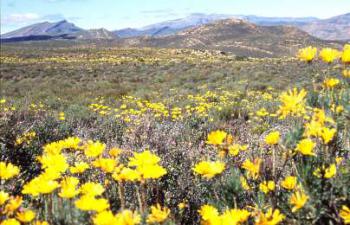 Derivation of name and historical aspects
History
The species is named after G.E.H. Wagener, who collected the type specimen in the Matjiesrivier area in the Cederberg.
Euryops wageneri belongs to a genus of 110 taxa (including 9 subspecies, 2 varieties and 9 hybrids recognised by Nordenstam, 1968). The genus has an African distribution with the largest proportion (89 species) in southern Africa and a single species extending to the Arabian Peninsula and Socotra.
Ecology
Ecology
Flowers are visited by general pollinators such as bees, beetles and flies. The cup-shaped bracts of the flowers provide a protected environment for insects to lay their eggs and the flower heads are therefore often parasitized.
Uses
Use
Old flowering stems and bracts are woody and can be used very effectively in the dried flower industry. The horticultural use of this species needs to be explored and could potentially be very rewarding.
Growing Euryops wageneri
Grow
This plant is currently not cultivated commercially but has enormous potential and will make a very attractive garden subject. It is ideally suited for the winter-rainfall area but it is worth trying to grow in other drier parts of the country.
Propagation will be best from seed. The plants produce large numbers of seed that germinates quite easily.
References
NORDENSTAM, B. 1968. The genus Euryops. Part I. Taxonomy. Opera Botanica 20. C.W.K. Gleerup, Lund, Sweden.
NORDENSTAM, B. 1969. Phytogeography of the genus Euryops (Compositae). Opera Botanica 23. C.W.K. Gleerup, Lund, Sweden.
Credits
Marinda Koekemoer
National Herbarium Pretoria
January 2005
Plant Attributes:
Plant Type: Shrub
SA Distribution: Northern Cape, Western Cape
Soil type:
Flowering season: Spring, Early Summer, Winter
PH:
Flower colour: Yellow, Orange
Aspect: Full Sun
Gardening skill: Average
Special Features:
Useful plant
Feeds honeybees
Horticultural zones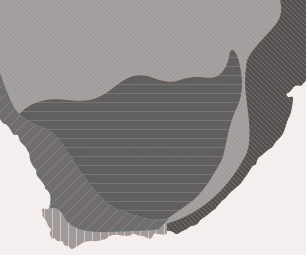 Zone 2 Coastal winter rainfall, frost free
Zone 3 Winter rainfall Karoo, light frost
Google QR Code Generator