Felicia dubia Cass.
Family: Asteraceae
Common names: dwarf felicia (Eng.); saambreeltjies (Afr.)
Introduction
The blue and yellow dwarf felicia is one of the many annuals turning Namaqualand into such a kaleidoscope of colours during winter and spring.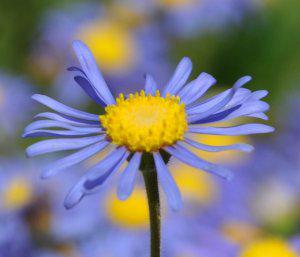 Description
Description
Felicia dubia is an erect annual growing 50-400 mm high. The oblanceolate leaves are sparsely toothed and hairy.
The flowerheads with blue ray florets and yellow disc florets are borne singly on hairy stalks. These flowerheads are normally 25 mm in diameter. The involucral bracts are arranged in three rows, with the outer row shorter than the two equally-sized inner rows. Flowering is from July to October. It is easy to grow and does well in most gardens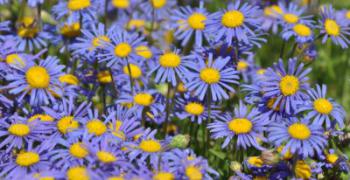 Conservation Status
Status
Saambreeltjies are currently not threatened, and the plant has a status of Least Concern (LC).
Distribution and habitat
Distribution description
Felicia dubia is common in the Western and Northern Cape, specifically throughout Namaqualand and in the Karoo, and extends southwards towards the Cape Peninsula.  Habitats vary from gravel to sandy flats and slopes and other rocky places.
Derivation of name and historical aspects
History
The genus name Felicia was named after Felix, a German official in Regensburg who died in 1846. The specific epithet dubia means doubtful, in the sense of not conforming to pattern.
There are about 85 species in the genus Felicia, which occur from southern to tropical Africa to Arabia.
Ecology
Ecology
Felicia dubia flowers are visited by a variety of insects and bees, any one of which could do the job of pollination.
Felicia dubia , like most or all annuals, has a very interesting lifecycle. It usually has a short lifespan and because of this it invests a great deal of its resources in reproduction. In years of good rainfall plants appear in high densities, and this then results in the production of literally millions of seeds. Many of these get buried in the seed bank. Seeds will germinate with sufficient rain and signs of a general drop in temperature in autumn. This rain is also instrumental in rinsing off chemical germination inhibitors from seed coats. It also aids in reducing salt concentrations in the topsoil of saline soils. With this process now underway, the species grows fast and produces flowers to attract a pollinator (mid-winter to early spring). After successful pollination, seeds develop, are dispersed from early to mid-spring, and are buried in the soil just before the onset of unfavourable environmental conditions such as the harsh heat of summer in which hardly any rain falls, except perhaps in the form of fog from the cold Benguela Current. This winter or spring annual thus completes its entire lifecycle in a single year by dying off just after it has shed a plethora of seed for the following season.
It thus enables the survival of the species by ensuring it makes best use of good conditions: germination in autumn with the first rains or when the temperature starts dropping, only flowering when there is enough rain available, and then dispersing the tiny, hairy, dry seeds through strong winds prevailing in the area.
Uses
Use
No cultural uses are recorded, but it is used in horticulture. Grow the species in a sunny position as a mass planting, in a mixed border with other annuals or perennials. It can also be grown in pots.
Growing Felicia dubia
Grow
It is easy to grow the dwarf felicia. Sow the seed during early autumn in seed beds or seed trays using a well-draining medium which needs to be placed in a sunny position. Level the medium and then sow the light seeds evenly on a windless day (if outside), water gently and cover with a thin layer of sand or bark. The seed will germinate within the first two weeks. Prick seedlings out from the beds or trays as soon as they are large enough to be handled.
Seed can also be sown directly into garden beds. This often creates a very natural effect, but it should be noted that germination could be irregular. Fast growing weeds could also provide another challenge. Once the young seedlings have been transplanted, care should be taken that they get regularly watered. Plant seedlings close together.
It is sometimes necessary for compacted soil in the flower bed to be loosened up and aerated. Organic fertilizer and well-rotted compost can also be added; use a rotovator or fork to work it into the soil. Level the soil, using an iron rake.
Flowering normally starts during July, continuing right through to October. Seed will be ready for harvesting from September onwards.
Felicia dubia is ideal for mass plantings or mixed plantings with other annual species in small or larger flower beds. It also performs well in pots.
There are various other annuals which either occur with this species in its natural habitat or which have been found to complement it rather well. These include: Ursinia anthemoides (marigold), U. speciosa (Namaqua ursinia) and U. cakilefolia, Heliophila coronopifolia (blue flax), Senecio elegans (wild cineraria), Dorotheanthus bellidiformis (Livingstone daisy), Dimorphotheca sinuata (Namaqualand daisy) and D. pluvialis (white Namaqualand daisy).
Use it also with various winter- to spring-flowering herbaceous perennials such as Chrysocoma coma-aurea, Cineraria geifolia, C. saxifraga, Felicia echinata (white & blue forms), F. elongata or Pelargonium betulinum (white).
References
Goldblatt, P. & Manning, J. 2000. Cape plants. A conspectus of the Cape flora of South Africa . Strelitzia 9. National Botanical Institute, Pretoria & Missouri Botanical Garden, Missouri.
Le Roux, A. & Wahl, Z. (photographer). 2005. Namaqualand : South African Wild Flower Guide 1, edn 3. Botanical Society of South Africa, Cape Town.
Powrie, F. 1998. Grow South African plants . A gardener's companion to indigenous plants. National Botanical Institute, Cape Town.
Raimondo, D., Von Staden, L., Foden, W., Victor, J.E., Helme, N.A., Turner, R.C., Kamundi, D.A. & Manyama, P.A. 2009. Red list of South African plants 2009. Strelitzia 25.South African National Biodiversity Institute, Pretoria.
Stearn, W. 2002. Stearn's dictionary of plant names for gardeners. Timber Press, Portland, Oregon.
Van Rooyen, G. & Steyn, H. 1999. Cederberg, Clanwilliam and Biedouw Valley. South African Wild Flower Guide 10. Botanical Society of South Africa, Cape Town.
Credits
Roger Oliver
Kirstenbosch NBG
October 2012
Plant Attributes:
Plant Type: Bi/Annual
SA Distribution: Northern Cape, Western Cape
Soil type: Sandy, Clay, Loam
Flowering season: Spring, Winter
PH: Neutral
Flower colour: Blue, Yellow
Aspect: Full Sun
Gardening skill: Easy
Special Features:
Good potplant
Feeds honeybees
Horticultural zones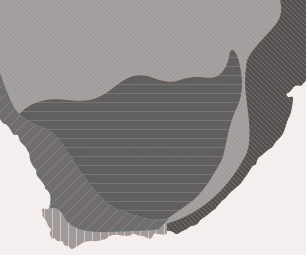 Zone 1 Coastal summer rainfall, frost free
Zone 2 Coastal winter rainfall, frost free
Zone 3 Winter rainfall Karoo, light frost
Google QR Code Generator