Ficus ingens (Miq.) Miq.
Family: Moraceae
Common names: red-leaved rock fig (Eng.); rooiblaarvy (Afr.); mohlatsa (North Sotho); motlhatsa (Tswana); tshikululu (Venda); umthombe (Xhosa); umgonswane (Zulu)
SA Tree No: 55
Introduction
The red-leaved fig is a semi-deciduous, shady tree or rock-splitter, and a beautiful specimen for a large rock garden, but because of its aggressive root- system, it is not recommended for small gardens. It can make a magnificent bonsai specimen or container plant-a showy tree in early spring with its red or coppery new leaves.
Description
Description
Ficus ingens is an evergreen tree with a briefly deciduous period, is up to 10 m, occasionally higher, with a rounded or spreading crown and with a spread of up to 30 m wide. All the parts have milky latex when broken. The bark is grey, smooth and becomes cracked in older specimens.
The heart-shaped or lanceolate, dull green leaves are hairless and leathery, with conspicuous yellow veins running parallel from the midrib and loping along the margin with three distinct veins at the base, up to 165 mm long and 85 mm wide. New leaves are coppery or reddish.
Stalked fruit or small figs are borne in pairs or singly in the leaf axil or on bare stems below the leaves. Figs are white at first, becoming pink, red or purple when mature and are soft and fleshy. Fruits are found on the tree usually throughout the year but peaking in summer.
Conservation Status
Status
This species does not seem to be threatened by any means and does not need to be protected by any law.
Distribution and habitat
Distribution description
Ficus ingens grows in various habitats but usually outside forest and prefers rocky outcrops and cliff faces throughout the bushveld, wooded grassland and coastal regions. It occurs in the moist eastern subtropical or temperate regions of South Africa from the Albany District in the Eastern Cape northwards through KwaZulu-Natal, the northern provinces and further northwards into tropical Africa as far north as Ethiopia and Saudi Araubia and across into West Africa. The roots spread across rock faces and penetrate almost imperceptible cracks, sometimes splitting the rock.
Derivation of name and historical aspects
History
Ficus is the classical Latin name the Romans gave to the shrubby common fig tree Ficus carica from Asia, whose leaves the Bible tells us were worn by Adam and Eve (Macoboy 1979). It is uncertain why Miquel, when he described this species for the first time in 1847, used the specific name ingens, which means enormous or huge. The leaves or tree are certainly not the largest in the genus. In Gauteng area the trees attain a height of only 8 m.
The most famous specimen of Ficus ingens in southern Africa is the large fig tree known as 'the Inhabited Tree' or 'Moffat's Tree'. The missionary Robert Moffat, while on his way to the Matabele chief in 1829, came across an enormous tree in the Rustenburg District in North-West Province in whose spreading branches were built seventeen conical huts in three tiers, all above ground level beyond the reach of lions (Burrows & Burrows 2003).
The genus belongs to the relatively large Moraceae or fig and mulberry family. It comprises 37 genera and roughly 1 100 species. There are 27 species of Ficus indigenous to the Flora of southern Africa region. From the ± 750 species of the genus Ficus, about 110 occur in Africa and Madagascar. The Australian region is the richest with ± 500 species and the New World has 150 species.
Ecology
Ecology
All fig trees depend entirely on fig wasps for pollination, and in turn, the fig wasps can breed nowhere else but inside figs. Hundreds of tiny flowers of Ficus line the inside of the fig or central cavity where they can only be reached by the wasps crawling through the ostiole or opening. Once inside, the wasps pollinate the flowers. This relationship between the Ficus species and wasps is highly host-specific, each tree species pollinated by only one wasp species and neither party can survive without the other. Once the wasps have pollinated the fig, it ripens, changing colour and smell, which attracts fruit-eating birds, bats, monkeys and even lizards (Van Noort 2004). The pollinator of F. ingens is the wasp Platyscapa soraria.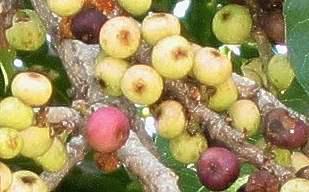 The tree is able to establish itself through its massive root-system. The birds distribute the figs and therefore the seeds.
Uses
Use
The fruit are edible but not always as palatable as Ficus carica, although mammals and birds eat the fruit. Extracts of the bark are administered to cows with a low milk production. The latex is used as a substitute disinfectant for iodine. The leaves of F. ingens and F. salicifolia are known to be toxic and nervous disorders have been reported where cattle have eaten the leaves during dry spells (Myburgh et al. 1994).
Growing Ficus ingens
Grow
It has an aggressive root system and should therefore not be planted near buildings, swimming pools, drainage or sewerage systems. It is popular as a container plant and as a bonsai. Because it is such a lovely shade tree and is fast growing, it is suitable for large rock gardens. Farmers can plant this tree for shelters in camps for their livestock (Venter & Venter 2005), but should remember that the leaves are reportedly toxic.
F. ingens is able to tolerate moderate frosts, particularly when it is protected during the winter months for the first few years. Plants can be produced from seed, cuttings or truncheons.
References
Burrows, J. & Burrows, S. 2003. Figs of southern and south-central Africa. Umdaus Press, Hatfield.
Joffe, P. 2001. Creative gardening with indigenous plants. Briza Publications, Pretoria.
Myburgh, J.G., Fourie, N., Van der Lugt, J.J., Kellerman, T.S., Cornelius, S.T. & Ward, C. 1994. A nervous disorder in cattle, caused by the plants Ficus ingens var. ingens and Ficus cordata subsp. salicifolia. Onderstepoort Journal of Veterinary Research 61: 171-176.
Nichols, G. 2005. The indigenous garden. Draping green over rocks. Farmers Weekly 30 September 2005.
Macoboy, S. 1979. What tree is that? Lansdowne Press, Sydney.
Van Noort, S. 2004. How fig trees are pollinated. Veld & Flora 90: 13-15.
Venter, F. & Venter, J.A. 2005. Benut ons inheemse bome, edn 2. Briza Publications, Pretoria.
Credits
Marie Jordaan
National Herbarium
November 2005
Plant Attributes:
Plant Type: Tree
SA Distribution: Eastern Cape, Gauteng, KwaZulu-Natal, Limpopo, Mpumalanga, North West
Soil type: Sandy, Loam
Flowering season: Early Summer, Sporadic/All year
PH: Neutral
Flower colour:
Aspect: Full Sun
Gardening skill: Easy
Special Features:
Attracts birds
Poisonous
Edible plant
Medical plant
Horticultural zones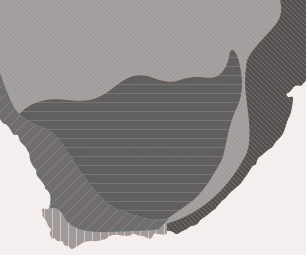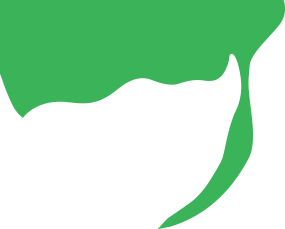 Zone 1 Coastal summer rainfall, frost free
Zone 2 Coastal winter rainfall, frost free
Zone 4 Summer rainfall Karoo and Highveld, Frost in winter
Zone 5 Bushveld summer rainfall, Light frost
Google QR Code Generator