Freesia grandiflora (Baker) Klatt
Family: Iridaceae
Common names: forest freesia, forest kammetjie (Eng.)
Introduction
A beautiful, red-flowered, bulbous plant that deserves more horticultural attention. It is perfect for woodland gardens or as a pot plant and performs well in full sun or partial shade.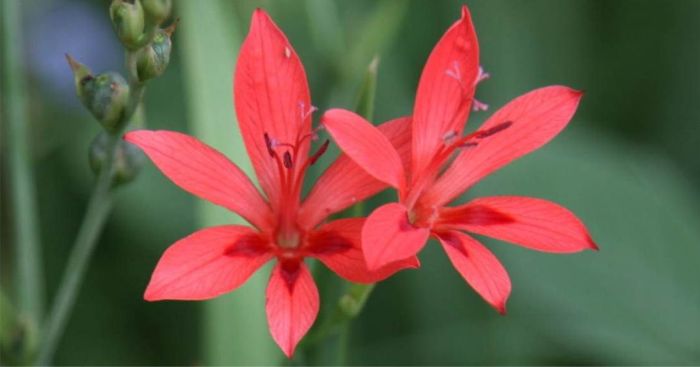 Description
Description
Freesia grandiflora is a deciduous (sheds leaves annually) geophyte (has underground bulbs, corm, rhizomes or tubers) that grows between 120 and 600 mm high. The underground parts consist of a corm, with rhizomes developing late in the growing season. The stem is usually unbranched, but it can have up to four branches. Plants have 6–9 green, soft-textured, suberect leaves. The lance-shaped leaves are 40–300 mm long and 6–20 mm wide with a thickened mid-vein.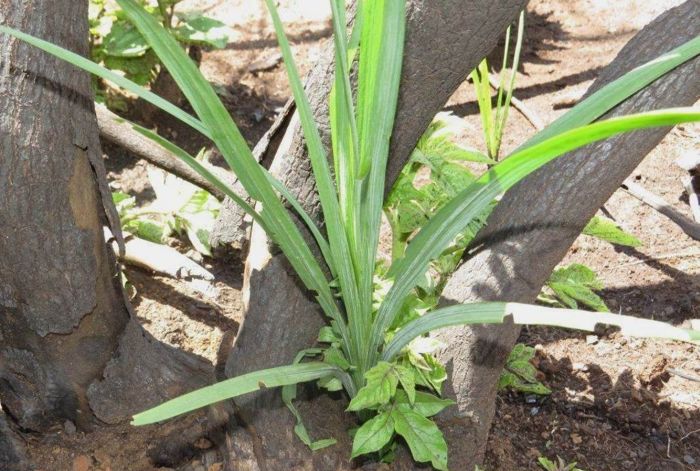 Two to six tubular flowers are borne in a spike. The spike is suberect or deflexed when in flower and becomes erect or suberect when in fruit. The red, or occasionally pink, flowers are between 30–50 mm long and have a darker red patch at the base of the lower three tepals. The tube of the flower is more or less equal in length to the tepals. Freesia grandiflora flowers mainly in summer, between October and May. The floral bracts are soft-textured and green with red-brown tips. Orange to red-brown seeds 2.0–3.5 mm in diameter are contained in 3-lobed, oblong capsules that are 8–10 mm long. The capsules are papillate (covered in minute projections on the surface).
Freesia grandiflora has two subspecies, F. grandiflora subsp. grandiflora and F. grandiflora subsp. occulta. Freesia grandiflora subsp. occulta differs in its shorter filaments (± 6 mm long) and pink flowers. It is only known to occur in the vicinity of Mocuba in central Mozambique.
Conservation Status
Status
Freesia grandiflora is currently assessed as Least Concern (LC) and is, therefore, not threatened.
Distribution and habitat
Distribution description
Freesia grandiflora is a summer rainfall plant that occurs naturally from Durban in KwaZulu-Natal northwards, through the northern provinces of South Africa, to Zambia and Tanzania. It is usually found in scrub or deciduous woodlands where it grows in humus-rich soils, sometimes close to streams. It has also been found in forests and on termite mounds. 
Derivation of name and historical aspects
History
The genus Freesia is part of the Iris family (Iridaceae), which consists of about 65 genera and 1 800 species worldwide. The genus itself has 16 species, of which the majority occurs in the Cape Provinces of South Africa, with only F. grandiflora and F. laxa occurring in southern and eastern tropical Africa. Freesia was named after the German physician F.H.T. Freese. The Latin name of this species, grandiflora, means 'large-flowered'. 
Freesia grandiflora has a number of synonyms, including Anomatheca grandiflora Baker and Lapeirousia grandiflora (Baker) Baker, and this species is still referred to by these names in some of the older literature.
Freesias are most well known as plants cultivated for their flowers, which are usually fragrant and are found in many colour forms. They have been cultivated in Europe as early as the mid-eighteenth century and later also in other parts of the world such as England, North America and Japan.
Ecology
Ecology
Although there have been no observations on the pollinators of Freesia grandiflora, the scarlet, unscented, tubular flowers indicate that it might by butterfly pollinated. The fruits are believed to be dispersed by fruit-eating birds because they look like small orange or red-brown berries.
There have been reports of bushpigs porcupines and rodents eating the corms.
Uses
Use
Freesia grandiflora seems to have some value as a medicinal plant. The Lobedu (Balobedu) people of southern Africa treat headaches with an infusion of the roots in warm water. They also treat burns with an ointment made from the ash of the leaves.
While F. grandiflora is not yet widely used in horticulture, other species are cultivated as ornamental plants and for cut flowers. These species include F. laxa which is cultivated in the United Kingdom and Freesia cultivars (mainly from F. corymbosa and F. leichtlinii) which are widely cultivated in The Netherlands, Japan and England, amongst others.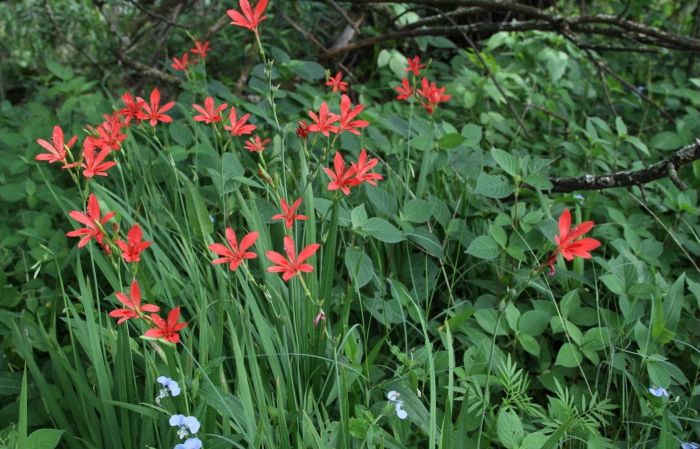 Growing Freesia grandiflora
Grow
Freesia grandiflora is one of the more easily grown species of Freesia. They can be grown in woodland gardens or as pot plants in shade or semi-shade. These plants usually grow in spring and summer, flower in summer and early autumn (October–April), and are dormant during the winter. They can also be grown in climates with a mild winter where they will flower in winter and become dormant in summer. In suitable climates they can be left undisturbed and may multiply and form large clumps.
In the garden, grow F. grandiflora plants in areas with full morning sun and afternoon shade, but they can also tolerate light shade throughout the day. In colder climates plant freesias in sheltered areas, such as under overhanging branches of deciduous trees, or against north-facing walls. They require protection in very cold climates. Avoid excessive shade which will cause plants to fall over easily and reduce flowering. In warmer areas, outside of its natural distribution, avoid full day sun. In pots, place freesias in areas with cool temperatures and lots of light. Most species of Freesia are sensitive to cold but can withstand temperatures close to freezing for a day or two. Plant many plants together to ensure a beautiful display when in flower.
Propagate F. grandiflora plants using seeds or corms. Plant corms or sow seeds in spring, in early September for summer growth, or autumn (April) for winter growth. Sow seeds in a light and well aerated growing medium with perfect drainage, about two to three times the depth of the seed diameter. Dust seeds with fungicide before sowing and sow sparsely. Seeds will germinate in 2 to 4 weeks. Plant the corms 20-30 mm deep with the point facing up. In pots, plant 10 corms in a 20 cm pot or 15 corms in a 25 cm pot. Leave Freesia corms undisturbed during the dormant stage in summer rainfall areas with well-drained soil. In wetter areas or in soil that retains water, remove the corms from the soil and store in a cool dry place. Well-grown mother corms, that have been kept in green leaf for as long as possible, will yield cormlets that mature and flower in the second season after planting. Freesia grandiflora is the only species in this genus where cormlets are formed at the ends of below-ground rhizomes, or sometimes in the axils of leaves. F. grandiflora plants grown from seeds will flower as early as 8 months after sowing or in the second growing season.
Plant F. grandiflora in medium-textured, moderately fertile, loamy or clay soils with a pH between 6.3-7.5. Use soil that is 2 parts coarse sand, 3 parts peat and 7 parts loam and avoid very acidic soil. Water plants twice a week by drenching the soil and adjust according to local conditions. Plants need a lot of water during the growing season, particularly when in bud and flower, but never let the soil become waterlogged. Water on the ground or at the base of the plant, not on the leaves. Stop watering just before the leaves are completely desiccated. Take care when feeding as freesias are very sensitive to too much salt in the soil (from high sulphate fertilizers), which causes the soil to become too acidic. They are also sensitive to too much nitrogen.
Possible pests of Freesia plants include aphids, mealy bugs, thrips, red spider mites, rodents that eat the corms, botrytis blight, fusarium corm rot and viral infections (freesia mosaic virus).
References
Barnhoorn, F. 2005. Growing bulbs in southern Africa. Struik Publishers, Cape Town.
Duncan, G. 2010. Grow bulbs. Kirstenbosch Gardening Series. South African National Biodiversity Institute, Cape Town.
Eliovson, S. 1973. South African wild flowers for the garden. Macmillan, Johannesburg.
Jackson, W.P.U. 1990. Origins and meanings of names of South African plant genera. University of Cape Town.
Manning, J.C. & Goldblatt, P. 2010. Botany and horticulture of the genus Freesia (Iridaceae). Strelitzia 27. South African National Biodiversity Institute, Pretoria.
Von Staden, L. 2012. Freesia grandiflora (Baker) Klatt subsp. grandiflora. National Assessment: Red List of South African Plants version 2020.1. Accessed on 2020/09/23.
Watt, J.M. & Breyer-Brandwijk, M.G. 1962. The medicinal and poisonous plants of southern and eastern Africa , edn 2. Livingstone, Edinburgh & London.
Credits
Natasha Lombard
Pretoria National Herbarium
October 2020
Acknowledgements: Joseph Heymans and Fayne Connelly for providing images of Freesia grandiflora (via iNaturalist). Johan Wentzel and Leoné Williams for information on cultivation.
Plant Attributes:
Plant Type: Bulb
SA Distribution: Gauteng, KwaZulu-Natal, Limpopo, Mpumalanga, North West
Soil type: Sandy, Loam
Flowering season: Spring, Early Summer, Late Summer, Autumn
PH:
Flower colour: Red
Aspect: Shade, Morning Sun (Semi Shade), Afternoon Sun (Semi Shade)
Gardening skill: Easy
Special Features:
Attracts butterflies
Good potplant
Indoor plant
Medical plant
Horticultural zones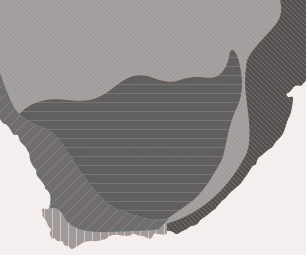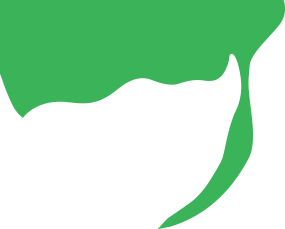 Zone 1 Coastal summer rainfall, frost free
Zone 4 Summer rainfall Karoo and Highveld, Frost in winter
Zone 5 Bushveld summer rainfall, Light frost
Google QR Code Generator