Garuleum bipinnatum (Thunb.) Less.
Family: Asteraceae
Common names: gifhoutjie, slanghoutjie (Afr.)
Introduction
Garuleum bipinnatum flowers come in several colours and have bright yellow centres.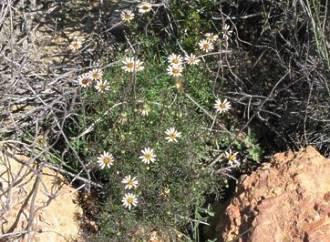 Description
Description
Garuleum bipinnatum is an aromatic, perennial herb 0.6-1.5 m tall. The stems, arising from a woody rootstock, are erect and usually branched. The leaves are alternate, about 10-40 mm long, twice pinnate, and decrease in size and degree of lobing towards the inflorescence. The flower heads (capitula) are usually arranged in loose corymbs (± flat-topped inflorescences), but they can be solitary. Peduncles (stalks of an inflorescence) vary greatly in length, up to 120 mm long, and have a few small, dentate or entire bracts. The involucre is campanulate (bell-shaped) and is formed of imbricate (overlapping) bracts in 2 or 3 series surrounding the flower head. They are up to 6 mm long and have whitish-scarious (dry membranous) margins and often violet tips. The ray florets vary a lot in colour, including white, blue, mauve, purple and violet, and are about as long as the involucres. The disc florets are yellow and about the same size as the involucres.
This Garuleum is the only species where both ray and disc florets develop cypselae (fruits). Ray floret cypselae are 4-5 mm long and compressed triangular-obpyramidate in shape. Disc floret cypselae are of two kinds: The outer ones are obovate and slightly emarginate at the tip, or almost obcordate. They are up to 5 mm long and 3.5 mm broad. The inner sterile ones are thin, narrowly obovate, 5-6 mm long and up to 2 mm broad (Norlindh 1977). Flowering time is throughout the year.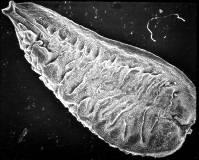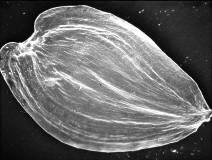 Conservation Status
Status
According to the Red List of South African plants 2009 (Raimondo et al. 2009), this species is listed as LC (Least Concern).
Distribution and habitat
Distribution description
Garuleum bipinnatum is distributed in the Northern, Western and Eastern Cape Provinces, mainly in the Little Karoo. Altitude: 305-1220 m above sea level.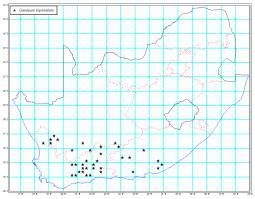 According to specimens in the herbarium G. bipinnatum grows in various substrates and habitats. These include dolerite rocks, clay soil, shale soil, stony sandy loam soil, stony loam soil, sandy clay gravel on shale soil, on dry stony koppies (small hills), mountain slopes and rocky outcrops, in dry stream-beds, on floodplains, Karoo plains and river banks, in xeric succulent thicket, false macchia, spekboom veld and broken karroid veld.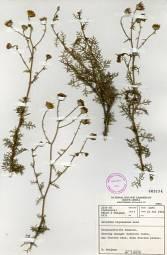 Derivation of name and historical aspects
History
Originally this species was described as Osteospermum bipinnatum by Carl P. Thunberg (1743 - 1828), a Swedish botanist in Prodromus plantarum capensis (1800). Lessing in 1832 did a synopsis of the Compositae (=Asteraceae) and published some genera in Synopsis generum compositarum. He synonymized Osteospermum bipinnatum under Garuleum bipinnatum. The genus name refers to the deep blue colour of the marginal (ray) female florets. The specific name refers to the twice pinnate leaves.
The genus Garuleum Cass. belongs to the tribe Calenduleae in the subfamily Asteroideae of the family Asteraceae (Bremer 1994). The tribe Calenduleae comprises 12 genera, of which 11 occur naturally in southern Africa, many of them being endemic (Nordenstam 2007). Only 1 genus, Calendula L., is confined to the northern hemisphere but some of its species are cultivated or occur as weeds in southern Africa. The tribe Calenduleae is economically important, as some species are highly palatable to livestock and game, e.g. Chrysanthemoides incana (Van Breda & Barnard 1991).Some are poisonous to stock, e.g. Dimorphotheca cuneata (Watt & Breyer-Brandwijk 1962). The genus Garuleum consists of about 8 species endemic to southern Africa and is widespread but absent from Botswana, the Limpopo and North-West Provinces and Swaziland (Herman et al. 2000).
Ecology
Ecology
The flowers have a range of colours. This means that G. bipinnatum can probably attract a variety of pollinators, although not much is known about these. It has two types of fruits: those that develop from disc florets can be dispersed by wind; those that develop from ray florets are probably taken away by birds or rodents.
These plants are home to bagworms that are of equal length as the twigs and attach to the plant. It is alleged that these worms are very poisonous and that animals could die if they ingested them. Their toxicity is said to be equal to that of a snake, hence the name slanghoutjie (Van Breda & Barnard 1987).
Uses
Use
This species is palatable to livestock, and is aromatic. There appear to be no records showing it used for medicinal purposes. It could be useful in a garden because of its bright colours.
Growing Garuleum bipinnatum
Grow
For cultivation of the species place 5 to 10 seeds in a row, directly into compost-rich garden soil on a calm day. Cover the seeds with a thin layer of soil and keep them damp. Under favourable conditions they will germinate within 7 days. The seed can also be planted in a container. When the seedlings are about 100 mm high plant them out in the garden (Van Breda & Barnard 1987). Give protection from the sun at first by covering with small cardboard boxes for a few days. In dry inland areas, they should be watered regularly every day until flowering, depending on the weather. The young seedlings should be watered copiously and the soil kept damp, but not waterlogged.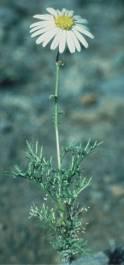 References
Herman, P.P.J., Retief, E., Koekemoer, M. & Welman, W.G. 2000. Asteraceae. In O.A. Leistner (ed.), Seed plants of southern Africa : families and genera. Strelitzia 10: 101-170. National Botanical Institute, Pretoria.
Lessing, C.F. 1832. Synopsis generumCompositarum. Duncker & Humblot, Berlin.
Nordenstam, B. 1994. Tribe Calenduleae. In K. Bremer, Asteraceae, cladistics and classification : 365-376. Timber Press, Oregon.
Norlindh, T. 1977. Botaniska Notiser 130: 377-380.
Raimondo, D., Von Staden, L., Foden, W., Victor, J.E., Helme, N.A., Turner, R.C., Kamundi, D.A. & Manyama, P.A. (eds) 2009. Red List of South African plants 2009. Strelitzia 25. South African National Biodiversity Institute, Pretoria.
Thunberg, C.P. 1800. Prodromus plantarum capensium 2. Uppsala.
Vahrmeijer, J. 1981. Poisonous plants of southern Africa that cause stock losses. Tafelberg, Cape Town.
Van Breda, P.A.B. & Barnard, S.A. 1987. Winter rainfall region: Veld Grazing A.9/ 1987. Farming in South Africa. Veld plants. Department of Agriculture and Water Supply, Pretoria.
Watt, J.M. & Breyer-Brandwijk, M.G. 1962. The medicinal and poisonous plants of southern and eastern Africa. Livingstone, Edinburgh.
Credits
Nonkululeko Swelankomo
National Herbarium, Pretoria
August 2010
Plant Attributes:
Plant Type: Perennial
SA Distribution: Eastern Cape, Northern Cape, Western Cape
Soil type: Sandy, Clay, Loam
Flowering season: Sporadic/All year
PH:
Flower colour: Blue, Purple, White, Yellow, Mauve/Lilac
Aspect: Full Sun, Shade
Gardening skill: Average
Special Features:
Attracts butterflies
Horticultural zones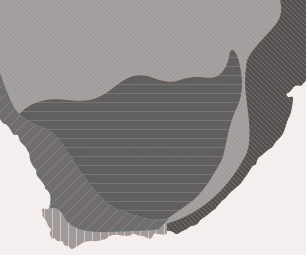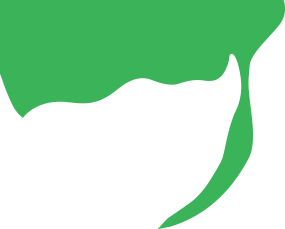 Zone 3 Winter rainfall Karoo, light frost
Zone 4 Summer rainfall Karoo and Highveld, Frost in winter
Zone 5 Bushveld summer rainfall, Light frost
Google QR Code Generator