Geissorhiza tulbaghensis F.Bolus.
Family: Iridaceae
Common names: Tulbagh satin flower (Eng.); sysie (Afr.)
Introduction
Geissorhiza tulbaghensis has one of the most beautiful, and largest flowers in its genus. It does well as a pot plant and is one of the most easily cultivated species. It occurs only in the southern Western Cape and it is becoming scarce because of agricultural expansion.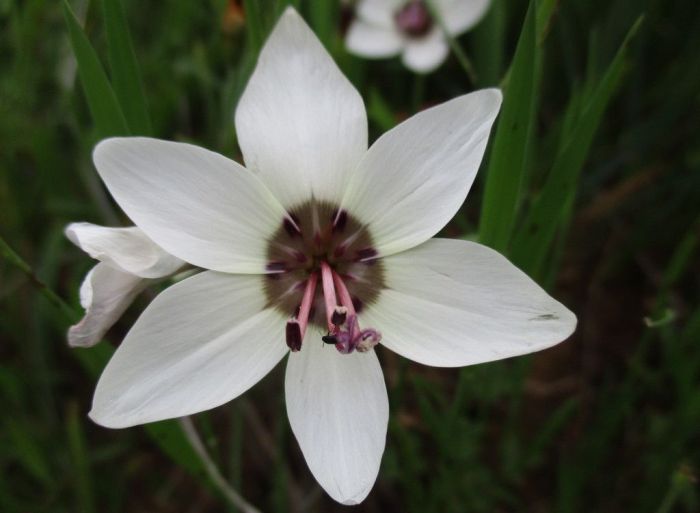 Description
Description
Geissorhiza tulbaghensis is a corm-bearing geophyte. This deciduous perennial can grow from 50 to 150 mm tall, with a short, almost velvety stem. The linear leaves are 3–8 mm wide and often sticky at the base.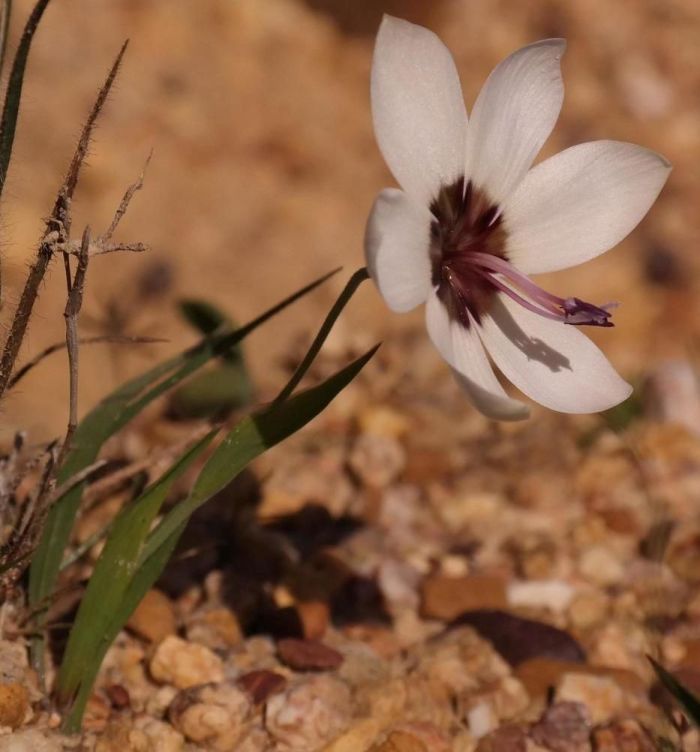 The inflorescence appears in late winter and spring (August to September) and consists of 1 or 2 flowering spikes of white flowers with dark brown to purple centres. The tepals range from 18 to 22 mm long and form a wide open cup with a short tube of 4.5 mm long. The stamens and style of G. tulbaghensis are all on one side of the flower and arch downwards.
Conservation Status
Status
According to the Red List of South African plants website, this species is threatened and has a conservation status of Endangered (EN). This is mainly because of agricultural expansion, alien plant invasion, pesticide spraying and urban developments.
Distribution and habitat
Distribution description
Geissorhiza tulbaghensis occurs in the Western Cape, in the winter rainfall area. This plant grows in rocky clay flats from Porterville to Wellington and habitats include alluvial fynbos and renosterveld.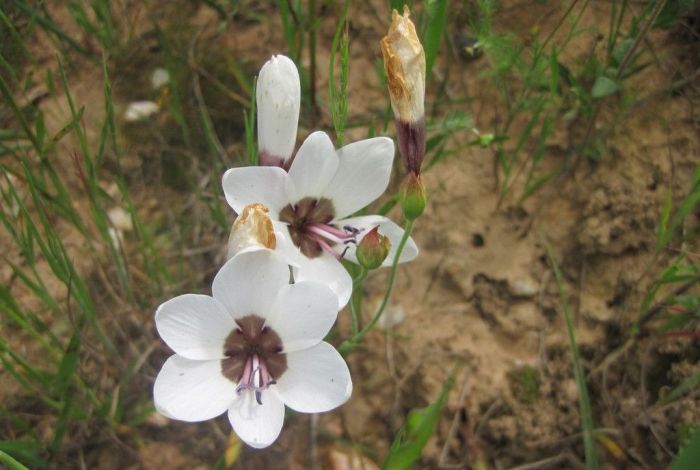 Derivation of name and historical aspects
History
Geissorhiza tulbaghensis belongs to the iris family, Iridaceae, which contains 65 genera.
The name of the genus Geissorhiza, is derived from the Greek words, gession, meaning 'tile' and rhizon, meaning 'root', which refers to the regular overlapping of the corm sheaths (tunics) in some species, particularly G. tulbaghensis. The species name tulbaghensis is derived from the town of Tulbagh, in the Western Cape, where this species is frequently seen.
Ecology
Ecology
The cup-shaped flowers of Geissorhiza tulbaghensis are pollinated by a variety of insects, especially bees, which are attracted by the dark centre of the flower. Seeds disperse easily around the mother plant, resulting in a large number of plants forming a carpet of flowers. G. tulbaghensis often hybridizes with G. aspera and G. inflexa where they grow together.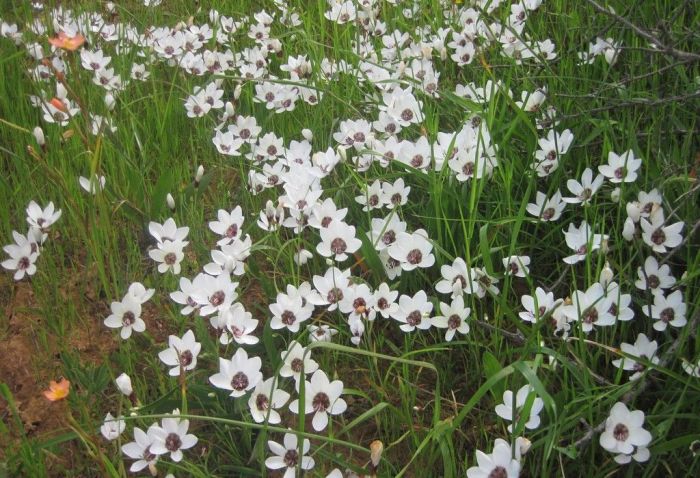 Uses
Use
Geissorhiza tulbaghensis is not known for any medicinal or cultural uses. This plant is mostly used in the horticultural and landscape industry as an excellent water-wise plant and a rewarding plant for containers.
Growing Geissorhiza tulbaghensis
Grow
Geissorhiza tulbaghensis is mainly propagated by seed, but can also be propagated by the removal of cormlets from the base of a mature corm. Deep plastic seed trays or deep seedbeds are recommended when sowing seeds in autumn. Place sowed seeds in an area receiving morning sun or sufficient light and keep moist, but protect them from heavy winter rains. The sowing medium should be well drained, yet it should not dry out too quickly. The recommended sowing medium is equal parts of fine river-sand and finely sifted compost. It is very important to sow seeds thinly and evenly, in order to reduce the risk of damping-off, to which the seedlings are very susceptible.
Fresh seeds germinate within 4 weeks and it is vital to keep the medium continually moist by regular watering every 2 to 3 days with fine irrigation. During the summer dormant period, the dry soil containing the mature corms can be placed over a fine sieve, in order to remove daughter corms. These daughter corms are easily detached from the base of mature corms and can be replanted immediately in a dry growing medium, or be stored dry in paper packets until the following autumn.
Geissorhiza tulbaghensis are not particularly vulnerable to pest attack, but aphids do periodically feed on developing flower-buds. These aphids can be controlled by spraying an insecticide. G. tulbaghensis corms are susceptible to infestation by mealy bug, which is best treated by drenching plants, in active growth, with an insecticide. Adult corms are subject to fungal rot when not allowed to completely dry out during the dormant summer period. Seedlings often fall prey to damping-off, this can be rectified by sowing the seeds thinly in a well-aerated environment, and by dusting the seeds with a fungicide powder before sowing.
References
Clarke, H. & Charters, M. 2016. The illustrated dictionary of southern African plant names. Flora & Fauna Publications Trust, Jacana, Johannesburg.
Duncan, G. 2010. Grow bulbs. A guide to the cultivation of bulbs of South Africa and neighboring countries. Kirstenbosch Gardening Series. South African National Biodiversity Institute, Cape Town.
Ebrahim, I., Raimondo, D. & Turner, R.C. 2012. Geissorhiza tulbaghensis F.Bolus. National Assessment: Red List of South African plants version 2017.1. Accessed on 2019/11/07
Goldblatt, P. 2008. The iris family: natural history and classification. Timber Press, Portland.
Manning, J., Goldblatt, P. & Snijman, D. 2002. The color encyclopedia of Cape bulbs. Timber Press, Cambridge.
Credits
Ricardo Riddles and Asiphe Mtsuma
Karoo Desert National Botanical Garden
January 2020
Acknowledgements: the authors thank Nick Helme and Riaan Van der Walt for the amazing pictures that illustrate this article.
Plant Attributes:
Plant Type: Bulb
SA Distribution: Western Cape
Soil type: Sandy, Clay, Loam
Flowering season: Spring
PH: Acid, Neutral
Flower colour: Brown, Purple, White
Aspect: Full Sun
Gardening skill: Easy
Special Features:
Drought resistant
Good potplant
Feeds honeybees
Horticultural zones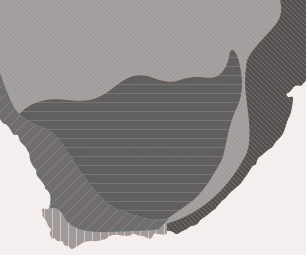 Zone 2 Coastal winter rainfall, frost free
Zone 3 Winter rainfall Karoo, light frost
Google QR Code Generator