Gerrardanthus tomentosus Hook.f
Family: Cucurbitaceae
Common names: hairy gerrardanthus
Introduction
An uncommon tendril climber, with dark green, triangularly lobed leaves and a large succulent caudex, that grows among boulders and stones, in moist, shaded areas in the coastal subtropical forests around Durban and climbs trees up to a height of 15 m.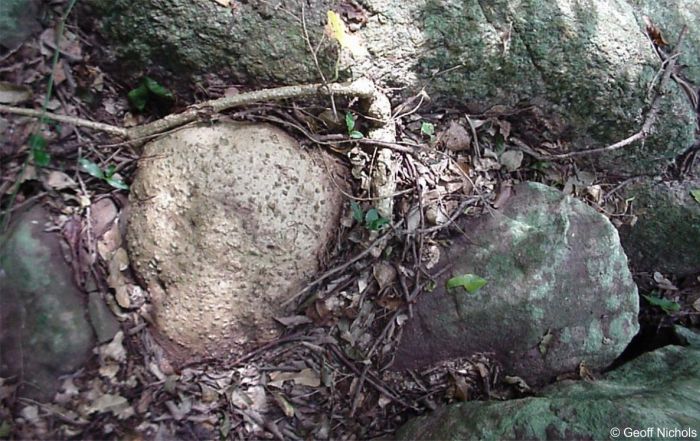 Description
Description
Gerrardanthus tomentosus is a robust, perennial creeper that can climb shrubs and trees up to a height of 15 m. It has a large, swollen root structure that seems to be woody rather than succulent. Branches are produced from the caudex. Leaves are alternate, triangularly 5–7-lobed, 60–120 mm long, dark green and densely covered in woolly hairs below, particularly along the veins. In winter it loses its leaves along the length of its perennial shoots. Long, branched, coiling tendrils are produced from the leaf axis and are covered with short hairs. Young plant parts are also tomentose.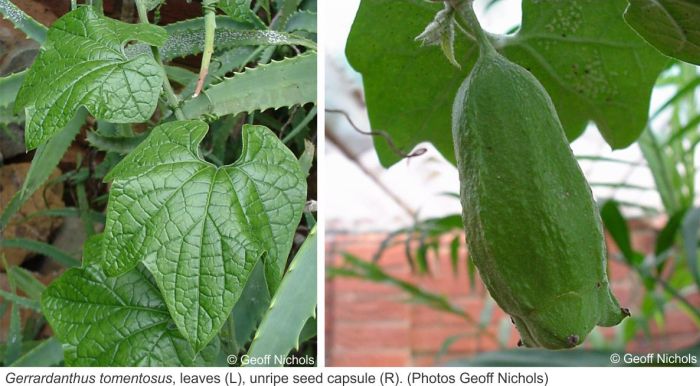 Flowers are unisexual. The male inflorescence is up to 100 mm long with clusters of flowers at the nodes. The female flowers are solitary or in 3- or 4-flowered racemes, up to 60–70 mm long. The flowers are wheel-shaped (rotate), brownish, up to 18 mm in diameter. The flowering season is between mid to late summer, from January to March. The fruit is a dry, narrowly bell-shaped, woody capsule, up to 70 mm long, releasing dry, winged seeds, up to 25 × 6 mm.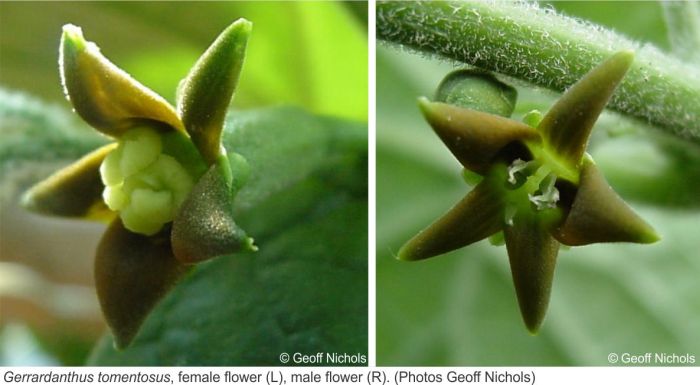 Conservation Status
Status
Gerrardanthus tomentosus is assessed as Vulnerable (VU) in the Red List of South African plants. It is a rare species, with a small natural range and plants are harvested for medicinal use, however, it is not considered as a serious threat. Gerrardanthus tomentosus caudexes can sometimes be mistakenly identified as those of its close relative, Gerrardanthus macrorhizus, which is also harvested for medicinal use. Urban expansion, habitat degradation and competition with alien invasive species also threaten this species.
Distribution and habitat
Distribution description
Gerrardanthus tomentosus is endemic in South Africa, found in and around Durban, KwaZulu-Natal, where it grows in shady, wooded, steep, rocky ravines. The species is found in a coastal, moist subtropical climatic region, with a summer rainfall of 800–900 mm, with approximately 35% of this precipitation falling in winter. The average temperature in which the species flourishes in summer is 25ºC and in winter is 17ºC.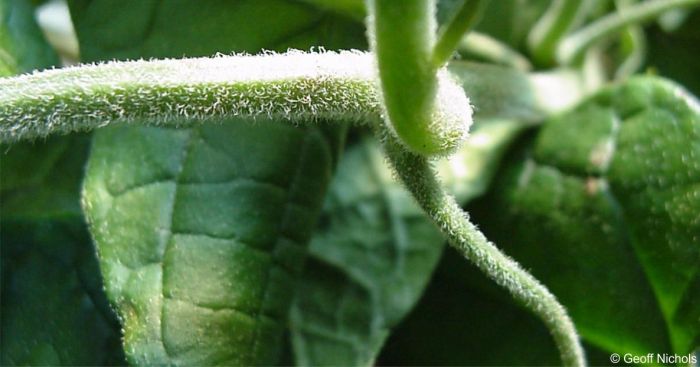 Derivation of name and historical aspects
History
The genus Gerrardanthus was named in honor of William Tyrer Gerrard (1831–1866), a botanical collector in South Africa and Madagascar in the 1860s. The species was given the name tomentosus, meaning 'tomentose', because of its leaves that are densely covered in short hairs.
There are 2 species in South Africa, Gerrardanthus tomentosus and G. macrorhizus. Both are climbers with large caudexes, but the latter can be distinguished by its hairless (glabrous) leaves and it is more widespread, occurring in the Eastern Cape, through KwaZulu-Natal to southern Mozambique and Eswatini (formerly Swaziland). They also differ in that G. tomentosus has a single style whereas G. macrorhizus has three styles, and G. tomentosus has a spur-like appendage on the connective that links the anther to the filament whereas G. macrorhizus does not.
Ecology
Ecology
The seeds are winged and distributed by wind and insects pollinate the flowers. The species grows among boulders and stones in moist, shaded, wooded areas, the greyish colour of the caudex camouflages it among the rocks. Porcupines eat the tubers.
Uses
Use
Since Gerrardanthus tomentosus is generally thought to be harvested for medicinal use because it is mistaken for Gerrardanthus macrorhizus, it is assumed that they are used for the same purposes, which is as a purgative for pregnant women.
It makes an unusual and ornamental feature plant or container plant, with its large, swollen stem and climbing habit, and is well suited to a shady garden or veranda.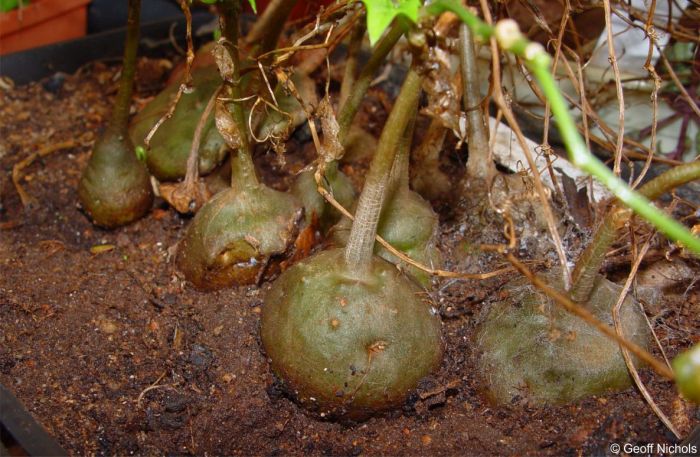 Growing Gerrardanthus tomentosus
Grow
Gerrardanthus tomentosus has been successfully propagated from both seeds and cuttings. It naturally grows under specific conditions, requiring well-drained, sandy, composted soil, warmth, shade and a tree or a trellis to climb up.
Sow seed in spring or summer; lightly cover the winged seeds with coarse river sand or sandstone soil. Keep in a moist, semi-shaded area. Germination will usually take up to 6 months. Seedlings are fleshy at first and very susceptible to water stress. Water more frequently in summer and do not water them in winter, as the plants are in a resting state and the caudex is likely to rot. Flowering can take a few years to occur. It is most likely to flower 4 years after germination. The caudex can grow up to 25 mm in diameter in its first year, and up to 50 mm in its second year.
Take semi-hardwood cuttings from the previous season's growth, in spring and root in coarse sand, under mist.
References
Baxter, J. & Crouch, N. 1996. Gerrardanthus tomentosus: a rare member of the pumpkin family from KwaZulu-Natal. Plantlife 14:11-12
Crouch, N., Prentice, C., Smith, G.F. & Symmonds, R. 1999. South Africa's rarest caudiciform cucurbit, Gerrardanthus tomentosus. Bradleya 17: 95–100.
Kloof Conservancy, factsheet #10 – Gerrardanthus tomentosus. http://cdn.kloofconservancy.org.za/le/wp-content/uploads/2018/06/Gerrardanthus-tomentosus-Plant-Fact-Sheet.pdf. Accessed on 12/02/2021.
Scott-Shaw, C.R. 1999. Rare and threatened plants of KwaZulu-Natal and neighbouring regions. KwaZulu-Natal Nature Conservation Service, Pietermaritzburg.
Styles, D., Scott-Shaw, C.R., Raimondo, D. & Von Staden, L. 2007. Gerrardanthus tomentosus Hook.f. National Assessment: Red List of South African plants version 2020.1. Accessed on 2021/02/15.
Credits
Buyisiwe Dlwati
Custodians of Rare Endangered Wildflowers Programme
April 2021
Acknowledgments: Images by Geoff Nichols.
Plant Attributes:
Plant Type: Climber, Succulent
SA Distribution: KwaZulu-Natal
Soil type: Sandy
Flowering season: Late Summer
PH: Acid
Flower colour: Brown, Orange
Aspect: Shade, Morning Sun (Semi Shade), Afternoon Sun (Semi Shade)
Gardening skill: Challenging
Special Features:
Feature plant
Good potplant
Medical plant
Horticultural zones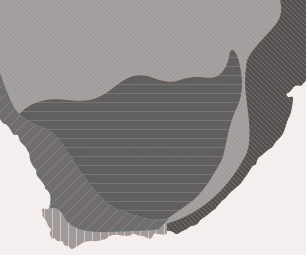 Zone 1 Coastal summer rainfall, frost free
Google QR Code Generator