Gladiolus guthriei F.Bolus (= Gladiolus odoratus L.Bolus)
Family: Iridaceae
Common names: fragrant afrikaner, rock afrikaner (Eng.); kaneelpypie, aandblom (Afr.)
Introduction
Gladiolus guthriei is a beautiful and highly fragrant species, making it a very worthy addition to the winter garden or container collection.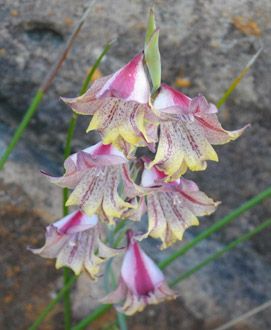 South Africa, and particularly the winter-rainfall region of the Western Cape, contains one of the richest concentrations of bulbous plants (geophytes) in the world. The Iris family alone consists of more than 60 genera, some of which have made great contributions to horticulture all over the world. Gladiolus is one of the most important of these, and has been bred and cultivated extensively.
Description
Description
Gladiolus guthriei is a winter-growing, summer-dormant geophyte producing roots, leaves and flowers from an underground modified stem known as a corm. The corm is protected by fibrous modified leaves called tunics. The leaves are sword-shaped, fairly short and lightly hairy when young. However, during years when flowers are produced, resources are allocated to the flowers, and leaves are absent but for a few very short leaf stubs on the flowering stalk. Older plants that are not flowering in that year produce a long leathery leaf (G. Duncan 2012 pers. comm.). Plants can be 40-70 cm high including the flowering stalk.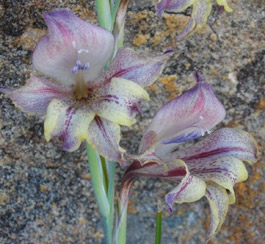 The flowering time for Gladiolus guthriei is during the autumn/winter months from April-June. It is amongst the earliest winter bloomers and three to nine flowers are arranged on a tall stalk. They generally have a pale yellow or straw-coloured base colour, generously decorated with mauve or dark magenta streaks and speckles. The flowers are sweetly scented. Fruits develop at the base of the flower as it withers, and ripen into three-chambered seed capsules which open for dispersal, releasing the seeds about six weeks after flowering.
Conservation Status
Status
Gladiolus guthriei is listed as stable with a status of Least Concern in the Red List of South African Plants.
Distribution and habitat
Distribution description
Gladiolus guthriei occurs naturally in the Cape Floristic Region, characterised by a Mediterranean climate, where winters are cool and wet and summers are hot and dry. It occurs in the Northwestern and Southwestern Cape from the Bokkeveld Mountains to Elim. Gladiolus guthriei can be seen flowering along Bains Kloof Pass, Dasklip Pass, above Porterville and on the Gifberg. It grows in rock crevices on sandstone outcrops at an altitude of 100-800 m.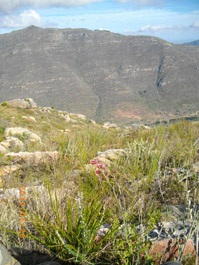 Derivation of name and historical aspects
History
The genus name Gladiolus is derived from the Latin word gladius, meaning little sword, and refers to the sword-shaped leaves. Gladiolus guthriei was named for Francis Guthrie (1831-1899), a lawyer and professor of mathematics who assisted Harry Bolus and produced an extensive herbarium of the Cape Peninsula flora which is now housed at the University of Cape Town.
Ecology
Ecology
Like many bulbous plants in the Cape Floristic Region, Gladiolus guthriei initiates new roots and leaves or flowering stalks in late summer and autumn when temperatures are lower and moisture is available in the form of dew deposits and rainfall. After flowering, seed production and dispersal, all aboveground growth disappears and the plants enter a period of dormancy. They survive the dry summers in the ground as a dormant storage organ containing buds and food reserves that enable them to grow vegetatively and produce flowers in the next favourable season. Gladiolus species are well adapted to natural fynbos fire cycles.
Gladiolus guthriei is quite strongly scented and this scent persists at night (G. Duncan 2012 pers. comm.), attracting small, night-flying moth pollinators.
Uses
Use
There is no known specific cultural or medicinal use for Gladiolus guthriei.  However, it is cultivated, particularly by bulb enthusiasts, and can be grown as a garden or container plant.
Growing Gladiolus guthriei
Grow
In the garden, Gladiolus guthriei will do best if grown in similar conditions to where it naturally occurs: in rocky, well-drained areas. Alternatively it can be grown in a container, preferring an acid, sandy growing medium such as three parts medium-grained river sand and one part fine acid compost or finely milled acid bark. Corms should be planted in autumn, from March to May, with April being the ideal month. The rule of thumb for geophytes is to plant them to a depth of three times the height of the rootstock. They should be watered well after planting and not again until the leaves have appeared above the surface of the soil, after which a good watering every seven to ten days is recommended. Gladiolus guthriei should be situated in a well ventilated, sunny position which receives full sun in the morning and shade in the afternoon.
As the season changes and temperatures begin to rise at the end of spring, watering should be reduced and the medium should be allowed to dry out completely during the summer dormant period.
Gladiolus guthriei can be propagated by seed sown during autumn, in the same sandy, well drained medium. Seeds should be sown in deep pots or trays to allow sufficient space for the developing bulbs. Fresh seeds germinate within four to five weeks. The plants produce flowers for the first time in the third or fourth growing season.
References
Delpierre, G.R. & Du Plessis, N.M. 1973. The winter-growing Gladioli of South Africa. Tafelberg, Cape Town.
Duncan, G.D. 2000. Grow bulbs. Kirstenbosch Gardening Series. National Botanical Institute, Cape Town.
Duncan, G.D. 2010. Grow bulbs. A guide to the cultivation and propagation of the bulbs of South Africa and neighbouring countries. Kirstenbosch Gardening Series. National Botanical Institute, Cape Town.
Goldblatt, P. & Manning, J. 2000. Cape plants. A conspectus of the Cape Flora of South Africa. Strelitzia 9. National Botanical Institute, Cape Town.
Indigenous Bulb Association of South Africa, 2002. Early flowering species. Bulb chat June 2002, No. 8.
Lewis, G.J., Obermeyer, A.A. & Barnard, T.T. 1972. Gladiolus : a revision of the South African species. Purnell, Cape Town.
Manning, J., Goldblatt, P. & Snijman, D. 2002. The color encyclopedia of Cape bulbs. Timber Press, Oregon.
Raimondo, D., Von Staden,L., Foden, W., Victor, J.E., Helme, N.A., Turner, R.C., Kamundi, D.A. & Manyama, P.A. (eds) 2009. Red List of South African plants 2009. Strelitzia 25. South African National Biodiversity Institute, Pretoria.
Credits
Victoria Wilman
Millenium Seed Bank Partnership
Kirstenbosch National Botanical Garden
June 2012
Plant Attributes:
Plant Type: Bulb
SA Distribution: Western Cape
Soil type: Sandy
Flowering season: Autumn, Winter
PH: Acid, Neutral
Flower colour: Pink, Yellow
Aspect: Full Sun, Morning Sun (Semi Shade)
Gardening skill: Average
Special Features:
Fragrant
Good potplant
Horticultural zones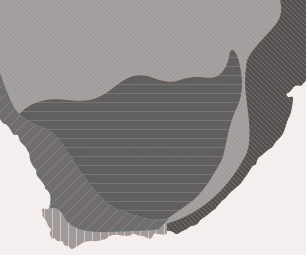 Zone 2 Coastal winter rainfall, frost free
Zone 3 Winter rainfall Karoo, light frost
Google QR Code Generator