Gladiolus serpenticola Goldblatt & J.C.Manning
Family: Iridaceae
Common names: serpentine sword lily, serpentine gladiolus
Introduction
A striking, attractive, summer-flowering plant, with spectacular, giant flower spikes of 18 to 30, small, pale pink flowers with pale mauve markings on the lower lateral tepals; in nature, this rare species grows only in serpentine soils in the Lowveld.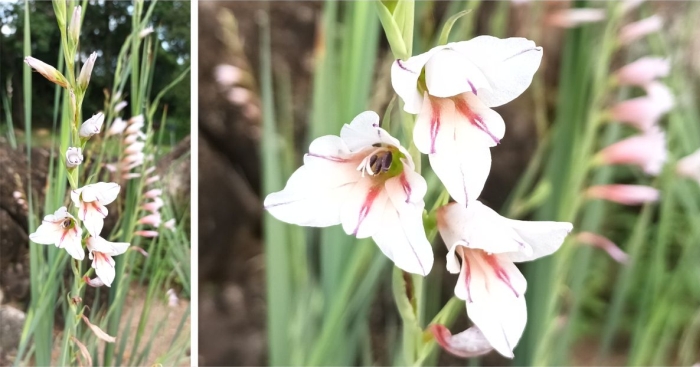 Description
Description
Gladiolus serpenticola is a tall, upright, deciduous, perennial corm, dormant in winter and flowering in summer. It grows to a height of 750–1500 mm. The rootstock is a corm that is covered by several, brown, fibrous layers known as a tunic. The plant produces 8 to 10 sword-shaped, grey green, narrow leaves, 7-10 mm wide, sheathing the stem at the bottom, the leaf blade with long, longitudinal lines and a shortened lowest leaf. The stem is erect, unbranched or with 1 or 2 branches. The small, pale pink, funnel shaped flowers, which appear from  mid to late summer (January to March) are arranged on one side of the tall spikes. They have pale purple markings on the lower lateral outer part of the flower. Winged brown seeds are produced in an oblong capsule.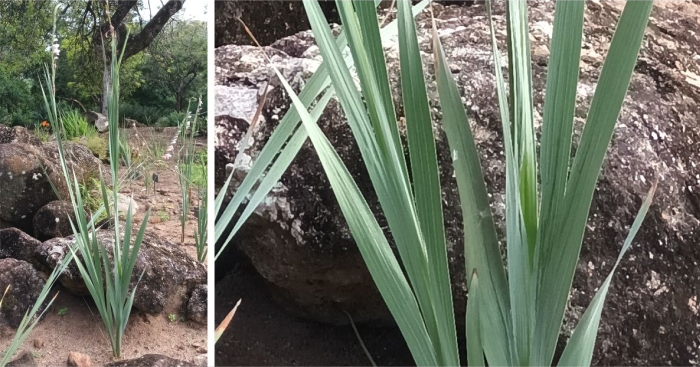 Conservation Status
Status
The conservation status of Gladiolus serpenticola is Rare. Its wild population is stable, although there is a slight potential threat of mining in Barberton, but the soil where this plant species grows does not contain valuable minerals and there are no active mines in its habitat.
Distribution and habitat
Distribution description
Gladiolus serpenticola is endemic to the Barberton district in Mpumalanga and the adjacent Eswatini (formerly Swaziland). This plant species grows only in  grassland and savanna in serpentine soil, derived from dark green, verdite serpentine rocks.  At Lowveld National Botanical Garden it is cultivated in a rocky area with loam soil.
Derivation of name and historical aspects
History
Gladiolus is one of the largest genera of the Iridaceae family, with more than 250 plant species. Gladioli are important plants today in horticulture because many hybrids and cultivars are widely grown as ornamental plants in gardens and grown as crop plants for the cut flower market.
This genus is centered in southern Africa, the countries of South Africa, Eswatini, Lesotho, Namibia and Botswana, but it ranges through all tropical Africa as well as Madagascar, the Mediterranean basin, southern Europe and the Middle East, as far east as Afghanistan. It is fairly well known in southern Africa where there are at least 150 species.
The genus Gladiolus was named after the sword-shaped leaves, gladiolus is a diminutive of gladius a Latin word meaning 'a sword' The species name serpenticola means 'living on serpentine' and refers to the type of soil (serpentine soil) in which this plant species grows in Barberton. Serpentine soils are formed from serpentine rocks, which are particular igneous rocks that are green in colour and slippery in texture, thus resembling the skin of a snake; serpens is Latin for 'snake'. Serpentine soils are usually poor, shallow soils that contain high concentrations of metals and little organic matter.
Gladiolus serpenticola was only recognized as a distinct species in 1996, until then it had been confused with the closely related species G. crassifolius or G. densiflorus. Gladiolus crassifolius can be distinguished by its coarsely ribbed leaves with thickened margins, sturdy stem and sharply inclined spike. Gladiolus densiflorus has leaves with close-set veins and a slightly thickened midrib and margins.
Ecology
Ecology
The shape and the colour of the flowers, together with the sweet scent, attracts pollinators, like various bees, long-tongued flies, hawk- moth and sunbirds. The light brown, winged seeds are dispersed by wind. Gladiolus plants are used as a food plant by the larvae of Lepidoptera species, including Large Yellow Underwing and Gladiolus Thrips.
Serpentine soils are toxic for most plants, and the plants that can grow on them have adapted to the high concentrations of metals and minerals contained in the soil, and are usually endemic to the areas where the soil occurs.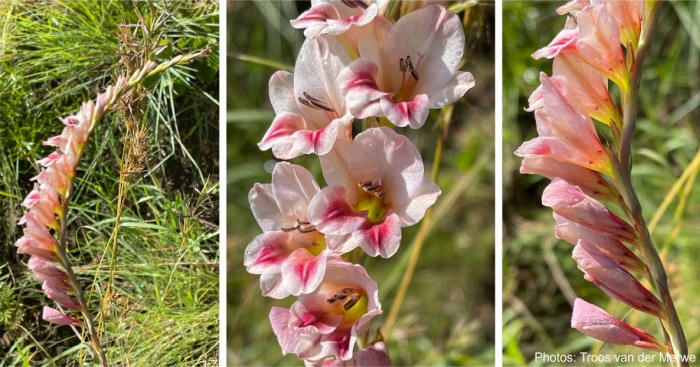 Uses
Use
Many of Gladiolus plants are hybridized and used as cut flowers for display and in bouquets because of their beautiful, showy flowers which grow in tall spikes. Plants are also grown in herbaceous borders, mass planted as summer-flowering bedding plants and grown as pot plants. Gladiolus serpenticola shows promise as a garden ornamental, but is really a collector's plant because it can't outshine its larger-flowered, hybrid relatives. It is best suited to frost-free grassland and bushveld gardens.
The medicinal uses of Gladiolus serpenticola are not known yet, but other gladioli, such as Gladiolus dalenii are used to treat diarrhea, chest ailments, sterility in women and as good luck charms.
Growing Gladiolus serpenticola
Grow
Gladiolus serpenticola is an easy plant to grow and can be propagated in spring using corms and seeds. It is a frost-sensitive plant.
Plant Gladiolus serpenticola corms at the beginning of spring, two weeks before the last frost date, 15 to 15 cm apart and 5 to 15 cmdeep depending to the size of the corm, in a well-drained soil using a combination of loam soil and sandy soil, mixed with well-rotted compos or organic fertilizer. Do not use a heavy soil or let them get too wet, or the corm will rot. Water the plant once a week after planting, for only one month, after that it should survive with rain water. At Lowveld National Botanical Garden it is planted in a rocky area in full sun and it does very well. This plant species does best in full sun, if it is planted in a partly shaded spot, it will have flowers but the colour will not be as vibrant as the ones which are planted in full sun. Gladiolus serpenticola hates weeds, if there are weeds where you plant them it's better to remove them before planting. This plant species does not require pruning and its maintenance requirements are low, once planted they can be left alone.
Gladiolus serpenticola can be planted together in a flower bed with Freesia grandiflora, it works well because it flowers in summer and Freesia grandiflora is a winter-flowering plant, so the flower bed will be lively and colourful throughout the year. It is well suited to bushveld and grassland gardens.
Seeds should be collected when the seed pods are getting dry and starting to split open. Fill up the seed tray with potting soil mixed with washed river sand. Pat down the soil, add more soil if needed to fill the tray to 2.5 cm below the top. Sow the seeds over the surface of the potting soil, sprinkle them evenly across the tray, cover the seeds with fine soil then place the seed tray in a warm area under a shade net. Always keep the soil moist, water the seeds twice a week with overhead sprinklers or watering can. Germination will take place in about 10 to 21 days. The emerging seedlings will resemble blades of grass. Transplant them in spring or summer into 1 litre bags when they are 10 cm long and place them in a warm area under a shade net in the nursery, and water the seedlings once a week.
Gladiolus serpenticola can be used as bedding plant, mixed bed plant, herbaceous border plant and container plant.
Gladiolus serpenticola is affected by thrips, pesticides are used to control them.
References
Burrows, J.E., Lötter, M., Mohamed, B. & Kamundi, D.A. 2009. Gladiolus serpenticola Goldblatt & J.C.Manning. National Assessment: Red List of South African Plants version 2020.1. Accessed on 2022/06/09.
Goldblatt, P. & Manning, J.C. 1996. Two new edaphic endemic species and taxonomic changes in Gladiolus (Iridaceae) of southern Africa, and notes on Iridaceae restricted to unusual substrates. Novon 6: 172–180.
Goldblatt, P. 1996. Gladiolus in tropical Africa. Systematics, biology & evolution. Timber Press, Portland.
Pacific Bulb Society, Gladiolus serpenticola. www.pacificbulbsociety.org/pbswiki/index.php/Gladiolus_serpenticola. Accessed 2002/06/09.
Van Der Merwe, T. 2021. Observation of Gladiolus serpenticola, near Barberton, Mpumalanga. iNaturalist. Online. https://www.inaturalist.org/observations/72534310.
Credits
Winfred Ngwenya
Lowveld National Botanical Garden
August 2022
Plant Attributes:
Plant Type: Bulb
SA Distribution: Mpumalanga
Soil type: Loam, Metal-rich
Flowering season: Late Summer
PH:
Flower colour: Purple, White, Pink
Aspect: Full Sun
Gardening skill: Easy
Special Features:
Attracts birds
Attracts butterflies
Good potplant
Horticultural zones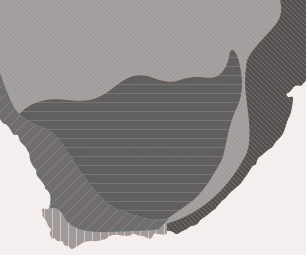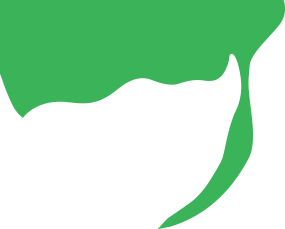 Zone 1 Coastal summer rainfall, frost free
Zone 5 Bushveld summer rainfall, Light frost
Google QR Code Generator