Haworthia truncata var. truncata
Haworthia truncata var. truncata Schönland
Family: Asphodelaceae
Common names: horse teeth (Eng.); perdetande (Afr.)
Introduction
Haworthia truncata var. truncata is an attractive showy, miniature leaf succulent.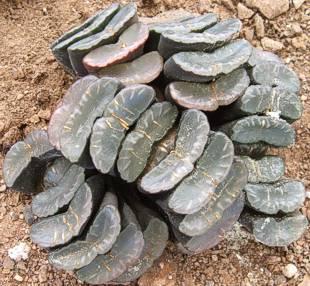 Description
Description
Haworthia truncata var. truncata has a fleshy root system and is shallow-rooted so the plant can absorb every drop of moisture when it rains. It is a miniature leaf succulent with abruptly truncated leaves that are arranged opposite each other. This plant grows flat on the ground with the fleshy leaves just protruding above the soil surface. The small, white, aloe-like flowers are borne on long slender stems, ± 150 mm long, and are produced mainly in late spring.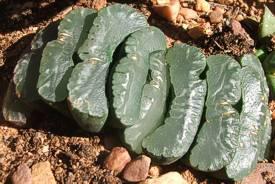 Conservation Status
Status
Haworthia truncata var. truncata is Vulnerable (Raimondo et al. in prep.). The main reason this plant has become vulnerable is due to avid succulent collectors and land change activities in the Little Karoo. Ostriches too, have added somewhat to their demise.
Distribution and habitat
Distribution description
Haworthia truncata var. truncata grows in the winter rainfall region of the Little Karoo in the Western Cape. It is known from the Oudsthoorn, De Rust and Calitzdorp areas.
Derivation of name and historical aspects
History
The genus Haworthia was named in honour of Adrian Hardy Haworth, (1768-1833) by Henri Auguste Duval, a French doctor. British born Haworth was a gardener who described plants, some of which were the genus Mesembryanthemum in the family Aizoceae. The specific epithet, truncata, meaning ending very abruptly (truncate), refers to the straight edge of the succulent leaves.
Ecology
Ecology
Haworthia truncata var. truncata flowers from September to late October. Attracting the right pollinator is important in the floral biology of the species. In most cases bees with specialized mouthparts (long tongues) pollinate the flowers which have a relatively long tube with nectar in the base. In an attempt to reach this nectar, the pollinator fortuitously brushes against the reproductive parts thus ensuring pollination. It is not uncommon for sunbirds to pollinate haworthias.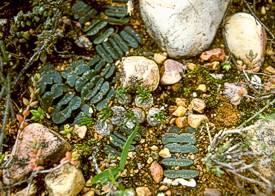 Haworthias are essentially winter-growing plants, but do occur in a variety of habitats from sea level to 2000 m. in most of South Africa's nine provinces. Most haworthias favour the nurse plant environment, i.e. growing under the protection of a small bush; there are, however, some that grow in the open, exposed to the elements, such Haworthia maxima, H. springbokvlakensis and H. truncata var. truncata.
Uses
Use
Haworthia truncata var. truncata is cultivated by succulent lovers. It makes a special feature in a clay pot. The Japanese have bred some extraordinary variations of this species; variegated forms are available on the market.
There are no known cultural uses of the species. However, Haworthia maxima is sometimes used in the muti trade as a natural lotion for softening one's hands.
Growing Haworthia truncata var. truncata
Grow
The seeds germinate very easily. Seeds can be obtained by hand-pollinating the flowers. Sow the seeds during the cool, early summer months of the year (September to November) in a light, sandy, loam mixture in a seed tray, 4 mm below the soil surface. If sown too deep, they will be smothered and probably not germinate. Ensure there is adequate drainage. A light mixture constitutes materials such as pumice, gravel, perlite and fine-textured humus. On top of this mixture, sprinkle a thin layer of coarse sand. Keep the area weed free and water with a fine mist spray every second day. Ensure the seed trays are in a sunny position. If the seeds are fresh and the conditions warm enough, they will germinate quickly. The seedlings grow quickly and will be ready to be planted out in about nine months.
Plants can also be cultivated from cuttings. One can simply tear a turgid, healthy leaf from the mother plant. Be careful not to damage the main body of the plant when removing a leaf. It will take several months before roots are formed--this is a slow process. A mixture of 50% perlite and 50% washed coarse river sand should suffice. Take leaf cuttings in autumn (March to May). The strike rate is medium high (about 75%).
 
References
Bayer, M.B. 1999. Haworthia revisited. A revision of the genus. Umdaus Press. Hatfield, Pretoria.
Oliver, I.B. 2005. Grow succulents. Kirstenbosch Gardening Series, edn 2. Mills Litho, Cape Town.
Raimondo, D., Von Staden, L., Foden, W., Victor, J.E., Helme, N.A., Turner, R.C., Kamundi, D.A. & Manyama, P.A. (eds). In prep. Red List of South African plants. Strelitzia.
Scott, C.L. 1985. The genus Haworthia, a taxonomic revision. Aloe Books, Johannesburg.
Stearn, W.T. 1966. Botanical Latin. Clark, Edinburgh.
Credits
Ian Oliver
Karoo Desert National Botanical Garden
July 2009
Plant Attributes:
Plant Type: Succulent
SA Distribution: Western Cape
Soil type: Sandy, Loam
Flowering season: Spring
PH: Neutral
Flower colour: White
Aspect: Full Sun
Gardening skill: Average
Special Features:
Drought resistant
Good potplant
Horticultural zones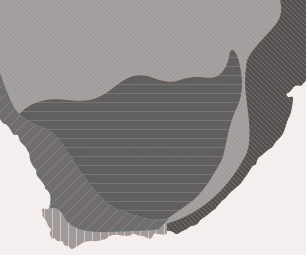 Zone 3 Winter rainfall Karoo, light frost
Google QR Code Generator