Helichrysum grandiflorum (L.) D.Don
Family: Asteraceae
Common names: sewejaartjie, witsewejaartjie (Afr.) (= Gnaphalium grandiflorum L.)
Introduction
This white-greyish woolly subshrub is a `must have' for any fynbos waterwise garden. It is sun-loving and has pale yellow to dull creamy white inflorescences and grey woolly leaves.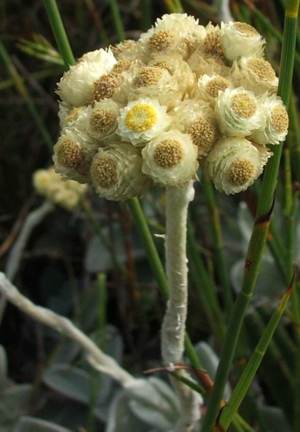 Description
Description
Helichrysum grandiflorum is a rather tufted subshrub up to 50 cm high with a persistent underground stem producing annual shoots from ground level. Several loosely woolly, woody, decumbent (spreading horizontally at first, later erect) stems are up to 450 mm long and densely leafy near the base, then distantly so higher up.
The leaves are obovate (inversely egg-shaped) to lance-shaped, densely woolly and grey with obtuse to subacute apex; uppermost leaves reduced, acute with a white papery appendage, base broad, clasping, and both surfaces loosely greyish-white woolly. The plant bears dense clusters of pale yellow to dull creamy white flowerheads up to 7 x 7 mm, on stems looking like peduncles (inflorescence stalks) with a number of white bracts surrounding the base of the flowerheads, the inner bracts spreading at the tips.
It flowers during summer (December to February). The fruit (a cypsela) is 0.75 mm long, barrel-shaped, ribbed and without hairs.
Conservation Status
Status
The conservation status of Helichrysum grandiflorum is Least Concern. H. grandiflorum is locally common, range-restricted and not threatened. Most of its habitat is protected.
Distribution and habitat
Distribution description
Helichrysum grandiflorum is endemic to the mountains of the Cape Peninsula, occurring naturally on cool sandstone slopes. It is suitable for winter-rainfall gardens.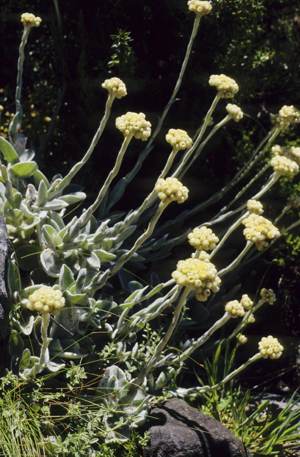 Derivation of name and historical aspects
History
Helichrysum comes from the Greek helios, meaning the sun. Grandis means big and florum means with flowers.
The genus Helichrysum contains about ± 600 species, largely in Africa and Madagascar, but also in Europe, Asia and Australia; about ± 244 species occur in southern Africa and are widely distributed; ± 70 species are found in fynbos.
Uses
Use
Many Helichrysum species are used medicinally in Africa.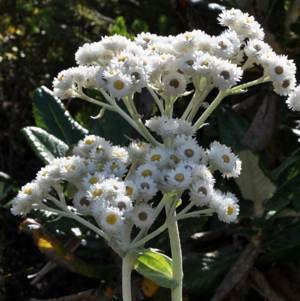 H. grandiflorum has beautiful foliage and has all the features or characteristics of a waterwise plant. It has not found its place in horticulture yet . H. grandiflorum can be easily confused with H. fruticans.
Growing Helichrysum grandiflorum
Grow
This is an easy plant to grow and makes an excellent ground cover in a cool semi-shaded as well as a full-sun position. It can also be used as an edging plant, in mixed borders and in waterwise gardens.
H. grandiflorum is easily grown from seed and stem cuttings. Seeds are produced from the fertile flowers at the centre of the flowerheads; the sterile flowers on the periphery provide colourful papery bracts. In nature the seeds of many Asteraceae germinate in response to the smoke of a veld fire, and large numbers of seedlings then appear. Sow seed in autumn (March-June). Treat seeds in aqueous smoke extract for 24 hours or smoke seed trays after sowing. Sow seeds in a sandy, well-drained soil medium.
H. grandiflorum is easy to propagate from cuttings. Take cuttings early in the morning to avoid water stress/wilting. Root them in a propagation medium consisting of fine bark and polystyrene.
Snails are a common pest and can be removed by hand.
Caroline Voget and Alice Notten are thanked for the photos of Helichrysum grandiflorum.
References
Brown, N. & Duncan, G. 2006. Grow fynbos plants . A practical guide to the propagation and cultivation of plants from some of the major families of the Cape floristic region of South Africa. South African National Biodiversity Institute, Cape Town.
Goldblatt, P. & Manning, J. 2000. Cape Plants. A conspectus of the Cape Flora of South Africa. Strelitzia 9 . National Botanical Institute of South Africa, Pretoria.
Kamundi, D.A. & Raimondo, D. 2008. Helichrysum grandiflorum (L.) D.Don. National Assessment: Red List of South African Plants version 2013.1. Accessed on 2013/04/08.
[Author: rather cite the more recent Raimondo et al. in Strelitzia 25]
Leistner, O.A. (ed.). 2000. Seed plants of southern Africa: families and genera. Strelitzia 10. National Botanical Institute, Pretoria.
Manning, J. 2007. Field guide to fynbos. Struik, Cape Town.
Website of Results List - JSTOR Plant Science: http://plants.jstor.org/flora/flosa002560324000177. Accessed on 2013/04/06 .
Credits
Zoleka Maphanga
Kirstenbosch National Botanical Garden (Millennium Seed Bank)
April 2013
Plant Attributes:
Plant Type: Perennial
SA Distribution: Western Cape
Soil type: Sandy
Flowering season: Early Summer
PH: Acid
Flower colour: White, Cream, Yellow
Aspect: Full Sun, Morning Sun (Semi Shade), Afternoon Sun (Semi Shade)
Gardening skill:
Special Features:
Horticultural zones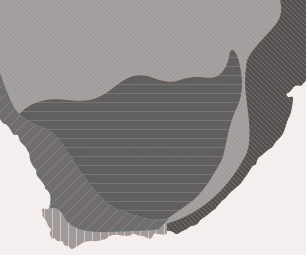 Zone 1 Coastal summer rainfall, frost free
Zone 2 Coastal winter rainfall, frost free
Zone 3 Winter rainfall Karoo, light frost
Google QR Code Generator