Hermannia nana (Eckl. & Zeyh.) Kuntze
Family: Malvaceae
Common names: windmill doll's rose (Eng.); windpomp poprosie (Afr.)
Introduction
This diminutive yet magnificent species is as yet unknown in horticulture, but is really worth growing as a pot, garden or rock garden subject. It provides rewarding and reliable all-year-round colour with its unusual mauve-blue flowers and is ideally suited to water-wise gardens.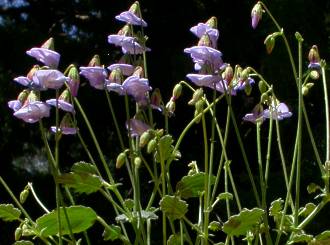 Description
Description
Hermannia nana is a small, mounding/spreading, perennial shrublet, up to200 mm high. The leaves are oval, greyish green, and 5-15 mm long. During particularly dry weather in summer it can shed its leaves and go into a state of dormancy until the next rains, after which the leaves quickly reappear and the plants begin to flower. The flowers are an unusual light mauve-blue colour which is unique for this species within the genus Hermannia. The flowers are pendulous (hanging) just like all other Hermannia species with the opening of the flower facing downwards.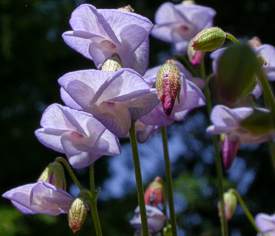 Each flower has five petals which overlap one another and are reflexed to form the shape which resembles the fan of a windmill. There are two flowers per inflorescence which appear at every node from the axils of the leaves. The fruits are small, cylindrical oblong capsules about 3-5 mm long, which dry to release tiny, hard brown seeds the size of coarse sand.
Conservation Status
Status
Currently there are no recognized threats to Hermannia nana; however, overgrazing by sheep and goats, as witnessed by the author, can decimate a population of wild plants.
Distribution and habitat
Distribution description
This species occurs naturally in the lowlands of the Moordernaarskaroo and Little Karoo in the Western Cape, although for some reason it has seldom been seen in the wild, which would explain its apparent anonymity in horticulture. It tends to prefer broken shale soils on stony ridges and can often be found growing in dry stream gulleys.
Derivation of name and historical aspects
History
The specific name nana literally means small, which refers to its naturally small size. It is one of about 200 species of Hermannia, most of which are African and with four species in the United States and one species in Australia. There are many other Hermannia species which make remarkable garden subjects. H. nana, however, is currently not recognized in Germishuizen & Meyer (2003).
In the genus Hermannia there are two subgenera: subgenus Hermannia and subgenus Mahernia. Subgenus Mahernia, to which H. nana belongs, has not been revised by a botanist for over a century, and several of the early species descriptions, especially those in obscure foreign botanical journals, have been overlooked by botanists. This is the case with H. nana. Although it is not known who discovered the plant, the original botanical description was by Bénédict Pierre Georges Hochreutiner (1907).
Ecology
Ecology
It is not known what pollinates Hermannia nana as it seldom sets seed in cultivation. It is assumed to be an insect which occurs in its area of natural distribution. It is a very palatable species and is thus heavily grazed when livestock have access to it!
Uses
Use
It is not known to have any cultural or medicinal uses.
Growing Hermannia nana
Grow
This is a very easy plant to cultivate. It enjoys a sunny spot in the garden or rockery and also makes an excellent pot plant. It tends to mound and spread or in a pot it will even cascade over the edge, and with its hanging flowers makes an excellent hanging basket subject as the flowers are best viewed from below. It grows in just about any soil you give it but prefers a compost-rich potting medium. Water the plant 2 to 3 times a week for the first three months after planting and then only once a week thereafter. It is a resilient little survivor and may survive brief spells of drought but will take time to recover if at all. With time, it may survive without any watering at all. It doesn't require any pruning but would benefit from a good pruning in autumn and spring to re-invigorate it.
It doesn't require any feeding either but will benefit enormously from any type of fertilizer. Organic pelleted chicken manure works well.
It stays fairly pest-free and as such won't require any spraying. However, snails are an ever-present danger!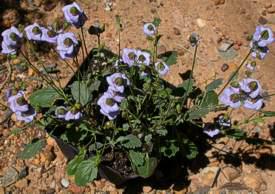 Propaation from semi-hardwood cuttings is easy. Use a powdered or liquid rooting hormone for faster rooting and bottom heat always speeds up the process too. If seed is available, sow the seed at any time of the year in a shallow seed tray in a well-drained sandy medium. Cover the seeds with a very shallow layer of pure sand and water well with a damping-off fungicide. Keep moist in a warm place and germination should take place within 2 to 3 weeks.
Hermannia nana is fairly fast-growing under ideal conditions and reaches flowering within 4-5 months from germination. It will continue to flower as long as there is enough moisture and so potentially will flower all year round. In the wild, the plant probably doesn't survive for longer than 2 to 3 years but in a garden situation with the proper care it could easily survive five years or more.
This is a very rewarding species to grow, but sadly it's not commonly available in the horticultural trade yet. Kirstenbosch Botanical Gardens are growing it and it should soon be made available to the public.
References
Germishuizen, G. & Meyer, N.L. (eds). 2003. Plants of southern Africa : an annotated checklist. Strelitzia 14. National Botanical Institute, Pretoria.
Hochreutiner, B.P.G. 1907. Hermannia nana. Annuaire de Conservatoire et du Jardin botaniques de Genève, Genève xi. & xii. 3.
Credits
Adam Harrower
Kirstenbosch National Botanical Garden
April 2009
Plant Attributes:
Plant Type: Shrub
SA Distribution: Western Cape
Soil type:
Flowering season:
PH:
Flower colour: Blue, Mauve/Lilac
Aspect: Full Sun
Gardening skill: Easy
Special Features:
Drought resistant
Good potplant
Horticultural zones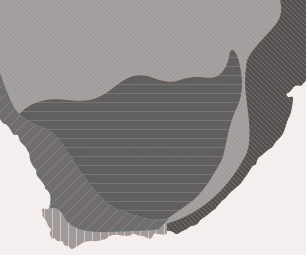 Zone 2 Coastal winter rainfall, frost free
Zone 3 Winter rainfall Karoo, light frost
Google QR Code Generator