Hermannia salviifolia L.f.
Family: Malvaceae
Common names: sage-leaf hermannia (Eng.); geneesbossie (Afr.)
Introduction
Hermannia salviifolia is a lovely bushy, soft, shrub with densely hairy, lime green, scarcely toothed leaves and clusters of yellow to orange flowers in spring and late summer.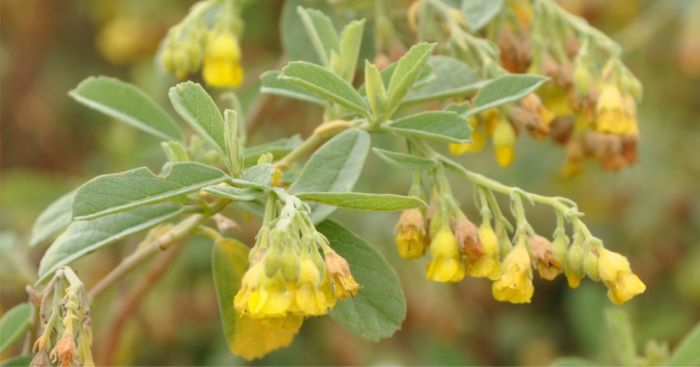 Description
Description
In its natural habitat, this coarsely velvety, erect, much-branched, twiggy shrub can grow from 1 to 2 m in height. The leaves are oval, broadest towards the tip, densely hairy and very sparsely toothed. It has dense clusters of yellow to orange flowers at the ends of branches, sporadically all year round with peaks  in spring (from September to October) and in late summer (December to April). The flowers consist of a slightly inflated, tubular calyx and a corolla of overlapping petals with rounded tips, that spiral around each other, flaring and recurving above the narrow mouth of the flower.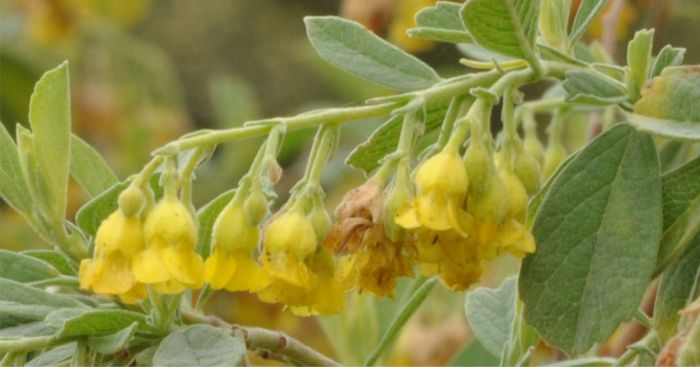 Conservation Status
Status
Hermannia salviifolia is considered as a species of Least Concern (LC).
Distribution and habitat
Distribution description
Hermannia salviifolia occurs on the coastal flats or lower slopes of the region between the Cape Peninsula in the Western Cape and Gqeberha in the Eastern Cape, growing on stony granite and clay soils. It is one out of the 141 South African species of Hermannia, of which 81 are endemic to South Africa.
Derivation of name and historical aspects
History
The genus Hermannia was introduced by Tournefort (1656–1708), but, because taxonomic priority is conventionally started with Linnaeus's Species Plantarum of 1753, it is usually ascribed to Linnaeus. Tournefort named the genus after Paul Hermann (1640–1695), who was a professor of Botany at Leyden in the latter part of the seventeenth century (Essop 2005).
The species name salviifolia, meaning 'leaves like sage', is derived from the genus Salvia, commonly called 'sage'; and the Latin folius meaning 'leaf'. It could also mean 'healing leaves', from the Latin salvere, meaning 'to heal'.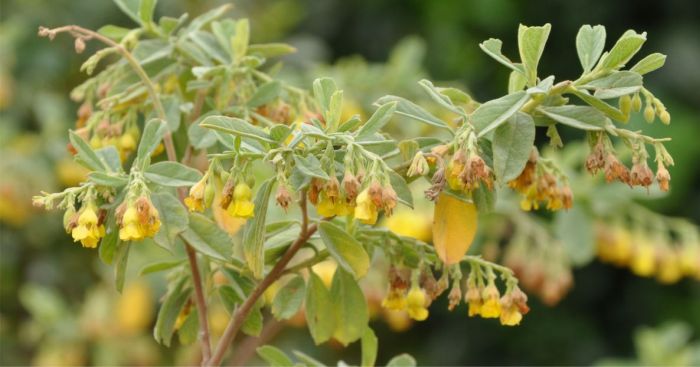 Uses
Use
Hermannia salviifolia is used to make a tea with aromatic properties and a decoction of the root is an old-fashioned household remedy for fits. An ointment made from the plant, together with Lobostemon fruticosus and Psoralea decumbens, is an old Cape remedy for roos (erysipelas or eczema).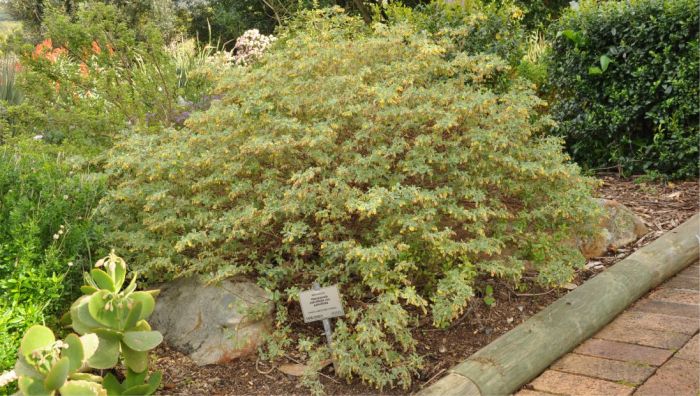 Growing Hermannia salviifolia
Grow
Hermannia salviifolia can be planted for its bushy habit and bright, lime-green leaves and yellow flowers, used in mixed beds and borders, or as a groundcover, or as container plants. It is well suited to fynbos gardens. It requires a well-drained medium and full sun.
These plants can be propagated by seed or cuttings. Seed-grown plants appear to make stronger plants and are quicker to establish themselves, when planted out, than those produced by cuttings. Seed is best sown in late summer to autumn, or in spring. The seedlings should emerge within 10 days and can be pricked out when large enough to handle. Softwood or herbaceous cuttings should be taken from a vigorous, actively growing mother plant in spring to early summer, treated with a rooting hormone, and placed in a propagation unit with bottom heat of up to 28°C and intermittent mist. Rooting should occur within 4 weeks, with a 40% success rate.
Prune the plants in the winter by cutting away the old growth. Since these plants respond excellently to grazing, pruning simulates grazing and stimulates new growth and prolific flowering.
References
Bean, A. & Johns, A. 2005. Stellenbosch to Hermanus. South African Wild Flower Guide 5. Botanical Society of South Africa, Cape Town.
Bond, P. & Goldblatt, P. 1984. Plants of the Cape flora. A descriptive catalogue. Journal of South African Botany Suppl. Vol. 13, National Botanic Gardens of South Africa, Kirstenbosch, Cape Town.
Brown, B. & Notten, A. 2001. Hermannia saccifera (Turcz.) K. Schum. (Malvaceae). PlantZAfrica. Online. http://pza.sanbi.org/hermannia-saccifera.
Casabio the home of biodiversity. Hermannia salviifolia. https://casabio.org/taxa/hermannia-salviifolia. Accessed on 24/08/2021
Essop, A.B. 2005. The biological activity and phytochemistry of selected Hermannia species. Dissertation for Master of Pharmacy, University of the Witwatersrand.
Foden, W. & Potter, L. 2005. Hermannia salviifolia L.f. var. salviifolia. National Assessment: Red List of South African Plants version 2020.1. Accessed on 2021/12/29
iNaturalist, Observations, Hermannia salviifolia. https://www.inaturalist.org/observations?place_id=any&taxon_id=587296.
Latti, I. & Maphisa, T. n.d. Operation wildflower. Hermannia salviifolia var. salviifolia flowers. https://www.operationwildflower.org.za/index.php/albums/genera-g-l/hermannia/hermannia-salviifolia-thabo-2-7590.
Goldblatt, P & Manning, J. 1996. West Coast. South African Wild Flower Guide 7. Botanical Society of South Africa, Cape Town.
Sachse, B. 2007. Hermannia L. (Malvaceae). PlantZAfrica. Online. http://pza.sanbi.org/hermannia.
Wikipedia. Joseph Pitton de Tournefort. https://en.wikipedia.org/wiki/Joseph_Pitton_de_Tournefort. Accessed 29/12/21.
Credits
Thembakazi Dyariwe
Kirstenbosch National Botanical Garden
January 2022
Plant Attributes:
Plant Type: Shrub
SA Distribution: Eastern Cape, Western Cape
Soil type: Clay, Loam
Flowering season: Spring, Late Summer
PH: Acid, Neutral
Flower colour: Yellow, Orange
Aspect: Full Sun
Gardening skill: Average
Special Features:
Drought resistant
Good potplant
Medical plant
Feeds honeybees
Horticultural zones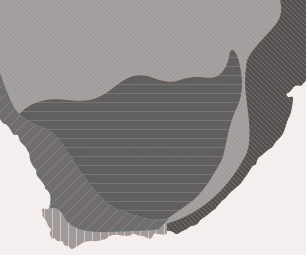 Zone 2 Coastal winter rainfall, frost free
Google QR Code Generator