Hermannia scabra Cav.
Family: Malvaceae
Common names: scabrid doll's rose, gold cups (Eng.) poprosie (Afr.)
Introduction
Hermannia scabra is an evergreen shrublet with gorgeous, eye catching, bright yellow, bell-shaped flowers in winter and spring; ideal for fynbos and renosterveld gardens.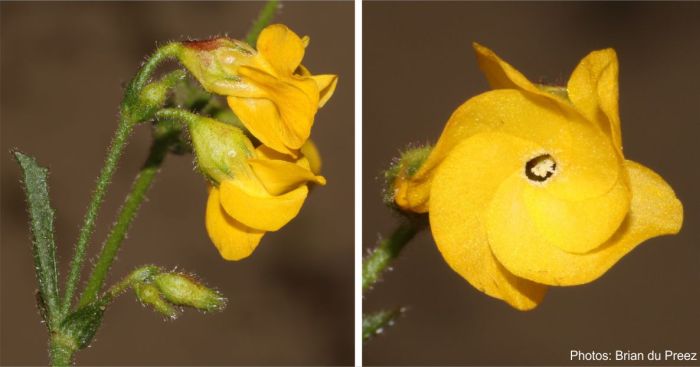 Description
Description
Hermannia scabra is a sprawling to stiffly upright, roughly hairy shrublet up to 600 mm tall. Branches are covered with coarse bristles. Leaves have short petioles, are wedge-shaped, dentate towards the apex and both surfaces are sparsely covered with star-like hairs and feel rough to the touch. The leaves vary in size and width. The plant has narrowly oval stipules, 2–6 mm long. The gorgeous, yellow, bell-shaped flowers are on long, slender, leafless peduncles, arranged in panicles. The peduncles are 2–20 mm long, bearing 1 or 2 flowers on 2–10 mm long pedicels. There are heart-shaped to narrowly lance-shaped bracts on the peduncle, 2–8 mm long, that resemble the stipules. Each flower has 5 bright yellow petals, about 10 mm long, turning reddish to brown as they age. The petals appear twisted and have a narrow waist. The calyx is about 7 mm long, is sparsely covered with star-shaped hairs and is lobed to about midway. The calyx persists after pollination, becoming hairless, dry and membranous, and holds the 6 mm long, hairy capsule containing the seeds. This magnificent plant flowers in winter and spring (July to September).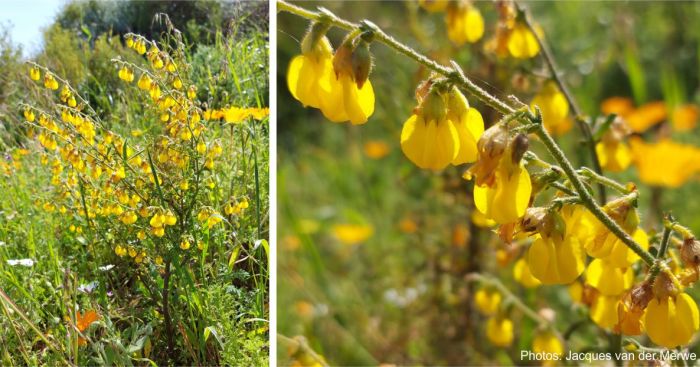 Conservation Status
Status
Hermannia scabra is assessed as Least Concern (LC) and is not threatened in the wild.
Distribution and habitat
Distribution description
Hermannia scabra is endemic to South Africa and is distributed in the Northern Cape and Western Cape, from Gifberg to Durbanville. It grows in Fynbos and Renosterveld, on mountain slopes, in rocky crevices and on stony plains.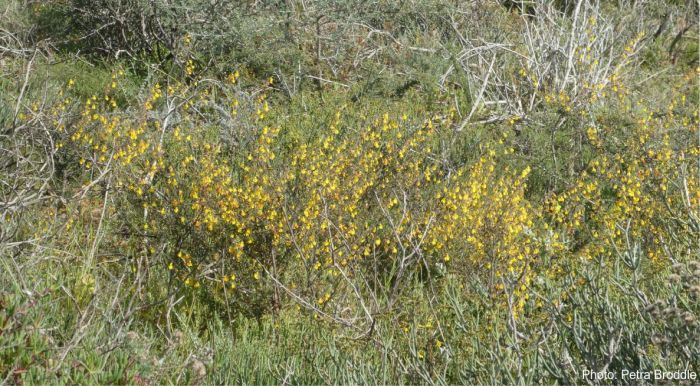 Derivation of name and historical aspects
History
The genus Hermannia was named after Prof. Paul Herman (1940–1695), who was a German professor of botany at Leyden and one of the first plant collectors to visit the Cape. The species name, scabra, is a Latin word which means 'scabrous' or 'rough', referring to the harsh feel of the plant, caused by the short, stiff hairs on the leaves and stems.
The genus Hermannia consists of 154 species, which have a distribution mainly across southern Africa. There are 141 South African species alone, of which 81 are endemic to South Africa (occurring in South Africa only). The genus is also found in Madagascar, and extends through tropical East Africa (14 species, some shared with southern Africa) to North East Africa (4 species, possibly more) and Arabia (1 species, also found in Egypt and Sudan). A single species (Hermannia tigrensis) is found in western Africa as well as southern Africa and North East Africa. There are 3 species in northern Mexico and adjacent parts of the United States, a single species in southern Mexico, and a single species in Australia. The greatest diversity is in the Western and Northern Cape and Namibia.
Ecology
Ecology
Hermannia scabra flowers attracts insects and seeds are dispersed by wind. The strong aromatic smell of the leaves keeps the insects and parasites away.
Uses
Use
Hermannia scabra is used in the garden as an ornamental plant, for display, because it has very attractive yellow flowers. It is also a useful groundcover for sloping banks and it is suitable for hanging baskets. It is recommended for water-wise fynbos and renosterveld gardens, needing little additional water once established.
Growing Hermannia scabra
Grow
Hermannia scabra is an evergreen, medium to fast growing shrublet. To ensure optimum growth and development the plant requires well prepared and freely draining soil. Add compost to enrich and to improve moisture retention, drainage and aeration. It grows in full sun and semi shade, but will bloom best in full sun. The plant must be well watered in hot and dry weather. Over watering can cause fungal infection and root rot, to combat this spray with fungicide. To keep the plant well maintained and in good condition and to promote new growth and flowering, prune after flowering and again in midwinter before flowering, and add organic fertiliser. It can be planted in containers, in hanging baskets, rockeries, terraces, slopes and retaining walls.
Hermannia scabra can be propagated by cuttings or seeds. Take softwood or hardwood cuttings in spring and early summer. Use rooting hormone to encourage root growth. Plant in a well-drained, well-aerated rooting medium. Place the cuttings in a warm, brightly lit place but not in direct sunlight. Keep the cuttings moist. Cuttings take 3-4 weeks to root.
Sow seeds in late summer to autumn, in well-drained soil, keep warm and moist until germination. Prick out the seedlings when they are large enough to handle.
References
Broddle, P. 2021. Observation of Hermannia scabra, Atlantic Hills Mellish Koppie. iNaturalist. Online. https://www.inaturalist.org/observations/94614346.
Du Preez, B. 2017. Observation of Hermannia scabra, Klein Dassenberg. iNaturalist. Online. https://www.inaturalist.org/observations/37709202.
Harvey, W.H. 1894. Hermannia scabra Cav. Flora capensis 1:179. Accessed via JSTOR Global Plants. http://plants.jstor.org/stable/10.5555/al.ap.flora.floc000887.
Manning, J. 2009. Field guide to wild flowers of South Africa. Struik Nature, Cape Town.
Powrie, F. 1998. Grow South African Plants. A gardener's companion to indigenous plants. National Botanical Institute, Cape Town.
Raimondo, D., Von Staden, L., Foden, W., Victor, J.E., Helme, N.A., Turner, R.C., Kamundi, D.A. & Manyama, P.A. (eds) 2009. Red list of South African plants. Strelitzia 25. South African National Biodiversity Institute, Pretoria.
Sachse, B. 2007. Hermannia L. (Malvaceae). PlantZAfrica. Online. http://pza.sanbi.org/hermannia.
Van Berkel, N. 2021. Observation of Hermannia scabra, Gifberg. iNaturalist. Online. https://www.inaturalist.org/observations/94596495.
Van der Merwe, J. 2021. Observation of Hermannia scabra, Tygerberg. iNaturalist. Online. https://www.inaturalist.org/observations/97241189.
Verdoorn, I.C. 1980. Revision of Hermannia subgenus Hermannia in southern Africa. Bothalia 13(1): 1–63.
Credits
Zoleka May
Kirstenbosch National Botanical Garden
March 2022
Acknowledgments: the author thanks Brian du Preez, Petra Broddle, Nicola van Berkel and Jacques van der Merwe for making their mages available via iNaturalist.
Plant Attributes:
Plant Type: Ground Cover, Shrub
SA Distribution: Northern Cape, Western Cape
Soil type: Sandy, Loam
Flowering season: Spring, Winter
PH: Acid
Flower colour: Yellow
Aspect: Full Sun
Gardening skill: Easy
Special Features:
Drought resistant
Fragrant
Horticultural zones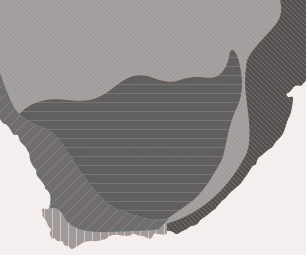 Zone 2 Coastal winter rainfall, frost free
Zone 3 Winter rainfall Karoo, light frost
Google QR Code Generator